Consumer Complaints and Reviews

I am writing to express my disappointment with my recent trip on the Carnival Paradise which departed Tampa on July 31, 2017. My family and I booked two cabins with three people in each cabin. This cruise would be one of many my family and I have taken on Carnival and other ships (and the first cruise for two friends who joined us), but this would be the first time I was more than disappointed with the accommodations. When our cabins were ready, we went to drop our bags and planned to head back to explore the ship, but when I saw the mattress on the floor I thought this was a mistake. Yes, I said mattress on the floor (see attached photos). We had two cabins which should have three beds. Again I thought this was a mistake and the room was possibly not ready for us at that time.
This mattress on the floor was not only inches from some really disgusting stains on the floor, but could not possibly be twin sized, since both my children who are only 13 could not fit comfortably on the bed and this was even more ridiculous with my older son, who is 6'3" and was booked in the other cabin with his two friends who were also taller in height. No chance was this a sleeping option for myself since I have a back problem and did not want to be climbing off the floor to get in and out of bed, but also every bar in the contraption underneath the mattress was felt by the person on top of the flimsy mattress. While I was beyond frustrated with the situation, another bigger concern was, What would happen if there was an emergency? This mattress is blocking the path to a clear exit of one of the beds. How can this possibly be ok with the fire marshal? There is no clear exit path for the person in the bed against the wall.
I left the room to find a solution at gust services and was told I (or in this case my travel agent) knowingly booked rooms with rollaways. My first mistake was leaving the line with that explanation and no acceptable changes, but I instead went to confirm this with my travel agent because this was not the description my agent was provided when we booked these rooms. I later confirmed with my agent that no mention of rollaway was on my booking and let's be clear a rollaway would have been a step up from this mattress on the floor.
This of course was much too late to do anything and the nightly arguing with my children of who would have to spend the night on the floor was also not what I planned for the family trip. I can't understand why Carnival would book a room with this kind of setup. Carnival in my mind has put their bottom line above the safety and comfort of its passengers and that is not something I will revisit for my next cruise.
Carnival's responded to my letter with what seems like a very scripted reply, again blaming my travel agent. I've been working with my travel agent for over 15 years and the likelihood of her putting us in a room with a rollaway would've been discussed before we made any reservations so their blame game is even more frustrating and I will not be returning on another Carnival cruise ship The customer care representative also reminded me that the third passenger in each cabin paid a lesser amount. Somehow this excuses placing a mattress on the floor and considering it capable of accommodating three passengers.

Triumph - The food was subpar and that's a compliment. The last night, 9 of our 11 people acquired food poisoning. Up all night, coming out of both ends. This after eating the final meal in the fancy dining area.

We left on the Carnival Victory from Miami on June 30, 2017 for a good friend's bachelorette party. I am from Florida and have been on well over 30 cruises since I was younger. I normally sail Royal Caribbean since we are diamond members with them, but I have been on Carnival probably around 7 times and they have not been too bad. This cruise we left on this time was the absolute worst cruise I have EVER been on. I don't even know where to start with the awfulness but I will try my best.
We started off by going to our rooms. We had 3 girls in our room and we're expecting to get the extra bed that pulled out of the ceiling for our third guest, since we did all pay the same. But that was not the case. She had to sleep on a tiny cot that they pulled out from under one of the beds, which left her uncomfortable and no space in the room to even move. The pools were absolutely disgusting. You could not even see the bottom by 9 am and there was a thick film on the top that made you not want to go near it. Not that you could get anywhere near the pool, because there were thousands of kids. We attempted to go to the Serenity pool which is supposed to be adult only (since we were on a bachelorette party) only to find that pool was jam packed with kids as well.
When I asked the bartender where the adult area was she said the Serenity pool normally was but during vacation season they make it a family pool. We then attempted to go to the Serenity deck where there were hot tubs and that was adult only. However they had the hot tubs heated to about 110 degrees which made them too hot to even get in. They stayed empty the entire time. Our room steward only made our beds each night. He did not clean or take away any food or drinks that were left there. So we had to put all of our room service trays outside of the door even after he had supposedly made up the room.
The staff around the ship were very rude. I attempted ordering a drink in the comedy club and the waiter walked away as I was telling him what I wanted. The drink package is a joke. We spent all day in the Bahamas and at 7 pm they tried telling me I had reached my 15 drink maximum. That wasn't even possible. After you hit your maximum you can't even order a drink, so I could not drink anything the rest of the night, even though I had purchased the drink package because they messed up. I would recommend anyone trying their first cruise, or who has yet to cruise on Royal Caribbean to switch. It's like night and day all the way around. Even if Carnival tried to give me a free cruise, I would probably reject it. That is how awful this experience was.

I thoroughly enjoyed the company I kept on this cruise, and the stops we made on the cruise, but nearly everything else about this place was awful. Staff is horribly underpaid and overworked. The staff I talked to work 12 hour days 7 days a week, make 500 dollars a month salary (they do make tips as well but 500 dollars a month for 12 hour days seven days a week is criminal) putting the responsibility of the crew members earnings through tips because Carnival won't pay their workers halfway decent wages is just awful. I didn't meet any crew members that were from America (which was cool, lots of opportunity to talk to people from other cultures) but made it feel like the whole staff were being treated akin to slaves.
I went to the spa 3 times and the staff there were horribly rude. The services way overpriced, but that was to be expected (80 dollars for a nail file, I wanted to have my fake nails removed because I only got them in the first place for a wedding, to remove them I think was close to 50 dollars if I remember correctly, but I was told they don't have acetone to soak them off and I should just get a nail file "because they still look Good"). I decided I could wait till I make it home to get my nails removed. They would not leave any sort of information about services offered readily available for customers to look through. The second time I went into the spa I asked to see a list of services and neither of the front desk ladies would even look up at me, one said (without looking up at all) "it's right there" and pointed at the daily specials list.
Initially I thought it was a misunderstanding, so I said, "no, a list of all of the services offered in your spa", and again without looking up told me it was on the back of the paper. I pick the paper up and turn it around and it's just a picture of a lady on the back (which is what I had assumed it would be because I already had that specific piece of paper in my room). I had to put the paper under her face to get her to look at the damn thing and notice it was NOT a list of services provided. So she tells me to look at a different piece of paper that's on the counter and lo and behold, just like I had already known, that paper wasn't a list of services either.
Finally another desk person came up with the list of services and handed it to the lady I was talking to, and when the lady I had been talking to handed it to me she told me that I could just take it with me and look at it elsewhere, aka, she was kicking me out because she couldn't be bothered to do anything but stare at her own nails. Incredibly rude to me the whole time! So I left and decided to try again the next day. I had a coupon because it had been my birthday for services at the spa, and when I went back that day I was told I could only use the coupon for like 10 things, all of which were 200 dollars or more, and NONE of which I wanted. The spa staff don't even work the 12 hour days that the kitchen and bar staff do so I don't think there's any excuse for the bs attitude I got from them all.
The system to find and look at your pictures that are taken on the boat is the worst imaginable. They place everyone's pictures on the wall together, It took me an hour to find a picture of even just one person from my cabin because. Hadn't known that our pictures would be mixed in with strangers pictures and hidden behind these strangers pictures. I asked someone with Propictures and he informed me of this and told me to go look through the wall again and filter through strangers pictures. I am pretty easy going so I decided ok whatever I can do that, and he also told me that if I can't find them to come back to the desk after 6 that I can find them on the tablet they have that stores all their pictures.
I came back the next day after looking for another half hour, waited in line for another 30 minutes to talk to Dianne, the Propictures person on duty at the time. Dear lord what a ** mistake. Spent half an hour in line, Dianne asked everyone in line (which only consisted of two families in front of me and literally no one in line behind me) what services we needed and we all needed to see our pictures on the tablet because no one could find their pictures. Dianne let the people ahead of me look through the tablet to find their pictures, but when it came to be my turn (and there STILL was no one in line behind me) she told me she wouldn't give me the tablet and to just go look on the wall that expanded the whole damn lobby to find my pictures!!! I wasted 2 hours trying to find these stupid pictures just to be told to ** off basically. I plan on contacting Dianne's supervisor directly if I can figure out who that even is.
It was a disorganized terrible mess. There were 4 staff members who were immensely cool though and I wish them all the best and hope they find better cruises to work on. Nikola, Linda and Mate who worked the casino/United States bar were so freaking cool, funny and personable. Micheal at the Elations restaurant was also so cool, he remembered my boyfriend and my name's, and was a wonderful head waiter. However, there was a problem at Elations with other waiters. They would come up to our table and take our silverware... And give it to another table. Like we would have been sitting for 30 minutes, waiting for our food, and a random waiter would come up and take the silverware and glasses that were in front of us, that we very well could have been using and said random other waiter wouldn't have known... And just give them to another table to use to eat!!!
That disgusted me and I started keeping my silverware in my lap because A) I don't want to eat with my hands and B) if I dropped a fork I didn't want to use someone else's potentially USED silverware. This was my first cruise ever and I don't think I can bring myself to ever go on another Carnival Cruise after seeing how poorly their employees are treated by the company and the abysmal organization of the ship. The Paradise was also run by some slimy people, at the meeting for info on debarkation for the Grand Caymans, the presenters basically tried to terrify cruise goers by saying they would be left behind and awful things would happen unless they booked an excursion through Carnival Cruise. I did not go to the art auction, but people in my group did and they said it was equally disorganized and slimy. A shame because there was some beautiful pieces of art for the auction.
Our stop in Cozumel was pretty amazing, we got to leave the boat at 10 am and had to be back on the boat by 7:30 pm, so it was really cool that we got a whole day in Cozumel!! But our stop in the grand caymans kind of felt like a rip off. We could get off the boat at 7:30 am but had to be back on the boat by 2:15... Felt a little lacking. This was my first time out of the u.s and I really wish I had gotten to have more time off the boat. The room situation was ok, we had three people in one cabin and only one outlet to charge phones. Even after paying for wifi on the ship it was basically unusable, the food was mediocre, and dear God the pool sucked. There was only one pool. And it was tiny. It wouldn't even be big enough to swim in if it was completely empty! But of course the pool was always packed.
There were 4 jacuzzis I believe, but those too were packed and barely warmer than the temperature of the air. And good God the children were not supervised. I gave up on getting in the pool because of how many unsupervised children there were and I don't blame kids for not understanding personal space, and how to properly use a shared space, but it would have been nice if the boat had more than one frickin pool when you're on a boat for 6 days in the middle of the ocean in the summer so close to the equator.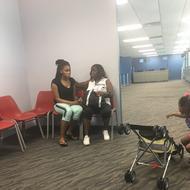 So today we traveled from Mississippi to New Orleans to board the Carnival Fascination that we pre-booked back in November 2016. Which was fully paid for before the May 2017 deadline. During this process we had not received any kind of info on cruise since booking. So today July 3rd we arrived for the departure of our cruise. My mom, Dad, Little sister, son, daughter, husband and myself excited about making it to New Orleans for the first time in our life. Let me remind you this was my parents' 7th cruise and my 3rd cruise. So when we arrived a train was stuck on track for 10 minutes at a stop... Time was really approaching and we had to be boarded before ship sail at 4. We finally parked and the guy took our luggage and we left him a great tip. Then went through check-in.
Everything went smoothly until we made it to health survey. I signed paper and it asked if I was pregnant. Yes I'm 8 weeks pregnant. So I marked yes and went on to next point... When we arrived to counter they told me I needed an approval form signed by my physician stating that I may travel. I was shocked because on health form it stated if 24 weeks or more must have form submitted. I was not aware of this... So they made me separate from my family like I was a criminal being held in jail and told me don't move at all. I was very upset but remained quiet. They continued to check my family in and then told me they can board but I can't. I began to be very emotional because I was not only from Mississippi but stranded because they were my only transportation and didn't know anything about New Orleans because I lived 3 1/2 hours away.
My family members were upset and my mother was like any other mother. I'm not leaving my pregnant daughter here in a strange city alone something has to be done. Carnival workers were very rude and keep interfering with us. So one lady said I can try to contact a physician to send signed paper. So finally I contacted the physician and she decided to send approval form but Carnival worker acted as if she couldn't receive it by fax in time so send it by phone. Their system keep going down and she was stalling. So she asked my family who was board we all stood up but she said, "Oh no, everyone but her..." So time was running out like only 5 minutes left but then she stated all of these are not boarding because boarding was closed. Now we cooperated with them very kindly and they decided to close boarding and say no one can go... So my whole family wasn't able to board.
I was so devastated I just cried. My children 3-year-old and 8-year-old and sister 14-year-old was crying so loud and my family was like, "Don't worry about it. We will just try to rebook or get money back". They charged $100 for parking we didn't get that back and told us we couldn't get our money back either. We spent $6000 in booking not to mention taking off our jobs and traveling 3 hours back and forward to realize we were not allowed to board... We called Carnival over 10 times talking to different agents hoping to reschedule us for next cruise so that I can submit a form I was not aware of. We did not receive any letters or emails on form so I was very upset. Not to mention all our luggage was gone to Mexico and they told us we had to drive back to New Orleans Saturday to get our luggage... Another 3 1/2 hours. No clothes, no trip, no money.
How do I know I can trust these reviews about Carnival Cruise Lines?
849,102 reviews on ConsumerAffairs are verified.
We require contact information to ensure our reviewers are real.
We use intelligent software that helps us maintain the integrity of reviews.
Our moderators read all reviews to verify quality and helpfulness.
For more information about reviews on ConsumerAffairs.com please visit our FAQ.

On our way home after a four day Carnival cruise with one port stop in Cozumel, Mexico ❤️??? People are asking how we liked our first cruise... so here goes and I believe my husband and Madison ** feel the same. We didn't fly. We drove the day before to New Orleans and stayed the night. We absolutely loved everything about New Orleans and the motel (Holiday Inn Express on Loyola Ave)!!!
On to the??? From the time we boarded the VERY outdated, run down ship to getting off the ship today, we got no help or guidance at all! On the ship there was nothing to do but eat and sleep. The pools were nasty and small. We spent the first two days just trying to figure out how to get to the restaurant. I would ask a "worker" and the directions were so confusing. Every place on the ship was crowded. Elbow to elbow! The room was so small we literally was tripping over or bumping our heads on a cabinet or something. No mini fridge, which we brought sodas and had to just get buckets of ice. Our showers overflowed daily.
Our floor guy, Denys, was the best, he made sure we had ice and towels. He was the only one worth a crap. The internet was blah, which is to be expected. AT&T was suppose to have switched us to the international plan, after the first day we got the text we were NOT on the international plan. And we couldn't call out to change it. Thank goodness for Stephanie ** calling. But unfortunately my phone still wouldn't work so I just turned it off. We went to the comedy club two different nights and it was really good. Didn't last less than an hour though???
Lastly, the service well... there was NO service. You got your own drinks, plate, table, etc. As for alcohol and drink cards, we didn't purchase one simply because we aren't big drinkers (could have been on this cruise???) but I could see how you can rack up a huge bill in one night of drinking. Madison and Sarah ** I think, were bored most of the time because there wasn't much for them to do. Witnessing on the first day someone ??? in the pool, they were done laying out.
We really enjoyed getting off the boat in Cozumel. We had a taxi take us to Paradise beach. Although it was pricey, it was worth getting off that boat! Needless to say, we will NOT be going on another ???. I believe that after going to 3 different vacations to resorts, we have been spoiled. More for your money in my opinion. Yes, flying and customs suck and layovers are a pain in the butt but I'll take that any day over a cruise. Couldn't give us one for free plus spending money. As Madison said, we'd give it to someone else. We honestly had more fun driving to Gulf Shores last year than the last 4 days. I'll post some pics I took with my camera after we get home and settled. #sorrynotsorry #nevergoingagain #cruisingsucks #sleepandeatcaughtup

We just got off the Carnival Vista out of Miami. From our embarkation to disembarkment, our trip was fabulous!. The port of Miami was organized and great. Friendly staff! The entire staff on Carnival was outstanding. Our steward, Jaran, and our server, Mehluli, were superb! We cruise Carnival because of the service they provide their guests and for the prices. We were NOT disappointed at all! Thanks Carnival for making our trip one of the best we have ever had!

First off there is only so much you can do on a cruise on the days that you're sailing. For having 4000 people on board, 2 tiny pools do not suffice. We couldn't even sit in the pools because they were so crowded. Food was decent. Drink selections were sub par. Room service menu was super limited. What really made me angry was our last day on the cruise.
After spending 4k on the whole trip, I was expecting great customer service when it came to booking a shuttle back to the airport. We went to guest services to book and they told us we book directly with the shuttle as soon as we get back to port. We carried our giant suitcases around until we reached a shuttle only to find out that we in fact should've booked with guest services and that guest services "always tells customers they can't book on the cruise ship" so we ended up spending another 80 dollars for a cab to get to the airport. Will never sail this line or ship again. Choose a different cruise.

I am leaving this review because our entire group of 15 people had an awesome time aboard the Dream. Accommodations were great, food choices were plentiful. Only sorry I never made it to the Pig & Anchor, which I heard was delicious. Everyone enjoyed their different excursions. Our family did Dolphinaris in Cozumel and it was exceptional. I had read negative reviews but was glad I ignored them. No you can't take your own camera but if you did there is no way you could pictures as good as their photographers. The staff was very friendly, the facilities were beautiful. The food was ok, but I am a very finicky eater. The others in our group loved the food.
This excursion fulfilled one of my bucket list items and the whole family enjoyed it. If you don't choose any excursions in the Grand Caymans, take public transportation to Hell and make sure you take mailing labels for all your friends. Where else can you buy postcards for .50 cents each and mail them to your friends for a mere .25. Postcards from Hell. How funny is that and only .75 cents. Public transportation is cheap and very informative. The drivers are very friendly and you get to meet the locals. This cruise exceeded all my expectations. The wait staff in the Scarlet dining room was very friendly and entertaining. Our head waiter was Yako and he and his staff were amazing.

This was our second cruise, but first cruise on Carnival. If I had to rate the staff on board the Carnival Miracle I would give them a 10/10. Ketut, our state room attendant was awesome and he always kept everything clean and was extremely organized. Arturo was our main server in the dinner room (table 293) and he made sure that our party was enjoying the food. Also Adam the cruiser director was so much fun! He truly made the trip for me and my family!
A couple of troubling things that we experienced on our trip was that one of our friend groups we were traveling with experience an issue involving a health issue. She had paid the health insurance and the doctor on board refused to see her while she was on board the ship. Also we noticed that Carnival had overcharged our accounts twice! This was really troubling because we were annoyed that bill was 900 dollars became 1800 which is a huge jump. Also they charge the tip to each person in the room which was $90 per person. They charged this to our card without telling us. The issue I had with them charging us $90 was that they didn't tell us they were going to charge our cards.

Me and my family went on Carnival Ecstasy form Charleston SC June 2017. Paid for 4 beds got 3 beds & cot. My child had to sleep on a cot. Service was bad. Ship smells like sewer, will not travel out of Charleston again!!! The port terrible.

My family and I just returned from our cruise. It was a total of 46 family members that cruised. First, our travel agent told us that our ship was newly updated. That was the first lie. Black mold in the toilet, shower walls and floor. A smell of rotten eggs was a huge issue when walking from our cabin to the elevator. I traveled with my 1-year-old daughter and paid over 300.00 for her to cruise and they had no activities for her. There was nowhere for me to bathe her and she could only eat at the breakfast buffet or at designated dinner times because they didn't have decent food for babies to eat. I had to wake up in the middle of the night to order milk for my daughter because there's no place to keep the milk cold.
The children at the pool kept falling because there was so much water which made it extremely slippery. No one was there to mop the excess water up. They charge for water and soda! Customer service was absolutely DISGUSTING. The people are rude, and mean. The only person that deserved gratuity from me was my housekeeper and room service. I tipped them very well. I would never cruise with Carnival again! I would never recommend them. Even after calling and asking for a refund for my daughter the lady was RUDE! I wish I could give them zero stars because this was the worst experience ever!

The cruise ship Splendor needs to retire. This ship is old and dirty. If they are going to keep ships this old into cruising then routine upgrades should be done. We paid the same price for this dirty, outdated ship. The AC didn't work half the time. The buffet closed and sure room service is available but they charge you! Yes, they charge you dearly. We cruise twice a year and this was the WORST experience I have ever had while on vacation. If I could have gotten off the ship with a full refund the first day or even the second day I would have jumped on that.
The wood on this boat is rotting away. The steps leading up to the slide are rotten. The metal grates that are between the wooden steps are pulling away and sticking straight out just waiting for someone to step on it or of course jam their foot into the grate. This cruise line is an attorney's dream come true. So, many safety issues, not to mention that the poor staff are worked like slaves. It reminds me of human trafficking. I have been on many, many cruises and this was my first Carnival cruise and my last carnival cruise. It is really sad to watch people who work hard for their money try to enjoy the cruise but frustration won each and every time.
The two VERY small pools were a joke. The pools barely held 12 people and let me remind you that the cruise ship had 3,500 plus people. The ability to get through the food lines was total and utter chaos. The workers would be instructed to close the line, close the line by the persons walking around in their suits and ties or all white navy looking outfits. It was awful. The poor people working on the ship work 24/7. Our rooms were cleaned and by the end of the day the dust from the ventilation system had already covered every piece of furniture and our clothing. This had nothing to do with the way the steward cleaned our room. This was purely from the ventilation system.
If people are going to be on a boat that was decorated in the 60's with pink carpet that was old and needed replaced, painting needed to be done, the windows needed replaced. They were rotting out then the price should be half of the original price. Had I known the boat would NOT look like the pictures that are on the website I would have NOT booked the cruise. Quite frankly, I want my money back.
The cruise director was awful and needs to be out and about with the guests. We didn't see him until the last day of the cruise. Of course, we heard him every morning on the speaker system but DID NOT see him until the very last day at sea... and he was soliciting money for St Jude!!! Now, I don't mind donating money to a good cause but this guy had ZERO business on deck of the ship trying to chummy up to people to donate money. This pissed so many people off. Now, I would stand to admit if I was the only person who felt this way I would chalk this cruise up to me and my own concerns but EVERY person was talking about the cruise and the crappy boat.

My husband, 3 yo grandson, and I just returned from a 5 day cruise to Cozumel and Key West on the Carnival Sensation. We have been on approximately a dozen cruises, most of them a week long or longer, with the various cruise lines that sail from South Florida's ports to include 2 Disney cruises, various cruises of various lengths on Carnival, Royal Caribbean and Norwegian. We have never had a terrible experience like the one we just had on Carnival Sensation. We were treated like cattle from the moment we boarded the ship until we disembarked. There were huge lines for EVERYTHING. There is absolutely no customer service on the ship, the dining room personnel appeared overworked, exhausted and impersonal. They were as polite as humanly possible under the circumstances.
The food in the main dining rooms left a lot to be desired. The tables were set too close to one another and there was no privacy. Requests for different tables were shut down on the spot. No one appeared to be in charge, there were no Maitre D's and no one seemed to be willing to help or care. The cafeteria style dining rooms by the pools were no better than your local Golden Corral.
Breakfasts were the worst. Powered eggs, microwaved bacon... very low quality coffee, and the free lemonade was undrinkable. The carpet in the kids' club (Ocean Camp) smelled awful and made my grandson have a terrible eczema flare up as he often sat on the floor to watch movies. Carnival is not what it used to be. The staff is not what it used to be. Very disappointed. Will not cruise with them anymore and will tell as many people as I possibly can of my experience so no family member, coworker or friend of mine has to ever endure this kind of sub-standard (awful) service, lack of attentiveness, apathy, rudeness, and cattle herd approach.

We chose this cruise for the location, time and price. That was a mistake. Customer service shouldn't be in their vocabulary because they have zero. We had no ac in our stateroom for 3 full days after saying something to the attendant within several minutes of boarding. My husband has medical issues and had we not brought a fan from home, it would have been miserable. I fell on the pool deck in a huge puddle of water 20 feet from the pool, and they had the nerve to tell me they wouldn't charge me for my visit to the medical bay. My feet flew out from under me, I was not drinking, fully dressed. My doctor told me I pulled every muscle in my back, sprained my ankle and bruise my elbow. I'm on steroids and muscle relaxers now. Had I not gone to the medical bay, there would have been no incident report noted. I ordered cranberry juice at dinner and was charged $2.69 for it and it was watered down.
Guest services did nothing but take off $45 in charges for all our complaints and said they couldn't do more. There was no in-room refrigerator, the smoking area is on the same deck and side as entrance to Camp Carnival. There's an upcharge for everything, from food, to activities, to juice apparently. They force gratuity on drinks with alcohol content. The slides hurt your back because you can feel every seam. The hot tubs were full of kids under 13 talking and behaving inappropriately. The Dr. Seuss stuff was forced into an hour and half on one day, trivia, parade, story time. Then no more characters until the uncharged breakfast which was one of the best meals I had all 5 days. My husband sent several dinners back and he never does that on Royal Caribbean. Captain's night included zero filet or lobster tail unless you paid an extra $20, not on Royal Caribbean, it's included on that line.
After calling customer service after my doctor visit, I was told she couldn't do anything but pass the info along and I have to wait 24-72 hours for someone who can to call me back, they had better hope I don't have to call back. I will never cruise with them again!!! I could continue but it's not worth my time and effort. Will always choose Royal Caribbean from here forward.

I had bad experience. It is my first time and I get very upset. I can't said that I had fun in Carnival Conquest, they just wanted take the money and have you have to paid extra things until the breath that you get in the pool very small. You can't even get in on any time. The things changed every time in the ship. Anyway the worse ship for cruise.

During a recent sailing, my room flooded destroying my laptop, power cords, and sneakers. I requested the GSM throughout the night and was denied access to him because he was sleep. In the morning I spoke with him and he could do nothing about the issue and said I would have to speak with Carnival once I got off the ship. I was up all night because they would not get the GSM in reference to my room flooding from the ceiling. The plumber refused to go to the room after asked by guest services. Once I got home all Carnival said was send receipts in for the laptop, nothing about how I was treated throughout this ordeal on the ship. As a casino VIP guest and veteran they showed no respect on the ship as well as when I called Carnival headquarters about this issue. I asked for a senior level official to speak with and they denied me.
Carnival was rude on the ship as well as when I called to their headquarters. They do not care about guest only money. They have shown they do not care what happens on their ships and they do not care if they are the ones to blame. They will sweep it under the rug and once you are off their ship they will tell you there is nothing they can do, because they do not have to look at you in your face anymore. This is the last Carnival Cruise I will ever take. Beware if you are taking a Carnival Cruise, mildew, floods and other stuff is happening and guest are left to deal with it in the end, and Carnival Cruise Lines do not care.

Our cruise was truly disheartening. I feel like I lost so much faith in humanity. I really didn't know what to expect from our cruise (I should have done more research) but I truly WANTED to like it. It was our honeymoon, a gift given to us by my extremely sweet and generous in-laws. Everyone I talked to beforehand seemed to gush the "you'll love it" refrain, so I had no reason to assume otherwise.
Our thoughts on the Carnival Valor: We had no cell phone service for the duration of the trip (even though I upgraded to an international plan before the trip (a separate issue) and could not check in with family. We were totally isolated and trapped on this terrible boat with no connection to the outside world, which felt extremely isolating. Our stateroom was dirty. I found a toenail in my room and gross scum when I wiped down surfaces. I found 2 hairs in my food that came from the buffet line. Considering the number of people, that was probably pretty reasonable. Our room was ok, but people we sat with at dinner complained of the thermostats in their rooms not working. Another couple had their luggage lost for several days. Half the TV channels are just Carnival infomercials. Stupid announcements always coming over the intercom telling you where and when to do things (like see a show).
Everything felt disjointed, for example, renaissance-style auditorium playing salsa music. Generally BAD MUSIC everywhere on the ship... and on our excursion they played Bruno Mars. SMH. The art was kitschy AF, and the art auction was so tasteless and ignorant it made me want to drown myself in the sea. Very understated library... a small room with a handful of bookshelves. Everything was EXTREMELY overcrowded. There were around 3,600 passengers and 1,200 crew members. It was like being stuck in a Vegas casino for 5 straight days with no escape. Prohibitively expensive drinks. A general atmosphere that encourages overindulgence, mindlessness, and consumerism. Diamonds. Watches. BS. BS. BS. Sub-par "comedy" and as you said, corny shows with little entertainment value.
Basically the entire crew was composed of people from other countries, and there was a strange dynamic of us (Americans) literally leaving our trash everywhere for these crew members (who were all working incredibly hard, by the way) to pick up after us. It just somehow said so much about America in a way I can't articulate very well right now.
Alcohol, gambling, and shopping is the focus... everyone is constantly pandering to sell you stuff you don't need. Exorbitant and wasteful. Lack of quality entertainment. Cliche, gaudy. NO CREATIVE SPACES, ONLY CONSUMER SPACES. Many rude people. I complimented one person's shoes and her response was a (very cold) "thanks... I had to wear these because I couldn't wear my other ones, the heels with rhinestones." (Like seriously, who says that? LOL.) There were a bunch of kids running around unsupervised dropping ice cream cones in elevators. I also overheard people saying things like "OMG! I got a 32 carat amethyst ring for $40! Lifetime warranty, AND I can UPGRADE!!!"
Horrible customer service: On day 4, I went down to ask someone in guest services if there was I way I could make a phone call. He simply told me, "sure, just dial 36+1", not mentioning the $2/min service charge (which was listed in small print in one of the brochures they gave us but was NOT posted by the phone or within the phone system), so we had a $150 charge for phone calls. It was my fault for not reading the information in the barrage of trash brochures they put in our room every day, but their phone policy could (and should) have been much more transparent. When I went to complain about the predatory nature of this situation, the people in guest services were dismissive and unapologetic and refused to waive even a portion of the calls. Just a word of warning: assume these opportunistic capitalists are going to nickel and dime you for EVERYTHING THEY POSSIBLY CAN.
In a nutshell, our cruise felt like a bunch of materialistic garbage with very little creative or intellectual value. I've had more profound cultural experiences going to our local health food store. We truly did enjoy the excursions in Mexico, though spending a few hours in port was only a short reprieve from the misery of "cruising".

I was trying to find the link to send Carnival a review of the amazing service I received at Alchemy Bar but I'll just leave this here. Jason, Jelena and Edward provided us with amazing service! We asked them most of the time to just make us something and every time, the drinks were fantastic. Really made our first Carnival cruise experience wonderful. Thank you guys. Keep it up!

When my husband and I took our first 7 day cruise, we had no air conditioning in our room all week. We were not moved, nor were we refunded for our cruise in any way. It was the most horrible trip we have ever taken!

GET YOUR "SHIP" TOGETHER! In a nutshell - don't expect much except for rude spa staff, construction at 8 am in the morning and horrible fumes from routine engine testing, I gave one star because I met some awesome people who too were quite miserable. Our cruise experience on the Carnival Fathom from April 23 to April 30 (** - cabinB72). First and Foremost we are experienced "cruisers" with approximately over 15 cruise experiences under our "belt". This we must say has been the first bad experience and it must be brought to your attention as we reach out for rectification.
Our first troubling experience was with the manager of the health spa. For starters my wife, Christine ** has multiple sclerosis and her biggest challenge is balance. For this reason she either exercises barefoot on a treadmill or with sneakers fitted a certain way. Twice within a twenty-minute timeframe she was rudely scolded by Adonia's spa manager (first time for being barefoot, second time for not wearing her sneakers "appropriately"). We found it quite humiliating in the presence of another passenger; who consequently commented and apologized for your staffs' behavior. The video footage will confirm theses statements and events.
Even more disparaging, when Christine explained her reasons to this manager (in my presence), she expressed that she had MS. The manager's response was rude, disrespectful, condescending and degrading. To add insult to injury she added that "all passengers are treated equally, even if they have disabilities." This is harsh to the ears and discriminant to someone that faces daily medical challenges. Boat operator/manager Corey promised us that she would be reprimanded, as he did review the video footage. Nonetheless, Christine felt intimidated using the spa for the remaining 6-day duration of the cruise. The offer for a free bottle of wine from Corey offended us and obviously we declined.
As if this wasn't enough to endure as a start to a week's cruise, we then surprisingly found a letter in our cabin informing us that construction would be facilitated for the entirety of my cruise on the balconies of surrounding balconies. This was deeply disturbing, unprofessional and disrespectful to us as full paying customers. Had we known, obviously we would have chosen a different time or ship to vacation on. Consequently, we immediately notified the guest services and they assured us after we expressed disbelief that they would put a halt to this. Well that did not happen.
The following morning we were awoken to banging on a balcony in the nearby vicinity. A vacation in our opinion and as deserved is one with uninterrupted sleep. We both work hard long hours and entitled to this privilege when we vacation as you can understand surely. Once again, a report and complaint was filed with guest services for this event as well. I would also like to add that I spoke to other passengers that were upset about this noise as well.
Last but certainly not least. a few days after the construction episode, my wife was abruptly awoken at approximately 8 am to the smell of something burning. She immediately ran out of my cabin scantily dressed and nervous to locate the steward. When located she was a few cabins down, already on the phone reaching out for information.
They sent Ricky, a ventilation fitter who advised both of us that there was no imminent danger, rather it was a routine "standard" check for the ventilation system. Really? If this were the case, why so early and more importantly why wouldn't we have been informed in advance? Whatever was used for that test, irritated a burning sensation in my wife's eyes. Even the stewardess was concerned and had to leave the nearby room she was cleaning.
In closing, I understand that the Fathom Adonia will be returning to England and will continue to be owned and operated under Carnival Cruise Lines. I would like to say there were some fun times aboard. The Cuban band was splendid and the wait staff as courteous as possible. Our steward was five star and We enjoyed the intimacy of a smaller ship; making many long lasting friendships. But as an owner of a business, It's only right to correct the wrongs and I am expecting that you will gladly do this. I am expecting to hear back from someone.

Carnival Elation Cruise - What a great experience. Thanks to great staff. Ivan on Deck 6 knew every passenger by name and was on top of his job. The director, Kevin, was helpful and so personable. Thank you to the staff and crew for a vacation to remember. No complaints!

Spent 4 days at sea on a 5 day cruise. Was first told due to medical emergency we would miss Cayman Islands and stop in Jamaica, only to be later told no we would skip Jamaica and stop in Cayman. Found out from other passenger same story same boat same time last year. Carnival offered 20% however only on same length cruise. Never again. Boat is old and dirty. Website says upgrades. Linen and towels were visually not clean. This was my 4th cruise on carnival and my worst. Will not risk it again with these clowns.

This is the third cruise on Carnival I have been on and the first two were great aboard the Carnival Elation, and Triumph. This time we did a 7 day to the Caribbean on the Carnival Dream. This ship had just been updated and was supposed to be bigger and better but I disagree. The ship always had several hot tubs and elevators broken and out of service. The two atm machines for the sail and sign card were not working correctly on the last day. Our room was hot and we woke up sweating every night, I complained about it 5 times and even asked for a fan 4 times which I was denied by guest services every time. The only thing they did was took a temperature reading on our room and it read 78 degrees, nothing ever got done about it.
After the 3rd day at sea, the port side liquor on had Crown and Seagram's available, everything else was sold out. After the 5th day, the ship ran out of all Michelob Ultra beer. The comedy shows were held in the burgundy lounge which is a terrible setup. About 80% of the seats in there do not face the stage and not to mention there was not near enough seating. Had to get there 45 mins early to get a decent seat, and it didn't help that a Carnival employee was reserving seats for himself and several female first time cruisers that he was trying to hook up with the whole comedy show.
The gym on the ship was very small, and during debarkation, certain floors of the ship get called at a time to debark, but Carnival employees were allowing people from other floors off at the same time. Being that we're there with my grandpa in a wheelchair, we were supposed to get off first but we had to wait for an hour to catch an elevator because the employees were allowing floors above us that had not been called to debark yet onto the elevators, so when the elevator would get to our floor it was already full.

My nightmare with Carnival began in 2015 when I booked a cruise for me and 3 friends. I had been on a cruise before, but had never booked a cruise. I researched the cruise information extensively, checking the ships' available cruises, needed 2 rooms side by side, and the price for each. I then called Carnival to book the 2 rooms I had chosen. I explained to the employee that I was booking for 4 adults, 2 rooms, and would confirm my selection with my friends the following week; no problem. The employee informed me that if my friends did not agree on my selection I could cancel the booking; no problem. The down payment was $530 per room, and I used 2 credit cards to make the deposits on the rooms.
The employee then began telling me that I needed to "get insurance", which I immediately thought she meant medical insurance, which made no sense to me because I and my 3 friends all had medical insurance. She informed me that if I cancelled the bookings I could file an claim to get my deposits back. This type of situation was handled through with an insurance claim. Met with my 3 friends the following week, and 1 friend had just received word that she was going to have surgery with an extensive rehab period, and we decided to cancel the trip until after her rehab. Called Carnival, different employee, and explained situation to her, after which a long heated discussion began.
Finally, she sent me the forms that I needed to file my insurance claim to get my deposits back. One of the forms required that my friend who had the upcoming surgery have her doctor fill out a form about her surgery, which I don't think is anybody's business but hers, plus her doctor charged $25 to fill out the form. Therefore, I did not submit an insurance claim, but after talking to another employee, was informed that there was a $200 per deposit fee because I had cancelled the bookings, making my possible refund now $840. After many heated discussions with several Carnival employees and the insurance company, 1 employee finally stated that I had a $860 credit and could take a cruise before September 2017.
I then decided that I would try to sell my $860 credit in the newspaper and on Craig's list and verified with another Carnival employee that it was OK to do this before placing the ads, which cost me $50 to run the ad in the newspaper for 1 week. Received very few calls, but 1 man called me and told me that he had contacted his travel agency, and I could not sell the cruise. I immediately called Carnival, different employee, and was informed that I needed a transfer form to do this, which would be $20 per booking. In December 2016, my husband was placed on the liver transplant list, and I decided then that the money would be better used in preparation for his transplant, which was approximately in 8 months. I then decided to file the insurance claim, but the claim was denied because my husband needed to prove that he was sick when I made the deposits in 2015.
I then sent an e-mail to Mr. Roger Frizzell, CEO, of Carnival and told him of our financial hardship and the difficulties I had had trying to get my money back for this purpose. Didn't hear from him, but immediately got a call from "right-hand man", Mr. **. Explained in detail my difficulties since 2015, and he was, I thought, genuinely interested in helping me get my deposits back, even said I would get back my full deposits of $530 each, $1060, total elation, short-lived after he told me that they had to return the deposits to the 2 credit cards that I used and gave me the last 4 numbers of the 2 credit cards I had used. Both credit cards have been closed, but "there is no other way to return the deposits." Bank would have to be the one to inform Carnival that the credit cards were closed. 1 credit card had been closed because it had been stolen and replaced; doesn't matter.
Repeatedly contacted Mr. **, still no word from the 2 credit cards that they were closed, "could take up to a month" for this to happen. I then sent a certified letter to Mr. Frizzell that included the whole story again with copies of initial transactions, the 2 credit cards used, the new credit card after old one had been stolen, a copy of the police report verifying card had been stolen, letter from credit card company verifying account had been closed, and a copy of the letter from Emory Hospital verifying husband on liver transplant list. Yesterday received a call from Mr. ** at 5:30 p.m. (he gets off at 6 p.m.) telling me that all the information that I had sent still would not get my refund. What more could I have sent? He had no answer, except credit card company had to be the one to state card closed. I know what he is doing. I have 3 months left before my time runs out to get my money back.
Carnival will continue to stall in order to let my time run out to get this refund. I told Mr. ** he was lying to me. If I made a purchase at Walmart with a credit card, lost the card, got a new card, and tried to return that purchase with my new card, Walmart would be immediately informed that the card was no longer active and give me the money right then. He asked me if I had contacted the credit card companies, but I shouldn't have to do that. The information that I supplied to him should have been sufficient to start the refund process. I am not giving up. I will fight this until there is no more fight, which will be in September 2017, and Mr. ** knows this.
My biggest complaint with Carnival is the terminology that was used by their employees during the booking process. I was totally in the dark, kept talking about insurance, insurance, and I never thought this could get so complicated. Honestly thought that by providing documentation to support everything that has happened would be enough. I now know that first of all, Mr. Frizzell's right-hand man is not as understanding as I thought he was, just "doing his job." You can't tell me that I am the only person this has happened to, and if so, where does all the money Carnival keeps go? I also told Mr. ** that Carnival has the ability to make an exception to the rule, and they could immediately send me a check in the mail if they really wanted to.
My husband and I couldn't take a cruise now even if we wanted to, and we sure could use this money for when the hard part does get here, which is post-transplant. Mr. ** kept apologizing, and I told him his apologizes aren't any good. He knows that I know what Carnival is doing, and his part for Carnival is to continue to stall until September 2017 gets here.
It has been a total nightmare since September 2015. Every Carnival employee had a different answer, and when they did give me their name and extension, I never was able to reach them. Carnival needs to better educate the consumer about the booking process, use better terminology that the layperson can understand. If the employee had said there is no refund if you make these 2 deposits I definitely would not have done this. Again, I know that I am not in this alone, and I just hope that this will help someone in the future not have to go through such an ordeal for your hard-earned money.

I call Carnival travel agent Nov. 2016 to book 2 rooms for me and my wife and separate room for her mother. A week before cruise my wife wanted to pay for chairs for her mother and she was told it would cost triple because 3 peoples in same cabinet. Steve was my travel agent who book 2 rooms and I paid deposit. Steve told me both rooms would be next to each other and we will be close to entertainment. My sister in law asked to cruise with us, so I call ask about price in March, the agent couldn't not find our reservation and she continue looking. She said, "Do we live in Chicago?" I said, "No." And she made changes to correct address and gave price to add one more person to mother in law rooms.
I call Carnival Cruise to correct this issues. The agent/supervisor said there nothing she could do. She suggested leave mother home and wife and I cruise together and take her next time. Then supervisor said, "You can cruise another day and price will increase by $1000 plus." Due to it will cost more or pay penalty and I get what left after. This is wrong for us or anyone to go thru this. We trust that Steve/agent/Carnival Cruise should be held accountable for their action. CARNIVAL FANTASY DATE MAY 25 2017 CRUISE FROM MOBILE, AL. Thanks.

Wow! What horrible experience I had with Carnival Cruise on my honeymoon day. My flight delayed and called them that I will be a little, if there are other options for and the answer no and that was it. I landed in Miami with wife coming from France. Here we are in the middle nowhere. We do not know anyone around. We tried to call Carnival, no suggestion of what we can other than "book a hotel." Like really, after we have a booked a 3 weeks ticket you gonna treat like this? Our honeymoon died from nowhere, we never got even a phone of sympathy from Carnival. I don't care how cheap they can ever be but as for me and my wife we lost $3k.

I recently attended a Carnival Cruise for my graduation of master's program. I was very much looking forward to your cruise. I brought room decorations and felt I did a lot of research preparing myself for your cruise line. Unfortunately, my trip did not go as planned. It was my first cruise and most likely my last. I would have thought that the only reason my cruise could possibly go so wrong would be seasickness. Unfortunately, that was not the case!
The first day on the ship was okay. The tacos we ate were delicious and a great start to the cruise. After that, it went downhill. Our luggage arrived in the nighttime, leaving us no belongings to use throughout the 8 hours. During this time, the cruise was impossible to navigate. We had horrible customer service. I was supposed to be getting a credit to my room which was not added. I went to the front desk and they told me I had to call and they were unable to handle that. I was so happy to be able to get signal to call in my complaint before the boat moved. That was the point I should have gotten off the boat.
From that point on the cruise went terrible. I was shocked at how terrible the food was. The first day it seemed delicious and the first morning had a unique breakfast menu. From that point on the food was inedible. The meats I ordered appeared to be 75% fat. I absolutely love cheesecake - the cheesecake served did not taste or look like cheesecake. I can go on and on about the food. At one point I got food from the buffet and within 15 minutes was throwing up in my stateroom and in the room for the night. Does this sound like fun? Think about sitting in front of the toilet after eating that terrible food and smelling some horrendous smell from the bathroom. There was a sewer smell seeping throughout the entire ship when randomly walking around - specifically towards the FWD part of the boat on levels 3-5.
Let's rewind for a minute. I was promised many things for the cruise itinerary such as swimming pools, waterslide and mini golf. The mini golf course was appearing to be falling apart - a piece of junk. By the end of the week there were no balls left for us to use. Where was the staff to monitor this? We get on the boat and the waterslide appeared to be green and moldy - I quickly found out why we were unable to use it. The pools appeared green too! They were tiny and looked as though someone put a swamp inside. I was afraid to go in the pools. The last day I finally sucked it up and went in, and what do you know? I got a rash all over my neck. Disgusting. Does this sound fun yet? Why were these things that I paid for not available? I should have had access to clean pools, a waterslide and a functioning mini golf course. That was not the case.
The deck appeared to be dirty throughout the entire stay. I was afraid to take my shoes off - I would have caught many more rashes. When watching your movies, I noticed that many parts of the screen had messed up pixels - the quality was terrible. When trying to get blankets that were supposedly complimentary, 3 of the nights they were not available. I went to press my luck at your casino which was pitiful. I had many issues on the machines and the workers did not appear to know how to fix them so I didn't set foot back in there. The shows on the boat were sub-par. The comedy show was not funny at all. It was extremely offensive and not geared toward a variety of populations and races. I felt discriminated against while on your ship. I attempted to see a wonderful world dance show and actually found that to be hilarious - hilariously terrible.
I can go on and on with my complaints - undrinkable free lemonade and tea, events geared to 5 year old children, room lady not knowing our name and getting us confused with other people, horribly long lines and crowded ships, lack of events, etc. I go on so many vacations and have never had to deal with such terrible services and amenities. When attempting to get things resolved at the desk I was constantly told I must call after the cruise.
After one phone call of getting nowhere - my phone was hung up on multiple times when trying to get a hold of customer service. I would wait 15 minutes to a half hour and the phone would answer then hang up with no one on the line. I am so disgusted by this experience. I was offered a room credit for a future cruise which was a joke. I feel like I have been treated so unbelievably poorly. Your website guarantees a refund for people who are not pleased. I hope that your cruise line will keep its word. I will continue to call, send letters and notify newspapers and media if things do not get handled.

We sailed on Carnival Victory on Aug 21- 25. We have been on about 7 cruises but this was our first Carnival and we was so horrified of the nastiness we experienced. I have photos to show and I would like my money back for this cruise. After snuggling up in our bedsheets for a whole night we discovered urine on our bed sheets. This really freaked us out. We tried calling housekeeping 2 times and no answer. I called customer service and I took a picture and went to customer service. The guy that cleaned our room was upset at us that we reported and gave us attitude because we wanted the sheets changed. Not only that when we arrived in our bathroom there was chunks of something behind the toilet like the floor never got cleaned. Photos taken of that. We kept smelling sewage in our room and come to find out the people next door's toilet was backing up so they had to come in our room to open the hatch to fix it.
We couldn't see out the glass on our deck because it hadn't been cleaned in I don't know how long. The slide was closed the whole time for low chlorination and they closed the back swimming pool because it was turning a funny color so they drained it. Honestly I have never ever experienced this on any cruise ship. We purchased the soda package but to actually get sodas was a hassle. You had to go to the bar and they had to ring it up and you sign for it. The amount of time we had to wait because most people got alcoholic drinks was not worth it.
I will do what I have to do and show pictures to whomever I have to show to but I want a refund. You should really address to if the housekeeping is cleaning like suppose to. You guys have such a fast turnaround from people arriving to people getting off ship that it's not possible. Oh and another bad thing was 3 people complained of bed bugs on same floor and we saw men in full suits coming to inspect room. Come on keep your ship up. Old or new ship I've been on both and this was the worst of worst.

My sister, cousin and I took our first cruise, 7 days, from Galveston, TX, February 11, 2017. I paid over $5000.00 for the 3 of us. We paid extra for VIP parking and boarding. We were supposed to board at 10:00 AM and leave port at 4:00 PM. Due to FOG which happens every February (Carnival neglected to mention), we did not board until 6:00 PM and departed 2:00 AM second day. Due to late departure, first stop Jamaica was skipped. By 3rd day at sea I became sick after eating the fish tacos and was in my cabin that night and all the next day. Afternoon of 4th day called the ship's clinic for some **. I was told I had to come down to the clinic to get it. After arriving, Dr. said I was not contagious, fever 99, gave me the pills and then quarantined me to my cabin for 24 hours. So needless to say I was not able to see second port Grand Cayman. Carnival gave me a letter of credit for 1 day towards my next cruise.
Trust me. There will not be another cruise, for any of us. The two girls with me said they would never go again. The food was horrible in the main restaurant. The only thing good was the burger stand. The drinks were overpriced. Let me say that our Cabin Steward was wonderful. Due to the fact that I spent most of my cruise in the cabin, he went overboard to make it as pleasant as possible. The entire trip was not fun for three ladies in their 60's. That's a shame for something we saved up for, for several years and then chose Carnival. Never again...
Carnival Cruise Lines Company Profile
Company Name:

Carnival Cruise Lines

Year Founded:

1972

Address:

3655 NW 87th Avenue

City:

Miami

State/Province:

FL

Postal Code:

33178

Country:

United States

Website:

http://www.carnival.com/