Best Amusement Parks in the US
Amusement parks are a multi-billion dollar industry, attracting about 375 million visitors every year in the US. There are approximately 400 parks in the United States, ranging from small, regional parks with fairly specific demographics to properties that have multiple different amusement parks and attract tourists from all over the world.
Parks expand and add new attractions each year, making them appealing to new visitors as well as returning patrons. Many parks offer a season pass, making them affordable for local patrons.
Compare Reviews for Top Amusement Parks in the US

Walt Disney World Resort
Read 364 Reviews

Opened in 1971, Walt Disney World has 25 hotels, two water parks and four theme parks and sits on over 27,000 acres in Florida. The resort is the most popular vacation spot in the world and is visited by 52 million people yearly.

Universal Studios Theme Park
Read 153 Reviews

Universal Orlando Resort has welcomed visitors to its movie-themed attractions for the past 26 years. The resort has two different theme parks, The Wizarding World of Harry Potter, a water park and five hotels.

Disneyland
Read 45 Reviews

The original Disney theme park opened in 1955 in Anaheim, Calif. Disneyland includes both Disney California Adventure and Disneyland Park, which have 80 attractions. The resort is also home to Downtown Disney and three hotels.

Six Flags America
Read 154 Reviews

The original Six Flags Park opened in Arlington, Texas in 1961. There are now 18 amusement parks and 12 water parks across North America. In 2015, these parks welcomed a combined total of more than 28 million visitors.

Cedar Point
Read 22 Reviews

The second oldest amusement park in the United States, Cedar Point opened 1860. The park sits on the shore of Lake Erie and is visited by approximately three and a half million people annually. It is open seasonally.

Busch Gardens
Read 14 Reviews

This park, located in Tampa, opened as an attraction for Anheuser-Busch in 1959. It occupies over 350 acres and includes a large zoo, an amusement park, and a water park. Approximately four million people Busch Gardens every year.

LEGOLAND Parks
Read 7 Reviews

LEGOLAND parks began in Denmark. The first U.S. park opened in California in 1998. A second park, in Florida, opened in 2011. These parks cater to families with children between 2 and 12 and have many LEGO building activities.

Dollywood
Read Reviews

Dollywood is located in the foothills of the Great Smoky Mountains. It sits on 150 acres and has more than two dozen rides. It is Tennessee's most popular ticketed attraction, welcoming two and a half million visitors annually.

Hersheypark
Read Reviews

Hersheypark, in Hershey, Pa., is a theme park that covers over 120 acres and is located near Hershey's Chocolate World. The park opened in 1906 and now has more than 70 rides as well as an extensive botanical garden.

Kings Island
Read Expert Review

Kings Island opened in 1972 and is located Cincinnati. The park is approximately 360 acres and has almost 50 rides, including 14 roller coasters. More than three and a half million people visit during its open season each year.
Thank you, you have successfully subscribed to our newsletter!
Enjoy reading our tips and recommendations.
We value your privacy. Unsubscribe easily.
What features matter most at amusement parks?
Size

It's important for visitors to consider the size of the park they would like to visit. The size of the park will determine how much time visitors should plan to remain in the park.
Multiple parks: The biggest names in the amusement industry typically have more than one themed park at a single location. These resorts offer more variety but may cost more since admission to each different park is often charged separately. These properties typically also have one or more water parks onsite.
Single Attractions: Smaller and regional parks usually have only one main park. These parks may or may not be associated with a nearby water park.
Inclusions

Different parks offer visitors different perks included with the price of admission. Visitors should make sure they understand what is and is not included in the price of admission when they plan their trip.
Water parks: Most amusement park companies also own water parks. In some cases, admission to the affiliated water park is included.
Zoos: Some parks started as zoos or have acquired nearby zoos in recent years. Travelers who want to visit an animal attraction may want to consider these parks, where admission to the zoo portion of the park is frequently included in the ticket price.
Line skipping: Almost all parks now have a program that allows visitors to skip lines or reserve a time to board a ride. While some parks give guests free access to these programs, others charge for them. When line skipping privileges are not included in the price of admission, visitors may be able choose from several packages depending on their budget.
Perks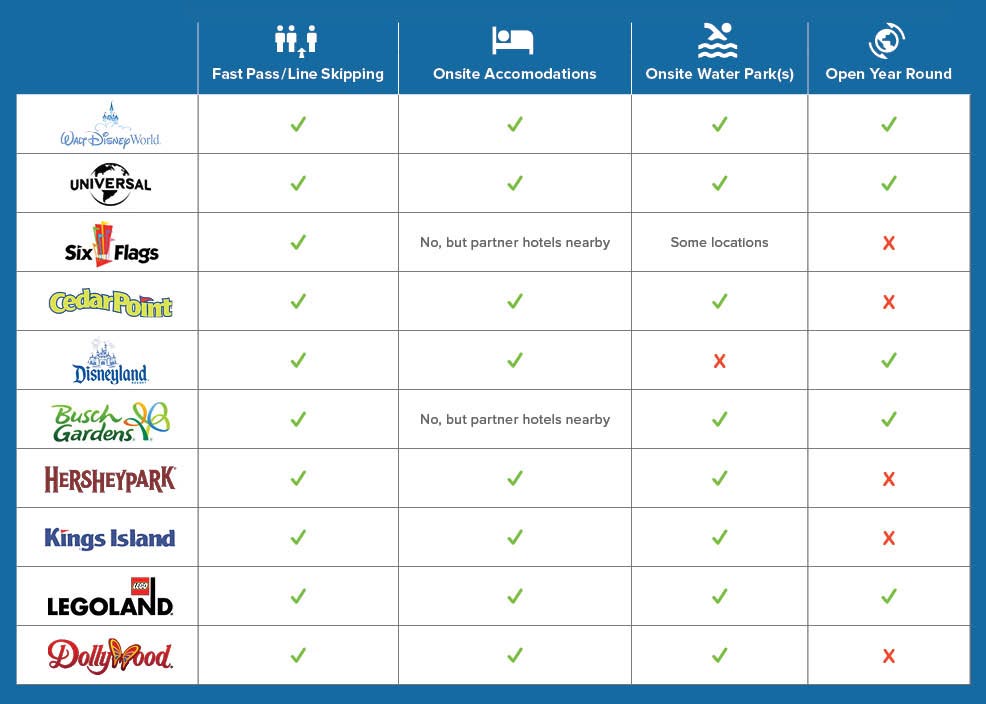 Ride types

Depending on their consumer base, different parks often feature different types of rides. Visitors should think about the preferences, ages and heights of all the travelers in their party when deciding which parks to visit.
Thrill rides: Rides in this category include roller coasters as well as rides with excessive spinning or drops from extreme heights. These types of rides typically have height requirements and may not be suitable for young children or adults with certain medical conditions.
Children's attractions: Most parks have areas designed for children who aren't ready for more extreme rides. These rides may be miniaturized versions of bigger rides, like very small Ferris wheels, or simulate something adults get to do, like driving.
Family rides: These types of rides are designed for visitors of all ages, and entire families can ride them together. This category includes boat rides, bumper cars, swings and Ferris wheels.
Dark ride: Rides in enclosed spaces that entertain visitors with different scenes or tell a story are typically appropriate for all age groups. These rides provide more of an experience than a thrill.
Ticket options

Ticket prices vary by the size of a park and whether or not it's open year round. Visitors should evaluate all the different options and decide which choice meets their needs and fits into their budget.
Multiple parks: For amusement resorts that have multiple theme parks on the same property, guests can usually buy tickets for just one park or for multiple parks. They can also usually choose whether they want to visit multiple parks in one day or just visit one park per day.
Dedicated day: Some parks offer discounts for visitors who choose a specific day for their ticket to be valid in advance. Travelers with a firm itinerary can save some money this way, while visitors who prefer a more flexible schedule can purchase an "any day" ticket to give them freedom to change their plans.
Season passes: Those who live close to a particular amusement park may be able to save money by buying a season pass as opposed to a single-day ticket. Visitors can easily estimate the number of times they would like to visit the park and then determine which option is less expensive.
Location

Visitors should consider what other attractions and entertainment options are near a particular amusement park when planning their trips.
Beaches: Visiting an amusement park near the ocean or another major body of water guarantees that travelers will have the chance to take advantage of outdoor and/or sport-related activities.
Entertainment cities: Cities like Orlando and Los Angeles are home to multiple amusement parks and other attractions. Visitors to these cities will have a wider variety of choices for their vacation.
Regional parks: Many smaller parks across the US offer visitors the excitement of an amusement park close to home. These parks may be smaller than those located in larger cities, and they often reflect local culture or history.
Onsite accommodations

Visitors traveling more than a few hours from home may wish to stay at a hotel near the park, and, in many cases, the park will have hotels onsite.
Convenience: Onsite accommodations usually have free transportation to and from the amusement park or are within walking distance, meaning guests won't need to worry about parking.
Price: Parks with onsite accommodations usually have packages that include both tickets and a hotel stay. Such special offers may make an onsite hotel more affordable than an offsite hotel.
Extra perks: Guests staying in one of the park's hotels often receive special benefits such as early admission to different attractions, discounts on dining and/or free line-skipping privileges.
What are different types of amusement parks?
Seasonal
Smaller and regional parks sometimes close during the winter months. They may reopen on weekends or during the evening around different holidays, typically Halloween and Christmas.
Theme parks
Many parks have a theme that is associated with the company that owns them or a partner company. In addition to offering the usual amusement park attractions, these parks typically have themed areas and merchandise as well as costumed characters available for pictures and signatures.
Roller coaster parks
The largest proportion of rides in some parks are roller coasters or other thrill rides. These parks often cater to young adults, families with teens and thrill-seeking adults.
Children's parks
Families with smaller children may enjoy parks that are designed specifically for the younger visitors. These parks often have more spaces for children to play as well as rides suitable for younger guests.
Who would enjoy an amusement park?
Families
Whether it's for a long vacation or a day trip, amusement parks are good choices for families because the parks have a wide variety of attractions.
Solo travelers
Those who choose to travel on their own can often do more at amusement parks than those traveling with larger groups since many parks have "single rider" lines that move more quickly than the regular lines.
Retirees
Whether on their own or with grandchildren, the 65+ crowd will find much to enjoy at amusement parks, including live entertainment, artisan demonstrations and animal attractions.
Thrill seekers
Anyone who loves the feel of zero-gravity that accompanies the twists and turns of roller coasters will enjoys the more extreme rides at amusement parks.
Amusement park expert reviews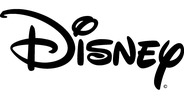 Walt Disney World has welcomed guests to its amusement parks and hotels for 45 years. Today, the four theme parks, two water parks and 25 hotels attract more tourists each year than any other vacation resort in the world.
Read More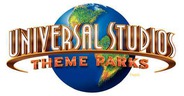 Universal Orlando opened in 1990 and began expanding in 1994 to become a multi-day vacation resort. It now includes two parks, Universal Studios Orlando and Universal's Islands of Adventure, on over 200 acres.
Read More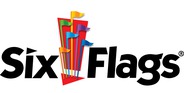 The first Six Flags park opened 55 years ago and has since expanded to include 18 amusement parks across North America, so there is likely a Six Flags relatively close to you. It is the largest regional amusement park company in the world, with more than 28 million visitors last year.
Read More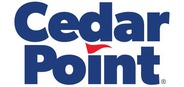 This Ohio amusement park, which sits on a peninsula on the south shore of Lake Erie, opened in 1860, making it the second oldest amusement park in the United States. The park is open May-September and select weekends in October and November. More than three and a half million people visit the park each year.
Read More

Located in Anaheim, California, Disneyland Resort was Disney's original amusement park. It opened in 1955 with 18 rides and now has more than 80 attractions, including rides, shows and activities. Disneyland Resort includes the Disneyland Park, Disney California Adventure, Downtown Disney and three hotels.
Read More

When this park opened in 1959, visitors to the Anheuser-Busch attraction could sample beer, explore a garden with tropical birds and take the Stairway to the Stars to the top of the brewery. Now, about four million people a year visit the park, which features more than twenty rides and a variety of exotic animals.
Read More

This park, located in Hershey, Pa. was originally opened in 1906 as a leisure space for Hershey employees. It now covers more than 120 acres with over 70 rides.
Read More

This amusement park near Cincinnati, Ohio has 14 roller coasters, including the world's longest inverted roller coaster, Banshee. It welcomes approximately 3.5 million visitors per year.
Kid's areas: Kings Island has won the Golden Ticket Award for best Kid's Area every year since 2001 when the category was introduced. Planet Snoopy has rides for kids of all ages. Children can also meet Peanuts characters.
Dinosaurs: Dinosaurs Alive! has 65 life-size animatronic dinosaurs in a variety of scenes. The area also includes a dig site for children. All activities and exhibitions are based on paleontological evidence.
Movie nights: The Soak City waterpark hosts a summer movie series where patrons can watch recent blockbusters while floating in Tidal Wave Bay. Admission to Soak City is included in the ticket price for Kings Island.
Coasterstock: Each summer Kings Island hosts Coasterstock, a multi-day event where visitors have exclusive ride time meaning they get to spend more time on the park's most extreme rides. Tickets to Coasterstock include a special t-shirt and other exclusive souvenirs.
Cirque show: Origins: A Cirque Experience is a 30-minute show featuring performers who demonstrate strength and balance. The show includes aerial stunts and is accompanied by music from hit bands like Aerosmith, Journey, Bon Jovi and Foreigner.
Best for: The park has options for families, young adults and anyone who loves roller coasters.

The first LEGOLAND opened in Billund, Denmark in 1968. The brand of theme parks has expanded worldwide, with two parks in the United States. The park in San Diego, California opened in 1998, and the park in Winter Haven, Florida opened in 2011.
Read More

This park sits on 150 acres in the foothills of the Great Smoky Mountains. The park hosts about 2.5 million guests per year and is Tennessee's most popular ticketed attraction.
Read More
Disclaimer
Information in this guide is general in nature and is intended for informational purposes only; it is not legal, health, investment or tax advice. ConsumerAffairs.com makes no representation as to the accuracy of the information provided and assumes no liability for any damages or loss arising from its use.