Consumer Complaints and Reviews

As an elite member, I was denied Business Class upgrade though there were 4 empty seats. I requested several times even after boarding the flight. The Flight attend talked to Air Tran/SW representative at the Gate and was told that there are many Elite members on the Flight and could not upgrade anyone. I did not get it. I never had this problem before. I lodged a complain with AirTran Airways as I write this review here and will update what I hear from AirTran Airways.

AirTran sent my bag to Nassau while my flight was to Jamaica. Myself and daughter was given the wrong bag tag by the check-in agent! For the entire trip (6 day) we were constantly told that they are waiting to see if the bags come in and if it did I needed to come get it. No one was able to locate our bags or give us any info how to find it. After returning to Atlanta 6 days later, the baggage claim agent informed us that we needed for file a claim to start the search and we can only be reimbursed for $100 of our expenses. So far it's been 10 days and still no bag.

My father had a stroke while on vacation in Orlando, in Oct. We booked our flights through Expedia. We had doctors notes (cardiologist, neurologist and generalist) for his return flight home to an inpatient rehab in Ohio, after hospital stay. Airtran did not work with us on return flight. We also had a freeze on any voucher (1/4 of cost). Because of health and release from hospital, flights had to be made last minute and First Class. So much for anyone who says airlines are supportive in emergencies. We experienced none of that. And they blamed it all on Expedia. We purchased tickets directly through them to come home.

I was advised to check-in online, so I did. My credit card was charged ($50.00) for luggage, then the check in was denied due to, "this is an international flight and you must check-in in person." The flight was cancelled due to weather. My credit card was still charged. When I e-mailed AirTran and complained, they replied by e-mail (5 days later) that the matter is resolved and did not credit or refund the ($50.00). I have a record of the transaction and have to continue to waste my time to try to get the credit for services not provided by AirTran. I think this company is a thievery in action. They are also refusing to issue credit for the cancelled flight, that is another issue.

I was traveling from Montego Bay to Orlando on 1/13/2014. I had a bag and due to limited space on the flight (booked completely) they, the flight attendant was letting passengers know that they should check their bags. I tried to be a good passenger and checked my bag as well they were offering no charge for the checking of the bag. When I arrived in Orlando and made it to my home and open my suitcase, I was shock to find everything in a mess. My jewelry case was open and my costume jewelry was everywhere. The only two silver I had was missing, my Fossil watch and a silver ring. This watch was valued one hundred thirty dollars and the ring eighty. When I called Air Tran, I was giving the run around until finally a customer service representative enlightened me by saying there is nothing they can do.
This is unfair and I need my items either replace or give a one way ticket, I just need to be compensated for my loss which was in Air Tran care. I understand that we are to not put valuables in the luggage but I thought I was doing the right thing in helping to check my luggage as was suggested. I need my valuables replaced or I need to be compensated. I am very disappointed with Air Tran at this time.
How do I know I can trust these reviews about Air Tran?
610,392 reviews on ConsumerAffairs are verified.
We require contact information to ensure our reviewers are real.
We use intelligent software that helps us maintain the integrity of reviews.
Our moderators read all reviews to verify quality and helpfulness.
For more information about reviews on ConsumerAffairs.com please visit our FAQ.

Booked 2 flights in Oct 2013 for Airtran nonstop flt 817 depart Dec 22 from BWI @ 9am, arrive in Punta Cana at 1:52pm for a family holiday vacation. I also purchased 2 seats 23C & 23A! Airtran e-mailed me Dec 19 with our new flight times changes and flight changed to FLT 133 to depart BWI @ 7:55am, arrive Atlanta 9:55am, depart Atlanta @ 4:30pm, arrive Punta Cana @ 8:57pm!! Guess what? Flt did not leave ATL until 5:40pm!! We arrived in Punta Cana hotel almost midnight!! All day of our first day family vacation wasted!
I also received call from Airtran after they e-mailed me. The agent said our flight times changed, but the agent did not say that Airtran was involuntary removing us from our originally purchased nonstop flights. When I asked agent, why they are changing our flights, agent's response was that Airtran oversold the nonstop FLT 817! I was upset and furious, so I ended the call! I called Airtran Customer Service and I was offered flight out from BWI on later dates! I informed agent that our hotel was prepaid and that later flights was unacceptable! I spoke with supervisor Heather and she offered refund of 2 one way of our fares and seat fees! I asked info about 400% for involuntary removal by Airtran from our original flight - her response was that we were not Involuntary Denied Boarding (IDB) so compensation does not apply to us!!
It is legal business practice by Airtran - overselling seats on flights, bait and switch and Airtran's ability to go around US Dept of Transportation rule for IDB. Airtran involuntary removed us from the original Dec 22 flight that we paid for and on Dec 19 moved us on different flights!! Subsequently, we were not involuntary removed by Airtran on Dec 22, so the US Dept of Transportation Rule DID NOT apply to us; Airtran avoided compensation of 400% or maximum compensation of US$1300 per passenger for involuntary removing us from our original nonstop flight from BWI!
What is the legal definition of IDB and Involuntary Removal of paying passengers from flights? US Dept of Transportation is reviewing my case because I need to know my rights as a consumer! Airtran must explain to me in writing why we were involuntary removed from our originally paid flight besides the issue of Airtran oversold seats on Flt 817, Dec 22. How does Airtran decide which passengers to remove involuntarily from flights? Why does Airtran oversell seats on flights in the first place? Because it is legal and they have the right?

On September 17, 2013, my husband and I booked an all-inclusive vacation package through Southwest Vacations, reservation **. Our entire family decided to spend our Christmas vacation in Jamaica. This was the first time we have ever spent Christmas away from home. However, this vacation was special because my husband had just finished a year-long treatment for a serious disease and we were celebrating his recovery. I received a confirmation email from Southwest vacations with an ad that promoted Early Bird check-in. I attempted to take advantage of this; however, I was told that we would have to check in at the counter since it was an International flight.
So on Dec. 21, 2013, my husband and I along with four other family members checked in at the St Louis airport. Everyone received a seat assignment all the way through to Montego Bay except for me. The Southwest ticket rep said that the flight from Orlando was overbooked and my husband got the last seat. She told me to go directly to the gate and try to get a seat assignment when I arrived in Orlando. We arrived in Orlando and I went directly to the gate. I explained that I did not have a seat assignment and the gate person took my name. I wasn't worried because I thought surely they will find a seat for me. After all, I made my reservation in September. When it got closer to boarding time, the gate rep started announcing, "We are looking for volunteers to give up their seat. You will be given $300, a round trip ticket to be used in the next year, hotel accommodations, and a flight tomorrow at this same time." (Notice my quotation marks because this is exactly what she said over and over).
The boarding began and I still could not believe that I would be left behind. Suddenly realization set in that I was not going to be able to join my family on this flight. My 7 year old granddaughter was crying because their family was separated and she was seated seven rows behind her closest parent. The counter people told my daughter and son-in-law to try to find someone to trade when they got on the plane. My husband refused to leave me behind alone, even though he was weak and sick still from his treatments. He gave up his seat to one of the other passengers so he could stay with me. We are very close to our grandkids. They were both crying when they boarded because Nana and Papa were not with them. We assured them we would join them the next day.
There were five of us with confirmed reservations who did not get on the flight. Everyone was stunned. Then Mr. Thomas ** called us all up to the counter. We expected to get boarding passes for the next day. Instead he said, "All of our flights are overbooked. The soonest we can accommodate you on a flight is Christmas Day". We were all stunned. Absolutely stunned! They outright lied to us. I looked at the gate attendant and said, "How many times did you announce that anyone giving up there seat would have a flight at the same time the next day"? One young Jamaican girl fell to the floor sobbing. She said, "It's Christmas. I am going home to be with my family". We were all in shock. Mr. ** said that the airline would compensate us by writing us a check for 3 times the amount of what we paid for our ticket. No one wanted that. He said that was the best they could do.
I asked about booking us on another airline. Mr. ** said that they checked Expedia and there were no flights available until Christmas Day. That was 4 days away. My entire family from around the U.S. was gathering at a resort in Jamaica. But we were not with them. I did not know what to do. My husband was sick, so the entire problem was put on my shoulders. The other four took their checks and left. I asked Mr. ** about the hotel and round trip ticket offered. He said that should come out of the check they gave us. Mr. ** left and was not seen again. One attendant, Irena **, agreed to give us a voucher for one night at a hotel. She also wrote vouchers for $7 for lunch and $12 for dinner. I said, "Are you kidding me? This is what you offer for meals?" She had us sign a receipt that we received a check. I signed, but I also wrote, "Not satisfied".
My husband could not handle any of this, so I left him at Macaroni Grill with a glass of iced tea and told him I would be back as soon as possible. He said, "Let's just go home", but I said, "Our family is waiting for us. We have to get there somehow". That is when I started my 5 hour trek. I went from airline to airline, standing in long lines. The lady at Delta was very helpful and said she could get us on a flight on the 23rd. She held the seats and told me to continue looking for a better option. So at the least we knew we could get out in two days. I went to United, Coca (sp), AA, Delta, and Jet Blue. I must admit that I met some wonderful caring people, unlike the people I met at Air Tran.
There was a man named Andrew at AA who worked so hard to find me a way to Jamaica. He finally found one first class ticket on AA for the next day at a cost of $1640.20. He also found one seat on Jet Blue. He held it through his computer, but it did not give a price. He told me to go to Jet Blue, pay for the ticket and then come back to pay for the ticket he was holding for me on AA. I went to Jet Blue; they could not find the reservation. I returned to AA. I was so exhausted that I asked the VIP rep to have pity on me. He did and told me to bypass the long line and to go ahead. He felt so sorry for me. So I explained that Jet Blue could not find the reservation. He told me to return to them and show them the printout he gave me. I returned to Jet Blue. I worked with a man named Saul. This took more than an hour. He was continually put on hold. I kept apologizing, but he was determined to get me to my family in Montego Bay. He was so awesome.
After about 45 minutes, he said to me, "They are processing it now; give me your credit card to pay". I was so happy. Then another half hour went by and he was talking with a person on the phone. I saw him slap his head and say, "Oh no!!! We have to help these people". I am sure there is a seat for Kevin. We need to find it. They went one by one through the passenger list. He was determined! Thank God for Saul! He would not give up. I kept saying, "I'm so sorry I am taking so much of your time", and he said that it was alright. He was doing his best to help us. I asked if it was ok if I left to check on my husband. He said, "Of course". I went to give my husband the latest update.
When we returned to Jet Blue, Saul gave us a "thumbs up"! He was so awesome! Then after we got the boarding ticket for Kevin, we went back to AA to speak with Andrew. I said, "Please, Andrew, tell me that I can still get that seat you saved for Montego Bay." He said, "Let's see", and then after some facial expressions and key strokes, he said, "Yes, here it is". He printed out a boarding pass for me and we were elated. All of this was done without any help from Air Tran, Southwest Vacations, or Southwest Airlines. I have a history of blood clots in my legs and I take blood thinners. I was on my feet for five hours trying to find a way to be with my family. I felt like no one from Southwest Airlines Vacations, Southwest Airlines or Air Tran cared about us. All of the Air Tran people disappeared. Customer Service for Air Tran was closed until Monday, this was Saturday.
Southwest Vacations just kept putting us on hold waiting for a supervisor to pick up which never happened. No one helped us except the awesome employees from American Airlines and Jet Blue. They cared. I expect to be compensated. I purchased travel insurance. The compensation offered by the airline, Air Tran, was not enough to pay for the new tickets and expenses we incurred. I spent an exhausting amount of time finding a way to Montego Bay. If I had waited for Air Tran, I would have been delayed four days. I expect total compensation; not only for expenses, but for the pain and suffering I endured to reach my family. I will not let this go! It was the worst travel experience I have ever encountered! I am asking for two round trip international tickets, business class, priority boarding and also $600 for inconvenience, pain and suffering. We will see what happens.

Traveling with an autistic boy and had about 5 delays from 2:40 one depart to a 10 pm depart from Indianapolis. It's not the staff. It's the airlines. I watches the ladies do everything possible to help customers. Then whoever was in charge..... Changed the flight number. Booked with Southwest. Guess I didn't pick up on the Caltrans connection. It's been miserable. My nonverbal autistic son was been uncomfortable for hours and the airlines can only say sorry. They promised $100 vouchers and never have them. Man this was a BAD experience with an airlines that is as bad as I have ever seen. Additionally my son's medication applicator was in a checked bag... What a major pain. The delay was longer the expected entire trip. Message to Southwest Airlines... Please, please, please stop connecting with this terrible airlines.

My husband and I took a flight from Cancun to Chicago Midway on Thursday the 24 of October with Air Tran. The seat that I sat on was broken and kept reclining. Seated by us was a Russian family consisting of two grandparents, a son and two twin boys about age 4. Right when the flight started the grandmother kept pulling fruit out of a bag which was loaded with fruit, even though this was an international flight and fruit was not allowed. When she was not smacking on the fruit she was coughing all over my husband. Then a big fight broke out with her and the rest of the family, shouting at one another, even the twins joining in. I speak a little Russian and wanted to tell them to knock it off. But I was intimidated by them.
All during this not once did a attendant tell them to keep it down. Next after that calmed down one of the twins says he has to urinate. With that, the grandmother pulls out a cup she had and has the child urinate into the cup in the middle of the aisle. Once again, no flight attendant response. I want to know what the attendants were doing all this time. Why they did not protect the other passengers from this family is beyond me. When we were near Chicago a flight attendant finally went up to speak to the family. When she did the father of the children started screaming at her, claiming he was going to report them for saying anything. She should have told him to shut up and sit down and not taken the crap from him. I have never witness such awful rudeness in my life.

Flew AirTran on a return flight from Houston to Atlanta and terminated in Philadelphia on 09/03/13. I forgot my London fog hat in the aircraft or arrival hall. I have called Lost and Found # and left numerous messages. No one has ever returned my calls up till date The hat is grey square boxes, mixed with brown square boxes and lines and grey lines. I am very disappointed.

I had a flight out of Chicago Midway scheduled to leave at 12:20p from Gate A18. I checked my baggage in outside at curbside. Proceeded to security, got to my concourse before schedule, went to McDonalds at 12:00, waiting on passengers to board this gate. I sat down still waiting for the gate to open with loading instructions while talking to another individual waiting on her flight. When never any info posted on the display board I proceeded to the counter to ask when the flight was leaving for Tampa to be told the flight had already left. I then asked how when I was sitting right in front of the gate and then went on to show the time I ordered at McDonald's was 12:00p and the gate was straight ahead so I would see people boarding.
I was then told I would have to take a flight to Tampa the next day causing me to miss a meeting for 8:00a that morning. I then went downstairs, talk to a Southwest Supervisor because I knew Air Trans left early. She confirmed there was no way I could have missed that flight based on the time of the restaurant ticket and the location of the gate. She somehow found me a flight out of Midway that same night. I want to thank the Southwest supervisor. Air Tran is not a plane I would advise anyone to fly. They are non concern with their passengers and why would you put someone on an Orlando flight if their care is in Tampa, Florida? They make it less convenient. I swear if I have to fly Air Trans plane I'll drive 1st.

My name is Sharon **, and I was traveling on business, and I checked three bags, and the third bag I paid $75.00 did not arrive with my flight, and did not arrive until the 9:00pm flight. I was scheduled to drive (5 hours) from Atlanta to Fort Walton Beach for a jewelry event which begins at 8:00am. Since the merchandise for my event was delayed, I was not able to make the event. I not only lost my booth rental fee ($300), I lost sales by not being at the event, which is an estimated $4,000-$5,000. That's what I traditionally net during this type of event. In addition to my baggage being delayed, I lost business. I feel I should be compensated as a result. To pay for a bag that did not arrive, I certainly deserve a refund for the delayed bag, as well as compensation of some sort for the business lost.
2nd Complaint: I was scheduled to return back to New York on Flight 5035. I arrived at the gate at 7:02am, which was 8 minutes after your 10 minute grace period. As a result, my seat was given up. I get the fact that this is your policy, and I take full responsibility; however, when I asked to be on the next available flight, I was directed to go to the Southwest counter. I did go there, and was placed on a later flight, approximately 2:00pm with a layover in Milwaukee, and to arrive home after 7:00pm. I asked if there was anything they could do in regards to placing me on the next available AirTran flight, which was approximately 8:50, Flight #38. I was advised that the flight was oversold, and there was no way they could place me on this flight. I immediately checked online, and find that there are open seats. When I mentioned this to the AirTran representative, I was told the only way I could be placed on the flight is to book it. Otherwise, there was nothing they could do. Since I had to return home for a vending event, I had no choice but to pay $375 one way to return home.
AirTran took advantage of the situation, especially when a seat was available as long as I was willing to pay. Furthermore, on the flight, there was a seat next to me and one in front of me open. To be told there were no available seats after my seat was given up, and to find out later if I was willing to pay $375 for the seat, it would be available. This practice was deceptive and under handed, and if this is the way you plan to run the merger, you are no better than a thief. I am very disappointed and disturbed by the new way your merger conducts business.

Well on May 28th, we were flying for vacation down to FL. When we got there to pick up our tickets, the line was very long. It took us almost 30 minutes to get our boarding passes. The person at the counter was not very courteous to us. And when we were asking a question, she called and she said "Next in line." On our way back home on June 4th, when we picked our tickets, we found out that one of our seats was in the front and one way in the back. We also found out that the flight was full and other families were also sitting not together, as well. I don't think I will ever fly with them.

On the way home from our daughter's graduation in NY, we had an extremely long delay. Air Tran was kind enough to give us a round trip travel voucher anywhere - they fly within a year from date of travel. The problem with that is when you want to choose a flight on airtran.com, it diverts you to Southwest.com. Well you would think Southwest will honor that since they are merging. No way, basically the AIR TRAN VOUCHER ISN'T WORTH THE PAPER IT'S PRINTED ON. You would think if they would want your future airfare business Southwest would honor the voucher... GUESS NOT. What a joke!!! Extremely disappointed.

On 4/4/13, I used online check in for a flight the following day. I noticed that in the process, you could prepay your baggage fee. I decided to do that and I added priority boarding as we are seniors and it helps. 70 dollars was put on my Visa card for this purpose. When I arrived at talked to the Air Tran agent, he said that there is no record of the payment in spite of the fact that I had the receipt. He stated that I will have to pay the fee again and work it out with Air Tran later. Well! As anyone reading these horror stories know - there is no getting any money back from Air Tran. After a half dozen attempts by email and by phone, you are not getting anywhere. I was forced to file a dispute with Visa.

Three college students were flying from Jacksonville to Las Vegas. By reading previous reviews, they must have run into the same middle-aged African-American agent as the previous complaint filed yesterday. The behavior of this agent was unacceptable. She was rude. Her customer service skills were lacking in a very serious way. They could not get any assistance with their travels. All three girls were crying, had no travel experience and had no idea what to do. They approached a Delta counter where the agent spent more than 30 minutes with them (from my business experience, this is what I would refer to as customer service).
Although she was unable to assist them with a flight to Las Vegas, she was very comforting and compassionate. She was able to tell them where to be for their next flight and what to do while in the airport for their long layover. If you call the customer relations, you will be on hold for over 10 minutes. I called the baggage claims in Las Vegas and the female I spoke with was very rude as well. I guess this is the normal customer service teaching within AirTran. Watch and see how long they stay in business. I vote Delta all the way!

I have been flying through ATL with Delta, Eastern and Air Tran for over 30 years. I ran into a difficult Air Tran Agent who was having a bad day. The middle aged, African American woman did everything she could to try to make me miss my flight and be as difficult as possible. The Delta and United employees in ATL are so much more helpful and service oriented. It's worth a few dollars extra to deal with a professional airline. When heading from ATL to ORD or DEN, I'm sticking with United. It's a better overall experience!

Indeed, I departed from Memphis, TN to Las Vegas, NV. The flight must connect at Atlanta, GA. The first flight no. 593 was delayed but the supervisor at the counter is very nice. She changed the flight for me and gave a voucher for free beverage because we might be at Las Vegas. I and three other passengers flew together in the same fight. Although we ran to catch the fight in Atlanta, it does not matter. I understand as I've traveled a lot from Asia, Europe and States.
The complaint is for FLT 42 from Atlanta to Las Vegas. Front flight attendant, who served in first class and four rows in economy class, had very rough manner in speaking. She ordered another passenger to fasten the seat belt. She rejected the request of other passengers. A lady who sat in 12C asked for hot coffee. She said, "No, we do not have that." As for me, I showed her my voucher and asked for a little beverage bottle because I knew that the flight would be there late at 12:20 am (so no restaurant would be opened). At first, she said, "No, you must purchase at the airport." I showed her the line "one free beverage". She ignored it.
When all flight attendants served every one already, I asked another flight attendant and she told me that the front flight attendant knew and she will give me later. But she walked past by me and did not bring anything and no explanation. I understand and I can wait. But it seemed like a play game of "I will not give and just ignore." When I went to the rest room, I saw she sat and relaxed while another flight attendant was serving. She may think why should she serve in economy class too, or the customers always ask for a lot of things. The duty of flight attendant must come from service mindset. She might be so tired at night. She should put her foot on customer's shoes. We had connected flight at midnight either. They need it and it's their right to get.
I'm very disappointed and so sad with Air Tran. My husband always uses Delta (first class) and this trip too. But I have A-plus rewards so I convinced him that Air Tran is good too. Indeed, a little beverage is not important but the feeling and reputation is more important. I don't know, the flight attendant might think that she is big. The attitude of a person can show from behaviors. I don't know her name because they didn't allow me to have a picture. But the picture of Air Tran's flight attendant will be in my mind. It's not professional to respond to customers like this. Southwest and Air Tran will cooperate together. I hope the flight attendant service will be better.

We were offered 2 free flights anywhere that AirTran flies if we signed up their credit card and used it. They will now not honor those flights! I want to know if there is any recourse.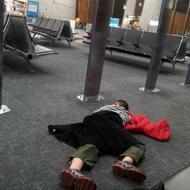 My family and I are loyal and regular Airtran frequent customers. Now and then, we have had bad customer services but I have never experienced one this bad & horrible that really makes me take my time and write you this letter of complaint and say bye-bye for good to Airtran. I promised myself that I would never ever put my family through this bad experience again by flying with Airtran again.
We went on a vacation to Walt Disney World, Orlando FL and flew back to Atlanta, GA on January 7th 2013. We had to wait for 3 stand-by flights that took about 5 hours and only two of us could get on. The other two did not make it until the next day flight and we had to fly to another state, Ronald Regan D.C, to connect to get back to Atlanta. The bad experience had begun because Airtran had over sold or booked every single flight on the 7th from Orlando to Atlanta and pretty much elsewhere, too. Because they over-booked, they knew that they had to compensate their customers who paid and did not have seats.
Sadly and dirtily, the check-in agent tricked the last minute check-in folks like us to lose and forfeit our seats to those who they oversold and checked in early. They thought we didn't know but we did because we flew a lot and got late a few times and we knew the procedures well. We always check-in online and reserved our seats within 24hrs of the check-in time and we even paid for my luggage online if we have big luggage. So, when we arrive at the terminal, all we have to do is drop off the luggage and go through the security gate and get on. This process never takes us more than 20 minutes.
Well, Orlando had a little more traffic than we anticipated but we were not late; we just had a little rush. We were at the luggage drop off check-in place at 30 minutes before our flight departure time, which meant we had more than enough time to get to the gate because we didn't have any carry-on luggage or anything crazy that would delay us at the security check point. The check-in agent refused to check-in our luggage, which is unusual because we insisted it was ok for our luggage check-in with the next flight and to arrive late and we absolutely did not want to miss our flight at 3:30pm. Well, he said our flight cut-off time for luggage check-in had been cut off and he could only check-in our luggage the next flight and he would have to put us on stand-by. This was not true because it happened to us before. They still can check in your luggage the next flight. You just have to wait and pick them up later at the baggage claim.
The check-in agent kept insisting we had to go stand-by for the next flight but we still had 30 minutes before departure time to get to the gate with no luggage. Why would we want to fly on stand-by? We definitely would have enough time to make it to the gate 10 minutes prior to gate closing. Well, he still refused while we kept insisting we didn't want to go on stand-by. I started to really feel the ugly and the nasty about this trick so we again insisted that one of us would stay behind and go on stand-by (if he want to play using the loophole policy rules) to check-in with the luggage, and the other three of us would go on the flight.
I again insisted to let one of us go on stand-by, one person, rather than all four of us. My wife and my two kids then took off to rush to the gate. The security man even let them use the employee door checkpoint because he knew they were rushing to the gate. They were at the gate 10 minutes prior to gate closing. Guess what? All of our seats were given away to the over-booked customers. Do you know how they did it? The check-in agent cheated by putting all of us on stand-by instead of one, so the gate agent could give our seats away. He was not supposed to do that when I insisted only one of us doing stand by. My wife was at the gate right at 10 minutes prior to departure and they shut the door right in front of her face. They would not do this if there were still seats (supposed to be 3 seats left because my wife and two sons were supposed to get on, they didn't give it up for stand-by) and this extra 10 minutes prior to departure normally was used to determine if they can give out empty seats to stand-by passengers.
Guess what? All the seats were taken away 10 minutes prior to gate closing. They gave out our seats to those overbooked customer so of course there was no point to wait around another 10 minutes because there was none to give to the stand-by passengers or wait on my wife and two sons. My wife and two sons' seats were given away when the check-in agent listed us as stand-by while checking our luggage in. This was not right when we insisted numerous times. I know the procedure by heart. My wife made a complaint to the service manager, but his attitude was ugly and he kept insisting it's the rule to close the door at 10 minutes before departure.
At first, we were ok but we were still a little skeptical since we knew they normally give out seats to stand-by passengers at the 10-minute mark before departure. Bad luck for all of us, we all had to go on stand-by. After we waited and stood by for 3 hours till the 6:35pm flight 668 at gate 106, only two seats were available for stand-by, and this was determined about 5 minutes prior to departure time. I and my youngest son went on stand-by because he had a fever and needed to get home and we entered the gate at 6:30pm, and that was how we learned about their dirty nasty trick. We watched every single minute because we knew something dirty about this. Why couldn't they let my wife and my two sons get on when they were there at the gate at 3:20pm, which was right at the 10 min. mark prior to departure time at 3:30pm? Why did they refuse to late check-in our luggage when were at the terminal at 3:00pm? Why this time? We learned now because they wanted us to be on stand-by so they didn't have to compensate the overbooked customers that they sold. They used all the loopholes that they could to get away, and this was wrong! Very sad and horrible flight experience for our vacation.
My young sons were both sick, but they were minors, so we had to split up. My wife and 6 year older son had to stay after hoping to catch another stand- by, but they were so unfortunate and had to go D.C to connect to Atlanta. They had to sleep at the Ronald Regan D.C airport to catch the 6am flight back to Atl. They had to sleep on the floor! My son missed another day at school. I don't think I would ever want to spend my money with Airtran again!

My honeymoon trip to Cancun was ruined by AirTran. My flight began from Dayton but stopped at Connecticut because the weather in Baltimore, which was my transit city, was not good. They said it should be okay with your next flight because all the flights will be delayed. However, it was not true. When I got to Baltimore, my next flight had already left. They said, "You should wait for tomorrow and you need to pay for the hotel because it is not our fault but the weather thing."
Next day, it was even worse. My flight was canceled and Amie, the AirTran person, told me that my next flight was available after 7 days. I asked her what I could do with this and she said, "It is up to you, call the travel agency." It was helpless and really frustrating. Flights from other companies to Cancun had no problem. I needed to cancel all the flights and hotels and back to home. AirTran's custom service is horrible and useless. They give people the wrong information and they do not care about the customers. It was a terrible experience.

It was such an experience once and last time to travel with Air Tran, that I had to cancel my flight for some personal reason. I have waited for several months and after three months they told me that the money was put on my A+ account, not on my credit card, which I used to pay for the ticket. Where on earth have I not received any service and paid a fortune? I'm speechless. In short I have lost 100%, and since then I have stopped traveling with them.

I have $135 credit balance due for cancellation. From Little Rock, AR, Air Tran does not fly, so I requested them to award me A+ reward points of the credit amount.
I have already paid the amount. Option to buy the credit is available on the site, but they said I have to travel to use balance. They will not convert it to A+ rewards. On their website, Little Rock is shown but cannot book the ticket for that. I do not want to lose the money just because Air Tran cannot serve the areas. This really sucks.

I am disgusted by the way Air Tran overbooks its flights and forces good paying customers to sit in the smallest, most uncomfortable seats imaginable. Our first flight of the day started with our seats that would not recline, but the row in front of us did. I sat for 3.5 hours with a seat 5 inches from my face and the girls hair on my tray. The next flight, my husband and I were cramped into row 31 (which is the last row). My husband is 6'1" and 220 pounds. I am 5'4" and 140 pounds. Neither of us fit into our seats. I was smashed between my husband and an average size man for another 3.5 hours. We requested to move, but the rude employees gave away the business class seats to others passengers after my request. I am outraged and will never fly Air Tran again. I doubt they will be in business much longer after reading the extensive complaints on various sites about their bad practices.

On Sunday 8/12/12 at 3:10, our departing flight from Orlando to Philadelphia, which we had reserved tickets and check-in boarding passes for, gave our four seats to stand-by customers while we were seated in the gate area. When we came forward to board, we were told that our seats were given away because we did not answer the overhead page. We were sitting right there and there was no page. We were waiting for other boarders to go through the gate because we had a special needs 4-year old child and she doesn't do well standing in lines. We made this information available to Air Tran when making the reservations and they made accommodations for us.
When we got to the gate, the gate attendant ran in front of us and slammed the door saying, "You're too late. We called you." Not only did they wait an hour on the runway to take off, but we were told by the gate attendants, a male and female, that we would have to buy another set of 4 tickets on a later flight. We attempted to wait stand-by and get on the next flight to Philadelphia via a stop in Atlanta, but after waiting 2.5 hours, it was not available. We were told the next available flight to Philadelphia would be Monday 8/13/12 at 6:30 pm. We were forced to make additional overnight hotel arrangements, without the help of Air Tran or any compensation from them.
Luckily, one other gate attendant had empathy for our predicament and made arrangements to confirm our seats for the Monday flight, which we made and arrived home at 9:00pm Monday evening in Philadelphia. This was a horrible event for our special needs daughter to go through, staying in a noisy airport motel overnight, standing in the Orlando airport for almost 4 hours, and not a word of empathy for our situation from Air Tran gate attendants. They didn't offer us a glass of water on one of the hottest days of the summer.

The flight from Boston to Minneapolis on Wednesday, July 18, was cancelled 6 hours before flight because of not enough customers. I scrambled for other flights, no luck. Why couldn't AirTran give notice 24 hours before flight?

I have flown almost exclusively Air Tran between HPN and Florida for the last 4 years at least 4 flights per year. I have never had a problem with Air Tran. I have changed flights numerous times on the day of departure and never been charged and always gotten on the earlier flights with no problem. I have never chosen seats when buying tickets and just waited till the 24-hour window opens and selected seats at no charge. I then go to the airport and volunteer to sit in the emergency exit row, and I have been assigned those seats and enjoyed the space.
Yes, there were one or two delays or even a cancellation once, but the company always sent a voucher or other reward for inconvenience. We diverted once because of a warning light and were promptly met at the diversion airport and immediately were boarded on another plane to continue my trip. Yes, there were grumblers and complainers who say this and that about the airline. You know what, folks. Calm down, be nice, and don't attack the people. Lo and behold, you will be treated accordingly. If you want first class, fly JetBlue or Delta and pay for it.

I flew to NC to set up apartment and my job so I can move my son and me all the way from Ohio. This was the first time I left my two-year old son. My flight returning to Ohio was scheduled to leave at 6:15am from RDU airport on March 18th and I was going to arrive in Akron Canton Airport at 10:32am. I boarded the plane after a successful weekend and thought everything was going well until the pilot announced after an hour of sitting on the plane that we needed to get off of the plane because the plane was not safe to fly. I already turned my rental car in before its scheduled turn in time because I booked an early flight so I could pick up my son from my grandmother's house who also was inconvenienced because of Air Tran flights.
The flight that I had to take did not leave until 8:06 pm instead of 6:15 am and did not arrive back to Ohio until 11:58 pm instead of 10:32 am. Again, I returned my rental car and my account was closed so therefore I was stuck in the airport for over 12 hours with nowhere to go when I should have been in Ohio picking up my son and carrying on with my responsibilities. I am moving to NC and from my experience on March 18th 2012, Air Tran will lose service and flying back and forth to visit family will get the service from another company. I will tell all my friends and family and anyone I come in contact with what a disservice I received. My life as well as everyone on the flight, their families and friends' jobs were all negatively affected by the horrible circumstances Air Tran flights made us experience. Drastic measures needed to take place because my life and those keeping my son was altered because of this cancelled flight. I need to know what Air Tran plans to do to make up for the disservice I experienced because of you.

My mother purchased Air Tran tickets for a family vacation to Cancun. I arrived without any problems (aside from extremely slow service at the Denver airport), but during the trip, I took a closer look at my returning flight to Denver. My flight was scheduled to leave Cancun at 3:45 pm, arrive in Atlanta at 7:30 pm and depart from Atlanta at 9 pm to arrive in Denver at 10:30 pm. Since I have to go through customs in Atlanta before departing to Denver, I thought this connection time would be too close. So, I decided to check out taking an earlier flight from Cancun, which would give me more than enough time to catch my flight to Denver.
I spoke to several Air Tran representatives over the phone who assured me that I could do standby and get on the earlier flight (a noon flight). But when I arrived at the Cancun airport at 8:30 am assuming I would have no problem flying standby, the representative told me the exact opposite. They could not switch my flight because their system is not set up to put me on non one-way stops (probably because I was already locked in to the connecting flight). How is it possible for representatives from the same airline to mix up the lines of communication? I would've preferred being told this over the phone before trekking out to the airport and waiting six hours to board my original flight. Essentially, I was told one thing by one representative and a given a totally different story by an employee from the same company. Here's the bottom line Air Tran: Get your facts straight.

Our flight out of Charlotte was running late which meant our connection in Baltimore onto Portland was going to be very close. As we arrived, our connection flight was leaving! They knew we where pulling in yet would not wait 5-10 minutes knowing it was the last flight out for the night. They got us to Boston but from there, we had to take a bus to Portland.
Customer service was not very considerate and basically told us, "It is what is waiting 10 minutes!". Seriously, I've been on several other airlines who went out of their way to assist connecting flyers and I was fine waiting. AirTran should work a lot harder to assist flyers. No more AirTran for this flyer!
Company Name:

Air Tran

Website:

https://www.southwest.com/?ref=airtrain.com