Consumer Complaints and Reviews

I stopped by my local Toys R Us/Babies R Us store in Southcenter (WA). I knew exactly what I needed. I had 6 items in my cart for 2 different kids birthdays that were happening later on that day. The store was insanely PACKED!! The lines to check out were crazy long. I thought I picked the fastest line considering it had the least amount of people but boy was I wrong. The girl working the register was obviously new and kept making mistakes which required her to need a manager. I stood in line for 30mins. When I finally made it up to the front I told the girl right away that I needed gift receipts for everything. She said okay and then asked me for my rewards number. I gave it to her and then watched as she took her sweet time to slowly ring up and bag my items.
She then handed me my bag and said "okay have a nice day!". I held out my hand and asked about my receipt. She then said "Oh it will be emailed to you". Then I said "But what about my gift receipts??" Her eyes got super big and she stood there staring at her register. Then instead of apologizing she told me it was my fault because I gave her my rewards number and that automatically sends the receipt to my email address. I knew that it really wasn't my fault. She forgot to push the button on her register for the gift receipt. She then tried to ignore me and started to ring up the next customer. I was not going to let her off that easy!! I was going to make her admit that this was all HER fault and that instead of apologizing and fixing the problem she blamed it on me. And that is exactly what she did!! Her name is Jamie and she is a short ** girl with brown hair. I hope she gets fired.

I went into the Toys R Us Brockton MA store on 10/8/16 to purchase the Little Tikes Hide & Seek Climber. I had researched their Price Match Guarantee as I had a gift card to use. I brought up the Amazon price and the CSR stated b/c the item was not shipped & sold by Amazon they could not match. Fine, I found the item even cheaper at Kmart and he told me they did not price match Kmart. I left the store w/o purchasing the item. I checked their website that night and their policy states they do price match Kmart.
I called 800-869-7787 and talked to a rep over the phone and sent her the Kmart link. She said b/c it was a sale item they could not price match but they offered me a 20% discount which is still more than the advertised Kmart price. Nowhere in the policy does it state that it has to be regular priced. The policy states that it has to be an approved competitor with an advertised price. Toys R Us has advertised this price match guarantee but does anything they can to avoid honoring that advertisement, false advertising! Will never spend another dime in this store.

I visited the Bunker Hill Shopping Center, 9730 Katy Fwy, Houston, TX 77024 location of Toys R Us at about 2:15 - 2:30 on Sunday, September 29, 2016. Upon my arrival, there were two actual registers open with one register opened without lights on, an indication that it was a "Courtesy Register." There were customers in lines well into the main aisle and they were starting to curve around kiosks and into the actual store. The customer service station was empty and the staff behind the counter was happily chatting. I went shopping with my children only to find vomit in the board game aisle. I went to register 5, which was the "courtesy register" to inform him of the vomit and the individual barely acknowledged my information and didn't call customer service or a manager.
I went to customer service and informed them, upon which point the staff openly discussed whose job it would be to clean up the vomit. Vomit has been in the game board aisle for 10 minutes at this point. I don't need to say that this is a lawsuit waiting to happen. I did my shopping and returned to the registers, there was still a gross underuse of registers open and staff availability. I went to the "courtesy register", register 5 and was informed through another customer (the staff member didn't tell me himself) that he was closed. I left. Will not be returning and found the customer service, cleanliness of the store, and general lack of attention to either appalling. I will also be putting this on facebook and sending a direct letter to Toys R Us Corporate.

I made six separate different orders and all six have been cancelled for no reason. I have used different credit cards thinking that's the issue but to no avail. This store has the worst service in the world and is absolutely a disaster. Anyone reading this please save yourself aggravating and DO NOT BUY HERE.

I will never shop at Toys R Us ever again! I purchased a bike online from their website. The bike arrived promptly but in the worst condition. The box was torn and the bike had a flat tire with the rim bent. It is a huffy bike and in the packaging it states to contact huffy directly for parts and such. I did so and it took THEM a month to send a tube. On the shipping receipt, it states that Toys R Us doesn't accept returns after 30 days and without original packaging. Two months later, still can't ride the bike because of the brakes that don't work, and bent rim rubs against the fender. I'm completely frustrated because two months from the original date of purchase, there have been nothing but problems with this bike.
Then, when I contacted Toys R Us via their chat, the representative was no help at all. She first stated that they have a 90 day return policy but that some of their stores may not take the merchandise back without original packaging. I asked what store could I take it back to with the receipt and paperwork, she stated I could go to ANY of their stores. Well that contradicts what she originally stated. I WILL NO LONGER GIVE TOYS R US OR HUFFY FOR THAT MATTER MY BUSINESS!!!
How do I know I can trust these reviews about Toys R Us?
611,656 reviews on ConsumerAffairs are verified.
We require contact information to ensure our reviewers are real.
We use intelligent software that helps us maintain the integrity of reviews.
Our moderators read all reviews to verify quality and helpfulness.
For more information about reviews on ConsumerAffairs.com please visit our FAQ.

This store should be out of business!!! I would rather shop at a smaller neighborhood toy store where I can get much better service. My in store pickup order was a disaster. Each and every time I inquired about the status of the second item I purchased I had several different employees telling me different stories as to when the item would arrive at the store for pick up. At one point they weren't even sure where it was. Finally when I was able to pick up the second item from the store, they emailed me a few days later to tell me that I will lose the order if I don't pick it up within the next five days. At this point my order was finally fulfilled so why are they telling me I will lose the order if I don't pick it up?? Do they not mark it down as picked up by the purchaser???
So now on to the "wish list" issue I had. Many of the items I ordered and received on the wish list for my granddaughter were never marked down as "purchased". This happened even after I saw that the item was "available" to purchase. Oh yes and I did an online help chat to ask to have the item marked as "purchased". I was told it was taken off the wish list. Shocker...it is still marked as "available"!!! I will bet that my granddaughter will receive many duplicate gifts at her first birthday party as I am sure the other people ordering off her wish list never had their purchased items removed. This sad excuse of a store doesn't even deserve ONE star but there is no option to check off zero stars!!! Absolutely horrible!!!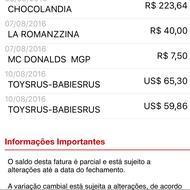 I am from Brazil and my sister in law was in New York for a couple days in the beginning of this month. As my daughter birthday is coming I ordered a doll on Toy r us website on August 07th, 2016. I have not received any confirmation about this order and it is not in my order history. So next day (august 8th) I decided to buy it again, chose a different type of delivery (a fast one) because my sister in law was going to stay in New York just a few day more. Including today when I check my order history and there is just one order, however in my credit card there are 2 charges. I want my money back.

Called the phone center to confirm stock of a toy for my daughter's birthday (sew cool). They confirmed stock at the Vaudreuil location. Picked up the item at a cost of 30 dollars in fuel to find that when I got home they had given me the wrong item. After being denied a few times via customer service and a few excuses about whose fault the mix-up was the manager of the store agreed to an accessory item to make the toy complete. An hour later the toy was broken so I guess that didn't matter anyway. The manufacturer offered to replace the toy with another item since this was discontinued. Please realise that all I wanted was my money back. But at a 30 dollar fuel cost it didn't really make sense.
In the end I paid 95 for the 29.99 replacement and they wouldn't even return the extended warranty I purchased. Since I again had to make the 30 dollar trip to the store the warranty will go unreturned as well. This is the second time Toys R Us has burned me including a missed Christmas shipment of about $500 forcing me to make up some Santa Claus was delayed story. They guaranteed a delivery date then conveniently ignored the requests to return money. They have never offered a penny or lifted so much as a finger to compensate me even after multiple requests. Toys R Us is off my list and I suggest the same for any reading.

So I recently placed an order online with a gift card then I received a confirmation and everything for the order thinking I should be receiving a shipping confirmation soon. Later on, I rather received an email from Toys R Us that my order was cancelled with no reason stated. So I called and spoke with one of the customer services representative and a supervisor and I had the worst experience EVER.
After waiting time with these two people on the phone, they told me that the gift card cannot be use to purchase the time and they can not refund my gift balance either until about 5 business days. Really, the item I ordered was something I needed right away and I even explained to the supervisor thinking they will consider my situation and the fact that we shop at Toys R Us a lot. I usually don't bother to write reviews but I decided to write this to warn other customers. The only reason why I might still shop there again is because I still have their gift card but I will NEVER EVER spend my money at that store again. They really need to fix things there. Also their prices are always super expensive compare to other baby stores.

An item is pre-ordered back in June has not shipped when the release is upcoming. When I inquired about the item the agent gave me no window in when to expect it. They told me in the system it says backordered. If that is the case then why online when I ordered in June didn't it say backordered? Would of bought this somewhere else with no headache if I didn't have a stack of gift cards for this place. I use to always come here as a kid and it was a good experience. Looks like these days the business has gone under and the people who work for the company are no good like the company itself.

I purchased a gift for a friend's baby shower on Sunday morning right after midnight. We realized that the order was sent to the billing address and not to my friend's house. After realizing the mistake Sunday morning at 11:00 AM we reached out to Toys R Us thinking since the item has not been shipped they will be able to change the shipping information. To my surprise, apparently once an order is placed they cannot change the shipping information or any information whatsoever which is quite inconvenient for the consumer.
They then gave me the option to create a cancellation to the order. Once I told them to process the cancellation the sales associate told me he cannot guarantee the cancellation and they will send me an email with the results. This is the worst customer service I have ever experienced and honestly a waste of my time. Hopefully Amazon will carry more products than Toys R Us and becomes more child friendly with its searches. This way I can stop giving Toys R Us my business.

Well my experience with customer service was horrible. Like a month I chat with one of their customer service rep about a tablet that I bought a few month ago for my 5 year daughter. They told me that they was going to send me a new tablet. Been waiting. Finally today I chat again on their website. This customer rep said that was unable to do anything since I bought the tablet on 02/23/16 and their policy is within 15 days of buying it I can return it (15 days). After a month and a half the tablet stop working, was not turning on. But that's their policy. Only 15 days to return an item.

The dictionary defines customer service as the following: CUSTOMER SERVICE, noun, the assistance and advice provided by a company to those people who buy or use its products or services. When I placed my order with Toys "R" Us I put in the wrong address by 1 number, the items I ordered for a gift got shipped to what is a "plot of land with no structure on it". When I contacted Toy "R" US to find the package their response was it was delivered. When I said it did not get delivered to the right place Andrea ** on "LiveChat" said there was nothing they could do, that I needed to call the shipper who is FedEx. Now I got a gentleman on the line from FedEx who said that Toys "R" Us needs to contact them to make the change in the address on my behalf. I explained that Toys "R" Us had already washed their hands of my issue and I could not get a refund or help. He said unless they call he could not ship the items to the right address.
Why won't you Toys "R" Us help me get my gift to the correct address. Why has your company ignored my request yet you took my money. They (FedEx) too said they could not help me. So I ask how is this customer services? I was not only NOT assisted but I was pretty much told to go away due to my error. Now I am out $36.00, no gift for my grandson, no help from Toys "R" Us or FedEx and me writing on a complaint board about the bad "first time"(possibly last time) experience I had with Toys "R" Us and their online website. The complaints about this company are terrible. The online chat customer service reps are heartless people who don't actually care that people make mistakes or the brand they represent. There was no effort to help me only to brush me off and make me go away so they could disappoint the next poor soul who contacts them. I just want to get a birthday gift to my grandson, shipped to the right address.
I want to be treated with respect and to know that although the mistake was mine that something "anything" would be done to help me. I work in retail and every day I make sure that our customers are taken care of. Even if I can't do it I find someone that can. Negative reviews, word of mouth experiences that spread across the internet like a virus hurt companies.
Your company has failed me as a customer and made me feel that my hard earn money and my time was worthless to you. A resolution to this problem is to allow me to reship the times you took money for to the correct address or give me my money back so I can go to a different toy company that cares. I use to love your company but after this experience I am shaking my head and wondering when did you stop caring about the people you need to keep your business open and running?? I am saddened by the experience and attitude of your online staff. They lack the experience to be compassionate or caring.

They are truly a money suckers and knows when to hike price. I saw a bicycle for 69 on Sunday and same bike was now 99.99 on Wednesday. Many other bicycle was price hiked. Summer is on so people will try buying cycle so the price hike was on, worst strategy and they will lose customers bcoz of this.

When I became pregnant a good friend of mine referred me to Toys R Us due to their 10% back policy and their overall product. She does business with a Babies R Us in Southern NH while I chose the Toys R Us which is also Babies R us in Concord NH. I only signed up with the registry due to the 10% back given on every purchased item on your registry. However, we had a lot of problems early on. Items I had bought myself were not showing as bought. I was reassured after calling that it must be a glitch on my side of things because it showed on their end what has been purchased.
Well, guess what? I was right. We received our shift card. 16.47 was the amount. How could this be? My girlfriend purchased our crib off our registry at 399.00. We bought our stroller and car seat which was 249.99 both items on our registry! That alone is close to 650.00 dollars. The fact that it's not uncommon is more frustrating. Where there are so many other places to go for both quality and savings I will not recommend this registry option to my friends. I still am waiting for a phone call back.

It's been 3 weeks since I complained that my online gift card shows 0 balance. It's a 100$ gift card received 2 years ago. Looks like the online gift cards from Toys R Us are risky to keep unused for a long time. If you own a gift card, make sure that you check the balance in it every few months.

I ordered the Candylicious Edible Bubbles Machine Refill Pack assuming it was the machine and refill pack. It was priced on Amazon (sold by Toys R Us through Amazon) for $21.12 and it was advertised on their own website and in their store for $12.99 for the machine and $6.99 for the refill pack. What I got was just the refill pack. My daughter opened it while I assumed they were sending the machine. When the machine didn't arrive, I called and they said it was $21.12 for the refill pack - 3X the regular cost. They said I could return it at my expense if it was unopened. No refund - I'm out $21.12 for a $6.99 item. VERY unsatisfied.

I want to keep this brief because I've been writing and talking about it a lot already. I was at Toys R Us with my two kids and their dad in Lex, KY on my son's birthday to pick up a train before we took the kids to celebrate. I put my purse in the cart with my two-year-old and his dad and during the visit I took my 5-yr-old across the store to the bathroom and kept my purse in the cart. On the way back across the store I grabbed the large train set we were there to buy and was lugging it down the aisle when I ran into my kids' dad and asked where the cart was. He was like "oh no I left it over by the bikes" but when we went over there it was nowhere to be found. I alerted an employee and got the manager involved and searched everywhere including outside but found nothing. I called the police and was leaving my contact information and at this point the store was closed and we could no longer go out for my 2-year-old b-day because of the time.
Before I finished writing my contact info they said it was found. Where? In the back store room by the trash shoot under a bunch of trash bags still in the cart. The manager brought it up front and asked me to look through it to see if anything was missing. Sure enough, the 200$ I had in my wallet was gone. I was told to call the next day to contact the GM but it took me almost a week to actually reach her. She told me she took statements and viewed the footage but she did not know what to do from this point on because the employees said they didn't do it. I was totally shocked. My purse was put there by an employee and she knows someone working there stole from me and won't take it any further than just asking and getting statements.
The camera system is so bad there that she couldn't even find me or the other three people with me until the end when we were by the registers. I contacted customer service and am waiting to hear from the DM. It is crazy how such a large retailer is handling such a serious matter. I am looking forward to a resolution to this, and hope they will be held accountable for their negligence.

This related to the store in Chenal Pkwy in Little Rock. Very frustrated with their employee, the cashier and the manager both unprofessional. The manager even turned her back and walked away while I was talking to her!!! Never seen something like this. They had a 20% discount on item and after my son liked it and carried it to the checkout they said it was a wrong sign. Few months ago, my kids were excited about new toys and the store wouldn't check out because they had NO INTERNET!!! THINK 10 TIMES BEFORE YOU GO THERE.

I wanted to take advantage of a sale that was "Shipping Only". I understand that their promotion is "Free Shipping" on everything when you spend $49.00" So I did more shopping and with all the combined items in my cart the total was now $54.00 but my shipping cost was now a total of $32.00 when I expected to receive free shipping. Listed underneath the $32.00 shipping was a discount of $20.00 that was applied to my shipping. Now I had to pay $12.00 for shipping even after qualifying for free shipping. The items I had in my cart were 2 packs of baby hangers, a vehicle headrest mirror and a onesie. Nothing like a bike or anything big.
I called Toys R Us and asked if they could help me. I explained that I live 2 1/2 hours away from the closest store therefore I couldn't pick it up in stores even if that option was available. Typically "Shipping" is nice when you live far from the store. I was able to speak to a floor manager and he said he couldn't help me waive the shipping. I also explained to him that I would be saving $10 on the sale item that I wanted to purchase and if he couldn't waive the shipping fee it would mean that technically I'm not saving $10 since shipping is $11. I told him I wouldn't be purchasing the items and he went on to tell me that he still couldn't help me.
My due date is in September, both my fiance and I's families lives 38 hours away. So given what I just went through I'm assuming they would have to pay outrageous shipping fees on Toys R Us. Typically if you have a baby registry, especially with Toys R Us, it should be easy for family and friends to help out. I strongly believe Toys R Us needs to start looking at different shipping options. They have lost my business, as well as my friends and family. I have made a new baby registry elsewhere. I'm very disappointed and I would not recommend them to expecting mothers.

My mother purchased a kidzoom watch from Babies R Us (online) for my daughter in December 2015. When the item was delivered it was supposed to be pink. However, they shipped purple. I called customer service to get a replacement in time for Xmas, but they did not have any it in stock. So we wrapped the gift (even though it wasn't the one she wanted) and gave it as her gift. I called again in January and received the same response that they were out of stock. I called in February with same response and was told to keep trying back, but they had no idea when they would have a pink one in stock.
I called again this week and told that I was past the 90-day window and nothing could be done about this. I was astonished! I understand policies are put in place to ensure proper business procedures are followed, but when the company makes a mistake and sends out the wrong item, it's good business practice to correct the problem without any inconvenience to the customer. In fact it shouldn't matter about a 90-day window. The bottom line is they made the mistake and should fix it! Great customer service guys... Job well done on keeping customers happy!

I ordered an item online to pick up in-store and I was told to wait an hour for ready to be picked up email. I waited 3 hours and nothing happened. I called customer service and asked why this happened. I was told to wait another hour or two because my order was under review. I asked if I can talk to a supervisor and the customer service agent put me on hold for over 20 minutes and hung up. I called back again and asked them to cancel the order. Again I was put on hold for another 20 minutes and I hung up this time. I am speechless to explain how poor this company operates. False Advertising.

I bought a double stroller for my daughter-in-law's shower in December. The shower was January, the boys were due March 16th. They took the stroller out to use it on March 25. The wheel broke. I called customer disservice and explained and they sent me a return label and said he shipped out a replacement. It would take nine business days. April 15 I called back, said I never received it. They sent another return label and also said he was shipping it that day. He said it was unavailable when the last guy went to ship it which wasn't true because it was available online.
So April 18 I called for tracking and they said it had to be returned in 90 days and I bought it in December. I said registry items are refundable for a year. He said only if they are brand-new in the box. Damages are 90 days. So according to him all of the items from the registry are not returnable if they are broke because the time limit is up, even though we can't open them and use them yet 'cause the babies are too little. So they sent me two labels to return this item that wasn't returnable. Guess that would have been a disaster trying to get a refund when all I wanted was an exchange. They have no idea what they are talking about. Then he said try to bring it back to the store. It was a manager's decision. So if its policy not to take a broken item back after 90 days, how could a manager do it? They lie and lie. Told me twice it shipped, sent me two labels and don't do what it says on their website return registry items for a year. False advertising!

My son is in the military so I do not live in the same state as my grandchildren. I ordered two Easter Baskets online for delivery that said both were in stock but not available for in store pick up or I would have chose that option and they could have picked them up at the store in North Carolina. So I ordered for delivery and one basket came and I received an email that the other basket had been cancelled and was unavailable. So one of my grandchildren got a basket and the other one didn't. So disappointed and customer service was rude and unapologetic. Just says "it happens"!

The online website for Babies "R" Us advertised Halo sleep blankets at $13.98 each. When I went to the store and found Halo sleep blankets, the store wanted to charge me over $20 for each one. I showed them the advertisement from their own company, and I was told by the manager that the ad only applied to that particular model number sleep blanket and no others. He also stated that that sleep blanket was discontinued and not in stock. So, another sleep blanket by Halo is so different it is a "discontinued" model? Seems like false advertising to me...

Bought 3 tablets from this store and incredibly all 3 tablets have stopped working at exactly 90 days... Trying to call to seek a solution and told that they would have to have been returned within 15 days.

I ordered an item online and returned this item to a Toys R Us store. Toys R Us failed to refund my tax associated with this item. I don't know if this was done intentionally or by mistake. I'm almost certain this violates some type of regulation and I will also be reporting this to my credit card company. Toys R Us puts an extreme burden on its customers to have issues like this rectified. They require that you either return to the store you returned the product, which in my case is a store far from where I live (I was only in the area of this particular Toys R Us, since I was in town visiting my family). Or they require you to send in the return receipt. I have not seen my tax refund processed.

This review regards the Toys R US store in Woodbridge, VA. While I have been a regular customer to this store so as to purchase some toys for my daughters, I just encountered this annoying and disrespect behavior by one of the store clerks. Basically, this male clerk was first acting like a good customer service by offering me a 15% discount on my purchase. I asked him what I should do to get this discount and he said I just needed to enter my social security and he would take care of the rest. I thought there was an ongoing promotion. It turned out he scammed me into applying a Toys R Us credit card for getting a 15% discount on a $30 purchase. It was a waste of my time and the way he lured me into this credit card application was a total disrespect to a customer. I did not make it a big deal there but from this incident, I would never go back to this store. Oh no, not the way they treat a customer like this.

What kind of company/store is this. This past Tuesday morning 2/23/2016, I ordered a play tunnel for her birthday on Sunday 2/28/2016. I kept checking the status and as of Thursday morning it still had not been shipped. It was a $29.99 tunnel. I called Toys Are Not Us, spoke to a very broken English representative. He said the reason it had not been shipped was because it was a 'small' order. What the heck! Isn't an order an order regardless of the size? I cancelled the order but he could not guarantee the cancellation. Since I wanted the gift to get to her for her party on Sunday, I ordered through Amazon. They guarantee she will be getting the tunnel on Saturday!
Another not so happy moment I had with Toys Are Not Us was in December with a layaway order for over $300. The week before Christmas I found a flyer that had one item for $40.00 cheaper. Since all my gifts were wrapped I just took the receipt back to Toys Are Not Us. The manager said I had to bring I the actual item. So I told her I would just repurchase the item at the store and then return it with this receipt. She said I would be charged a $25 restocking fee for the return of the item. I was so mad, angry, upset, frustrated, and decided I would never again deal with this company again. Then I guess I had a lapse of memory, I thought would give Toys Are Not Us another chance. AGAIN I was disappointed. Never again.

I would spend your money elsewhere. They have the most incompetent people available running this company and working under them. I wasted two hours on the phone today JUST TO PAY THEM for an E-gift card. No one could tell me when they kept cancelling my order. I was transferred multiple times, spoke to numerous people, had numerous calls disconnected and wasn't called back even one time. They do not care about their customers one bit and have zero customer service ability. This is the last time I will use them because I won't have my time wasted any longer. I would suggest you use Target or someone else because they are a horrible company and should be out of business for their incompetence.
Toys R Us Company Profile
Company Name:

Toys R Us

Website:

http://www.toysrus.com/