Consumer Complaints and Reviews

I bought this city clicker travel system 2 months after having my son and 3 months later the wheels started getting stuck. And then I noticed the basket was ripping and I never put anything heavy so not sure why. Then I noticed the screw holding the basket up always falling off. It hasn't been a year and now the bassinet has completely broke. I am so upset, I don't have the money to purchase a new stroller. So I don't know what to do. Don't purchase this travel system.

I figured I should finally write a review since my daughter just turned one. I've been wanting to write a review since she was just a couple of months old, but I wanted to wait and see if I might change my mind. Lol. First off, I'm giving two stars instead of one *only* because my baby was able to fall asleep and stay asleep in the car seat. Everything else was terrible. It was always hard to click the sides down to release the handle (for getting baby out). It would just get stuck. The stroller looks like it would be amazing but NO! Do not let the cool features trick you! Although it was convenient to snap the car seat into the stroller, there were other problems. The front wheel wobbles if you go just a little bit fast. I found myself locking the front wheel and it helped a little but still annoying when turning.
Don't think you can jog with this stroller, otherwise you will probably hurt your baby and yourself. Once my daughter was big enough to just use the stroller without the car seat, I ran into more issues. The seat looks like you can adjust it but it doesn't adjust even with the adjustable straps. It leans back no matter how much you try to get it to stay put. I even tried to tie it with my hair tie, I was that desperate. My daughter would slide down in the seat and I could not do anything about it. Overall, it's just been a pain in the butt. I ask myself every day why I didn't just return it and get another. First time mom here???

So upset about the product. Bought this stroller for my 4 month old at Target about 3 months ago. For a fair price you would expect it to be safe for baby, but it's NOT! The front wheel wobbles and causes entire stroller to SHAKE VIOLENTLY. I'm very shocked at how unsafe this product is, and can't believe they're still selling this product.

I myself and few others have all experienced stroller unlocking once in place causing the stroller to collapse; with baby in it! After strolling around for an hour all of a sudden my handle fell down while pushing. I had to pull up on the handlebars and relock into place. My baby was in the infant carrier attached to the stroller - luckily she was safe and okay. This happens regularly and worried my baby would get injured so I had to stop using the stroller. Also the steering on the stroller has worsened over time. Very sad because this is a very nice looking stroller and super cute. But of course baby safety is number 1 in this thing. Needs to go ASAP back to the manufacture and be recalled!!

I purchased the Zoe stroller to go with my car seat. The stroller would not lock properly and kept folding up on me when I was walking with my daughter then the front wheel started to come apart causing the stroller to not push correctly or at all. My daughter is only 2 months old so the stroller is still very new. I called baby trend and after 3 weeks and hours of holding was able to talk to somebody and then spent another week and half emailing pictures and questions back and forth along with sending my stroller back to them to find out they can't send me a new one but will refund the 129.00 for the stroller. I have been without a stroller pretty much since she was born and now I'm out my tax and shipping from the original purchase due to their default. Poor quality and very poor customer service.
How do I know I can trust these reviews about Baby Trend?
741,284 reviews on ConsumerAffairs are verified.
We require contact information to ensure our reviewers are real.
We use intelligent software that helps us maintain the integrity of reviews.
Our moderators read all reviews to verify quality and helpfulness.
For more information about reviews on ConsumerAffairs.com please visit our FAQ.

I bought the Baby Trend expedition and I am very disappointed. The back wheels are warped (wobbly) making the stroller almost tip over, I can't jog with it as it starts going crazy and wanna tip over even when I'm walking sometimes. The tray in front of baby got damaged due to car seat sitting on top. Well if that's where the car seat goes then they should have some kind of protection on the tray so that doesn't happen. The undercarriage ripped in no time.
I've called Baby Trend numerous of times and they asked me to submit receipt and pictures and so I did and their response was that they can't do anything for me as it's wear and tear of me using the stroller. I would never buy from Baby Trend again after knowing that all this has happened to me and the stroller doesn't seem safe for my baby. All I wanted was for them to replace it for a new one but instead they wanna charge me for parts for the stroller. I think I paid enough for their product and they should stand behind their product and make their customers happy. They charge a lot of money for their strollers but they are built so cheap.

Purchased a Baby Trend jogging stroller travel system. On several occasions my son has been in the car seat inside the stroller. When I tried to take the seat (and my baby) out of the stroller to put him back in car the latch got stuck. Several days ago I could not get it unstuck no matter how hard I tried. Usually after a few minutes I am able to get it unstuck, but this time I couldn't. Finally my Dad was able to get it unstuck. This was after about 15 minutes in a parking lot in the hot Sun. Not long after we began using the seat the shade kept coming off. It came off so often we just leave it off now. I am afraid it will scratch my baby if we leave it on the seat.
I contacted Baby Trend and told them I am concerned we won't be able to get the seat unstuck and then what? I received a call from a rep that told me I just needed to connect these white bands. I asked her to call me back the next day to ensure that worked and she promised she would. It has been 3 days and I haven't heard from her. There was only one white band present and if you try to use it, it bunches up. That is not an appropriate fix for this! I began reading the reviews on this product and this brand is very scary! I am scared for my child's safety.

On June 14 yesterday my son stroller handle broke in half on the end caps. I was going up two stairs when it cracked in half. I had nothing Heavy at the bottom nor is my son that heavy. When I called Baby Trend about the situation I was asked to send a pic and was told by a customer service agent that they will see what they can do about repairing it. When I didn't get a call back, I called the next day and got a female who told me that there was nothing to do and that was my fault it broke that way.
I was confuse cause how am I suppose to bring my child up two stairs? Then she told me I put pressure on the bars and the stroller only hold for pushing. I'm little confuse because it's a jogger stroller and I'm suppose to go up and down curbs with no problems nor stairs. I got no help and they were very rude and was no help. I will never buy another stroller or any product from this company ever again. The stroller was poorly made and they know this along with the wobbly wheel in the front. I don't want them to get away with this.

There are 6 wheels on my baby trend stroller - 2 on each side in front and 1 on each side in back. One of the bolts came off one of the rear wheels so the wheel fell off. Totally unacceptable and they want to charge $9.50 to replace. Called in and spent 30 min on hold.

We purchased this jogging stroller travel system specifically for Baby Trend's name and good reputation. Boy was this a mistake! The mesh material on the cargo area tore immediately. The front wheel kept falling off and the locking device broke off, less than a year old and spa tactic use because we baby wear, and now it's difficult to fold up and get to "lock" into place when it's open. Overall extremely disappointed.

My husband and I bought this stroller for a fair price. I would have paid more had known it was so dangerous. We used it just a handful of times before the front wheel started shaking (a lot!). We would constantly tighten the bolt to stabilize the wheel. Used it for 6 months, no more than once a week, before the wheel snapped off, that is while crossing the street downtown Montreal. Luckily my daughter was unharmed, but it was quite a scare. Called customer service to get this product exchanged for something "safer"... The only thing they offered was new hardware replacement. The life of a child is precious and they simply do not care.

My baby was in the bassinet part of the Baby Trend Pack n Play. She rolled from her back to stomach and the mattress part shifted pinning her where she could not get up or get her head up to breath. I notified Baby Trend because a lot of recalls for this issue have been made but I was told even though my baby meets all size requirement she is over the age requirements therefore they will no longer discuss the matter with me. This could have been tragic if I was not awake and observed this happening.
I told them all I wanted was the recalled parts if they had them and I was told due to her age they were not going to do anything about it. Obviously other issues had occurred already because the first question that she asked me was my baby seriously injured or require hospital attention. Buyer beware, Baby Trend does not stand behind their products. I would not rate the product at all if I could.

My husband and I bought a Baby Trend Velocity stroller before my son was born. We used it maybe 5 times on an indoor track and moved to the city and decided to go for a walk and use our NEW stroller. First off, the stroller shakes uncontrollably if I go more than a snail pace; I had fear of my baby boy who is 3 months old getting shaken baby syndrome!! We put air in tire and tried to tighten bolts and nothing worked. While on our walk, we were mid intersection when the entire stroller snaps in half and collapses in on itself! My son almost hit the pavement! We were so shocked, our poor son was screaming as we unstrapped him and took him out of the seat! We then dragged our busted stroller out of a busy Ottawa intersection!! It was horrifying!
Don't buy baby trend!! What a pile of junk! I am going to call a lawyer tomorrow morning! My husband got whacked in the shin and my poor son probably has some whip lash or shaken baby syndrome. He randomly wakes up crying now and whimpering!! So upset... save your money - save your child... Don't buy this brand.

Walking with baby down a hill and front tire locked up causing the stroller to tip over. Thank god baby was strapped in and unhurt but I can't say the same for me. I scrapped my hands, knees, chipped my teeth and my back is really sore. At closer inspection the front tire mount welds gave out causing tire to rub against plastic, seizing tire.

I bought this Baby trend Range Travel System - Millennium from Walmart, within 2 months the front wheel started shaking and then the cup holder tray came out and start making squeaking noise while using. We live on hill and one day after jog I push the brakes and went to open the door and when I turn the stroller was going backwards, I run to catch the stroller but was too late and my baby was on floor. I just thanks to God that there was no cars on the street cause usually it's busy in evening time. Very risky to use on downhills since hard to stop and doesn't work on turns properly. It's just sitting in the basement from months.

I had the bouncer with the lambs. I had my three month old in it when I noticed blood on her heel. This was 10/13/15. I took pictures and contacted the company. They requested the item back to inspect it. I imagine the injury was caused by the plastic part that holds the batteries. Waiting to find out if there will be a recall. Never putting my daughter in another Baby Trend bouncer.

I would give this stroller five stars since I love everything about it, other than the wobbly front wheel that is! I purchased the stroller knowing that the wheel would wobble but I had already found a fix online so I was confident I would be able to fix it, and I did! I chose this stroller for the large inflatable wheels, parent and child trays, large storage basket, and for the smooth ride and of course the price. I didn't want to pay over $500 for a stroller! So look online for the fix if you need to. The company really needs to fix the issue with the front wheel... Most people return these strollers so I don't know why they keep making them? But once you fix that wobble the stroller is fantastic!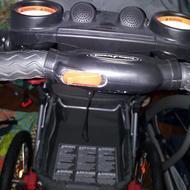 When I first got the stroller I got it for my son who passed away at 4 months old so I decided to save it for another child that I would have. I then set it up. There was something wrong with the wheel. The wheel was pushing out and it would wobble. It felt like the wheel was about to come off. I kept using the stroller for a couple months. I would put it in my car, take it to my doctor's visit, use the stroller. I couldn't carry my son is due to the fact that I have a bad back.
Then one day I took the stroller out to check my mail, try to come down from the sidewalk and the stroller collapse with my son in it. I noticed that it stayed in the collapsed position so I looked over the stroller and notice that the handle had been melted so I decided to not use the stroller again and find the time to contact Baby Trends but at the time I was moving so it took me a little bit of time to get in touch with them. I looked up their contact number on the web.
I then called them discussed the problem I was having with the stroller and that I had bought the stroller about 2 years ago. I explained that my son had passed away so I wasn't able to use this until my next child came along. They told me that I was no longer under warranty. It was past the year and that they would only as good service repair the stroller but I would have to pay to ship it to them. I am a single mother I had already spent $180.00 on the stroller. I feel like Baby Trend was not treating me fairly and I'm highly upset because when I asked to speak to the manager the manager gave me a fake email to send pictures to see if there was anything further she could do for me. I believe they have the worst product and customer service values.

My 3 month old baby started screaming while in her bouncer and I noticed she had blood on her and the heel of her feet was bleeding because of the hard plastic box that's under their feet. And like most 3 month olds she loves to kick but they put the hard box in a bad spot and I would not buy again because my baby is in pain and no parent want to see their babies hurt.

I received my Baby Trend Expedition stroller as a present. My baby is 4 months old and I decided to start using my stroller to try and get back in shape! My first use of the stroller I was walking a bit slow due to recovery time and I noticed that the front wheel shook. When I crossed the street at the cross walk, I walked a bit faster and the stroller shook so violently that I lifted the front wheels and crossed the street. I was so afraid that my baby was being shaken like that. I am trying presently to contact the company and would keep you posted on any progress being made. Presently I have stopped using the stroller due to the violent shaking.

Just today my 10 month old son almost fell off the baby trend walker. Luckily that the back part of the seat was still on the back but the front 3 piece clip parts came off the clip part. I can see the reaction on his face when it happen. I was in the kitchen and saw it and I was freak out that luck he was in front off me while it happen. Usually every couple of days the seat will come off the clip by itself and now I'm scare as for my son too - he won't even want to go in it anymore. I'm not sure what's the max weight on the walker but my son is about only 15 lbs.

My fiancee purchased a Baby Trend Stroller 7 months ago, and the front wheel began to wobble. As a mechanical engineer, I thoroughly analyzed the problem where the axle shaft that attached the wheel assembly to a front fork is undersized by over .125". I knew simply tightening the top 3/8" nut stop would not suffice as the problem came back in a month. After a second time of greasing the shaft, reinstalling all hardware needed, the problem still existed later on after another month! As mentioned, the shaft looks to be undersized going into the bore of bearing housing. Shaft does not make contact with the bearing as it is undersized by .125". Tightening of the self-locking nut on top only lasts temporarily as the whole assembly will vibrate loose, causing vibration during front-acting motion.
Overall, I give this a failure in design engineering of the front wheel design. The shaft being held by an assembly of washers and a nut stop is not good engineering practice and does not follow any design code (SAE, CE, ASME) specifications. It is a safety concern for my daughter as when the wobble becomes overwhelming, it causes the stroller to flip over and the baby to fall out frontward. Please advise the public of not purchasing this product, and Baby Trend to fix this serious issue. Thank you. -- Christopher **, 12 year experienced mechanical engineer.

I got a Baby Trend pack n play for a baby shower gift. You can play in it all day long but you can't fold it up at all. Only one side will unlock. I know that I'm doing it right and that the 10 other people that tried were doing it right also. I am very disappointed.

Expedition sx jogging stroller. My 13 month old son had his arm resting on the side of the stroller. It was over two of the hinge where the stroller would fold to close. We were walking on flat ground and it pinched his arm until it was bleeding and bruised. Baby Trend will not give a refund. They will keep the stroller for an estimate of at least two weeks. I will need to buy a new stroller since I have 3 kids under 5 and they are not willing to give any discount or coupon toward this purchase.

After a week with no response to my emails providing the pictures and video requested I called the car seat company and according to "customer service" at Baby Trend a car seat that is missing a small piece and leans to one side is NOT a safety issue. They are willing to replace the missing piece but not the whole car seat. My issue with that is how do I know that's the only piece missing? The small piece that is missing doesn't even touch the ground when it's sitting on a flat surface and it still leans. I was told it's not a safety concern and they won't allow me to return the whole travel system to buy a completely different one.
Instead I am supposed to mail them the stroller, base, and car seat so they can evaluate it and add the missing piece if necessary, But if they don't think anything is wrong with it they are going to send it all back to me. As a company that makes car seats I would think safety would be a top priority. I am not putting my baby in a questionable piece of "safety" equipment.

My son & daughter-in-law did their registry online for their baby shower. They received the Pack 'n Play. There are only 3 boards with padding on the mat. Usually there's 4 & there's a 4" gap between each section. Her face is on the bassinet piping.

I bought the Bubblegum Jogger first. The front wheel kept locking in place as I turned the stroller and the stroller would almost tip over. So I took it back to the store they kept saying it's suppose to do that. I'm like "no". So it loosened the wheel a little it then starts to shake while just walking at a moderate pace. So I take it back, get the same stroller but in a different color. It shakes as well. I talk to someone and apparently Graco doesn't do that so I will be returning the Baby Trend once again.

This car seat is a nightmare! No matter how many times you try and watch YouTube clips you can NOT get the straps even. One is always too tight and the other is loose. I have sat down numerous times and tried. It's extremely unsafe and not practical. If you have an appointment be sure and give yourself a good hour to just get the car seat straps somewhat even.

I received a baby trend sit and stand stroller for my baby shower. They retail $277 plus tax at Babies R Us. The back clip on the second seat to make the seat recline or sit straight is broken. My son is permanently reclined! I called the company and they won't send me a new buckle. Like really? $300 stroller and you can't send me a $0.50 clip? Nice customer service. I also own a baby trend double jogger expedition. I called this week about a tire that no joke exploded! They told me I could purchase a new tire wherever children's bikes are sold? No help whatsoever!
I had my husband look at it for me and he is telling me that the whole back bar is connected/1 piece and you can't exchange the tires separately, so I guess the stroller is just garbage now? $600 worth the strollers from this company and they don't stand behind their product! Never again would I purchase anything from this company! I also wouldn't recommend it either. Not sure why they have a customer service hotline? They should just have a recording that says "we don't help with **! Sorry you bought our product!"

I absolutely hate this car seat! I have 3 different car seats and this one by far is the **!! You can't tighten the baby's seat restraint while they are in it. It tightens uneven so one side is wayyyyyy tighter than the other and no matter how much I mess with it the only way of fixing it is taking the baby out and eyeing how tight I think it should be. It's frustrating and unsafe.
Baby Trend Company Profile
Company Name:

Baby Trend

Website:

http://www.babytrend.com/