Consumer Complaints and Reviews

Dave Brandon should be furious...needs to take immediate action with shipping, receiving and all management from the store level to the manufacturer at Houston store #9547!! Quite simply - either people in management, should NOT be; or people in charge of shipping/receiving/stocking do not have technology to do their jobs!! Glider arrived ok and was picked up at store, but no ottoman - was told it MAY have been delivered to a different store and from Manufacturer to Warehouse to Store, they have no way of tracking it!??
So, it was re-ordered and 12 weeks later we are still getting excuses!!! REALLY??? My daughter's baby will be here in 2 weeks and she is very distressed - this gift should have arrived long before the baby. A Corporation the size of Toys R Us which has been in business over 50 years, doesn't have the technology to track their merchandise - ESPECIALLY a Special Order!! Mr Brandon - does the Ref. # for the complaint I filed actually go to anybody who is willing to fix this problem? Or will I hear back from someone at the store level (again) who tells me to just be patient?

The Babies R Us umbrella stroller was used usually for toddlers, not a infant stroller. My daughter seemed to be very comfortable in it. The price was good. Also, it folds very easily and is compact to store in trunk. It has cup holders and a tray I could put snacks on for my child. It was lightweight and ready to use from the store, no assembly required, no instructions needed, pretty much self explanatory. We used it at the park and it was very easy to maneuver. Never had any problems with it.

I made an in-store purchase of a glider chair at the Babies R Us in Union Square, NY, NY on 4/12/17. I was told I would be contacted by phone when the chair was delivered to the store in about 5 business days. After not being contacted I called the store on Friday 4/28. My order that was already paid in full could not be found in the system. After being on the phone for 1 hour and talking to 6 different employees I was told that the chair actually had been delivered to the store on 4/17. I set up to have the chair delivered. I paid for the delivery over the phone, and was told that I would be contacted within 48 hours by the delivery company.
On Wednesday 5/3 I called again as I never was contacted by the delivery company. After talking to 3 different employees I was told that the chair was to be delivered on Friday 5/5 and that the delivery company would be contacting me shortly to confirm. Immediately after hanging up I received an e-mail for the delivery order. Several hours later after not be contacted by the delivery company I called the contact number from the e-mail. I was told by customer service that my order for delivery was only received that day 5/3 not on 4/28 and that I had to wait up to 48 hours to be contacted about setting up a delivery. Clearly I was lied to about the delivery by the Babies R Us employees. With a baby on the way I will for sure need lots of baby items over the next couple of years, however I will never do business with Babies R Us or Toys R Us again.

We came to buy a baby monitor camera to the Fort Union location. I asked for the assistance and we were waiting for 30 min considering only 5 customers in the entire store, and my wife 8 month pregnant. After assistance arrived to help get camera out of the locked shelf, he asked me if I know where they store shelf keys. Really? Store associate promised combine new credit card offer and store discount coupon to the full priced item. Let it be. I opened credit card and he tells me that he cannot combine both. Why did you waste my time, and didn't comply with credit card offer? Seemed like he was under influence of something. I never have seen so much disrespect to the customers, and I'm surprised how they are still in business. Strongly urge customer to stay away from this place.

Short and sweet. I worked in a wastewater treatment plant for 6 years and never had the feeling of wanting to upchuck. Until I visited the Meridian Idaho Babies R Us and went to the men's restroom and got such a overwhelming amount of ammonia smell from lack of cleaning the restroom. Health department please do something about it and keep your kids out of there before they contract something.
How do I know I can trust these reviews about Babies R Us?
791,967 reviews on ConsumerAffairs are verified.
We require contact information to ensure our reviewers are real.
We use intelligent software that helps us maintain the integrity of reviews.
Our moderators read all reviews to verify quality and helpfulness.
For more information about reviews on ConsumerAffairs.com please visit our FAQ.

Can't believe what a nightmare this store is. My daughter picked out the Sorelle Berkley crib and changer and had her heart set on it although I would have suggested other options. I ordered the crib. It arrives and when they go to assemble it there is a major piece missing. Of course, one of the last pieces the crib needs. Babies R Us response: they have to disassemble the entire crib send it back and wait 2-3 weeks for a new crib to arrive. OR I can call the manufacturer myself, attempt to explain the situation and see what they will do (However their website offers replacement parts for a fee. Why should I have to pay for something I already paid for).
BRU really doesn't understand their market, parents awaiting a newborn don't need this. I can't believe I just mailed the baby shower invitations with her BRU registry on it. I'm going to call everyone and tell them to buy from somewhere else, I don't want to go through this with anything else they want. UPDATE - Later this same day -- I emailed Sorelle (the manufacturer) and got a lightning fast response. They have promised a replacement part in 5-10 business days. If they follow through, and I have no reason to believe they won't, go ahead and buy a Sorelle crib BUT get it anywhere else other than Babies R US.

Aunt went in store to order a swing from my registry in 12/16, they said it got lost in the mail so she went in and ordered a different one. When it was shipped, it was not even a swing, it was only a bouncer. So she went in and showed them that the product was not even what she ordered. She ordered a different one, they showed her the screen and she confirmed everything was correct. Never got the swing, called them only to find out they shipped both swings to a different person with my same name in a different state! They said there were over 200 people with my same name... which was a lie, I checked and there is only 4, but people who have Mexican last names similar popped up. Not the same as having the same name.
So they ordered another one and this time did not use the registry what so ever. So she had them enter all of my information, they guaranteed the swing to be here 2-3 business days which would have been that following Wednesday. Never got the swing... Mind you it is now February, the original swing was ordered in DECEMBER and It's already been over a month since my daughter was born. The swing finally came in today, but it was not delivered to me! It was delivered to my aunt's neighbors' office at work. The swing was labeled to "my aunt" with her address from "me" and my address. Are you kidding me??? They couldn't even get the shipping info right the third time! I am never ever going through them for anything ever again. So annoyed and disappointed with their customer service.

Beware! Before you buy a crib and have it shipped. Not only do they just drop off curbside (even if you live in a condo) but they won't even take to the elevator for a huge crib! Then I assemble at home for few and no one had an answer for that! Well they don't and I tried returning it without even receiving the crib and they still charge you the 100 dollar delivery fee! I will dispute this. Many other companies not only deliver for free but assemble for a fee...

My husband and I are expecting our first child in a couple of weeks. We registered with Babies R Us after looking at the other two options, which were basically Target and Walmart. Seeing that they didn't carry the brands we wanted, we had to go with BRU. We received many gift cards at the shower to put towards our stroller. After realizing their online system does not allow you to use more than 5 gift cards, we went out of the way to go to the store. Fine. Order was placed and paid for. FOUR days later I get an email saying that the stroller is no longer in stock and they've cancelled our order. I called customer service to see what the hell this is about. The rep has no idea when more will be in stock and has no advice to offer us. The entire thing is a mess. We now have hundreds of dollars in BRU gift cards that we have no use for. Horrible experience overall. Stay away. Find anywhere else to register.

First, I received a nursing scarf for my sister's shower that was the wrong color. Not a big deal for it to happen once; accidents happen and I'm not irrational and unreasonable. It came with the proper packing slip, but the gift was wrong so that put up a little bit of a red flag. However, I already had 2 more parts of the order coming in so I ignored it, went to the store, and had to reorder it online.
So 2 weeks after the supposed "delivery date" of the second part of the order, there's nothing at my house and my sister's shower was that week. I call customer service, they say they'll resend it, and the next week the order comes in, and is wrong... again. Within 2 weeks I received 2 parts to the order with the right packing slip and incorrect product. At my sisters shower she received a lot of duplicate gifts and Im starting to wonder how many of those gifts were actually sent improperly, but people didnt notice. Its my sisters first child, and shes the first of her friends to get pregnant AND my husband and I havent started having children yet, and I definitely will not be partaking in any business with babies r us, toys r us, or any affiliated company in the future because this is disgraceful and the company should be ashamed.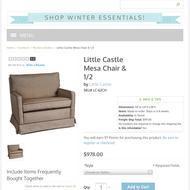 Little castle Sophie glider - I ordered this glider for my daughter-in-law as a shower gift. It was place on Nov 10 2016. They said 7 to 14 days. Today is Jan 12 2017 and no glider. The baby is due Feb 2. I called Babies R Us and got the runaround. First someone hit the stop order button, then it was still delayed at the warehouse. Now they said, "Sorry but we cancelled this order. We no longer carry it." Really? I am not letting this go. We will go to court. They offered a 25.00 gift card. WTH am I suppose to get her with that. Please people fight this company. Don't let them get away with it. I wouldn't let this slip through the cracks for 100.00. Our baby is coming anyway and no glider. Never ever will I shop at this store! Oh did I mention it was 941.00 for this chair...

A friend who lives out of state was having a baby. I didn't have time to go buy a gift at the store Nor even get to a store to get a card, I decided to purchase a gift card and order a congrats card and send it directly. I ordered this on 9/29/16. It was to go regular mail so I expected her to receive it by the 2nd week of Oct. I told my friend to expect an envelope soon. Nothing ever showed up. I called 3 times checking on status and no one could tell me what was going on. The last time I just asked for a refund. That was the 1st week of Nov. and was told 10 days I would see the credit.
1st week of Dec still no refund so I called again. They said the rep never processed the refund and she would do immediately. A week later my friend called and said she got the card. SO instead of refund they sent the card! Luckily I didn't go out and purchase another gift to replace what was not sent. I told my friend to check to make sure there was $ on card as I was supposed to be refunded and the $ was still on card. THREE MONTHS AND 4 PHONE CALLS TO GET A GIFT CARD DELIVERED OR A REFUND!!! That is insane! I will never purchase anything online from them again and I will never recommend them either. Horrible service. You would think they would give me something in return for the inconvenience but then again, that would require me to shop there.

We had registered at Babies R Us and Target for our first child. We did not receive many of the items off the Babies R Us registry, so my husband and I went to the store after my baby shower. We had a 20% store coupon and were hoping to use it on something... we had (no exaggeration) 2 completely full shopping carts of baby items, including cloth diapers, wipes, toys, bath tubs, etc. When we checked out, the coupon couldn't be used on 1 item!!! Everything is excluded if you read the fine print on their coupons... diapers, toys, clothes if they are on sale, clearance.
So the only thing I think you could use their coupon on is full-price furniture. I told the cashier their coupons are ridiculous (we spent $918 that day and couldn't use the coupon) and she replied "yeah, our coupons suck." Now that I've shopped around not being a first-time mom anymore, Target and Walmart are so much more reasonably priced with baby food, diapers, etc. I also received many duplicate gifts off my Babies R Us registry, so not sure if there was a problem with items being taken off. Not a fan at all.

My mother in law purchased a crib, dresser, and changing in table topper online for me. She paid almost $300 extra for shipping because of the size/weight of the products. When we unpacked our items we noticed the crib was the wrong color. We double checked our order thinking we made a mistake but it turns out that the warehouse made the mistake and sent us the wrong color. Called customer service and we're told CEVA would call us to pick up the item. When CEVA scanned the item our correct crib would be shipped to us. After CEVA picked up the wrong crib I didn't receive an email stating new crib was sent. So I called customer service again. I was told that the new crib was processed on the 27th.
7 days later I still had no crib but received an email stating the crib had been refunded. Just the purchase price of the crib not the shipping money of almost $300. So I had to call customer service again. Spoke with a manager who said we'd have to repurchase the crib. I said well it's fraud to charge us almost $300 for shipping and send us the wrong item and not refund the shipping. Basically after numerous hours and threats of lawsuits I was able to get the shipping refunded as well. Now we still have no crib a month later and have to purchase it again and wait another week for it to get here. The stress and time I put into this is tremendous. The worst customer service I've ever experienced. I will never buy online again from Toys R Us or Babies R Us and if you want a crib or dresser go elsewhere and save yourself the stress. Wish I could give 0 stars.

I received a gift at my baby shower. It was a Boppy lounger. I opened it to start nesting and prepare for my baby and noticed it was defective. The seaming was coming undone and had a big hole. I called the person I received it from. She said she bought it at BABIES R US. I called BABIES R US to ask if they had the same product there so I can exchange it. I informed them that it was a gift and I don't have a gift receipt. The associate said they can't accept the Boppy lounger back without a receipt. I asked for a exchange of a defective product not money back. She then said, "We can't help you." I asked for her supervisor. A lady came on the phone, gave me the same story. She explained that they would be stuck with the defective product and that they can't help me if I don't have a receipt. I then asked her for the name of the store manager. She didn't wanna give me a name and said last "Hold please."
She never came back to the phone, as I waited for 20 minutes. I hung up and called and asked for the supervisor by name. They said, "Who?" So obvious they gave me fake names. So I explained why I was calling again to this other associate and asked for a manager's name. She also didn't wanna help me and said she's not gonna give me a manager's name and hung up on me. I am very disappointed in BABIES R US customer service. They were acting like I wanted money back, all I wanted was an exchange for the same product because the Boppy lounger was defective - something completely out of my hands. They did not want to help me at all.
I will boycott them. Also I have a lot of friends and family. I will also explain how unprofessional and rude they were and what a hassle I received from them. My experience should have been pleasant and smooth. It seems this store has a lot of the same complaints. Never buying any products from them again. Store 31250 Courthouse Dr. Union City CA. 94587. Store #6431.

I recently had a baby over a year and a half ago. I have made returns and exchanges in the past from previous items that were purchased off of my registry or from people that I needed to return items from. Every time I have gone into a Babies R Us store their staff is unprofessional. There's never anybody in the store to help you. There's never enough cashiers on a register. You always have to wait in line for at least 20 to 30 minutes before getting help. I recently had to return a camera that was purchased from my registry because it stopped working completely. They allowed me to exchange it and it was well over the 90 day grace period as the store claims they have a policy on.
I ended up having to buy a $274 camera. Haven't even had that for three months and this camera has completely stopped working. I have the receipt, the original box it came in. When I called the store to let them know that I needed to come in and return it and exchange it they told me that there was nothing that they could do about it because it was over 90 days. I am a stay at home mom. We have one income in the house and I am now stuck with a camera that doesn't work and am being forced to buy another camera which we can't even afford. They have not called me back as I have called corporate twice to make a complaint.
They obviously don't care about keeping their customers so I will now gummy be taking my business to Buy Buy Baby as they are more professional. They have way more help and you never have to wait in line for a return or to check out. Babies R Us is a disgrace and I feel sorry for any mother who has to go into a Babies R Us store and deal with any of their staff. I refuse to take my hard working money and make any future purchases in their store as they didn't even care to help a customer.

I placed an order for a HALO Bassinest on a Wednesday and I paid the extra cost for it to be delivered in 2 days. On Friday, after I get home from work I realized that my package has yet to arrive but I was going to give them the benefit of the doubt and wait a few more hours until to make the delivery since it was still quite early. After 8:00 pm, and still no package, I call FedEx to track my package and I was informed that they hadn't physically received and that I needed to call the supplier to find out where my package was. I call them and I was told that my package was delayed and that it will be here by either Monday or Tuesday of the following week.
When I asked why wasn't I contacted about my package being delayed I couldn't get a straight answer and all that I was told was that they will refund me my money back for the shipping. I then ask where was my package at and I was informed that it was still at the warehouse in Georgia. I explained to the representative that all the apologizing is really irrelevant because I needed the gift to be here for my God son's baby shower and how that the lack of communication and professionalism has pretty much ruined my first experience and as a future customer with them. I can honestly say that this is by far the worst experience of my life and that I will never order anything else from them again and I will never step foot in any of the facilities. This situation was not handled professionally at all!!!

Twice the guy Matthew who work In BabiesRUs on the Fullerton street the best professional I know. I'm new mommy so I have a lot questions and don't know a lot about Products what will be the best for me. He explained so easily and it's always very helpful. If you need something just ask Matthew. He is the best. Thank you.

We set up a registry on Babies R Us. When it came time for our shower guests to go to the registry online, no one could find it. It's only searchable if you enter the name in all capitals but this instruction is not on the page. There is also no practical way to ensure people can search under a husband/partner's name. When you try to search by an 'alternate' name it asks for Maiden name (required field) which just confuses people when they're trying to search by a guys' name. Customer service could not help at all with this. Very impractical and we did not end up getting any gifts off of our registry.

Each time myself and my daughter were at Babies R Us registering or buying we were treated like gold, however, the one time I returned a $20 item I was treated like garbage, humiliated and reprimanded with an entire line behind me. I had been informed that Babies R Us are very good about returns, but I found the opposite to be true. We will never shop there again, had a much nicer experience at target and Burlington coat factory. Disgusted at the treatment I received.

I order a baby changing topper. My package came in but the changing topper was damaged so I had to call the 1800 number to schedule FedEx to pick up the damage item. About a week later a package came in but they changed my order and sent me a toddler bed rail in a packaged that looked like it was returned because they had tape wrapped around the whole box. I had to call the 1800 number AGAIN to schedule a pickup date and hope they send the right item. A few days after pickup I was informed that they could not send me my item and my money would be refunded and if I wanted the item I would have to reorder it AGAIN online. In conclusion I waited for a whole month on an item that I never received and never received any gesture of a discount for this inconvenience.

I live in VA & order a pack-n-play for a lady in North Carolina. Babies R Us delivered her a Stroller instead. Receipt with box stated pack-n-play but the box contained a stroller. She called the 1-800# & was told to return the stroller via FedEx and they were shipping her the pack-n-play that day & would be deliver to her on Friday (7-8). Nothing came so I called & was told the shipment had been canceled, they can't ship pack-n-play until she returns the stroller (nobody was notified of the cancel) & I would get the money back & then had to reorder.
She need it asap so they told her to return stroller to store & reorder pack-n-play. The store then tried to make her pay the diff between the stroller price & pack-n-play - after that got resolved, she has to come back and pick up the item or they will charge her shipping!! REALLY! She did nothing wrong & has been put thru so much stress & is 8 months pregnant. After 4 calls to customer service & her in the store for over 2 hours - nothing was done to correct this - refused to ship it her and really treated her & I like we did something wrong. Have never had worse customer service in my life!

I ordered clothing for our soon to be baby, waited two weeks and still no package... Finally called the company and it was sent out "June 8th". They said that there was no shipment status so it either got sent to the wrong place or it was damaged?? If that was the case why was I not informed of this! Now all the items I originally ordered are out of stock and then I'm told I can be refunded with a promo code... I try to use it online but when I'm about to checkout it is charging me shipping when you are suppose to get free shipping when you spend $19 or more... Call the company again about this situation and they are so unhelpful!!! Never again will I purchase from this place, horrible experience.

I ordered a pack-n-play as a shower gift. It was delivered damaged. I have spent three days trying to get a return label and re-order a new one. I can't understand why a company of this size can't process a return in a timely manner. I will have to drive 90 minutes one way for the return. NOT HAPPY!!!

I recently gave birth (4 months ago). We did a registry BRU. When you register they inform you that you will receive a 10 percent completion certificate. To date I never received it. I went to my local store in Secaucus, NJ and was told they can't do anything about it. Many items weren't in stock, so you are forced to order online and though they place the order for you in the store will not honor coupons you may have. We ordered a crib and had it delivered to the store. They never called to say it was in and only learned it was in the store for over 2 weeks after stopping in to purchase something we received with a gift card.
The biggest issue is their return policy. They sell their registry based on the fact that you can return registry items at anytime within a year. Our little one came earlier than expected and was then hospitalized twice after birth, so we returned several items for sizing, no longer needed, etc, they scan your ID every time you make a return or exchange WITH proof of purchase and will not complete transaction without it. I went to BRU a few days ago to exchange clothes that I purchased on Saturday for size and was told I exceeded my return limit and cannot return or exchange even though i have my receipt for 60 days. I was given a number to call. TRE informed me that I was blocked from returns or exchanges at BRU for a year. After explaining my situation they sent me a form for a dispute. I also did a registry at BuyBuyBaby and have had no issues. Do not be fooled. I regret registering w/ Babies R Us.

We decided to create a registry for my baby shower with Babies R Us, since it's the most popular baby store, easily accessible for most people, ultimately wanting to create a hassle-free shopping experience for all. Upon checking it almost daily, updating and editing items for our baby, I noticed that items were missing that me and my boyfriend has added. Next, I started noticing that the amount of each desired item started to change on its own also. My mother, who checked it frequently also, was constantly telling us that we didn't need "so many" of a specific item, and I didn't understand until we realized the website was very glitchy. I continued to update the correct amounts of each item, until I decided to contact customer service for the first time. They apologized for the inconvenience and said they didn't see any reason why this would be happening, so I had to let it go.
The next, and MOST aggravating issue I've had with the registry on Babies R Us is that it wasn't updating items that were being purchase - so in other words, they weren't coming off my registry when I'M POSITIVE they were being scanned off at the register. Aside from family member telling me that they bought specific items and that they were still on the registry, as an unpurchased item. I decided to go in and scan other small items that we needed to the registry and purchase them myself, to see if they were coming off and they weren't - not even after I waited 24 hours.
Naturally, I contacted the customer service team again, and OF COURSE they apologize for the inconvenience. They saw "on their end" that X amount of items were purchased, but were only showing X amount of items purchased - the difference a few days ago was over ten items! So they forwarded my issue to a manager and I'm still waiting for a response, which could take up to 7 days. So being that I'm in my 3rd trimester, my baby shower must be approaching, I'm assuming I'm going to get doubles, maybe triples of certain items because Babies R Us doesn't have basic knowledge on website building.
I was told that I can "manually" check-off items myself that were purchased on the registry but this entailed rudely asking my family and guests if they purchased my gift yet, and WHAT it was. NOT HAPPENING!!! This has been a horror story to say the least. Unfortunately, in speaking with other close friends AFTER this issue arose for us, they had very similar issues. I guess there will be a lot of returning to do after my baby shower. SMH.

I placed an order < 24 hrs ago. I paid for express shipping 2-5 days. I get an email it may not be delivered for almost 2 weeks. I call to have this expedited and I will pay extra. The guy kept saying nothing he can do after order placed even though it didn't leave warehouse. Unacceptable!! They state it has 9 days to leave warehouse. Worst customer service ever. Not my first bad encounter. I'm done ordering from Babies R Us.

I have purchased almost $4,000 worth of items from my registry and they are not giving me the endless earnings from it instead they want to give me the Rewards"R"Us points which is not what they are supposed to be doing. They do not care about the consumer and then made it seem like it was my fault that they were doing this.

Ordered an item off of a friend's baby registry on 7:02 PM 5/2/16 from Babies R Us online. Received confirmation at 8:03 that the order was placed. Turns out I put the wrong registry number in and it would be going to the wrong person. I made contact with a customer service agent after a long hold period at exactly 9:04 PM and explained the situation. They claimed that if more than 45 mins has passed since the order was placed that it could not be canceled electronically but could be manually and that I would receive a refund in 3-5 business days.
Fast forward to 5/3/16 and I get notice from them that FedEx picked it up the next business day at 12:32. These notifications are via Email and not text updates like some other retailers use, so I in fact checked my Email today, 5/4/16 at 5:00. Contacted customer service. They stated the prior customer service agent misspoke and that there was nothing they could do to help me, that I could return it if I wish upon receiving it. I stated again that it is going across the country to a person I did not know. They refused to contact that person or contact FedEx to get the item reversed. I asked to speak to a supervisor, was just put on hold and now was disconnected.

To keep this brief we have had many baby showers or showers we've attended. Recently purchased not one but two Verona cribs with changer. For those of you unfamiliar with this brand it is the most expensive crib at Babies R Us. First crib came we spent almost 5 hours putting together, after doing so we noticed crib changer had crack along the wood. We didn't want to disassemble so we just dealt with it. This crib is also very heavy. Hard to unassemble and take it back or go back to store to reorder another one would have just been a pain.
Second Verona Crib we ordered with changer came with no parts to assemble. Went to store, had paid $105 for delivery. Went back to store manager Tim, gave us delivery charge back but we were stuck with the crib in parts lying all over the nursery for 2 weeks. Manager reorders parts. The guys come to put together for second time and some of the parts are missing. For the second time now, guys call store Asst. manager Carole, tells the delivery men that the manager will drive parts out. They also informed her I was standing right there with them. Little did the delivery men or myself know Tim wasn't even there. Guys put crib together but parts for crib changer still are not here and it's been two hours. No word from Carole or Tim. Both are managers at Brookfield.
So now I call there to find out who's bringing these parts, speak to Carole. When I inform her parts never came, we have a second crib sitting at the Brookfield store, Tim had ordered in case parts did not come and we need these parts. Answer: Not "I'm sorry" or "Will send over other crib or anything else." She states, "Well it's going to be awhile but I'll go see if I can find these parts." Two hours goes by and no word from Carole. Call back again, "Do you have the parts?" "Yes but it will be awhile before I can bring them to you." At that point I stated I'm coming to get the parts but I would like a phone call from Tim. Carole's response, "Why do you want to talk to Tim"? I stated, "Tell Tim I would appreciate a phone call back next day." Tim calls which I missed call so my husband calls him back, goes through entire day and instead of being considerate about the mishap he then concludes all we want is something from him.
An apology would have solidified this. Even acknowledging his Asst. Store manager Carole could have handled this situation better. My advice stay clear of Babies R Us because of not only horrible customer service but merchandise is not much better. I forgot to mention that Tim was the one who talked me into spending the $105.00 because he stated all the cribs delivered by UPS come damaged which is half the price of their delivery charge.
Apparently spending more money doesn't change a thing, and I forgot to mention there was another $25.00 charge for assembly. Carole Assistant Store manager was not only rude to us. She was rude to their own the delivery men as well. Did not follow through on anything. As far as I'm concerned this place has poor customer service skills and it's sad when you are spending thousands of dollars here to get treated like crap. Actually I don't care if you're spending $10. You shouldn't be treated poorly. Shame on them for insinuating anything about us. I hope my daughter-in-law cancels her registry with this store.
Babies R Us Company Profile
Company Name:

Babies R Us

Website:

http://www.babiesrus.com/shop/index.jsp?categoryId=2255957