Consumer Reviews and Complaints

When I go to Winn Dixie, sometimes they can be nice, are be rude to me or when I need help at the checkout stand they make me go all the way back places where I need to check my prices to make sure the prices are right because they will not do it for me. That is not right.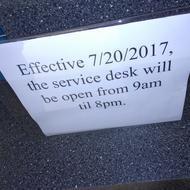 Customer service desk is only opened from 9am - 8pm. This does not align with store hours. Guests can only receive customer service if they happen to shop at those times, but if you go to Publix, their counter is opened the entire time the store is opened. They also have a $30 loading minimum for JEA pre pay customers. However, if you go to Publix, you may place any amount you'd like. I spoke with the manager Aaron. The company is even cutting back employee hours when the lines are already extremely long. This store and many others in Jacksonville are going down. Why not have your customers leave excited about their experience instead of regretting coming. Sad...

I've tried shopping here at Winn Dixie in Dunnellon, Fl. It's a constant struggle understanding their coupon policy as it changes every visit. It is not a consistent policy and it changes daily. Ask one cashier and they will take 5 coupons per transaction, another says 5 per day, another says 1 per day. Terrible customer service. Shop Publix if possible; their policies are consistent across the chain. Also, Publix doesn't treat customers like a second class person. Whatever happened to "customer is always right." I mean if you're going to have a coupon policy; make it consistent. Enough of the bait and switch practice. Also, This Winn Dixie store NEVER has enough sale items on hand. Stay away from this store unless you have no alternative. I'm planning on contacting the Attorney General regarding these policies.

0 points in the last week. I live very close to the Winn Dixie on Chaffee Rd. I do not drive so it is very convenient for me to get a ride there. As far as the store goes it is fine, I love the cashiers and bag boys etc... Now the pharmacy is a different story. The only nice person in the pharmacy is Carmen, the rest John, Aida and their people who check you out are awful. I've been getting prescriptions for 10 years from there, I tolerated them for that long. I called them yesterday about a prescription and they were so rude, I called the manager Chris ** and reported them to him.
I went in today to pick up a prescription and was treated rude, talked to ugly. It wasn't an experience I would want anybody to go through. The manager did not do his job, I left the store and regretfully told my friends upfront I would not be back. They are great and I will miss them, but to lose a customer of 10 years is not good for their reputation. I will post this everywhere I can. Sick people do not need to be treated like they don't matter. If I could give no stars I would. If you take a lot of medicine, I would not recommend going there. They ignore you and talk about you to each, they judge people.

I have been a Winn Dixie customer for over 50 years. I first began shopping there when I had to watch every penny spent for money was a scarce commodity even though I hated the filth of those stores back in those days. I stayed with Winn Dixie in later years because I could see how hard they were trying to clean up their business. Stores were looking consistently cleaner and very much more customer appealing. Also, the personnel were being much better trained in the way of customer service and personal appearance.
The new card program is a disaster. It did nothing for the customer. It is not near as rewarding as the old program. The help has been cut to the bone. I went into store # 630 today; (my usual store), and the produce department was decimated. Empty shelves. I then went on to the deli dept. All the shelves for made sandwiches were completely empty. The new Ranch Home meats are terrible thus threatening Winn Dixie's long held leadership position as the meat people. That in itself is a huge consideration.
I'm not sure what I'm going to do going forward. There are plenty of other places to shop around here. The personnel at this store are all hard workers in all depts. From the manager on down they need to be commended on their efforts during a difficult time. Prior to retirement, I was operations manager for a large company and worked hundreds of people throughout my career therefore I feel qualified to make the foregoing statement concerning your personnel. From where I sit, it seems to be topside management that needs training because all I've seen in the last year or so is them shooting themselves in the foot.
How do I know I can trust these reviews about Winn Dixie?
882,235 reviews on ConsumerAffairs are verified.
We require contact information to ensure our reviewers are real.
We use intelligent software that helps us maintain the integrity of reviews.
Our moderators read all reviews to verify quality and helpfulness.
For more information about reviews on ConsumerAffairs.com please visit our FAQ.

WD Steaks USDA Choice steaks use to be great... last few months have been hit or miss. Now just tough... not like use to be. Now the cheaper steaks also USDA now called Rancher's house is same Mexican import steak... New label. So be careful even buying their WD brand. Also Smithfield back ribs labeled as so... with Winn Dixie label marking as baby back are not baby back. Smithfield has marked baby back ribs package and labeled as such... and differently not tender as anything but reg. ribs.

I have been shopping at Winn Dixie for many a year and am finding the quality of certain products are diminishing. The deli meat is starting to go bad a day or two sooner than before. I buy the meat on Sunday for the work week and it starts going bad by Wednesday. Similar with fruit such as Blackberries and (especially) Raspberries and the imported Cherry tomatoes. They are going bad by Wednesday too.

Since Winn Dixie has made the changeover to the Plenti card and has also changed some of the "store brands" they carry, I have noticed that prices have gone up, significantly. Butter is now a dollar higher - yet it says it is a "low price/discount." I'm very disappointed. I have decided to go to Walmart for the mainstay of my groceries and shop at Winn Dixie only for convenience when buying one or two items at most. I am disappointed and dissatisfied. Winn Dixie seems to have become a "Publix wannabe."

I know a lot of people go to KFC and Publix for fried chicken. But boy! Today I had 8 piece variety. It was perfectly seasoned. (Not too much sodium.) Very tasty for only 6 bucks. All other fried chickens out there sucked. Love it, love it. Best fried chicken ever. (Gotta be fresh though just cooked.)

I've shopped at what was my favorite Winn Dixie for at least 15 yrs. On March 31 when doing my shopping I was constantly getting shocked almost every time I picked up something. It was so bad I had others helping me get my items. Other people were complaining to me about the same thing. They just weren't getting as bad of shocks. I have a steel rod in my back which made it worse for me. I ask about 5 employees what was going on. I was told they had waxed the floors and didn't buff them out yet to the fact they had new carts. One time I went to get ice cream out of the freezer and I could actually feel such a strong energy coming at my hand that I backed off. I went to customer service and the girl came and got the ice cream. I just felt if I had touched that door something really bad was going to happen.
Then when I reached for a can of tuna, before my hand even touched the can this static went into my hand and let out a very loud pop like a firecracker. I was in tears at that time. I went to the store manager and he told me three others had already complained about the same thing. He also blamed it on the waxed floors to the new carts. When I got home I was literally shaken up and in tears. I called their corporate because I was concerned about the safety of others that day. Basically they were going to look into it. After their so called investigation I was told no one else complained that day therefore they couldn't verify my story. I was furious that they could even say this. I know for a fact that others were getting shocked in just the hour I was there.
I even wrote the CEO of the company but he turned me over to someone else that basically said, he had never heard of this happening before this and no one else complained. He even told me the store manager wanted to fill out a report on me and I refused. The manager never even ask my name and he sure never ask me to fill out a report. Since my surgery 6 plus yrs. ago I have never ever had this happen while grocery shopping. Instead of telling me what was causing this they tried to say there was nothing wrong that day. They finally offered me a gift card for $250.00 for Winn Dixie. How could I accept something I would be afraid to use.
If they could have just admitted there was a problem that day and they were going to fix it none of this would have happened. I loved shopping there and some of the products you can't get anywhere else. I just felt like after I complained they were bound and determined to cover this up. What a shame I lost my favorite grocery store and they lost a good customer.

When I go shopping there I find that their products they Now display are products I never heard of them in my whole life. The card does absolutely nothing. It's the same as the old one. The new advertisement they want people to think that changes were made. Not so. Perks for the gas another joke. 95% of people going shopping today in Florida are senior citizens so they don't use gas a lot so by the time they need gas the perks are gone so what good does it do senior citizens. Absolutely nothing. When I go up and down the aisles I speak to these elderly people. They're all in agreement. It doesn't help them at all. Prices down when you buy their food or some unknown brand. Mostly all the name brand food are gone. I need to know what I'm eating is the best. The new Winn-Dixie card does nothing. It's the same. So why join. I rather go shopping somewhere. I don't need to join like Publix and still get the bargains.

Winn Dixie Yulee has repeatedly overcharged me for at least one item EVERY time I have shopped there. Not every other time, but EVERY time. And the cashiers are always argumentative when this is pointed out to them. Yesterday I tried to buy eight cartons of Atkins shakes, with a rain check for a BOGO. The price of the carton is $6.49. The items rang up at $7.79 each. I told the girl this was wrong. She asked another girl to check it. The other girl did something on another register and said "yes, it's $7.79". I said "let's go over to the item and look at the price", which we did. $6.49. Since my raincheck was the BOGO and I had eight items, the cashier took four off and left the other four at $7.79. I told her that wasn't right. She told me it WAS right because she took four off! There was no reasoning with this girl, who couldn't do the math.
She called over someone else. Now there are FOUR of us at the checkout, working on this apparently complex mathematical quandary. I asked this person to please void everything out and we would start over and she said "No". She was going to fix it, at which point the entire story was relayed to her, AGAIN. She then asked "So, what is the problem?". I explained to her that the items were $6.49, not $7.79. She said "Well it's a buy-one-get-one, so I'll just take four off". It was then that I surrendered, and thanked them all and left the store, empty handed. I will now shop at the WD on the Island, where they don't try to overcharge me every single time, like the Yulee store.
There must have a very high profit margin at the Yulee store because not every shopper checks their receipt, so the store is just raking in the dough when the overcharge goes unchallenged. WD Yulee has been trying to rip me off for four years, and I have been catching it for four years, but no more. I'm DONE with it. What a disgrace to the grocery industry, who pretty much is performing a public service. Perhaps someone with authority should look into this ongoing scam.

I shop at Winn Dixie in Miramar because is the closest supermarket to me and every time I go this one cashier name Josue is extremely rude. If he's not on his cellphone he's talking to another associate. He's very rude, doesn't have any customer service skills, doesn't greet the customers, always looks mad. He has the nerve to laugh in my face when I complain about something at the register. He's unprofessional and for those reasons I'll be taking my business elsewhere. I tried calling the manager to make him/her aware of the situation and the staff kept putting me on hold for a long time and hanging up. I don't recommend this place because of the cashiers. They make your experience unpleasant especially if you deal with Josue.

To start with this is the only store in the neighborhood, for this reason you should be on the top of your game. There are extended stay hotel across the street also. This store is in continuous disrepair... Why should it take over a year to replace the door to one of the milk refrigerators, just the extra energy spent to keep that area cool would be a reason to get it repaired faster. There is only one manager that can handle what goes on in the front of the house and she was just promoted to that position, all of the others could care less, about what the store looks like, they cannot run a cash register, much less carry out any of the duties at the service desk!
I was in the store today, you have a new item, Brown and Serve Dinner Rolls, the expiration date 1/16/17... Today is the 21st! I have called to the managers attention before when salad mix is past its date... What do they do if they are not checking the store for proper dates and stock. Right now this store is at least 1/3 empty and areas like dairy where the fresh dough, yogurt etc is more than 1/2 empty, the shelves at the end of the aisles that are to showcase items on sale are empty or a mess and no one does a thing about it.

I enjoy shopping at my local Winn Dixie in Delray Beach, FL. Prices are good, store is organized and clean, staff is more than happy to help you. They have terrific deals during the holiday season which I think is to help those less fortunate. This year they were giving turkeys and hams, any size, for $6.00 if you spend $30. That is a store that is concerned about their shoppers having what they need. For that, I say "Thank you Winn Dixie"!

Really great shopping experience every time I shop at Winn Dixie. They have great customer service and don't hesitate to help you find things in the store. Their customer rewards program really helps you save extra on top of already on-sale items and they also give you money for gasoline in a card every time you shop there. Finally, their weekly ads are a way to top off even more savings! I would recommend Winn Dixie over any supermarket / grocery store if you want to save!

We live about 35 miles away from all the major grocery stores. So when I do go grocery shopping I prefer to shop at a store where the staff is helpful, the products are up-to-date and the shelves are maintained. I do shop according to my budget and if one of the other stores is running a special on our everyday staples I will shop there for select items. I have found that the Winn Dixie located in Eufaula, AL has the best store staff in a 50 mile area. The store is clean, and products are well rotated. I know they are owned by another company but they have retained a lot of the original Winn Dixie staff and that says something about the staff and the company that bought them.

Winn Dixie in the 70460 area code has turned into the worst store on the Northshore. They have instituted a check all with a picture ID preferably a picture driver's license when buying alcohol and certain types of OTC drugs no matter what age you are. Now we have noticed that their frozen food cases are no longer freezing and ice cream and other frozen foods are melting and freezing back causing off taste and discoloration in the foods. We have reported this to Corporate several times with no reaction of any kind from them. We have warned off several senior citizen groups to use other grocery stores rather than risk eating food from these stores. Several new Wal-Mart neighborhood stores have opened in the area so we are not sure why Winn Dixie has let its stores go to pot unless they are moving out of the area.

I don't know how many times I have gotten home and discovered that the expiration dates of some of the items purchased have long passed. I try and look at the dates while I shop. Winn-Dixie where I live has always been bad about this. One time I kept checking the small ice cream containers and the ones in the freezer were a year old for several weeks. They need to be vigilant in pulling expired merchandise - for health purposes as well as the impression they make by not doing this. It is almost impossible to get them by phone, no one answers.

I visited your store and the young lady at the customer service desk has and always have a bad attitude. She doesn't greet the customer. No smile or courtesy. She has a bad attitude all the way around. She was working customer service tonight 12/03/2016. I don't like to come into the store if she's there working. I don't want to get anyone into any trouble, I'M just speaking my voice. Thanks, a customer of Winn-Dixie for a long time.

Once again Winn Dixie has put out an weekly ad which they advertised inflatable Christmas characters, and once again I was sent on a wild goose chase trying to find a store that might have these items. After being sent from store to store to store I called the corporate office to see if they could save me any further time, gas or frustration and tell me which store might have these items. I was informed that not even "They" knew but I could certainly call them all and find out. ARE YOU KIDDING ME. I just got done driving over 60 miles and now I'm supposed to go home and spend the rest of my day on the phone.
I am very tired of them advertising through my mail an item that in my local store does not carry. I believe this is misleading and only a come on to get you into the store. If they are going to advertise it they should carry it. This is the 3RD time this has happened to me and the last! In the long run I guess I should thank them because I found those very same items in a different department store for $3.00 less.

I'm a 59 years old temporary disable female, which went into the Winn-Dixie store at 73 St SW 59th Ave, and I was treated like garbage, I never been so humiliated in my life. I was shopping for some food, with my scooter since I can't walk because of surgery on my right foot, and no one offered to help. Once I was at the register cashing out still there was no help offered. My bag were left on top of the register for me to try to hang them from my scooter, of course at this point they are all falling on the floor, and I had to try to picked them up. Still no help offered.
I go directly to Customer Service to talk to the manager. The lady named **, kept telling to wait. I'm standing for about 15 minutes waiting at this point crying and hyperventilating because of nothing that I could do for myself, and there was no help whatsoever. Now I know how permanent disable people feel when they have to face such an ugly situation.
When I saw that it was still taking too long I started talking directly to the lady in question, trying to explain what a poor customer service they had, then another worker pass by me, without even saying "Excuse me," with my grocery bags fallen on the floor, and he didn't even bother to offer to pick them up for me. At this point ** saw everything and still nothing happened, so when I started talking to her about the poor customer service she replied, "Sorry," still my bags on the floor and no help offered. I really encourage customers specially disable not to go to Winn-Dixie specially this location, they have no manners and they shouldn't be open to the public. Us disabled people are humans and deserve to be treated as such.

Let me begin by saying I don't shop at winn dixie but I converted one month ago from shopping at publix. I spend approx. $600.00 a month on food and like everyone else, I work very, very, very hard for what I earn. I decided to give a try and I have had the worst experience with the same cashier two weeks in a row. His name is not on my receipt. It is store no. 0221. It was on 9-17-16 at 5:44 pm, young hispanic male. This cashier refused to print me a receipt before cashing me out. I am diligent with my money and only had 130.00 to spend this week. I counted it out exactly and when the total came up to 144.52, I knew something was wrong.
I asked to see a receipt or print a copy of one so I could pay at customer service, literally 15 steps from his register, because I knew he had overcharged me... he refused. I had to bag my own groceries and on top of it, I had to overpay because he rang up a few items an extra 2-3 times. This isn't the first time... it's the second time in 2 weeks. I had to be sent to customer service to wait for my refund of 15.84 which he overcharged and was told that I needed to wait 3-4 business days even though I used debit.
This man is stealing from your customers. Under the directive of your store manager. Her name begins with an "a". I went up to her after seeing her in the parking lot, explained to her my concerns and she didn't do a thing. She did not write my name down, she did not say, "I will handle it", nothing. Needless to say, I had hoped your "customer service" dept would handle the overage but nope. I instead received the pleasure of meeting samantha, a girl who can't count but knows how to roll her eyes.
After 3x of showing her the grapes were on sale for 1.50/Lb... after a colleague showed her the 1.50/lb sign, she proceeded to argue with me, roll her eyes some more and refuse to make good on what was an error in the product placement. I gave her back the grapes and had them removed from the bill. All in all, it's not worth the savings of 5.00 give or take to deal with the rude, disrespectful staff, the uncooperative management team, the inconsideration and purposeful overcharging and theft of your organization. I will return to publix where customer service has you beat hands down. I am disappointed and annoyed at the sheer lack of any professionalism and while I understand these are teenagers, there's no reason for poor management.

On my way home from work stopped in to pick up a few items. Italian sausage was on my list. I went by the meat department and noticed a great deal on ground beef. The sign in the cooler stated it was $1.50/lb when total purchase exceeds $30.00 limit one per customer. I wasn't planning on spending that amount. When my purchases totaled up at the register ~$34.00 I asked the cashier to hang on as no one was in line, I quickly ran back and grabbed a package of the ground beef and add it to the bill. It rang up as regular price. I brought this to the attention of the cashier. He was unaware of what to do (seemed new, no biggie). He asked for assistance from another cashier who stated the sale ended the 5th. A representative from management was nearby and informed the cashiers the sale was still going and proceeded to riffle through my bagged up groceries.
He pulled out a bottle of wine I had purchased and told me this was the reason it would not ring up with the sale price. No problem, just a bit of ground beef. The cashier asked me to complete a survey at the bottom of my receipt. Looking at the receipt I noticed a customer service number. I decided to call customer service to inform the management there is no notice on the meat department sign about the purchase of alcohol not being allowed for sale items. I call the customer service number. It rang and rang and rang. After about a minute of ringing I decided to keep count...31 additional rings before an answer. I asked to speak with Mr. ** who openly stated the pillaging of my purchases was not the way to handle the transaction. My point was to bring to his attention the mis-marking of the sale.
I was not really concerned with the transaction, more with the idea that Winn-Dixie should mark their sales with all the stipulations. He asked what I wanted to make it right? I had no idea, I didn't really expect anything. I told him I have no idea what he could do? He then got a bit aggressive with his tone. He asked what do I want? Again, I have no idea what he could do. I told him I don't know. He stated he could fire the employees. I asked him why he would do that for a hunk of meat. He degraded the conversation into calling me a jerk, a little man and immature. Then stating he wanted me to come in and see him face to face so he could see what I looked like, and how I wouldn't dare talk to him in person. Customer care at its finest. A+ Winn-Dixie leadership.

I purchased two boxes of instant oatmeal around the fourth or fifth of August. Today, August twenty-seventh, I made a bowl of oatmeal. I initially only used TWO packs of (raisin & spice) oatmeal from the variety box but then had to add another pack (apples & cinnamon) due to adding too much water! As I'm eating, something nips my tongue and I realize... IT'S A FINGERNAIL! I think it's from the Apples and Cinnamon box. I ate some a few days ago and had a similar issue except I "assumed" it was from using a dirty bowl, so I immediately threw it away. I am seriously sick to my stomach!!!

I'm walking down the aisles and all the buy one get one free items are marked up twice so it is not a true sale price like Publix BOGO. What a freaking scam. Clams casinos (6 for $9.99) BOGO, well, the market price is $3.69 elsewhere. Who pays $6.99 for a pack of bacon then say BOGO, I can get a pack for $3.00. Consumers are not that stupid.

Hello. I shop at my Winn Dixie at least twice a week. I like the selection of products and the people that work there. However, I don't buy Bunny sliced bread from Winn Dixie anymore. I prefer to get my supply of Bunny Bread from my corner food store, or lately, I have been getting the bread I need from Walmart Superstore. Shopping at Walmart is a bigger hassle and I prefer not to but they have the best Bunny Bread in town. It's always fresh and STAYS FRESH until it's gone. Bunny Bread or any other bread product at Winn Dixie on the shelves always has a reasonable freshness date, but it doesn't stay fresh for very long. By the second day after purchasing the Bunny Bread the bread is dry. Everyone in my family complains it's stale and won't eat it.
I have mention this to the Winn Dixie store manager several times and have seen no change. Once while standing in line wait to check out a customer in front of me said the same thing to the store clerk. The following week I was shopping again and noticed a guy restocking the shelves with Bunny bread. I asked him why does bread bought from here go stale so quickly. I was surprised he had an answer to my question. He said it's where the bread is kept on the shelves in the store. Right across the aisle from the eggs and cheese coolers. The air in this area is very dry because of the coolers and causes the bread to dry out more quickly. Walmart doesn't keep their bread near the coolers. I guess my question is why and what does Winn Dixie plan to do about this problem? I can't continue to shop at two different grocery stores. Thank you.

A Winn-Dixie employee wearing a long black wig with bright red/purple streak, double lashes, long false nails, chased me into the parking lot yelling falsely accusing me of shoplifting. She was twice my size and half my age and I was scared for my safety. I have seen so many stories about employees attacking alleged shoplifters. I was in the store for a short time to price check cat food NEVER touching one single piece of merchandise.
I just got off the phone with Adrian the risk management supervisor who's # I was given to resolve this matter, and he actually told me that the insane employees behavior was acceptable. I have repeatedly told them to review the store's security video to verify what happened to me. Adrian told me, "No we don't ever do that when someone makes a complaint about an employee". It's no wonder the ghetto trash they hire behaves this way. They know Winn-Dixie won't hold them accountable for their bad behavior. SHAME ON YOU WINN-DIXIE!!!

To begin with have always liked Winn Dixie because of their meat and also the French bread in their bakery and until recently they always had intelligent people employed there. But the past 2 days I am changing my opinion. A few months ago they changed their store policy on coupons where you could use a coupon on both BOGO items. So yesterday I had 4 items and 4 coupons. I had a cashier online 5 that has been there quite a while checking me out. She got to the 4 coupons and had a dumbfounded look on her face.
The cashier from line 6 whose register was next to mine was just standing there at end of register. I only had 9 items, so she did not need to bag. She started telling me about how I could not use but one item on the bogo items because the 2nd item was free. Now Casey is very new and still has training cashier on her badge. When I walked in a man with some beer was standing at line 6 if asked if there was a cashier online 6, since the light was on. And she returned from where she was wandering around talking and checked him out.
I asked them to call manager, but they called the girl on front end and she did not know anything either except that according to her it said on website, "You could only use 1 coupon on the bogo's." I tried to talk to my cashier, but Casey interrupted and did all of the talking. I had customers lining up behind me and I told her she should go to her own register and check out customers. She just kept saying WE could not take the coupons.
Finally both the manager and assistant made it to the register and Casey still stood there even though I had gotten a line behind me, and I told the manager that she had just stood there and arguing with me instead of going to her own register and checking out customers. They told her to go to her register and the manager said that I could use the 4 coupons. I remember saying that Casey's father must own Winn Dixie and that she must be the manager because she knew more than everyone else. I may have said she was stupid, but not to her face.
Today I went back to Winn Dixie. There is a limit on number of coupons, but today is a different day. I got a few items and went to check out. Just so happened that the cashier today was one of them that was there yesterday and said I could only use 2. I told her that I did not want to go through that again today. I also told her that she was there and knew what the manager said. Instead of calling the manager as I requested, she call the girl from service desk. She asked if she was going to let me use all 4 coupons and the reply was yes. I told the service desk person that I went through that yesterday with that other stupid cashier. The service assistant got mad and said I was not going to call her cashiers stupid and we had a word or 2 and she slammed my items in bag. 6 items were 2 litre cokes and I got to car, took them out and 2 of the bags had holes in seams of bags and drinks were coming through.
This happens all of the time. You get home and before you get to the house, the drinks come through bags. or the handles break from weight. Since I have already made everyone in store angry already, I took drinks back in and the front end cashier resacked them and doubled the bags. She was not nice and informed me that they were not allowed to double bag. I then asked for Mike, the store manager. He came up and I told him that the bags always have holes in bottom and drinks fall through. She could not show him because she had already thrown the bags away. Of course the bags at service desk did not have any holes. I told him what she said abt double bagging and he said it was ok if customer requested. She said yes that was what she told me. But that was not what she had told me.
He asked me if I had called his cashier stupid again. I said, "Yes I said that today, but did not recall calling her stupid yesterday," and he said he heard me. I thought about this after I left and wondered why he did not say anything yesterday if he actually heard me telling her that. He told me all about he was not going to put up with me calling his cashiers stupid. Our conversation would be through but our conversation got really interesting then. I told him I wished Elaine was still there. She was there a long time and had retired last year. He then told me that she did not do her job and let everything go through and about how much abuse there was in couponing. I said, "You mean I cannot tell you your stupid employee is stupid but you can tell me a customer that a retired employee was a bad employee??" That really did make me angry. I only knew her from store and she was considered and cared about the customers.
I told him that they could not keep employees anymore and that they got them and they would put toilet bowl cleaner and detergents with vegetables and dry boxed food and that was just stupid. Again he said I was calling his employees stupid and he would not put up with it. I said, "O.k. then, we will say it is not right." He said they were all kids and wasn't I ever young and didn't I ever make a mistake? I told him they were not all kids and at what age would they be adults? He said now it may not be until they were 42. I told him he was wrong about these so called kids and decided when the Winn Dixie here goes out of business, it will be him who caused it and also his thinking.
This statement is for Mike. "I know a lot of the employees who do not fit into his kids category even though he would call them kids, I guess because of their age. There are kind, considerate and knowledgeable. A lot are a little older and some are guys." Mike said, "Casey was a nice, smart, pretty girl who thought she was helping." But to me seems this all began because of her and all she had to do was be where she belonged and checking out the customers instead of keeping the customers lined up for the next cashier whose line was at a standstill.
Mike, please be a little nicer to the guys you send out in the rain to get the buggies and a little less protective of the sweet, smart, pretty less than 20 year olds... who throw my tomatoes and they hit the end of the checkout or put my bananas and bread in with the canned goods or the detergents and chemicals with my dry, boxed food. Stop thinking this is just a mistake they make because they are just kids and give them some training so we get what we pay for!!!

I was in this store recently and had an extremely horrible experience with the store manager named Tim. I was having issues with WIC and the cashier was trying to help me figure out where it went wrong. Normally I am able to get the B1G1 items with my WIC. So the cashier was trying to help and Tim comes over and asked the cashier "What is taking so long? Why are you having such an issue?" So we explained that for whatever reason it wasn't taking the B1G1 off and he said that I was not allowed to do that. I explained to him that I did it last month with the B1G1 Shredded Mini Wheats. And he said and I quote "That's impossible. there is no way that you can do that. Whoever allowed that is going to get in serious trouble." I said "The system took it off, it wasn't manually done." And he told me there was no way that it did it.
At this time he is at the front counter arguing with me about the system allowing my B1G1. Then he looked at the cashier and stated "You need to get this done and get her out of here. I have already had three people walk out. This is making us lose business." I felt that was VERY unprofessional and it upset me highly. So I left all of my stuff on the counter and walked out myself leaving the whole order unpaid for on the counter. I have never felt so disrespected at a Winn-Dixie store in my life. Since this was my last day I was able to redeem my WIC benefits I ended up losing FIVE cans of formula because my benefits were expiring at midnight and this store was the only one with the Enfamil AR formula I needed on top of the 90 cents in fuel perks that I qualified for with my purchase. It was just such an upsetting experience and I felt the need to bring it to the attention of corporate. All business is important to our local grocery stores.
Winn Dixie Company Profile
Company Name:

Winn Dixie

Website:

https://www.winndixie.com/