Consumer Complaints and Reviews

My local Whole Foods is a nightmare. There is never enough parking, especially between 11 and 2 (lunch crowd) and 4 and 7. You basically have to prowl around and wait while a very slow person loads the trunk and then backs out, and then hope one of the Range Rover women don't steal your spot. Alternative: the $5 garage next door or street parking which is very scarce.
Once inside you are confronted with crowded aisles, small shopping carts, and obnoxious customers (Range Rover lady) bumping into you while they text and chat on their mobiles. The prices are off the charts: Verve Clicquot Champagne $54 vs $44 at Publix and $41 at Costco. Ground chuck $6.99 a pound vs $5.49 at Publix. Half and Half $3.99 vs $2.75. A tin of house brand cat food:.89 vs.51. The employees are not very helpful. Say a sale item (and they are rare) is not on the shelf, you ask an employee and they simply disappear into the back never to be seen again. Checkout is slow, with cramped lanes. They do have solar panels, so that's something, I guess. But wow, what a hassle, stress-inducing store.

I bought 10 Spicy Italian sausages on Friday, 4/16/17 to barbecue Easter afternoon. They were dated to Sell By: 4/19/17. I figured since I was storing the sausages in the refrigerator meat drawer & it was only 4/16/17, we were good to go. Well, we opened them up and the stench was eye watering. They were slimy in texture & the smell permeated throughout the patio where many of our party guest were seated. Everybody was pretty grossed out. It was a big shame because we were all looking forward to the barbecue chicken & sausage for lunch. Unfortunately... My husband had thrown away the receipt I had sitting on the counter Saturday evening. :/
I double wrapped the sausages in saran wrap and put them in doubled paper bags to alleviate the rotten smell, & took take them back to the store today, (4/17/17). The young, unsympathetic & unapologetic customer service representative would not put the $23.00 back on my bank card. He opted to give me a store credit. I told him I wanted the money because I was not intending to shop in there again. The whole situation was ludicrous!! I had plenty of proof that I purchased them on: 4/14/17. There were tags on the meat telling anyone who looked, when it was purchased, the due date & the dollar amount on each of the two packages I had bought & taken back to the store.
Plus, I had a picture of my bank charge to prove the purchase date & time. They wouldn't even look at it. He was not service oriented at all! Neither was his supervisor who walked away from the area early into the conversation. I have spent thousands of dollars at this store & I am extremely disappointed on how downhill it has gone lately. The lack of service in the supplement department, etc. I will not be shopping here for awhile. It is really up to them. Maybe, if someone were to apologize, that would help. Moving forward, I will not be promoting this store to anyone and will only promote, World Market and Fresh Market.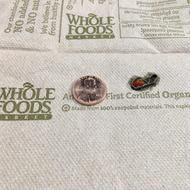 My husband I had loved our "Whole Foods adventures" as we travel often for work, and it was an easy stop for us to find our beloved and healthy food spot, nationwide. Well, since February of 2017, this will happen NO LONGER. We are a health conscious couple, but on a visit to a Pompano Beach, FL, location, I bit down on an industrial staple while eating food from the hot bar.
Sure, people find materials in their local burger joints, but this is Whole Foods. A company that touts itself to offer fresh, wholesome, and safe to eat foods (Verbatim from their website) from a company that charges on average $15 per plate, can be neglectful in their food safety practices, to the extent of allowing staples and foreign objects to fall into their foods. After this experience, we are officially ending our Whole Foods adventures as we liked to call them. We'll take our joys of eating organic, wholesome & additive free foods to a company that also understands the importance of food safety standards. Take a look at the photo of the size of the staple. One wrong bite down and I could have choked to death.

Whole Foods' produce quality/freshness & selection SUCK!!! And they have the nerve to charge the prices. They do? I just drove 20 minutes out of my way to Whole Foods, in Wall Township, NJ and I bought NOTHING!!! I walked out of the store in disgust like I've done many many times before. I WILL NOT SPEND MY HARD-EARNED MONEY FOR OVERPRICED ABSOLUTE GARBAGE PRODUCE. As a matter of fact, you couldn't give it to me for free. I had the intention of purchasing 4 or 5 organic pieces of leafy greens produce: Green Kale, Dandelions, Parsley, Cilantro, Carrots, Celery.
When I got there, the produce on the shelf was ROTTEN, YELLOW, WILTED, SLIMY, and some are not even in stock. As a matter of fact, this happens every time I go there. But I will not be going to Whole Foods any longer especially when the Shop-Rite up the road has an ever increasing organic produce department, and the Cal-Organic produce they purchase is of superb quality. Whole Foods, this proves that you have absolutely no control over the produce you purchase. NONE! You're a GARBAGE company and you DESERVE TO BE OUT OF BUSINESS. Do I sound angry? Because I've had enough of this company.
How do I know I can trust these reviews about Whole Foods?
760,655 reviews on ConsumerAffairs are verified.
We require contact information to ensure our reviewers are real.
We use intelligent software that helps us maintain the integrity of reviews.
Our moderators read all reviews to verify quality and helpfulness.
For more information about reviews on ConsumerAffairs.com please visit our FAQ.

On more than one occasion I have noticed signs on produce that say a product is USA when in fact it was produced in Mexico as noted on the sticker affixed to the product. The one I photographed was a sign that read USA 93151. Organic Slicer Tomato. The tomatoes have a sticker with "Product of Mexico" code # 93151. I did ask or comment several times why produce being advertised as being produced in the USA had stickers indicating they were produced in Mexico. No one suggested they would report to management suggesting to me the person(s) knew of this practice. I have photos that I can forward and will try to forward to this site.

Whole Foods is now pricing their organic produce as per bunch not per pound. When weighing the "bunch" one discovers that it is nearly $6 per pound. I think they assume the public will not understand that a bunch is not a pound. I will no longer buy my organic produce at Whole Foods. I find this practice disturbing and deceptive.

Searching for fresh and not farm-raised salmon led me to Whole Foods in Roseville. The fish monger stated the Coho salmon was fresh. I purchased a 1 pound piece. When I arrived home I spotted the paper label on the wrapper stated 'previously frozen'. Seriously, if I wanted frozen fish I would have gone to Costco and purchased it from them. (Much cheaper and frozen at the time of catch).
I returned to the Whole Foods and the Fish Manager was uncaring and rude when I lodged my complaint. He stated I must have been mistaken and the sign stated it was previously frozen. He then checked the sign which said no such thing, and said they'd change the sign. This guy basically gave the impression that I was an idiot and he couldn't help me. All I wanted was an apology and perhaps a credit for this $15 piece of fish, which was gross. But this manager was clueless. I'd give the customer service a 0 star if I could, and will not purchase from this store again. I won't tolerate being intentionally mislead.

I think that I also experience racial profiling at a Whole Foods. I am of mixed race and experience poor service from both the manager on duty and the clerk that was working the Customer Service desk, whom happen to be Anglo Saxon. This is the incident as occurred yesterday @ 7:30 p.m. at West Chase location in Houston, Texas. I return 4 conventional beets, and a half gallon of Organic Valley Milk for a whooping grand total refund of $6.00. In addition I had the receipt for this return and mention that the bakery bread that I purchased was hard as a rock and was told by an employee when I called to notify of the the products to bring all three items with the receipt and I would be reimbursed.
The employee named Kim accused me of tampering with the milk product stating that the milk was not milk but flour. She called the manager on duty, name Mark and instead of apologizing he open the container and said that it did not smell like milk. I told him that this was reported to the vendor and was advised to return to Whole Foods. I was completely humiliated by this incident. There were customers near the customer service desk and they all heard the conversation. Not to mention the customers that were paying for their merchandise at the nearby registers. This employee went around to other employees as I shopped in the store and must have said something because I got a few stares from them as well.
As I was dealing with the situation I asked the manager if this was typical behavior for employees to take on this accusatory approach to customers and he did not respond but went as far as smelling the cartoon of milk... I left several messages to their corporate office and have yet to receive a call back. I have been shopping at Whole Foods for a while now and never experience nothing of this nature but you can bet that I will take my business elsewhere.

Unless you are a hot girl in yoga pants, you will not get any service from Whole Foods. I have been to Whole Foods a handful of times (not a regular shopping) to get my Omega and vitamin supplements. Every time I go there, I'm ignored. Today, I was there at the vitamin aisle for about 10 minutes looking around. Next to me is this young girl stocking shelf, chit chatting with another older lady. The girl was singing along to whatever crappy song they were playing in the store. She did not acknowledge me, continued to chat with her older co-worker. I was 3 feet away from them.
Anyway, I knew what I wanted, headed to the register, and proceeded to put my two products on the belt. No greeting, no hi from the two male cashiers. All I got was two robotic questions: "Do you want a bag?" and "Do you want your receipt?" Really? How about substitute those two stupid questions with a hello and just give me the damn bag and receipt? Then the eggs were like $4 or $5 per dozen at the cheapest. I am a regular shopping at Sprouts and I always get a great greeting and smile from the cashier. There are so many alternatives. There are absolutely no reason why anyone would need to shop at Whole Paycheck.

A group of special needs teenagers from Redondo High visited the Whole Foods Store in Redondo Beach, Ca. It was a trip to help the kids learn social skills needed for their future. It helps them with shopping skills and socializing in their community. They had their own money and a list of items they could purchase. As they were going about their business, they were told by the Assistant Manager that they would have to leave and make an appt. to come another day. The children were with their aides and teacher. Who makes appts to go to the store. The assistant manager was a Daniel **. I think these children deserve an apology, and the store personnel need some extra training.

This store has good quality food and a large variety, many of which are hard to find at other stores. The biggest problem is their prices. I don't go there much anymore because our finances are tighter and we can't really afford to shop there very often.

Whole Foods is a great market but prices are on the high side when you compare similar products in other stores. The selection of health supplements brand names is better in smaller health food stores. But they offer certain products that are not sold in other stores locally so I enjoy shopping there.

My experience most of the times I shop is unsatisfactory. Let's start with pizza. Lately the crust is always burned. Sometimes in September. I was ordering pizza at a Columbus circle location in Manhattan NYC. There were two people behind the counter one taking orders and another making new pizzas. The young man taking order seemed to know nothing about what is about to happen but had a pleasant demeanor. And the lady (very young) making pizzas looked knowledgeable but with nasty disposition. So I asked to cut the very burned border of the crust. The man glanced at the woman and while I was waiting to get my pizza she kept making nasty remarks using low-life language.
It actually feels that some of the workers in WF are doing customer a favor and not performing their duties and things they suppose to do. Perhaps there was a hostility because I'm **. Next thing, when you are at the register, you are bombarded with two questions - do you want a bag, and do you want your receipt?? As if it was not self explanatory that I want my damn receipt if my purchase is totaling 70.00 dollars. And about the bag there is no doubt that all the items I should just carry in my bare hands or on my head like they do in third world countries! There is never a greeting, never a hello of some sort just do you want your bag and receipt. Workers at WF are so unhappy to be there. That is why they are hostile. I would say just do your damn job and be happy you got one! One terrible experience after another. In the heart of New York city it is a shame.

Whole Foods Devon, Pennsylvania is simply the worst food market for customer service due to an extremely poor management team. I love Whole Foods and shop there most of the time. My opinion is that Whole Foods, as a company is fine, but beware the Devon, PA location unless you relish utter frustration and incomprehensible conversations with management who have no idea how to manage nor care to learn.

I shop weekly at the W.F. store in NYC on 3rd avenue @ E. 87/88 st.Yesterday (Friday) at 1:20 p.m. #4 cashier only put the receipt in my bag. He refused to bag my groceries. I have multiple disabilities and also wear a wrist brace which is in full view. Due to my disability I am slow and have difficult writing, picking up items, carrying and so it took a lot longer for me to bag my groceries than it would of taken him.
At first I did not even notice that he was not bagging my groceries because I need to concentrate to get out my credit card, swipe it and then return my card to my wallet. I also was unaware that the next customer was standing behind me waiting to check out her groceries. I also felt that this cashier was laughing at me. I have had disabilities for 30 years. I have been and occupational therapist for 20 years. I did call the store and asked for the manager of the cashiers and left a report and she replied she knew who he is and would speak with him. If this had happened to one of my patients I would have been very upset.

I'm not a regular at Whole Foods but this Thanksgiving Day I decided to go for Healthy Options and this store came to mind; what a disappointment! An embarrassment on my dinner table, the fruit tart looks old, smells old - taste is terrible; mac and cheese? I haven't had mac and cheese that nasty; the over-cooked pasta tastes like you're eating a clumped flour; turkey gravy was too watery and no taste. The stuffed mushroom was ok but for the money I'm paying I expected something better and to make matters worse, our thanksgiving dinner recipe includes soup only to be told after an hour of waiting for my order that they ran out of lobster bisque; so BEWARE!!! Whole Foods is overrated; very pricey for bad food and bad service.

I used to love the salad bar at Whole Foods because everything was made with olive oil or oil free. The last time I was in I could not find anything using olive oil. The only oil they listed was canola oil. To me this means their salads are no healthier than any other grocery chain.

I used to love Whole Foods and would go out of my way to shop there. When they opened in my neighborhood - I was so happy. At first - customer service was good and I've seen that declining each time I go in there. There might be one or two that are helpful but as a whole - they are super rude and have an attitude. I'm not rude and should not be treated with rudeness, I'm a paying customer - a little common courtesy goes a long way - I say thank you because you loaded my groceries - I expect an acknowledgment in return - "You're Welcome" would be nice - but silence/being ignored is not acceptable - not for a chain that size. I tried writing the store about an altercation at the bread counter where the employee sassed at me and I received no reply. I'm on the verge of boycotting the store.

Whole Foods Annapolis MD. 11/13/16 Sunday. I spoke up when the - 2nd - man who walked up to the meat counter after I was waiting, was offered help. Please get a "take a number" dispenser. It wasn't very crowded and was either deliberate or they're really bad at paying attention to who's next.

I just had the most ridiculous experience with the person who called himself a manager at this location. I tried to pay with a hundred dollar bill that I got from chase bank. They not only refused to take it with not really giving me an explanation of why was wrong with it but also demand that I leave the store and threatened to call the police. Mariano's didn't have any issues with my money. This person who works there as a manager should at least get coached on how to speak to the customers.

Generally, I am glad that there are stores such as Whole Foods and Mothers that carry safer and healthier food selections, especially in respect to items with lower sugar and the elimination of trans fats and hydrogenated oils. I live in California and the state banned these items from foods with the exception of manufactured items that are pre-sealed and the regular chains still carry these harmful items.
However, the other day I was in our local store in Orange County and was looking for some fresh pomegranate juice. I like the fact that there are usually WF people in the aisles to ask for assistance. I had a question about pasteurization or something and the young man said, "you know these items are so over-priced" and he went on his way. I was surprised by his candor and didn't buy the juice. I found the same product at Kroger's for half the cost. It made me feel like an idiot for shopping there. So, while I am glad for the better offerings at WF, I am now going back and forth between stores until WF can become more competitive. I was also interested in a previous Review that spoke of working conditions there. I was curious as I was considering applying.

I am a daily customer at the Whole Foods store in Winston-Salem. As a person on a strict diet recommended by my doctor, I typically go to the store 5-7 times a week. During the time period of Sept. 12-19, 2016, the entire hot bar area at the Winston-Salem door was closed while the cooking equipment was repaired and updated. In addition, no soup, pizza, and cooked items in the salad bar were available. Written signs were posted throughout the store saying that all of the facilities would be back up by Sept. 19.
On Sept. 19, I called the store and was told that the hot bar was reopening. I eagerly returned and was surprised to see that not only was the hot bar not functioning, but the store staff did not know when it would return. I ran into other customers who had been waiting for the return of the hot bar but were confused that it was not ready. On Sept. 21, I called again and was told that the hot bar would re-open in the afternoon. When I arrived that evening, Whole Foods had hired a food truck called Spice Delight to stand outside the store. This food truck specialized in southern dishes, but offered little fare that fit my diet.
I noticed that as well as the lack of pizza, soup, rice, cooked food. The salad bar at Whole Foods also was smaller in size. When I asked the supervisor about this problem with the salad bar, I was told that they had prepared pre-cooked items (such as grilled vegetables) for the period Sept. 13-19, but had not been ready for an extended closure of the cooking facilities. As the week went on, different Whole Foods staff members said they were unsure when the hot bar would return. This lack of information was frustrating to me.
On Monday, Sept. 26, the hot bar finally reopened. I asked to speak to the store manager on that day. I met with Ryan. I asked Ryan about the lengthy delay in reopening the hot bar past Sept. 19 and all of the associated confusion. Ryan replied that Whole Foods had to refurbish the kitchen's cooking facilities and that is why it took 2 weeks. I asked him about the signs which had promised that the job would be finished by Sept. 19, but he refused to answer. Ryan did not explain the delays, or all of the confusion to customers caused by the delays.
As the store manager would not explain properly or clearly this unfortunate situation, I contacted Whole Foods corporate customer service by way of the Whole Foods website, www.wholefoodsmarket.com on Sept. 27, 2016. Their automated system generated an acknowledgment of receipt of my complaint, generated a complaint number (Customer Care Case # **), and stated that "a member of our global team will be reaching out to you as soon as possible." When I did not receive a reply within two weeks, I sent in a follow-up request on Oct. 10 citing the complaint number. On Oct. 17, I phoned Whole Foods corporate customer service number (512 542-0878). No one picked up the phone, but I was able to leave a message. I called back twice after that and left follow-up messages. I have never heard back from Whole Foods. I find Whole Foods' lack of concern for customer issues alarming and disturbing.

It must have been around 5 pm on Sat., 15, 2016 that my brother and I chose to go to Whole Foods for pizza after that we've been doing some administrative work really early the morning. Typically, everywhere I go I am known as an amicable customer. I address every barista or cashiers by, honey, and that shows how much respect I have for society. Those of the opposite sex I always find something nice to say a nice complement after I leave the store and even If my pizza, burrito or dish did not meet my standards.
However, this afternoon, I went to Whole Foods and headed to order a pizza to eat inside the store. I ordered a pizza with three topping: pepperoni, chicken and mushrooms. Then, I gave him instructions how I wanted it to be done. He told me, "ok" and the pizza will be ready in "15-20 min." He handed me out my ticket for 18 dollars and I went to grab a couple of cold drinks then we pay. For, this time 20 minutes had already passed. I go grab my pizza and not the guy that made my pizza but a different kind of guy by the name of Timothy asked for my ticket. I personally, have a problem with people asking me for my invoice or receipt. I get the pizza but he snatches off my hands because he says "I do need to see your receipt" but I say "no you don't".
I am a man of trust plus I've been doing business with Whole Foods for a long time and only three years with this one in Cornell Road. Timothy and David are really rude and Whole Foods should not hire rude people. Staff at this store has the habit of staring. Has Whole Foods a hidden agenda against Latinos in this part of Cornell Road, Hillsborough and Aloha, Oregon? Why Whole Foods ask for receipts to Hispanics or Latinos and not their own lineage who are the most criminal?

ED Cashiers like to chat with each other more than serving customers, especially if the customers are women. The Express check-out is ** since nobody pays any attention to it and you wait in the so-called Express line 5 times longer than the REGULAR check out line because of that. The in-store products are limited and often disappear within months without notice. The prices are ridiculous, even for a Whole Foods store, i.e. Giovanni hair care products suddenly went up 25% for no apparent reason. I can get the same products on Amazon.com for 75% less. The quality of fresh produce relative to the price is insane.
I advise you to stop catering to one-time-out-of-time American tourist customers who have a 30% exchange rate to buffer what they pay for shopping there and cater to the year-round West End customers who LIVE HERE if you want to stay in business. You're like the AirBnB of Whole Food stores, i.e trying to scam tourists at the expense of residents...

I worked for Whole Foods market for 5 years, too much favoritism. Christina Minardi provides too much favors for people, and it's a hostile working environment. They fire the older people working there and they people who don't want to pay for benefits which its work.

They are made of thin cardboard and numbered, but if lost or destroyed, Whole Foods won't replace. Why bother locking somebody into a purchase at a store that is short on customer service?

I have been shopping at Whole Foods for many years now. Some of their customer service is horrible and their prices are extremely expensive. One of Whole Foods associate was extremely rude. I have a disability. I spoke to Craig in regional - he was not sincere about what happened. Craig you are very unprofessional. You should not be working for Whole Foods. You have no customer service experience. I hope Whole Foods customers see this. Be careful shopping at Whole Foods, Craig in their regional office is not nice.

All of the NYC locations have pricing issues. If something is on sale, it rings up wrong. I was charge pound price of lobster instead of potato salad. Then they're rude to you for bringing it up. I stopped going all together. Not worth the headache.

Whole Foods has the worst hot food ever! They use to be ok a while ago but they have just gotten real bad. The cookies are dry and tasteless. The hot food suffers from taste. The cold bar is even worse than the hot bar. Things look good but taste terrible. Their strawberry shortcake is pretty good but that's where it ends for me. I've stopped visiting the hot/cold bar and bakery, but I buy the chocolate chip banana muffins on occasion but even those are sometimes so sweet I have to toss them.
Whole Foods Company Profile
Company Name:

Whole Foods

Website:

http://www.wholefoodsmarket.com/