Consumer Complaints and Reviews

First and foremost, I cook everything I eat. I take pride in myself in buying top products. I spend at least 1/3 of food budget on produce. Formerly, you could count on Wegmans and find value. No more, the produce value has a decreased; its selection and value of the produce had diminished. Additionally as you go through the store the selection of products has decreased immensely! I contacted the store management and they seemed disinterested. No problem, I found a new grocery store, with superior produce and a wide selection of products! Their meat selection is superior and finally the staff is welcoming friendly and helpful! Hurray! So what, I drive a mile more! It is so worth it!

After receiving and downloading digital coupons from Wegmans a few days ago, I decided to use the downloaded coupon today. The employee told me that I had no downloaded coupons and that I owed the total amount of my purchase, when I protested I was told to pay the balance or not but that there was nothing that could be done to help me. Reluctantly I paid for the purchase, vowing to myself to never download any digital coupons from Wegmans. I had even received a verification that the download was successful.
Onward to eat my lunch with grandchildren in children's space. It was not very clean and unfortunately my grandchild added to the mess by spilling a liquid. My daughter and I cleaned up the spill as well as we could but not one employee approached us to help or to ask for someone to clean. We did finish lunch and no one ever appeared to clean.
We got into the car and as I was annoyed my daughter checked her slip for her purchases only to find she had been double charged for one item. She went back in and they did refund the amount and said, "Sorry." Needless to say I don't understand how or why they get such high ratings in reviews. This store is ok but never have seen it sparkling clean, the employees always seem upset or angry and this is not welcoming atmosphere. I only visit every 4 to 8 weeks.

I grew up with Wegmans in my area when I lived in NYS and they used to be my grocery store of choice! Let's now move to years later and I now live in the suburbs of Philadelphia. I have never been so dissatisfied as I am with their constant change of products, without a thought to help their customers. Over the past year and a half this has been going on, at least at our local store, and the frustration is now at my limit. My feelings are also shared with my friends and family who also shop there, as well as grumbling of other customers in the aisles while I was shopping there. I get the entire grocery placement, etc. but this has gone beyond common sense. I have actually stopped buying some products because I thought they were discontinued, only to stumble upon them months later in a different spot in the store. The producers of products should also be upset, as their sales could be on the decline if you cannot find it in the store.
Explain to me why you have a "Nature's Section" in your store if you are going to dismantle it piece by piece with no sense of direction. Additionally, I should not have to find an associate to do my grocery shopping. I don't want the crap food so no matter how much you try I will never buy from the companies that put tons of chemicals, preservatives in their foods. On another note, why do you feel the need to have a Wegmans' brand of everything - some things are good but others not so much. My complaint with this is that you then remove the brand that I love so much and just expect me to like and buy the Wegmans' brand. With all of this said, I wish you well and hope you take a note from my message, as it is not just one person feeling this way. In the meantime, I will be shopping at my local health food store that is also now opening a larger store down the street from you.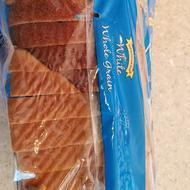 We bought this loaf of bread the other day at Penfield Wegmans. Unfortunately we're forced to buy Wegmans brand as there are very few other options. Pictures are attached. Something ELSE was included in the dough. Either old dough from yesterday's batch that wasn't cleaned out or something else entirely. Disgusting Wegmans bread! I will be complaining to the store manager later today when I return this abomination of a product.

I really love Wegmans for the huge variety of products but also for their pharmacy staff who goes way and beyond to make sure their customer are safe. The pharmacist picked up a dangerous side effect between 2 medications prescribed. I want to keep the same generic manufacturer and they always accommodate my custom orders. The staff is also so nice with people although they are always very busy. The interaction feels very personal and they provide a level of care which exceeds expectations.
How do I know I can trust these reviews about Wegmans?
849,102 reviews on ConsumerAffairs are verified.
We require contact information to ensure our reviewers are real.
We use intelligent software that helps us maintain the integrity of reviews.
Our moderators read all reviews to verify quality and helpfulness.
For more information about reviews on ConsumerAffairs.com please visit our FAQ.

I am an event planner and need to order food from the Nazareth Wegmans at least three times per week. I am NEVER disappointed in their food quality. More importantly, their service is impeccable. Tom, Gage, and the rest of the team there have never missed anything with my orders. Having a fantastic partnership like this keeps MY customers coming back - I couldn't do what I do this well without them!

Humiliated and truamatized. After a 15 hour workday I stopped at Wegmans in Woodbridge, VA to pick up some special frozen yogurt they were holding for my handicapped husband. Before going to customer service to make my pick up I did a little shopping. Had a very difficult time finding a few items that were my husband's favorites. Could not find anyone to help me so I walked back and forth in the bakery area for about 5 minutes. Once actually visiting the food bar where I noticed they had pupusas. Wow... My 15 year old granddaughter loves these and they are very hard to find in Culpeper. Started to get some when I realized they were very overcooked. Finally got about one half of one into my little black box and then went back to the bakery still trying to find the babka and rugulach. Again no one to help me.
Bought 1 pound of monk fish and finally found my other 2 items. Continued to the frozen food section looking for a new low carb ice cream. At that time I opened the little black container and noticed how black and nasty it looked... decided not to buy it and put it on shelf. Reached in my purse and pulled out a cheese stick as I was feeling very dizzy from a blood sugar problem. Headed now to customer service to pick up the 3 containers of Edy's frozen yogurt only to find that they only had one. Then went to check out. Did so spending 91.00 and looked at my slip. Was overcharged for an item. Went back to customer service to have it fixed at which time she asked to se my bag to be sure I was correct. Showed her bag and got the 3.79 refund. Used restroom and headed to my car and load my bags and start my ride home when I was confronted by 2 security guards who told me to come with them or I would be arrested. I was in shock.
I am a 66 year old woman who has never even had a speeding ticket in my life. I own a catering business as well as 2 restaurants. Have never experienced anything like this. You see they were going to arrest me for putting the little black container on the shelf saying I had eaten the food in it... Seriously??? I was shaking so bad I thought I was going to pass out. Went with them. They made a copy of my driver's license asking if I was legal and then told me I had to pay for 1 pound of food or I would be arrested. I did it and ran out of the store... NEVER TO RETURN TO A WEGMANS AGAIN! It is one week later and I continue to wake up 5-6 times every night shaking from this experience. ALL I CAN SAY IS THIS WAS A DISGUSTING AND HORRIFYING AS WELL AS TRAUMATIC ENCOUNTER THAT I WILL NEVER FORGET!

This is my first time ordering catering service from Wegmans for my place of employment and I must say that the food was tasty! That being said I must write that this experience was not pleasant at ALL. First there was not direct parking for catering pickup, for an order over $400; it seems that there would have been adequate parking for this service, but (NO)! As I retrieved the food items from the various departments the customer service support/help was (NOT there). No one gave me a helping hand! As I proceeded to gather the hot food items from that department the service was even worst (VERY POOR)! Another thing with a purchase order of 100 wings I received (10) packs of dipping sauce! I asked for more and was told it would be .50 cent for each additional one. That was the last draw!!! No More/Not Ever Again, there are other places that provide the same type of food with a touch of CLASS!

Recently spent nearly an hour looking for frozen okra at Wegmans in Canandaigua. Maybe it was just an off Monday evening but it didn't appear to me anyone responsible was in the store. Frozen department looked as if we were ten hours into a Black Friday sale. I spent several minutes going around frozen cases opening doors turning Birdseye boxes around so could read front of label. Bagged veggies were disheveled and falling out of rack. I searched canned and fresh vegetables as well finally giving up. Went through check out and in a separate issue entirely cashier tried to slip me change for a ten and a twenty when I gave him two twenties. Maybe an honest mistake. Went to customer service after check out to inquire about frozen okra. Was told "we have it" Goya brand. Was sent back to frozen case with young man who told me as we were walking he had never seen Goya brand frozen okra. Needless to say we didn't find it.
Went back to customer service. This time was told "Wegmans brand" we sold 19 units this past month. This time she went, so I waited. Another ten minutes she came back empty handed. My point is not only should this simple item have been there and it could have been. But if this department had not been in such disarray I might have found it. Not to mention no one responsible enough to locate said item. The topping on the cake was the cashier who apparently doesn't know the difference between a ten or a twenty dollar bill. Drove the half mile up road to Walmart. Found frozen okra, in and out of store in under five. Would have never thought Wegmans would be outperformed by Walmart.

Wegmans' alcohol sales policy -- With my spouse at Wegmans in Westwood, MA. We have a bottle of wine in the cart. My spouse cheerfully offers his driver's license, but the checker demands to see my ID as well. Baffled, I refused. The checker and the store manager said it was store policy to card everyone in a party where alcohol is being purchased. When I told him the mother in front of us with 2 toddlers and a bottle of wine did not have to produce her toddlers' IDs, he looked at me with a blank stare. When I asked him if the store would refuse service to a father buying beer who happened to have one of his kids along for the ride, same blank stare. Stupid policy.

I was presently surprised when I was trying a sample in prepared foods at Wegmans in Geneseo and I turned to see a man with a chef hat. He began to describe each sample and what exactly was in it. Great job Geneseo Wegmans!!!

I prefer Wegmans over the other two grocery stores near me. The customer service is very good and they have a great selection of products. The store layout is great and the store is always clean. There is a hot and cold food bar that has something for everyone and my kids love it. There's just no comparison. Wegmans is far better than Acme or Giant.

Danny Wegmans needs to get his business in order. The store in Auburn has multiple issues and is making the consumer very angry, first off, stop jacking prices up all the time. I've seen the Wegmans family home, you're not hurting financially so stop ripping people off. Secondly your meat is substandard. I can't tell you how many people have either gotten food Poison or had to return bad meat to your store. Not only is it overpriced crap cuts, it is a major inconvenience and cost consumers more money in the end and I just purchased chicken that I cooked and had to throw away for some weird gross reason I couldn't chew it? Why? Third, produce sits there because NO one can afford those ridiculous prices, I mean seriously! Fourth, why do I get shocked every time I touch the freezers? Is there an electrical short touching the metal? I swear there is because it's not static shock it's an electrical shock, I know the difference.
Fifth, your staff is a bunch of rude people sitting high and mighty thinking they have the right to degrade and disrespect you, and some of the cashiers just stand at this podium staring at you doing absolutely nothing but making people feel like they're under scrutiny, and finally, and this has grossed me out so much, why does your store brand bread smell like butt? It is so nasty. I have thrown away whole loaves, I have a honey wheat double pack that's going back to the store. I will not buy your butt crack smelling breads! Used to be my favorite store but owners getting greedy and lazy! And the bread almost did it for me, I've been shopping at Walmart a lot more lately and will continue until these store problems are addressed and corrected.

Wegmans is not just a trip to the grocery store, but rather a shopping experience! The Wegmans team has made the mundane task of grocery shopping enjoyable. Although not every store carries the same products nor are they laid out the same, the selection is good and those products that carry the Wegmans' name are exceptional. Prices are about the same as other stores, however due to the vast selection of specialty food and general merchandise arranged in tantalizing displays, the shopper may spend more.

Wegmans in Charlottesville is not like all the others. It's 120,000 sq ft and I was thrilled to get in and see it but I was shocked in a bad way. I was expecting the beautifully done Wegmans of the North East but this one is nothing but a warehouse. The charm and decorations of Wegmans are lost in this store. Much of the fun of shopping at Wegmans was the ability to take your cart in an elevator and have lunch on the 2nd level that served up wonderful delicious soups, sandwiches or other food and drinks. The way the 2nd level was so nicely decorated and had seating and tables and a great view of the 1st floor was enjoyable because it was unique. I looked at Wegmans as the Disney World of groceries, but now I can't say that anymore.

Wegmans is new for our family and we like the products, selection and staff. It's modern, clean and well managed. We have been there about 15 times since the store opened in Henrico County, Va. I was unhappy to see that your tea selection did not include Gold Peak diet tea in larger containers. We look forward to each visit.

Excepting the high-priced (though beautiful) in-store bakery items, other products are generally lower priced than other stores with equal or better quality. Produce is exceptionally fresh and store brands are great value/quality. Sometimes shelves are missing popular products or shelved too deep/high for shorter shoppers but they have great variety. I've never had a "customer service" problem.

Wegmans is extremely customer oriented. They are always researching customer product desires and working to make sure that the products consumers want are available to them. The employees go above and beyond to assist customers with finding the products they want. No request is too much for the employees to honor. If something special is needed, the employees will see that it is obtained or prepared exactly to the customer's request. In addition, the stores are clean, always fully stocked and a pleasant one stop shopping environment. A wide variety of traditional, organic and culture specific foods are available, freshly prepared and reasonably priced.

Wegmans is a very clean and pleasant store, as far as the employees are concerned. Their product is top quality, however, I have noticed a few of their Wegmans brand products decreasing in quality (i.e. frozen mac and cheese family size). People go above and beyond every time I'm there, and their prices are best in the area, a lot even cheaper than BJ's. I would highly recommend this and have highly recommended this store to all visitors to Ithaca.

Today, Christmas Eve, I attempted to purchase alcohol while in the company of my 19 year old sister. I was carded and then the cashier requested to see her ID. I asked why the cashier needed her ID as I was purchasing the alcohol and am legally allowed to do so. The cashier replied that it was company policy to check to see that she was of age.
I asked about parents purchasing alcohol with their kids. She said that if she thought that I would be giving the beer to my sister to consume she could deny me the purchase. This was absolutely out of line. She assumed my guilt based on no evidence besides how she "felt." In Wegmans's online policies there is nothing pertaining to what she stated was company policy. (The floor manager agreed with her in the store, parroting the policy line.) She violated my sister's right to assumed innocence and my right to legally purchase a product. I am happy to take my business to another store that does not allow their employees to assume the customers are criminals without evidence. It is draconian, regressive, and should not be tolerated.

I don't know what is going on with this store. The help has always been eager and happy, now there are fewer of them and they look and act miserable. Not the friendly helpful group they always have been. Most of the cashiers won't even make eye contact now. The produce dept though pricey has always been full and the produce just beautiful now... wilted greens, bruised fruit and lots of empty space... not my Wegmans any longer. I can get lousy service elsewhere and not pay for it.

My family and I were rudely treated by Wegmans in Charlottesville today. My wife, who is 9 months pregnant today, 2 year old son, and I spent over an hour attempting to pick out our groceries. While loading our groceries and alcohol at checkout, my wife needed to take my son out to the car because he was starting to cry and fuss with the long wait. The employee ringing up our groceries could clearly see the alcohol we were trying to purchase and could clearly see my very pregnant wife, who is in her mid 30's, attempting to take care of a fussy 2 year old child walk away. Several seconds later when it came time to ring up our alcohol I presented my ID without being asked showing that I am in my mid 30's.
The employee then rudely said that I needed to go and find my wife so she could show her ID in order for me to purchase our alcohol. She pointed to a sign and said it was store policy that everyone present their ID. First of all, we have been there nearly a dozen times together and have never both presented our IDs. Secondly, she could clearly see we were of age, my wife was pregnant, and we were struggling to keep our son from screaming and disturbing other shoppers. Third of all the sign does not state everyone needed to present an ID but rather they had the right to ID anyone. I tried to plead my case but the employee refused.
I then asked for a manager, again described our situation, and she too stated that there was absolutely no exception to store policy. Really?! Because the couple in front of us didn't have to both present their IDs, and we have never had to do it before. Besides, we are both clearly of age, 9 month pregnant wife, and 2 year old son. We spent all that time in the store and walked away empty handed. I could not purchase groceries from a store that would hassle a young couple just because they could.

A new Wegmans just opened in my neighborhood. I was a bit suspect because it is somewhat on a tough area. I went in after it opened and it seemed like it was a typical, well stocked Wegmans. However in just a few weeks time it has diminished considerably. What is upsetting is that a large portion of the produce such as the lettuce, celery, fresh herbs etc. are wilted and brown and should not be on the floor period.
I addressed this with the produce person. She was very nice and agreed that it was terrible and that her manager was currently trying to find another "farm" to resource. She told me that it was not sourced from the same farm as the other local Wegmans, and when she brought out a box of "fresh" lettuce from the back it was in the same deplorable condition. I suspect that Wegmans is shipping over its unsellable produce from its other stores. Of course the prices are the same but the quality is TERRIBLE! Wegmans should be ashamed and close the store if they cannot offer the same level of merchandise as their other stores.

We have purchase Wegmans' skinless/boneless chicken twice in the past month. Both times the chicken was old. The appearance of the chicken was pale and leathery once the package was opened. You could not see these parts as they were folded to be hidden underneath. It also looked as though the chicken was frozen repeatedly. I have experienced many issues with the Wegmans in Gainesville, VA and avoid it as much as possible. Someone should take over the management of this store as the meat and cheese departments are NOT being monitored well. Have taken cheese back three times over the past several months. These cheeses are $17+ per pound. Outrageous that they have tried to sell cheese that is spoiled or on the verge of spoiling. Pathetic! So wish we had a Publix. Best grocery store ever!

I always shop at this Glen Mills location; and today I went to have lunch at the buffet with my daughter before we shop and get groceries. I picked different kinds of food and chose BROWN RICE for starch. Sat to eat and I GOT A CLOSE-UP LOOK OF THE RICE and THERE WERE 4-6 (probably more) DEAD INSECTS. GROSS AND DISGUSTING. I went to ask for the chef and this guy that I asked to look for him gave me a smirk smile while talking to the chef while they're walking towards me. Really? Shame on you!!! Disgusting! They probably did not washed the rice. How about the rest of the food they prepare?! You think it's clean? Never again! PS. I have pictures to prove! And I'm glad I didn't give the rice to child. Yuck!

Wegmans is now what I consider a deplorable experience. I used to love it but it's horrible now. First, they've eliminated most other higher quality brands in favor of their own, so a customer is hijacked into buying the Wegmans brand. Second, their prepared foods have increased in price by 20-30 percent and the quality has decreased. Their prepared foods are now $10 a pound. Seriously??? So if my kid wants Mac & Cheese or chicken wings I have pay $10 a pound? Ummm no. And they got rid of their best items like the chef's special firecracker shrimp and replaced it was a horrible over-seasoned, fried disgusting shrimp.
And they got rid of all of the kale salads but keep items like a cheese flan or 20 kinds of Mexican or Asian foods without switching them up. Who selects the items?? And they continue to raise their prepackaged dinner prices too. The salmon with lobster was $7, then $8, then $9, then $10. Do they think we don't notice? We do. And all of their deli meats are loaded with preservatives, fillers, and colors. Don't ever buy their deli meats. And if you buy their packaged smoked salmon, know that Costco sells the exact same item for 1/3 of the price. We are so done with Wegmans. Overpriced, they hold you hostage to their brand, and the prepared foods are crap.

Wegmans policy for check writing purchases is discriminatory. I have a Wegmans card and have been writing checks and or using a credit card for the past 7 years for my Wegmans purchases. No check written has ever been a bad check. I have spent thousand of dollars at Wegmans over the years. I was humiliated by the process and clerks who behaved as if they were filming an episode of CSI. Not one employee could offer a logical or reasonable explanation for the issue I was experiencing. Even the corporate office could not offer a reasonable or logical explanation and basically said my limit would never be changed for check writing purchases. You would think that a company with 7 billion dollars in revenue would be more secure and not be in the practice of harassing honest customers.

Walking into the Ridgemont store stinks, they have the bottle return right in front of the entrance and that is all you smell is stale beer. The person who is running this store has had numerous complaints and has done nothing about it. Customers can't even get through as people return their bottles, people are running into each other and it is just congested. Move the Bottle Return to another area or better yet remove the useless manager.

Sweet corn? Not. Bought half dozen ears of corn this week. Half of the ears tasted terrible. Reminded me of a dare once - eating an ear of 'field' or cow corn. This store needs a new produce manager.

Wegmans bakery gets everything in frozen and "baked Fresh" does not mean from dough or batter. Their cut out cookies are cut from frozen sheets of sugar cookie dough. The muffins come in frozen paper cups and are baked in the store from a frozen state. The produce area is impossible to navigate at all their stores. Why do they have everything at an angle which makes the spaces so small two carts cannot pass each other? I know they do it to slow people down in hopes that they will do impulse shopping but in most cases everyone is just pissed that they can't just get in and out.
More about the produce department. WHY O WHY do they wait until prime shopping hours to put those huge produce carts in the aisles? It would make sense if they were trying to restock items. However, I have witnessed on multiple occasions one of those carts piled high with empty boxes or banana boxes and not an employee around. More to the point of the produce employees. I have seen on multiple occasions the employees standing at the grapes eating pounds of them and just gossiping.
The hot bar(s) and salad bar. Why do they not have an employee out by the bar(s) reminding people that it is not a buffet for them to eat from. I refuse to ever take any of the food from the hot bar, because it looks pretty dried out and not very appealing. I have stood there just observing how many people literally touch food and don't take it and I have witnessed groups of college age people come in groups and "sample" several dozen fried shrimp, several egg rolls, hot wings, fruit, spinach and or artichoke pre formed round things, and even fish and one kid bold enough to take an entire piece of pizza and shove it in his mouth, then they walk away.
I even spoke up once and asked the kid if they weighed him when he came in so they could weigh him on the way out and he would pay for the food he consumed that way and his response was "I had to try stuff to see if I liked it!". Then he decided he was thirsty, walked over to the soda machine, put his mouth under the spout and pushed the button to drink. How utterly disgusting and gross and not to mention NOT clean! There are people paying a fortune for that food and these kids eat for free??? Just keep raising the price for those poor souls that do buy the stuff.
The prepared packages of Asian food, potatoes, soups, vegetables, etc. are left over from the hot bar(s) and the $6.00 a meal layout. The cross contamination that goes on with all this precooked, prepackaged food is disgusting! When you can taste the cleaner in the food you know that something isn't being sanitized properly.
The aforementioned gross habits at the hot bar and salad bar area is not unique to any one particular Wegmans. It is a chronic issue for ALL the Wegmans. I have been in about 7 in both New York and PA. They are turning into a Wegmans brands exclusive market. Not all of Wegmans products are good. Some are okay but they are not priced at a generic, store brand price.
Do not get sliced deli meat or cheese. Have you looked at the slicers? They don't clean them between cutting different types of meat. It appears that they just brush the big chunks off and cut the next customers order. GROSS! I got sliced ham (that they had to open a new package) and the NEXT DAY it was slimy. When I took it back to the store I got attitude from the child that was at the Customer Service. I told him if he had any question he could weigh the package and if he found there to be less in the package he could adjust the refund. I assured him no one had eaten any but he could feel free to have a slice or two. He was a punk.
The only reason they get Grocery Store of the year and 100 best companies is because they only let the "Top Tier" of employees vote. Never the lowly clerks and the true grunts that try to make the place run. They are not all they seem to be. People are starting to grumble loudly about their dissatisfaction. I can't wait till Whole Foods opens up just blocks from them. Why not. We already have a Trader Joes that has all private label. Wegmans is going that direction FAST. Whole foods might just give them a run for customers. Oh and one last thing. Last New Years Day I opened a can of what was labeled Wegmans Black Eyed Peas and they were navy beans. I called and there was no apology, again just attitude. Jerks. Bring on Publix!!!
Company Name:

Wegmans

Website:

http://www.wegmans.com/