Waldbaums
New York
Out of Business
Consumer Complaints and Reviews

I was purchasing Centrum vitamins in the 20th ave. Waldbaums in College Point. They were supposed to be on sale for 6.99. They rang up 13.79. I showed the girl the circular with sale price. It said 80 to 130. The ones I had were 120 and were Centrum silver. It clearly shows Centrum silver and regular. She called the manager over. He was very arrogant and said those were the wrong ones. When I showed him the circular, he said "that's just for advertisement" and he has the last word. Are you kidding me. This is totally unacceptable. I didn't get his name. He was a very arrogant black man. Please advise. Is this a Waldbaums policy?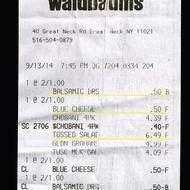 Today Sep.13, 2014 7.45 p.m.I went to Waldbaums store at Great Neck, NY. I purchased salad (label price $4.99) and dressing (39c label) price. But self checkout machine overcharged for salad ($6.49) and dressing for 50c. I asked to self checkout machine controller for fix price, but the controller said "NO
MORE STORE CARD HERE"??? I am not asking for bargain price, just charge right price. But the person said to me stupid!!!??? I call manager who is ** and complained about it, but the manager not sorry feeling to customer. He said "Just worker's mistakes.. What's wrong with you just fix price, buy or not." I said to them OK, no more again please. I paid right price and go home... BE AWARE OVERCHARGED at Waldbaums.

This complaint have to be taken seriously. It's ridiculous, And I'm so MAD. Location: 112-15 Beach Channel Dr., Bell Harbor, NY 11694. I will start by saying I've traveled all over the world and I've witnessed it all, But to a point it made me SO SICK of it and have to report it because it's a severe case and I will confront them "I care less for their excuses".
Ground beef always have 1 day or same day expiration date and sold full price. It should be marked in yellow label. So that means that they repackage it which I witnessed it myself when opened the package.
Store is very clean. Employees have no use for them. They never assist you and please listen to this. I was asking the cashier that olive oil is 50% off and she called another employee to assist me. WOULD YOU BELIEVE IF I SAID HE USED HIS LEG TO POINT AT THE PRICE LABEL? Can you really believe this **? I'm a very cool and patient person beyond your imagination, I wanted to punch him but I said, "Well, screw him."
Now we're talking about meats. I promise you that you can go any time any day and see meat turned VERY DARK and no one gives a rat's ass to take it off. I see it everyday. The most annoying thing for real is CHERRIES. It always been $5.99-$6.99/Pound and now it's $3.99/pound HIDEOUS. Kids love it and need to find a better source.
Now the manager never ever does anything and as we all see the economy is very bad. They should be appreciative for a job, But instead no one gives a rat's ass about anything going on. They treat my people in Rockaway Park like they're not worth being taken care of. We keep your lights on and your employees paid and feed their kids. Why treat us like this? I demand an answer.
Tonight, I went to get some beef and chicken. I saw a package big piece of meat very DARK. I got sick. Bought chips and cookies and went home. I will never return to that store for anything fresh, Only chips and cookies. I have zero trust in them. BUT I will fight till I see this place the best supermarket for my neighborhood. You can't imagine how mad I am and really can't sleep anymore thinking about my people going there to shop. Please raise your voice and say something. They work for us. Don't give any excuse.

Extremely rude young lady who threw change at me and has a horrific attitude. I believe her name is Gia. She had a worker doing paperwork at the desk and didn't service people on line until we all got angry at her. She answers customers rudely and dresses like she's going to the beach. Totally unprofessional. I am reluctant to use the courtesy features when she's there. I'm a great customer and shop in this store at least three times a week. She also dared me to report her, so here I am.

Today I went to shopping at Massapequa Sunrise Hwy. NEW YORK Long Island. I went all time with my WIC cheque then I tell my niece to put the stuff that I buy, then the last cheque. The cashier name Antony. He was not tell me that I missing 1 milk gallon. I was ask him that I put the stuff in the bags and tell my niece to put the stuff. Why you don't tell me that I missing something. IT not my mistake. Only then the lady I don't know what her name, she might be a cashier same him and tell I can do nothing because the cheque already run. It not fair for me. They say it my mistake to put for them and the lady she does not care to me I was watching them that make me feel very bad and they are happy. Anyone like me happen that thing what they do. It not fair for me and I have to go back home without justice. Somebody could do prove something. I really mad and don't want to shopping in Waldbaum's again.
How do I know I can trust these reviews about Waldbaums?
672,188 reviews on ConsumerAffairs are verified.
We require contact information to ensure our reviewers are real.
We use intelligent software that helps us maintain the integrity of reviews.
Our moderators read all reviews to verify quality and helpfulness.
For more information about reviews on ConsumerAffairs.com please visit our FAQ.

I shop at this store 1-2 times a week for the last four years and although this store needs a major overhaul, I am a senior citizen and the store is very close by. I know that Waldbaums is owned by A&P. My main complaint is a certain customer service person, a lady probably 50 to 55 years old who has the opposite personality that an employee should have in this position. This is not the first time I have had a problem with her. May I also add most of the employees including the manager, Tony, are very accommodating. This store seems to lose certain products for months and all of a sudden they return.
I usually ask Tony if he is around or go to the service desk and make an inquiry about a certain missing product and if it is possible to get it back. Many times I am told "Will see what we can do" or that "Corporate does all the ordering and we can do nothing about it." There are many items that this has happened with but I will give you just one. I am not making this up Example, the product was Tuscan milk Ot Moon chocolate milk. A couple of weeks ago, I mentioned this to one of the gentlemen that fills the shelves in this part of the store and he found or his manager found a way to get this product on the shelf within a week's time.
All the products I have inquired about are well known items, not obscure ones. It seems to me that someone with a little initiative can get something done most of the time. I don't really want to get anyone in trouble but the people in customer service should know better than to get a customer agitated. If you go into Trader Joe's or Whole Foods, everyone I have ever dealt with bends over backwards to help you. I have been doing my family's food shopping for 46 years. I apologize for getting aggravated myself but it should never have come to that at all. 99.9% of the time, I am very respectful of other people I deal with and I am not a constant complainer.

Racist cashier at Waldbaums #70442 in Howard Beach, NY - On 3/16/13 at 9:47am, my mother and my 5-year old nephew walked into Waldbaums and arrived at the cashier (Angela) checkout with $125 of groceries in tow. The cashier was friendly enough with the customer in front of my mother. But once my mother's turn was up, she asked for a price check and received a very rude and short response. As Angela started scanning in the groceries, my mother started assisting with pushing them towards the bags at which point the cashier snapped, "Don't touch the groceries!" Furthermore, when the cashier was bagging her groceries, she stacked them to the very top of the bags in the carousel - which my mother found odd. After she was done, she spun the "bag carousel" so violently that the groceries spilled out on the floor. When my mother looked at Angela in disbelief, she replied in a very nasty tone, "It was an accident. Do you know what an accident is?" My mother then asked to speak with a store manager and was advised that the store manager was not on site.
The cashier then walked over to the Front Line supervisor and quickly told her how she accidentally knocked over my mother's groceries and how my mother was now complaining about it. My mother is visibly of Middle Eastern descent and this Waldbaums happens to be in a predominantly white neighborhood. There was no valid reason that this cashier (Angela) was so nasty towards my mother but amicable towards other white customers. The $125 spent on this trip is the last that the Waldbaums chain will ever see of our family's money!

Today, I was shopping at the Waldbaum's in North Massapequa. There was no Express line and most of the customers had very few items. I was purchasing 10 items. There were four open registers with several people on each line. I was told by another customer that "Express" is now the self-serve registers. As I did not want to wait in line for 15-20 minutes with 10 items (two of which were already defrosting), I went to the self-serve registers. There were four registers and one poor woman who had to assist every customer with a problem, including me. I asked to speak with the manager and was told by Mr. ** that Express is now Self-serve. Inasmuch as Waldbaum's has no regard for providing service to its customers and less regard for its employees, today is the last day I will be shopping at Waldbaum's. I have been a customer for over 30 years, and I am sure I am among many who have or are ceasing doing business with Waldbaum's.

This happened in the Deer Park, New York Waldbaums.
I rarely shop at Waldbaums given that Stop & Shop has a larger selection, a full organic section, and knowledgeable staff on the floor. But after Hurricane Sandy, my power was out and could not get my car past the fallen trees, so I walked about a mile to Waldbaums to pick up some snacks - hummus, pita bread, cheese & crackers, seltzers, and two 12oz hard ciders.
When I got to the register, the cashier - who was very nice - couldn't find the code for the ciders so she went to her manager. When she came back, I was told her manager VAL would not sell them to me. She said it was a six-pack or nothing. I explained they were only the two single bottles on the shelf and no packs left, so the cashier tried to speak with VAL again. The manager sent the cashier back to tell me no. Again. After paying for everything else, I stopped by VAL who told me the other bottles must have been stolen out of the pack. I tried to reason that was not my fault, I am a paying customer, and I did not see a full pack, not to mention the mile walk home. She gave me a complaint phone # and I left annoyed.
I called the # in the parking lot and it was to an insurance company! She gave me a fake #! I went back inside and VAL told me I must have dialed wrong and they found the original container, implying I was a liar. She said she could maybe make an exception but it was too late. The fake # was over the top. VAL insisted I had the correct #. I left to call again with the same results. Back in again, VAL was now gabbing with another floor manager Denise **. She made a point to highlight her nametag on her shirt multiple times. Neither would help to resolve the problem or understand the hurricane situation. All they offered were attitudes. Perhaps if either manager knew how to converse with the public and resolve problems, I would have left a happy customer and they would have made another purchase.
I just got Internet back yesterday and found on their website the # is completely different than the one provided. They flat out lied to me! The two managers were very mean to me when in fact the # they wrote on my receipt did not even exist. Let me repeat that - they wrote the # on my receipt. They confirmed the # on my receipt three times. All I wanted was to make the best of a bad situation and these two "managers" treated me like a common criminal. I will never shop at their store again and will be placing a formal complaint with the corporate office when their systems are back up.
To the cashier Jessica, you were professional, helpful, and kind. It seems you should be the manager and not the other way around.

I have had my third and final altercation with Mark, the manager of the Rockaway Park Waldbaum's, during an approximately two-year period of time. The first two incidents involved his refusal to give me rain checks for items which were not available. In the first, he directed store employees to find the items, which I was requesting. In all cases, they were unavailable. I was told, however, that I had to take other, similar items. I recall being unable to get a rain check for Keebler pie crust because the store did have the individual mini tins of crusts in stock. Despite my protestations that this would not be suitable to prepare a pie and was not, in fact, the sale item I was looking for, I left empty-handed. Mark admitted to me then that he was reluctant to issue rain checks because they cost the store money.
The second time involved my attempt to get a rain check for Hostess chocolate cupcakes. Mark, himself, angrily insisted that the store had the item and that I couldn't have a rain check. He then showed me the Hostess display and pointed out golden cupcakes in an attempt to prove that I was wrong. I told him that I wanted chocolate, not golden. He then tried to tell me that the store didn't carry them. Since I had been regularly buying them for my children at that store, he was obviously lying. He actually had the nerve to turn his back on me and walk away when I tried to tell him he was mistaken about the store not carrying them. I did not shop in the store for some months after each of these incidents. On Tuesday, I purchased 2 containers of Edy's ice cream. They felt a little soft to me but not enough to preclude my buying them.
When I got home, however, the chocolate had melted all over other items in the bag and was inedible. I tossed it in the garbage and then decided I should be reimbursed for it since it was brought home in a refrigerated bag I always keep in my car and I live 10 minutes away. I put it back in the bag with the other items still covered in chocolate and took a picture with my phone. Yesterday, I returned to the store with the receipt, my phone, and what I thought was a reasonable request to be given another container of ice cream to replace that which was unusable. Mark, in his usual state of agitation, told me that he needed the product in order to replace it. He said the store would be out the money. Why he thought it should be incumbent upon me, the customer, to store this ice cream for two days and then hand-deliver it back to him is beyond me. I always go to this store after work and was not going to make a special trip to my home first to get the ice cream and then bring it back.
Why should I be out the money? If I were trying to scam the store, I would have said both containers were melted or I could probably think of some things that would net me a lot more than the $3.00 that the ice cream cost. What a foolish decision this man made. I have spent thousands of dollars in that store over the years feeding my family. I left my cart and its contents and told him I would never spend another dime in that store. His response was "Good. You go." Well, Mark, I am going. And I'm taking my business with me. By the way, the more recent policy regarding issuance of rain checks seems to be that the customer has to wait while each individual department manager is called to verify that the item truly is not out on the shelves. If by chance an item is in the store but hasn't yet been shelved, one has to wait until the product can be retrieved. This very effectively wears people down, so they won't bother waiting. Mark still doesn't want to part with those rain checks.

After moving to Bayside, I started to shop at Walbaum in the Bay Terrace shopping mall. The experience was never satisfactory; hence, I decided to return to Shop&Stop in Glendale. Here's why: On one occasion, I found that pot roast and roast are never marked and I had to call into the butcher section to ask which is which. The blonde woman told me that they stop putting labels on the roasts last year and that I would have to call her out every time I wanted to buy one, not so with Stop & Shop. There were many times when the store simply never had either meat out on the shelf and I had to request that one be cut for me. I asked the blonde woman for a 3 lb cut. They gave me a 4 lb cut.
On several occasions, I called the blonde woman's attention to the fact that the signs placed on the shelves advertising specials never had the correct merchandise in the back of the sign. When I told her that, she immediately referred me to her assistant to hear my complaint. It seems that the meat stocks in the back of the signs are never the stock advertised. The woman gets annoyed every time I call it to her attention. This Thursday, I noticed that the dates on most of the meat were expiring either in a few days or by Monday. This time when I tried to talk to the blonde woman about the incorrect product placed on the shelf in the back of the advertized signs, they immediately called the butcher manager. When I tried to explain, he instantly told he didn't want to talk to me because I had an attitude problem and that I should talk to the store manager.
I suggest that you shop the meat dept. with an employee to see for yourself. I once was able to have the deli manager (a hell of a nice guy) to come with me and see for himself. He just said that it wasn't his responsibility. The rest of the staff is wonderful. They are courteous, polite, very informed and accommodating. I have a feeling that there is nothing you can do about this because they are unionized and can't be touched. Your butcher personnel badly need a course in customer relations and anger management. But for now, you have lost me. Back to Stop & Shop where there is never a problem.

I walked to the deli counter Thursday evening 5/31/12 at 8:30pm. The deli sign says they are open until 9:00pm. An employee named Doris told me she was closed. I pointed to the sign and questioned her statement. I was told, "I don't care what the sign says, I cleaned the machines and I'm going' home."
I then went to the front desk, the service desk and told the clerk what happened. The clerk announced for "Doris" to pick up her extension, but she didn't. The manager then came over. His name was Dexter. Dexter listened to my complaint and agreed with me that what she was doing was wrong. He proceeded to walk over to the deli counter and asked Doris to service me. However, Doris told the manager she cleaned the machines and wasn't doing it.
I was discriminated against. I am white. Dexter and Doris are black. They teamed together and I was forced to go home without any cold cuts to have for lunch the next day. I was raised by a father who was a businessman. We owned our own bakery years ago in Corona, NY. My father always told me, "The customer is always right." I went back to the deli counter and took a picture of the sign that displays the times of service. I told the manager that I was highly offended. Doris found her way to the front of the store and began to get verbally abusive with me because I asked for her name and the manager's name. I told them that I would do whatever it takes to right this wrong. I am a NYC public school teacher. I work very hard. We all do. I spend "hundreds" of dollars at that Waldbaum's store each week. All the employees know me.
Before I left, I managed to get out my cell phone one last time and found the record button. I have the manager, Dexter, on tape telling me that she was wrong. He continued to go on to tell me that he was going to get after her. He told me that she doesn't listen to him. He told me he would make it up to me. I have him on tape admitting all of this.
I think it was disgusting that I was cursed at by a Waldbaum's employee in front of the public, still wearing her name tag, telling me she was off the clock now, and asking me "my" name. I am the customer. I spend the money. I am appalled at the mistreatment by both Doris and the manager Dexter. I want something done or I will no longer shop at Waldbaum's, neither will any of my family or friends. I would like to take this to the news and put it on national TV. I just may. I will speak to an attorney.

Today is 4/26/12. It has been a full week to this day that I have been waiting for the Purdue Chicken Breast packages to arrive. Not only that, but when I go every so often to check if it is in stock yet and ask them if there are any in back yet, the people working there sure have attitudes like I am bothering them asking the same question so often. If it was in stock, I wouldn't need to do this. Also, I had purchased some red meat to make up for the chicken. Every single package of red meat In the smallest package available were marked on sell by dates that expire the following day. I had gotten one anyway and 85% of the inside was brown already. What a waste of money.
Not only that but my next comment is about the people in the fish market section.The fish market section is always empty of customers it seems. Every time I happen to walk past from a distance, they stare and make me feel very uncomfortable. Many times passing, I even heard them comment to each other about how people look such as if they had a walking problem, such as a limp. In particular, last time, I heard one of them comment to the people in the section with him look how skinny that guy is. After that, they have nothing better to do than to speak about it afterwards to each other.
Before noticing this, I have always noticed them staring as I passed which I didn't appreciate and a particular other person in the scan your own section the day prior was staring at me as well as if he was security and I were to steal something, making him stand a good 2-3 registers over from his section. For what reason is this? People should stand where they are stationed. Am I wrong? These situations sure do make me consider shopping at the farther distance King Kullen. Feel free to reach me if you wish regarding these complaints of mine. I would be more than happy to discuss them.

This is the third week in a row that items on sale were not in stock. Today is Thursday, 2/2/2012. I went to get spinach on sale, and there were none. I looked for flaxseed, and there were none. Last week, when soda bread was on sale, I went there for 4 days in a row, twice on one day, but there was no bread. I have lived in Center Moriches for 38 years, and I despise shopping there, but it is up the block. The foyer smells from the bottles. Move it. The bench is by the door, and we must walk past smokers, yuck! Move it. It's time for a new store to take over. Take a lesson from Stop and Shop, Riverhead. I try to shop there whenever I can. I have spoken to the manager, but he was not too helpful.

I am being harassed again by the same individual that ** me out a few weeks ago for no apparent reason. I contacted again the department of human resources and as usual, it probably is not going to do anything. At this point, just talking to Mr. ********* is not going to be enough. For years Mr. ********** has been harassing people and always gets away with it because he is a full-timer and not a part-timer.
The union (local **) always protects their full-timers, but has no respect and does not care about the part-timers. It's all about the money. But for me harassment is harassment, regardless of full-time or part-time status. For that reason alone, I have no respect for local **, they treat all the part-timers like second class citizens, even though the majority of employees is probably part-timers at this point. Also, for the simple fact that I have been working for Waldbaums for a long time and I have seen a lot of other people being harassed, and as usual the management does nothing.

While I was working, a fellow employee I work with cursed me out for no reason. I told the department manager as well as the store manager. The department manager said he would deal with the issue, yet he did nothing as far as I am concerned.
He asked the person why he cursed me out, he claimed he did not like the way I was talking to him, which is utterly ridiculous. But he did claim that he cursed me out to the produce department manager. This person has a history of using foul language and harassing people. The department manager told me and thought that was the end.
I decided to call the Department of Human resources and told her (Vicki) the whole story. She showed up at the store on a day I was not working and confronted the foul-mouthed employee. But now all of a sudden, he is denying it. Now he is claiming the issue never happened. How convenient.
The reason I am writing this story is not so much about this particular issue, but because I have been working for Waldbaums for over 10 years. Not only have I been harassed from time to time on a more serious level, but I have seen others as well. Most people never even defend themselves and are afraid of making complaints. I have seen too many times where the management treats the victims like the villains.
I remember one case where a girl pointed a knife at another girl, and threatened to use it, they even had it on video camera. They even had a meeting, yet they did nothing. The rational was, if they fire one of the girls, they will be short-staffed at the salad bar. But the same girl threatened the other girl again with a knife because of the meeting. Eventually the victim quit and never came back.
I know it's hard to get help in grocery stores sometimes. People just hate to work in grocery stores. I also know the nonsense the union pulls (local 338). The union only supports the full-time workers, especially when it comes to harassment complaints. If the issue is between a full-timer and a part-timer, the union will always support the full-timer, even if he is the problem. Since I am a part-timer, I have been dealing with this issue for years. The managers also know this, that is why they also will always support the full-timers, even if they are the problem. It's all about the money, and nothing to do with right or wrong or justice.
The full-timers pay more in union dues, plus the union gets more money from Waldbaums per member if they are a full-timer because the full-timer gets full benefits, whereas a part-timer gets very minimal benefits.
As far as I am concerned, in most cases, Waldbaums is very weak when it comes to dealing with harassment complaints.

I had a coupon for a free $2 container of AC Seafood Soup. The seafood manager "never heard of it". A $2.00 coupon from a receipt for $2.00 off my next purchase of shampoo or conditioner. It does not say for 1 bottle worth at least $2.00. I was purchasing 4 bottles of shampoo and was told I could not use the coupon. I also had a coupon for a free pizza, you guessed they were out of them. No rain checks. I pass Stop & Shop on my way to your store, I can easily shop there.

I was looking at soda products and was not sure if the Coke product was on sale. An employee who was directly next to me was putting the items back on the shelf. As she began to walk by, I said, "Hello" and she looked at me and I then observed she was on a cell phone. I said "Hello" again in a very friendly manner. At this time, she put the phone down and said, "Do you know me? Do you know me? I don't think so. Don't talk to me while I am on the phone." It was extremely nasty. I had my 3-year-old grandson in the cart so I didn't have no intentions of even responding. The next thing you know, her Manager Mark who is a very tall guy walks up and knows by the look on my face that something is not right. The employee closes her phone and continues to walk away. He then asked me what was wrong. He was very understanding and apologized.
A few minutes later, I observed him talking to her. As I was on the line checking out, for the last time because I will never shop there again, he walked by and I asked him what was her story. He said he observed her on the phone and she had an emergency call. He said that he would document this. He did say that she accused me of sticking my foot out. A total lie, as I did nothing of the sort. In today's economic world, you would think that people would not act this way fearing they would lose their job. I am sure that this woman has done this numerous times and it always swept under the rug! Stop and Shop just opened a new store a few months ago, I will make my first visit soon unfortunately!

On 11/20/10, I noticed that similar size packages of chicken breasts that were regularly $1.99 per lb. were on sale for 3 days only at $1.49 per lb. The packages varied in price from $2.00 to $9.00 per package. I took a package to the produce department and weighed it. The package was marked 6 plus pounds and it actually weighed 4 pounds. I reported this to the meat department manager and the store manager. They both shrugged and said that the chicken was labeled in another location and delivered to the store. In other words, it was not their fault. To add insult to injury, the meat manager put a correct label on the package for a total of $6.12. And when I checked my receipt at home, the package rang up incorrectly at $8.18.

My complaint is the employees who are required to wear white coats. The reason to wear white coats is to protect the food from outside bacteria. The employees wear the coats outside when on their breaks smoking/eating/drinking, then going back to work in the same white coat. This is a health code violation but the manager listens with deaf ears.

You can't tell from a Waldbaums receipt what you are being charged for an item. I bought 4 12 packs of Coca Cola along with 3 other items. The Cokes were on sale 4 for $12. To my way of thinking, the receipt should show the price of the 4 Cokes, less the savings from the sale, then the net amount (what they are actually charging you). Tax and deposit should be separate items. This is the way Stop & Shop displays it. Waldbaums shows 4 cokes - $24, then a $6 deduction. 4 entries later, mixed in with the other items, is another $6 deduction.
Having confusing receipts that make it unclear what the seller is really charging is an old trick used by dishonest businesses. In this case I was actually charged correctly, but why should anyone have to calculate what they are being charged? The sale is 4 for $12, show that. When I complained that it was unclear, if I was being correctly charged, all the manager would give me was an argument, insisting that the receipt did "show" the correct amount. She wasn't saying it showed it after looking over the receipt. She insisted it was clearly shown. All they do at Waldbaums is argue with you. They never fix a problem. They are truly obnoxious and unbusiness-like. Their receipts are a travesty.

On 11/1, I bought an 8-pack of Pepperidge Farm whole wheat hamburger buns with an expiration date of 11/7 to make turkey cheese burgers for the evening. I toasted my burger and my son did not. The buns tasted slightly off but I thought that was from toasting. My son first complained that there was an ant in his plate, which I thought strange and then he screamed that it was many ants in the burger itself. While he was in the bathroom vomiting, I inspected the buns and the ants were crawling in the bag. I promptly closed the bag and went back to Waldbaums. The attending store manager took the buns out of the bag to inspect and we both saw the ants literally walking out from inside the bun onto the surface of the bun. It seems as if they had a colony because there was one hole where all of the ants walked out of. The manager closed the bag for the vacationing store manager to inspect when he comes back. I also received my money back.
My son continued to vomit until he felt a burning sensation in his throat and he said his stomach hurt. I felt nauseous. We were not seen by the doctor and by the afternoon of 11/2, my son felt better, but was mentally traumatized from last night's experience. It was 12PM on 11/2 and he hadn't eaten yet. I also did not eat bread the entire day. I will add that since the bag was opened on my kitchen table, we killed a couple of ants walking around and I had to vacuum to make sure they were gone. The ants were very small in size and light brown in color.

I specifically went back to Waldbaum's for the 2nd time this week to take advantage of the sale on Snapple drinks. The sale was for two 12-packs of Snapple for $11. Unfortunately, the store only had only one 12-pack of Diet Peach Snapple left. The girl at the customer service counter was very accommodating and gave me a rain check. However, I needed the product and wanted to buy the one 12-pack the store had for the sale price. I had also shopped to meet the required additional purchase dollar necessary to get the sale. The cashier called over someone, I assume an assistant manager, and she went and spoke to the manager. They refused to sell me the one 12-pack of Snapple for the sale price. Several times I explained that I would be happy to buy 2 of them, but they don't have two of them, they only have one. I ended up leaving everything and leaving the store very angry.
I am a weekly Waldbaum's shopper and I am very disappointed in what I consider to be a foolish business decision. I normally shop at the Deer Park store, but because I had something else to do on Route 110, I went to the closest store. I don't know if I will ever shop at Waldbaum's again. I did not get the person's name that I was speaking to, but she went and spoke to the manager and kept spitting back at me his stupid answer.

They were bad pork chops (smelled like bleach). I brought them back to the store, received my money back. The meat manager never came to speak with me. A week later, I bought Activia yogurt. When I got home, I noticed the date was 7-27 and iI bought it on 7-28. I brought it back and got money back. The store manager took a little more time and gave me a $20.00 gift card to make me "happy". I just opened a cup of Locatelli Romano cheese and it was moldy. I am not going back again. This is ridiculous.Ii want my $5.00 back for the cheese!

This is what's going on. This store is so lousy that it's not funny. I asked a person if they have an item I wanted and they said they ran out that's BS this store never restocks on anything. Also when I asked for a rain-check, one lady refuses to wrote me any and that what ** me off about that store. You know something, this store should be out of business in the first place because the service here is bad. Also on check out lines, the lines are so long they block aisles and people had a hard time passing through or going into the aisles they want and that happens because there are not so many registers open and people are getting furious because of the awful service of Glen Oaks Waldbaum's. I wish there was a Shop ritght around here because this Waldbaums is the worst ever.

They advertised Barilla pasta sauce, assorted varieties 3/$5 and told me when I got to the register that the garden vegetable wasn't included. I explained that the ad said assorted varieties and did not say excludes. The store manager there does not understand what customer service is all about and should be fired. Waldbaums continues to do things like this and unfortunately, their managers aren't smart enough to make good business decisions.

Yesterday (6/09/10), I went to buy the 101 oz. container of Capatriti olive oil as advertised in the Waldbaums flyer for $8.99. In the ad, it shows a photo of the oil and on the can it says "extra virgin olive oil" and under that in smaller letters "first cold pressed." I purchased the oil along with other items and the oil rang up $24.99. I told the cashier that it should be $8.99 and when she looked at the ad in the flyer, she called another person over. The other person said, "That's not the one." I said that I picked the exact same one that is in the photo but she said the ad states assorted varieties. I told her the ad should have said extra virgin was excluded. So I left without the oil. I think this is false advertising and not fair to customers who believe what the ads say. I just want to register a complaint and let others know that Waldbaums engages in a kind of bait and switch tactic.

Here's what the problem is--when something goes on sale and then the next thing you know is they don't have the item on the shelves. The next day, I went back for the item that's on sale and it is still not there. This Waldbaum's of Glen Oaks is so cheap they never restock the shelves of items that are on sale. Also, on check out lines, there are only few registers that are open so when the lines are beginning in the aisles, some people are saying if can they open another register but nobody does--and that's ridiculous. Most of all, this store has nothing when I go shopping there for items that are on sale. It's not there and this happens every time. When I asked some woman for a rain check, she would refuse to write me one and that's when I became ** that I never want to shop there again.

This supermarket is the worst ever since I returned bottles here, the machines get jammed and when I call for service nobody comes out and that makes me mad. Plus every time when something goes on sale and they don't have it on the shelves and when I asked some lady at customer service for a rain check, she refused and that makes me mad. Also, when I was checking out one time a lady yelled at me and my mother one time for double bagging and that's how I broke a jar of jelly for them not double bagging.
Another cashier yelled at me cause I didn't know the limit of the produce and I had every right to report her to the manager. This supermarket service is the worst they are so cheap and they never restock the shelves and refuse to give rain checks. Cashiers yelling, no assistants coming out for bottle machine and those old bottle machine gets jammed every time and no one comes to help. This supermarket is the worst I liked Douglaston better but now it's not there anymore but I really hate this waldbaums of Glen Oaks.

I bought 3 sheet sets from the store, 1 twinset, one full set, one queen set. They were all $9.99 .I knew they were not going to be the greatest, but I have a cat & dog that dig on my beds, so I am constant replacing, so I did not care so much. Anyway, I put mine on, this past week, and it was so thin. There is no thread count, and I was like, okay, now I know why it's $9.99. It was nice, like silky though and I have a terrible virus, so it felt good. I also started on a new medication this week and I am getting itchy. My doctor would not move me up to the full dose because of it (getting little blisters). I was going nuts, and I took a cotton ball and facial toner and ran it down my arm. The cotton ball is bright blue.
Forgetting about the sheets, I think I am sicker than I thought. Then, I look at my cat, the paws of my white cat and the stomach of my white cat. She is blue. We have blue dye all over our body. I do not have the receipts for the other sets. They are not used, but getting ink into my pores, causing an allergic reaction. Thankfully, it was a mild reaction. But whoever, whatever decided to sell these sheets as closeouts, should be fined. I am out $30. because I can not, will not use these. I have been extremely uncomfortable, going through Benadryl, etc. My cat is okay at this point. But I am watching her since she licked a lot of this off her paws. I want to know if this dye is poisonous
Waldbaums Company Profile
Company Name:

Waldbaums

Website:

http://waldbaums.apsupermarket.com/