Consumer Complaints and Reviews

I was a happy customer of Vons delivery services for several years. Over the last few months they have made several errors, not only in the products delivered but without Financial transactions as well. But today they entered my secure building without letting me know or contacting me, said they had been waiting by my door to deliver my groceries for 30 minutes but that I was not there. She then said her boss told her to leave and not deliver the groceries. The odd part of this entire experience was that I was there and Vons was nowhere to be found.
When I called customer service and told them what happened they said they could reschedule the delivery the next day. However I mentioned that I needed the items today so that would not do. They said that was the best they could do. They never acknowledged what happened with the driver but issued a general apology and said the best they could do was deliver it tomorrow. Astonished, I asked for a refund… They said it would take 10 to 14 days for the refund to be processed. Needless to say I'm done with Vons.

I shop at Vons a lot and know what I can and cannot buy there. First, the produce is always old. I normally go for the deli items and basic necessities. This time I decided to buy two pounds of Sirloin ground beef to use for the next day. Looking at it from the window of the meat department it looked fresh and bright red. I got home and placed it in the refrigerator for dinner the next day. The following day I looked at the price tag and noticed it had a one-day expiration date. I figured it was okay especially since it was still red on the outside. As soon as I split the meat I couldn't believe what I saw. The entire meat on the inside was dark brown while the outside was red. How is this possible? The only answer could be that they rolled fresh meat over the old meat. DISGUSTING!!! Vons should be ashamed of themselves.
The next day I decided to return the meat. I asked for a supervisor and the manager directed an acting supervisor to assist me. After explaining what happened and showing pictures there was no apology or care in the world from him. His actual answer was, "It was packaged on the 23rd and it expired on the 24th, well it's still good." SERIOUSLY? No way. He asked if I wanted a different packaged meat. I got my money back instead. Terrible food, customer service and business overall. Sincerely, One less customer.

I order groceries for my mother to be delivered and even though they have the item they substitute for a different which my mom did send back but they refuse to deliver the right item. Even though they have it on stock. 1st time I use this service and last time too.

I have used the online deliveries three (3) times for food, beverages and other miscellaneous items to serve as snacks to students. Two out of the three deliveries were not complete with items missing AND I was charged for them. When I called customer service, they were helpful and attentive. However, it is frustrating, as now I have to go back to the store to buy additional items. I should have done this myself in the beginning to save the hassle and inconvenience. Check your orders! I will most likely use another service or shop myself.

The problems of the Home Shopping Department of my local Vons store has steadily increased over the past couple of years and has not shown any improvement. They and the Arizona Vons office are aware of the problems but so far there has been no improvement.
How do I know I can trust these reviews about Vons?
721,363 reviews on ConsumerAffairs are verified.
We require contact information to ensure our reviewers are real.
We use intelligent software that helps us maintain the integrity of reviews.
Our moderators read all reviews to verify quality and helpfulness.
For more information about reviews on ConsumerAffairs.com please visit our FAQ.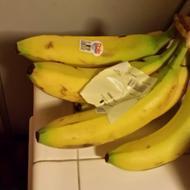 I wasn't feeling well for quite a while, and ran out of food. Some friends from out of town decided to order groceries. Problems: 3 Large Hass avocados costing $2.19 each were small, tiny and black. One had white substance on the outside; 8 bananas were tiny and bruised with black spots; Ordered 3 cans of beans...2 were 14.5 ounces, 1 was 15 oz [proper size].
I offered to send pictures. Customer services rep was very attentive, apologetic, suggested I not eat the avocado. She initiated a refund and gave my account $15 credit. Then I noticed another strange charge and called back. This lady explained it was for the recycle bags my groceries came in, as she looked at the line item on my account. So I further asked her to explain and she repeated it. So I said I paid $1.15 for 2 paper bags? The line item was for a quantity of 23, costing $2.30. So she asked did I only have 2 bags. I said yes, I only had from 18-20 items, nothing bigger than a large can of yams. So she initiated a refund. I then received a survey and provided my input. So they sent me a free delivery for next order and 8 bananas.
So I thought I'd give them another try. I called customer service to ensure I get quality produce she suggested I write it in the note section for each item. I did, explaining last time I got tiny black avocados, please pick large green one, gave similar instructions for the bananas. BUT NO, I got the same thing tiny black avocados and tiny bruised bananas, but this time they at least added 2 extra. But they did not deliver my turkey cutlets in which I asked for substitutes of a different brand and same size [yet they did not substitute]. So customer rep said she initiate a refund. Then I noticed the Odwalla juice I ordered which said it was NOT from concentrate and the first ingredient is orange juice and blueberry... but what was sent... the first ingredient was apple and blueberry juice made from concentrate.
ALL OF THE JUICES in the drink was CONCENTRATE. So I called back, but this rep said they don't have anything to do with the website, to contact the store or website people. I explained that I did not get what I ordered as advertised on the website and they did not substitute, so this is false advertisement or which and bait without noting it as so. My friends were going to order for me in the future on an ongoing basis, but we just do not have confidence in it, kind of makes it more stressful than shopping. At the time of this review, I had not yet received the refunds, it has only been a couple of days. I truly feel sorry for those who are shut in long periods of time and this is the only option you have. VONS NEEDS TO TAKE PRIDE IN WHAT THEY DO. REVAMP THE PROGRAM IMMEDIATELY.

Just to be transparent, I HATE the Vons store near my home. But occasionally, I need the convenience it provides being so close. I reluctantly stopped there today to pick up a few things & for the 3rd time, I saw people in the store with dogs that were NOT service animals. No, I'm not a dog hater, but when I'm buying my food, especially the exposed items on the hot food, salad & soup bar, I don't want inconsiderate shoppers hovering over these items with their pets! I complained to the store Manager but am confident my words fell on deaf ears.
It's against the law to have non-service animals in a grocery store so I'm planning to file a complaint with the health department. Not to mention the liability if a dog, heaven forbid, should bite a shopper & that includes me! While I'm not the litigious type, a law suit may also be necessary to get someone's attention. Sad commentary that it needs to go that far to get any response from the irresponsible parent company 'Safeway'.

I have used Vons Home Delivery service since it was initially offered. I'm a 100% Disabled Vietnam Veteran (USMC, RVN 1968-1969), so the service offered was ideal. The past few months I've noticed a decline in their punctuality, food, and overall service. I choose a 4 hour window to save money. The last 3 deliveries have been at least an hour past the 4 hour window. What happened this week really got to me. A package of sliced Turkey had a 'sell-by' date 4 days before it was sold to me. When I went to make a sandwich with the Turkey I ordered, it was slimy when I opened the package. When I called 'Customer Service', I was told their 'corporate policy' was to credit my account or my credit card. What happened next will keep me from ever giving Vons any of my money again. I have never felt as disrespected as I do at the way Vons handled what should have been a simple customer service issue.
Because I am disabled, I explained I couldn't just pop into a store to get another package of deli meat. After speaking with 3 supervisors, I was told that a package of turkey would be delivered the next day between 4-6 p.m. They even let me choose a 2 hour window. They even called back to confirm the time. Unbelievably, nothing was delivered. Next I received an e-mail from Susanne **, with the Vons Grocery Delivery Team, informing me that they had credited my account with the cost of the deli meet ($2.99) and the delivery charge, BUT THAT WAS ALL VONS WOULD DO! So they offer to deliver the package to remedy THEIR mistake, then not only disregard that, but take a position of 'take it or leave it'. I'm a proud former Marine. There is a lot I'll put up with - but being treated the way Vons treated me should cause any Veteran to reconsider using this company.

The first time I tried the Online grocery delivery (order # **), I informed VONS that one of the items (Bolthouse C-Boost) was not delivered and the milk was almost nearing expiration. Although I did not get any response, I tried it again (Order # **). This time, TWO items were not delivered (Watermelon & Cantaloupe). I tried calling the number indicated (877-505-4040) and they did say that they were going to refund me the two items (not the Bolthouse juice - 1st delivery).
Unfortunately, these items were the HEAVY ONES, exactly what I wanted delivered! What is the point of this supposedly convenient delivery if the heavy items are omitted anyway? Also, I have yet to see if I will be refunded. BTW, why do they have to pack the bottles INDIVIDUALLY with the brown bags that they charge to the consumer? When I go to the store, I use the RECYCLABLE bags. I have too many of those brown bags already (no place in my small storage), they just go straight to the garbage bins. So, two out of two = 100 percent UNSATISFIED. I am not sure if I want to give them a THIRD CHANCE.

When I buy deli meat, it is usually from Ralphs, not Vons. That is because all the butchers at Ralphs separate the meat and cheese with paper so that it does not get stuck all together in a ball. That is not the practice at Vons. However, I was in a hurry and did not want to drive all the way to Ralphs. Then I met Rosy at Vons. She took the extra time and very professionally separated my meat and cheese. I would love to have Rosy at the deli counter at my Vons all the time so that I could buy my deli products there. I know that is not possible. You never run into the same people. That is also not true of Ralphs -- the same people are always there.

So I decided to try the delivery services yesterday for the first time when I saw the promotion for first time free delivery including free paper towels (6 counts) and a water case. After I placed my order I noticed the items were not included in my order list and found that to be strange. So I called customer service TWICE to resolve the issue. The first person reassured me that the promotion had been going on for so long that the staff automatically knows to include the free items regardless what appears on my list. The 2nd person didn't even check the account because he said "I can assure you that they will be included."
This morning the items that I ordered were delivered, however the free items (water and paper towel) were missing. The delivery driver said, the free items will be delivered separately after we contact customer service. I just contacted your customer service. I was told "there was a mistake on our part and the items should have been included and that the delivery guy and the two customer service representatives from yesterday all made mistakes. I was also told that they won't be delivering the water and paper towel unless I placed another order online (min $25) i.e., in order to receive those free items (which were missing due to store error), I will need to place another $25 min order and pay a delivery charge of at least 9 dollars +.
It doesn't make sense for me to order something that I don't need just to receive the missing items that YOUR employees failed to put in my order (three employees made mistakes here). I am willing to drive to the store and pick up the free items, but apparently I don't have that option either. I refuse to pay extra money to buy unneeded items and pay a delivery charge just to receive the two items that YOUR employees failed to include in my order. It is extremely unethical to get people to believe your promotions. To me this is done purposely (miss items and refuse to deliver them for free or give in-store pickup options) to make people order a second time. If it's not a false promotion and in fact just a mistake then VONS is responsible to fix that mistake, not the customer.
I decided to try your service for my elderly parents and am extremely disappointed especially because the customer representative did not take any measures to help or resolve the issue. I am missing two needed items from my order simply because I believed in Vons and their promotion. I have been a loyal customer since 1998, but probably because I never needed to deal with customer service reps over the phone.

I am a handicap 53-year-old single woman that has to ride a bicycle with injured leg. The checkout clerk pretended not to hear my question then lied to me when I asked if he heard. Even after my question he was rude and gave me a bad attitude. He rolled his eyes at me and snickered as I left. I never felt such humiliation! SHAME ON THE HR DEPARTMENT! I WAS A LOYAL CUSTOMER OF 6 YEARS.

About 8 months ago I experienced, for the second time, green mold on fresh refrigerated pasta products from various vendors. This prompted me to complain to the store manager and I promised myself to not shop there anymore. After a few months I weakened and started to buy bakery items and non-perishables at this Vons. Yesterday I found several chocolate cakes in the bakery refrigerator that had been baked over a month ago and whose expiration dates were two weeks old. Enough. Someone is going to get sick or die from this store and it's not going to be a member of my family! Hopefully not yours either.

BE VERY CAREFUL when you order online. I have been ordering from VONS (Safeway) for years, however, the last deliveries have been a fiasco. i.e. totally rotten produce, the white onions were black and dripping a stinking black liquid, the "fresh" corn was dry and black, rotten tomatoes, rotten lemons, missing items. But VONS avoids writing them on the order form in the space "Out of Stock Items". The delivery men make you sign in a rush before you have time to check the order. It takes weeks before VONS will refund you the money for the missing items. I and my neighbors are glad that another supermarket on S. Maryland Pkwy and Charleston will open on 8/13 and will not have to depend on those crooks anymore.

Because I'm disabled & don't have a car I have been ordering through VONS (Safeway) delivery online for years. For the first time I checked the charges of my last order & found that I was overcharged. I ordered tuna fish, cling peaches, bread spread (among other items) and they overcharged me. I sent them 2 e-mails asking about this & nobody replied. Today I called them & the girl who answered told me that "There is no guarantee that the prices quoted will be the actual charges, the prices are only an estimate". I can understand this for produce which needs to be weighed but not for cans. The very small print on their receipt states this but how am I supposed to know how much they will really charge me? Once again the old & the disabled are being taken advantage by all who can. I can only wonder how much they have overcharged me through the years.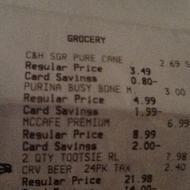 I went to Vons today to get a few things. When I got Home I went over my receipt. I noticed here was a CRV of 2.40 for a 24 pack of beer. No charge for beer, as I never buy it. I did not buy any drinks or water. They just randomly charged me 2.40 extra. I wonder how many people they charge, and they never notice.

I travel quite often... so, I purchase prepared meals/salads etc. to have in my hotel rooms once I am done for the day. I usually rely on Vons to have great products and do not shop around. So, I bought a couple of prepared salads to keep in the little fridge in my room once my day is done. I open up the salad which is quite lovely, but NO utensils. So, I am already in my pjs. What to do?? I have to improvise with coffee stir sticks to use as chopsticks for my salad! Half of it ended up on the floor. Lol; just a small oversight, but what a pain! Please, if you sell it as convenience food make it convenient to use! Thanks.

I am disabled and don't normally state that I have a heart condition, and I have a service dog. I usually walk my bike in a store with my service dog as I usually get only one or two items. I have done this in at least 100 different stores in my life as a bike is only as big as a shopping cart. Only twice have I been accosted by control freak managers one of which works at this Vons. About 10 employees were standing around flower counter and I was the only customer at 10 o'clock this night March 8th 2015. The same rude manager Darren or Darwin. I was standing at a checkout station doing nothing. I repeat capital nothing. He yelled at me from the checkout bikes are not allowed in the store.
I had my service dog and I rode farther to the Ralphs store which I will now frequent instead of Vons on 17th in Costa Mesa. As I was riding late at night my heart began to race as I stated earlier I have a heart condition. This was not a time I should have been riding my bike that far as it was time for me to have been in bed. I shall be contacting the Disabilities Act as this particular manager knows who I am and has been told I have a disability. Life is too short as it is much less to deal with stupid, mean control freaks. Whenever this person is in this store I shall shop in another even if it kills me.

On Valentine's Day I went to Vons in Inglewood to purchase some seafood. I bought 4 lobster tails and a pound of shrimps, the service was horrible. So I get home and cook my dinner, that seafood had me and my daughter on the toilet all night sick.

I was shopping at the Vons in Montebello. When the female store manager told me that I wasn't allowed in the store. I asked why and she told me that I was accused of shoplifting. Been going there for years and have never been accused of shoplifting.

On 11-01-15, 15:21, I went to Vons in Upland to purchase some items. When it came to check-out, I had to do the self check-out because there was only 1 check-out stand was open with about 6 people in line, with full baskets of items to be purchased. I am 79 years old and not that familiar with self check-out, but I went ahead to try and purchase the items myself. It was very frustrating, and I would like to point out that I am not employed or get paid by Vons to do the job that your employees are paid to do. I feel that a store manager or whoever is in charge would open more check stands when the store is that busy. (Please note the time this took place.) I will not shop at Vons and will continue to do my grocery shopping at Stater Bros. They aim at pleasing their customers. Very dissatisfied with VONS.

After waiting for groceries for three hours which were to be delivered within a two hour window I phoned Vons customer service. No groceries, no explanation that was viable. I received no phone call, no text, no email other than the email stating my delivery was to be made at the time agreed upon. I have used the service before, as other stated beware of product substitution for lesser priced items. Spoiled item such as bean sprouts and bell peppers. But no contact when the delivery wasn't made beats them all. In a world with email, text and phones... I expect better. Do not use the service. Unreliable.

The first time I got a rotting onion here I thought it was a fluke. Then I went back looking for bean sprouts and asked someone who worked there if they had any in the back since they weren't on the shelf. The employee came back with the "fresh box" they hadn't put out yet and they were turning black and over a month expired. That should have stopped me but this was the most convenient store to my house so I kept going back. The list of complaints is quite long. Starting with the bakery. Every time I have bought their "fresh" baked bread it has either already been moldy (my bad for not checking closely) or molded within a day. Some loaves are sitting out already expired as well. The fruit is always more molded than good. I buy strawberries in a container and am lucky if 1/3 of them are edible. There have been flies buzzing around the produce before. The onions are always bad now but you can't tell until you get it home and cut it open.
Today I got a bag of the carrot chips and when I opened it a bunch of them were black and sitting in black liquid. The other day I went to get cream cheese and the first one I picked up I thankfully checked the date because it was 2 months expired! The bagged tortillas usually are hard because moisture has gotten to them somehow. The milk has smelled questionable the day I've bought it before and as a whole it seems a lot of their bagged produce items are only 1 or 2 days from expiration every time I go to grab one. I keep reading similar reviews and I really wish something could be done about this. It's a health hazard and a waste of money to buy these things that turn out to be completely unusable. Needless to say I have finally learned my lesson and will no longer be shopping there.

BE VERY CAREFUL when you order online. I have been ordering from VONS (Safeway) for years, however, the last 4 deliveries have been a fiasco, i.e. totally rotten produce, the white onions were black and dripping a stinking liquid, the "fresh" corn was dry and black, rotten tomatoes, rotten lemons, missing items, but VONS avoids writing them on the order form in the space "Out of Stock Items". The delivery men make you sign in a rush before you have time to check the order. It takes weeks before VONS will refund you the money for the missing items. I and my neighbors are glad that another supermarket on S. Maryland Pkwy and Charleston will open on 8/13 and will not have to depend on those crooks anymore.

I go and get lunch for my pool team almost every Sunday after church. We play for 3 hours to keep in shape. I must tell you there are 4 or 5 people at the deli counter that are just great. One gal. Her name is Rebicca. She is the most helpful kind person. Always willing to go the extra distance. All the other people are quite good but Rebicca is a bright and shining star of the Yucca Valley Ca store. Thank you.

I live in a mountain community and Vons is the only big store around. When overcharged and I call it to clerks attention I'm told to go to the service desk for a refund but you have to wait at least 20 minutes for someone to help you. This happens too often.

I sent the two e-mails, on June 25th and June 29th, asking VONS why the prices on the flyers do not match the prices online. To date they have not answered me. I live in Las Vegas, do not have a car, it's been 110F every day for two weeks and continuing, and VONS is the only market that delivers. For ex. last week the flyers showed 4 limes for $1.00 but online it showed 60cents each. Mayo $1.99 on the flyer and $3.99 online. The current flyer does not match the prices online either. I have been ordering online for years and always ask them not to send me ripe citrus, or dairy close to the expiration date. They fail on this over and over, and have to throw away food. I wish another supermarket like Albertsons or Smith's would start delivering. They have better selection and better quality items and we would not have to depend on VONS.

My husband and I went for a coffee. While he went to the restroom, I was sitting down and about to drink my coffee but it spilled a little bit towards my coffee cake. I went to the cashier and asked for napkin, he hesitated and said there should there on the other side so I said sorry but he ignored me. Unfortunately, the napkin container was empty so I came back to him said it's Empty, so he let go of whatever he's doing with loud noise, he went to the cabinet next to the empty napkin container, shut off the cabinet loud, opened the napkin bag loudly, pulled out the container so loud to put the napkin in the container and shut it loudly, put the remaining bag of napkin in the cabinet, shut the cabinet very loud, and I even said sooo nicely (I was scared) "thank you", & he did not look at me. He just walked away back to the station, to continue to whatever he was doing. I was stunned, still standing there, I was shocked!
I went back to my table to call the Von's 800 # as I was too scared at him to complain about him to the manager. No answer on the 800 #. So, I tried to calm down to clean up my spill, my husband went back. I tried to tell him but not much details as I don't want my husband to confront him there and it might start a fight. I waited to drive off a little bit and call the local number. I spoke to **, the supervisor, was too upset while telling her the story as I was all I tears since I was holding my emotion until I called. I have a high blood pressure and a small functional kidney and I cannot have my blood pressure higher Bec it could risk the function of my kidney but this must have made it worst!!!
If this person is having a bad day, a customer does not deserve to take it from him... I did not get to give my information to **, I just hang off the phone after I told the story as my hand was starting to numb and froze due to my high blood pressure. The location is 561 n. Glendale ave. Glendale, Ca 91206, Von's #1707, cashier name **, Von's # 8182425926.

Just4You is a joke!! Now an item that was offered and wasn't in stock and was stated to expire on the 10th of May but wasn't in stock and now I see it is offered again and not to expire until the 17th of May!! This is an insult and I may want to begin to shop at Ralph's from now on.

I just got tonight a pound of chicken tenders. And they were all dry, more bread than chicken meat, oily and hard. This was going to be the dinner for my kids. Paying $7.00 for food that I can't even bite because is too hard is a foud. This store used to have workers helping disable and elderly people to bring their purchases to their cars, now I will be lucky if I find a cashier open.
Company Name:

Vons

Website:

http://www.vons.com/