Consumer Complaints and Reviews

I started to go to Trader Joe's in 1990, when they were in California and Arizona. They were amazing... kind of a cross between a food coop, a natural health foods store, and a regular grocery store. The quality was great. The prices were fantastic. I know and accept things change. When a TJs came to my town (Baltimore) around 2000 I was really excited. It had changed a bit by then. They'd begun their foray into the dreaded pumpkin spice trend by then and had started to create some products that were less than appetizing. There was an overabundance of chopped garlic in things that my friends and I always laughed about. I used to buy bottles of amazing grade B maple syrup and lots of great juices, cheese, and organic stuff.
Around 2007, to my recollection, things started to go to hell in a hurry. Rancid nuts. Moldy bread. Really disgusting products that no one liked. Prices skyrocketing. Quantities going down. I started to return rancid and disgusting products and lodging complaints. Eventually my whole extended family agreed: we all stopped shopping there altogether.
About a week ago, my daughter said, "Hey. We should try Trader Joe's." I spent about $160 on a bunch of items and I am officially done. I ate a chocolate covered raisin just now that was all sand and dirt - no raisin. I almost threw up. Most things are rancid or taste weird. There's too much pre-fab powdered onion and garlic and other spices instead of the real thing. There are bugs in things. The formerly fabulous 5-ginger Snaps have less than half the amount of butter and ginger they used to have. They're dry, powdery and tasteless. I don't trust this food. I'm guessing it could easily make people sick. Bugs and rancidity are a very bad sign. Eff You Trader Joe's. Too bad you became just another profit-only-driven corporation that doesn't care what it puts on its shelves.

The garlic mashed potatoes in the box taste very sweet and contain a gram of sugar. I thought they were awful so returned them. The manager and the checker both said how delicious sweetened mashed potatoes are and that they always have them with sugar and that is how they are made in restaurants. A lot of mansplaining was involved as if I was just stupid and everyone knows garlic mashed potatoes are meant to be sweet. I am noticing that all of TJ packaged food is overly sweet. Anyone else?

That store it's the good one and I'm glad we have it in the South Tampa. Although the parking lot is too small, there are many customers shopping in that grocery. Assortments are changing constantly and you can find products from many Countries in the world. I just got crispy bread from Norway and very tasty cheese from France. Me and my family we are shopping there from the beginning - they opened in 2012, and we are never disappointed since. They have many organic foods and many good choices regarding grocery.

I was really excited to see a Trader Joe's open in the Tulsa area! After using Trader Joe's as my primary supermarket in different cities (Portland & Seattle), I was curious to see if the Tulsa location would have the same appeal and great customer service that I have experienced. I was very pleased to not only see all the same great products that I love, but also the ease of being a customer. The workers were consistently asking if they could help me find anything and making conversation. My favorite thing about Trader Joe's is how friendly the people that work there are and I was definitely not disappointed in the Tulsa location!

I shop at the Hyannis store on Cape Cod and usually am quite pleased with both the service and products. My issue is with the flowers. Over the last year I've bought different flowers from TJ's and have had the same issue. They seem to emit something. After a few hours of them being in the house both my husband and I will start having itchy eyes, sneezing and throat issues. Neither of us has allergies or have these problems with other flowers. It doesn't matter what kind of flower. The most recent one is a small orchid plant but we've had the same problem with flowering bulb plants, asteroimeria you name it. They or their suppler must be putting something on the plants to preserve. It's so bad I have to throw the flowers away. I'm really concerned what this is because people are working around the and handling them much more so than a customer bringing them into the house. Anyone else having this problem?
How do I know I can trust these reviews about Trader Joe's?
634,774 reviews on ConsumerAffairs are verified.
We require contact information to ensure our reviewers are real.
We use intelligent software that helps us maintain the integrity of reviews.
Our moderators read all reviews to verify quality and helpfulness.
For more information about reviews on ConsumerAffairs.com please visit our FAQ.

Went to Traders Joe's in our city of Camarillo. Got Mexican Frozen stuff and that included their Guacamole that they sell. My 23 yr old ate the guacamole. We did not. Friday, Saturday, Sunday and Monday, he came down with horrible diarrhea, headache and fever. We did not as we did not eat any of this. Today is Tuesday, and he is finally feeling better with Chicken soup and gatorade and water. He was so pale, we were going to take him to the ER but he seemed ok. It was a horrible time for him as he starts college this month. To think that this store is allowed to sell junk and food that is made from dirty food is crazy. I will never shop there again, oh yea and their whole milk? Had to throw that out smelled like **! What has happened to this wonderful store, I don't know but it is off my list. Today we went to Ralphs where everything was property fridge and fresh. Good bye Trader Joe's. You wasted our hard earned money and almost killed my son!

I have many many things I like about TJ's, but consistently, I have issues with their dairy products. Cheese gets moldy very quickly and milk goes sour very soon after I get it home. On August 6, I bought a quart of milk, I didn't check the sell by date. It had soured by August 8, despite being stored inside my fridge, NOT on the door. I checked and it had a sell by date of August 3! While I was at the store, they were handing out cheese samples and several of the cubes had visible white mold. Based on my experience they must not be keeping these products sufficiently cold, and perhaps their slicer is not kept clean and is cross-contaminating the cheeses. This has happened multiple times at different TJ locations.

I travel a half hour to shop at the Jenkintown location, which is closest to me in lower Bucks County. This is a grocery store. It is small relative to some of the generic big stores most of us see around town. Yet somehow the selection of products exceeds those available in the bigger stores. They have a wonderful selection of products and the prices are great. An easy example, honey goat cheese 6 oz is 3 dollars less than the same exact product at Giant food stores. Ditto with yogurt and practically the entire dairy selection. I don't consume red meat, but I do know prices. Theirs are fresher, have some very intriguing variety like stuffed pork chops made on site with walnut, apple and I think it was currants? as a stuffing instead of the bland mushy tasteless barely seasoned stuffing loaded with salt and pepper you see at the chain stores in my area.
There is a fantastic frozen food section with many diverse selections: a few of my always buys are sweet potato fries (2 dollars), chinese dumplings, spanakopita, vegetarian sides aplenty, frozen fish... from scallops to tilapia, cod, shrimp, salmon. Many choices, great prices. Produce section is fresh, cheese variety exceptional, pasta choices refrigerated section, butternut squash ravioli, pesto ravioli, sundried tomato, and basil to name a few. There are a lot. Being a goat cheese fan, the goat cheese ravioli was the bomb!!
There are so many unique offerings. Also, plenty of organics, whole grains and the traditional offerings like pasta sauce. Bread? One of a few places that sells whole grain bagels, Ezekiel breads that are not freezer burned as so many stores in this area carry: the big box stores have 7 types of white, wheat, rye, and potato breads and freeze the sprouted breads for months on end. Here they are stocked along side those I just mentioned. I love this store. If you've never been to Trader Joe's, stop in. I promise you will love the products, the staff, the pleasant people and the fantastic prices.
BTW... A wine and spirits store is directly next door to the Jenkintown location so you can get everything you need in one place. Only drawbacks, but hardly worth mentioning, cleaning supplies, paper products, windshield wiper fluid(lol) will be an extra stop. But hey, you can get that stuff anywhere. For really good prices, a variety of interesting and delicious fresh foods, go to Joe's. You'll be glad. PS. I first found this place while lost one day by accident two years ago. And have returned every two weeks since. Rarely do I find a grocery store that I am this pleased with, enough so to write a review, but this time, it was well worth my time.

Purchased the prepackaged tikka chicken masala. For $4.99. Looking at the cover picture it shows 20+ chicken nuggets on a bed of rice. In the actual tray 2/3 is rice and 1/3 the masala with 5 nuggets. Returned the item for a refund and also called their corporate customer service who were very unapologetic. Spoke with a store employee who told me other TJ items are similar to the tikka masala, being overpriced and deceptively presented via their packaging. I am contacting the fda to report this matter.

Why did you discontinue the Pain Pauline? According to your San Francisco Store they said that the Pain Pascal is delivered daily and fresher. That is not true. The bread is very dry and not tasteful. I would like to see the Pain Pauline back in your shelves soon or I will not shop again because what you carry now it just end up in my garbage trash. I did gave it more than a try. Even the croissants was burnt and not buttery at all. I just don't understand why Trader Joe's had to change it. Many time I go to shop from the one in San Francisco but the Pain Pauline is out so that why I go to the one in Millbrae.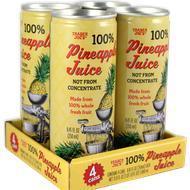 I bought the other day 4 pack of Pineapple juice and it's a total scam for these reasons: they make the can so heavy and so thick to put less juice in it. You cannot twist it with your hand, you cannot even with a hammer. It does have couple sips then it's empty and its still weight close to what it was full. Haha. You can even look in it with a light and see how thick the walls are. LOL. What a scam.

I have been a consumer at the Redlands CA location. I purchased a prepackaged Asian salad with chicken chunks, sesame dressing and wontons. Within the same hour I got a bad headache with nausea. Following that I had violent vomit several times. The food came back up undigested which means food poisoning. I was at work no less and 3 hours later and several trips to the toilet it all came back up. I had the chills and headache. I will never shop at Trader Joe's again.

I purchased your Alkaline Water... It states that it is 9.5. The healthy reason for drinking alkaline water is to prevent inflammation and keep balance throughout the body. I love Trader Joe's and you are concerned with the quality of your products. This product has an acid content and does not meet the standard for what is known as Alkaline Water. I drink Devine H20 and they allow you to test your water. I am really disappointed; as I am dealing with nerve tissue and
drama from falling backwards on the bus and also falling hard to the ground on cement when my chair broke. So it's really important that I continue to consume healthy intakes and water gives energy and alkaline water can restore life to the body. One can live without food but cannot live without water. Please do a review and bring this up to standard. Thanks for reading.

My wife bought two cans Premium Chunk Chicken in Broth for me at Trader Joe's, Monrovia, CA. When I took one of the cans from the cabinet, I couldn't help but notice the sloshy sound even with light handling. I opened the can, and as I suspected, there was too much broth and too little chicken. (And this is not premium chicken as it does come in a can.) So, I measured the height of the broth in another container the same size, and the broth came up to a good inch, and a little more. All the tuna companies appear to be doing this as well, calling it "chunk tuna" when it's really "tuna soup." (All the 6 ounce cans are now 5 ounces, much of that weight in water, or oil.) I care not for justifications and quotes of so-called industry guidelines. The practice is abhorrent and disturbing.
I have lost all faith in the integrity of the industry in general, and now Trader Joe's in particular, who once seemed generous, and is now looking like all the others. (We've been shopping there for well over 20 years.) I'm tired of large, oversized packages coupled with less actual product. I realize this has been a marketing trend for a long time with public companies wishing to show the utmost profits for shareholders. And this can of white chicken fits right into that trend. You may lose customers like me along the way, and continue to fool the masses, making up for it in volume. It's the principle that counts here, as well. And I believe that Trader Joe's has gone over the line. Maybe just my opinion, but enough of an opinion to stop me from shopping there.

I've been shopping at Trader Joe's for at least 10 years. I used to love Trader Joe's. I can say for about the last 3 years or maybe slightly more, something has changed big time with this company. The employees seem increasingly less friendly and engaged. I've heard them on several different occasions talking with each other about unfair treatment of being totally physically overworked and receiving rather low pay compared to the amount they bring in as a company in whole. I'm guessing upper management sees most of that. Their packaged fruit is rarely sweet, the packages leak all the juice out so once you open it, they are dry and tasteless, not to mention not exactly cheap.
Now that I think about it, just about any given time I do spontaneously decide to shop there at this point, there's at least 2 items if not more that are not good. Trader Joe's is getting much too corporate. You can tell in the workers and that trickles to the customer experience and satisfaction of products. If the employees don't really care anymore then that shows on the shelves.

When buying stuff the bagger always puts on this big act as if he actually likes you and tries to engage you in some scripted conversation. When dealing with the store manager it's a whole different story.

I've been shopping at Trader Joe's in Santa Barbara on vacation here. The food is great and prices are reasonable. Most employees are sincerely doing their best and add to the pleasure of shopping, but not all of them. Especially part time crew can be snotty and abrupt. Recently I commented, politely, to a female with a ring in her nose making snacks about her attitude and she quickly grew nasty and sarcastic. Was glad to get out of there. She was not a professional at all.

The container for salsa showed 12 oz. but the container itself could not hold 8 oz. This is careless, whoever packaged it and sold it. I hope it was just a mistake and will be looked into. My recipe called for 1 cup salsa, so I had just enough, but I would have liked some leftover for my topping. "Trader Joe's Salsa Especial Medium, Net Wt. 12 oz." Hardly.

Open a North Tampa or new Tampa store as parking is so limited at the current South Tampa location so it normally very hard to find parking at times. A deal breaker for me is inferior low quality products as cost is important but not a deal breaker. As for an example my local Winn-Dixie does not have HFCS free cranberry sauce while Whole Foods does plus the best chocolate. So while I love some of the unique item Trader Joe's has and their prices are mostly good the range of food is limited. Trader Joe's have no loyalty program but people are extremely loyal to the company due to high quality and unique items and reasonable prices so while it cannot be your main store due to limited selection.

Love Trader Joe's but wish we had more choices in my area like Whole Foods or Sprouts. I like organic, healthy choices and there are no enough stores for me to find what I need.

I certainly like a good deal. But quality is most important to me. Sometimes there are problems but Trader Joe's always takes anything back if not up to par. I choose to shop at Trader Joe's because they have mostly everything we eat at better prices. I feel they have quality at the best prices. Their prepared foods are excellent when I'm too busy to cook a healthy dinner.

There are certain items that I only buy at Trader Joe's. Of course, I always pick up more than I ever intended. I like it the way it is. Fresh produce, friendly service always there. Perhaps, the front end when checking out. Also, sometimes cheeses go bad even before expiration date. I was unhappy with a product, took it back and given a refund, no questions asked. That was very surprising. It was under $5.00 and was not meat or seafood.

The experience is great - the problem is they don't have all the things I need so I end up having to go to more than one store to get my shopping completed. For specialty foods at a terrific price, and awesome wines that won't break the budget - this is where I shop. I also pick up a bouquet of flowers every week because they're inexpensive and for a few bucks I can brighten my house.

This doesn't happen to me at other stores. These are products that I won't buy here: hummus - never lasts by expiry date, milk, chicken, now my pomegranate seeds! ugh, Canadian cheddar- the best kind of sharp cheddar-- always moldy! Great for boxed goods but nothing fresh! I would submit photos, but you can't tell in the photos. They all go bubbly or sour. Yuck! I would be happy to discuss or verify with anyone. Only giving an extra star as they are nice, but it's getting embarrassing to keep going there for such things!!

I have a TJ loyalist for so many years now. Our family relish every product we purchase from you. However, recently we went shopping for vegan Pad Thai, however was hugely disappointed to read the label "made in facility that process fish, shellfish and egg". If this is the case, then the product should NOT be labelled as vegan. Can someone please take a look at this and give us a true Vegan product? Thank you.

I've been a customer of Trader Joe's downtown Berkeley location for more than 4 years. I try not to purchase products with canola in it. But today I was followed around the store by the security guard and when I went to make my selection of products, they were standing next to me, watching. When I went to pay for my goods, they whispered something to the cashier and stood a few feet from where I was. I noticed being followed before but today was just over the top strangeness, so I made a complaint to their customer service dept.
I also read of a woman in a wheelchair having a severe problem with this security guard of company and her postings on Yelp. She notified corporate and they did not transfer the guard. I'm not sure if this is the same one but I believe this location has a few rotten employees and engage in that sort of behavior with the guard. Well today I thought I would post it on every forum I can find since this is not the first time I've encountered this odd behavior. Corporate stores have issues because they degrade their environment's energy integrity with low quality toxic, outdated UV lights.

Healthy food and affordable. Customer service unparalleled and I've shopped their stores in 3 states. They have an array of interesting foods. Cannot find anything to dislike about Trader Joe's!

Have shopped at Trader Joe's ever since I priced out their raw nuts a few years ago and found out that they were half the price of Sprouts... and ever since Sprouts bought out Sunflower, their service and prices have gone up, and handicap accessibility in the store has disappeared, impossible, too many barriers that they refuse to alter.
Am vegetarian. I make my own bread, have looked at their breads but was unimpressed. The tortillas' expiration date was the next day! Breads are so easy to make at home anyway... I don't buy their frozen stuff, either, so I cannot comment except that they look expensive for very little inside. I mostly depend on TJ for super-firm tofu, vegetarian chicken, beef and chorizo, and soy coffee creamer. Also cottage cheese, was not impressed with their fat-reduced, but love the 4% in the pink container. I once got their brown jasmine rice and it was coarse with unhulled grains, green grains and chaff in the bag. I had never had to pick over rice before, I returned it and never bought their rices again. Their produce... well, it's too expensive, and doesn't look that good. I got a delicata squash this year that had no sweetness, that I had to throw out.
Their cauliflower wasn't spoiled, snowy white and firm; organic carrots only a penny more than WM conventional carrots. Their romaine hearts were wilty. Have tried their french vanilla and chocolate ice creams, dangerously good. They also have a tasty little savory multi seed rice cracker. I get their plain and vegetarian refried canned beans based on the fact that they promised me that any canned beans sold under their name wouldn't have BPA in the can lining, but after reading entries here, I feel a little shaky about this but still buy them. Not impressed with their bottled curry sauces, insipid flavored sugar water. But their sriracha is wonderful and has no anchovy in it, which I like.
And their eggs: I just get the impression they aren't fresh and they often have cracked eggs in every container I checked, so I still get brown eggs from Costco, where turnover and refrigeration are optimal. Have inquired a few times about the temp in the cold cases at TJ because things just don't feel cold enough to my touch, but they showed me the thermometer and it said they were cold enough. So who knows. I was surprised to read here that some foods may be made by ConAgra. I sure hope that doesn't include their vegetarian chicken or beef strips, or soyrizo, or ground beef. They once told me which Canadian company makes it and I recognized the name and it wasn't ConAgra. They're very good. Their super-firm tofu is, on rare occasion, spoiled but they do take it back. And tofu can spoil no matter where you get it. We are dealing with a fresh food.
Even WhiteWave can spoil, and I have watched WhiteWave raise their price and drop the weight of their tofu from 16 oz to 12 since Celestial Seasonings bought them out. TJ's super-firm tofu makes killer baked tofu without even needing to be pressed, and for a few pennies more, it has much more protein than regular tofu. I look for freshness and value, and their super-firm tofu has both. Only once did I get home and find an embedded red thread in the tofu and stuck in the package seal. Hey, stuff happens on assembly lines, TJ took it back with a smile.
The one thing upsetting me, that happens constantly at one of their two stores, is that they don't have adequate training in how to deal with the disabled. I have seen other comments here about same. They keep their scooters outside at one store, no charging outlets, in the rain, snow and heat. Never plugged in. If you have never sat on a hot seat and literally burned your fanny, or almost lost control of your bladder when the seat is wet or freezing in winter, you can't empathize. When I explained this to the manager, he said I was cussing!
Last week I had to send for the manager because the scooter seat was filled with a puddle of melted snow. They did wipe it off but I had to finish it. They left water behind. They also have nowhere to sit and wait, when the scooters are both in use. And because they are stored outside, kids play on them while their parents chat. It's not a toy, and these laissez-faire mothers need to keep a better eye on their kids. That's not TJ's responsibility. And the parking lot at that TJ is tiny, always traffic jams, not enough handicap parking. I usually travel twice as far, just to go to their store that has better parking, with nice warm scooters stored inside.
I have to park the scooter outside the bathroom hallways because it's too narrow to drive in or park it in the halls outside the loo, and once, an employee saw fit to drag it out of the way. I saw him dragging it away while I waited for a bathroom to vacate. I had to yell "what do you think you're doing!?" because I thought he was going to take it away and leave me stranded, and my personal possessions were in the basket. And he was very rude and sullen about it, tried to speak for me when the manager arrived, called me "she" as if I weren't right there or competent, very inappropriate. You never touch the assistive devices of a disabled person without their request or permission. It's legally considered to be assault. If anything, you offer the able-bodied customer assistance to reach around the scooter and get what they need, if the scooter blocks access, but you never touch the scooters, canes, etc.
Last week, when I saw the ice-cold puddle on the scooter seat, I asked for paper towels, and once inside, the manager walked away stating I had cussed. He used that as an excuse, because I most certainly had not. So this handicap ADA training issue is a long-term problem, is chain-wide and still not addressed. Inside the store, there aren't usually physical barriers except for the boxes that staff temporarily stack on the floor while stocking, and that is just unavoidable.
But at the same problem store, at the checkout stand, the pullout shelves are in the wrong place, so when you are in the scooter, you cannot unload your own groceries and also move forward to watch the prices, because the pullout shelf is near them, not the customer. Human beings can make mistakes and I have caught them double-charging me in the past (but because I catch it at the time, they apologize and take the charge off), and prefer to ask them to wait until I can unload and move up to watch them check out the items. For a standing customer it isn't a problem. The cashier unloads their basket while the customer moves forward. But if you are stuck in a scooter and the basket is a part of that scooter, you cannot be in two places at the same time and don't get to watch the checkout process, unless you ask (and I do) them not to start until you have unloaded and moved forward.
Now that I've read many of these entries, I will continue to be careful about their raw nuts, dairy, and so on. But the raw nuts and dried fruits at other stores look the same, sometimes discolored, sometimes small, sometimes big and beautiful. I get my dried Montmorency cherries, blueberries at Costco anyway because theirs are better and cheaper. We are dealing with live foods, guys. Just be an informed consumer. As for TJ's convenience foods - the frozen dinners, cookies, wines, meats and so on - I don't buy those and cannot comment. I make all my own slow vegetarian foods. It takes no time at all to make tortillas or pizza dough. I don't know why people are so helpless.
Last week I got their 1-oz pure stevia powder. It's a good price, much less than the brand I had previously used. No bitterness. So that's a good deal, and I did call their 800 number this morning to get assurances that it has no excipients and they assured me it was pure. That's best I can do, ask and make a decision. I do wish they would get on the ball regarding ADA training. I have offered to train them but they didn't respond.
When that employee dragged my scooter last year, several other customers heard us and came over to advocate for me, were angry on my behalf. I'd guess that employees there still haven't been trained adequately. I parked it where I did, in front of the produce rack at the entrance to the bathroom hallway, because they don't give us a better choice and I need to keep an eye on my bag in the basket, from where I wait down the hallway, afraid that if I take the bag in with me they might suspect shoplifting. I only take my wallet into the loo.
On the whole, I like TJ. I always shop carefully, never just grab and go, I read labels, ask questions. And they take returns. Their cheese is too expensive. I get mine at Costco. The food poisoning issue scares me, but for instance, the peanut butter food poisoning wasn't their fault. They bought the stuff in good faith and pulled it once they knew. Other chains had the same peanut butter incident, too. I did get some TJ peanut butter last week to make wild bird cakes, but it's oily and runny so I will be returning it next trip, and I got Kroger instead, at Smith's. One last thing: I wish they had a reverse osmosis water dispenser, 25 cents a gallon. For that, I have to go to Sprouts or Natural Grocers. Bummer.

Phil, Hawaii shirt employee, store refusal to return item. Arguing with me he won't give me store refund, physically writes STORE CREDIT ONLY on return slip, little white piece of paper. After arguing with him at the register because he said I could go pick out other stuff, and to keep coming back to the store every time I wanted to buy something at the podium, he says "well just this time" at the cashier desk, and reneges and retreats saying "well just this time". Then while waiting in line with very slow cashier and waiting for replacement female cashier, approached by shorter guy who says, "well this says STORE CREDIT ONLY" while the cashier is puzzled why it says STORE CREDIT ONLY. Phil wrote "store credit only" on white slip.
Was then asked to go outside by same short male employee and one very tall like 6 ft 4 male staff member, who tells me while outside that their store policy has changed and they are only giving store credit, and how he's a really nice guy. And told it was store credit only, to be used anytime I want just keep bringing the slip back... to make a fool out of the customer... So he refused to give me the slip that had the STORE CREDIT ONLY on it after grabbing it out of my hand at the register, and I couldn't get it out of his fist not realizing I took back the return at the desk from Phil but nobody asked for the slip. I wanted it as evidence, so I said "I have a copy of the handbook that states no hassle return policy." So he said "oh thats not good... where did you get it..." I said "someone left it in the bathroom." So he started back into the store.
I don't live in the area and do not shop in this particular store but this behavior when I have been in the store is a constant attitude and at all the stores. Example in Westwood, I bought something which was bananas at the Westwood store and still had a refund coming but that wasn't good enough for the manager on duty who hemmed and hawed at the cashier desk during the transaction, telling me I had to buy more than bananas and I said that is all I want, so he storms away and I have his picture. Also since again I don't shop at this store regularly and again the same nasty attitude that he's not doing this again... there is a set policy that no store manager wants to follow.
At the second store (3212 Pico Boulevard, Santa Monica, CA 90405 310-581-0253) I visited, it was the same attitude where I was also followed out by five guys and a leader with a mustache--where after making change and putting it in my purse and going to wash my hands in the bathroom, which used to be in the stock room since remodeled, I was followed out by five guys and asked by the ring leader to open my shopping bag/tote to see what was in it... which there was nothing in it just my jacket, that's why I use it for stuff like my hat or jacket or my electronics that become burdensome when it is too warm. Constant harassment at this particular store (10850 National Boulevard, Los Angeles, CA 90064 310-470-1917 Palms) no matter who it is, same treatment for my mother over an item but they had no clue we were are related and she never shops there. Same treatment... credit only.
So my mom said "I want cash not a credit slip," another harasser at this store named Larry **, backed down after telling me I could not have a refund or anything for that matter, just a flat "I'm not returning it", made surly comment "where was my camera", I had no camera with me so don't know what this was in reference to, and he ran away after telling him I would report him to corporate... not policy of store. Was helped by another guy who said nothing, at that time. Went to second store today (3212 Pico Boulevard, Santa Monica, CA 90405 310-581-0253) and treated same way. The actual manager was not there but would be back at 12 noon tomorrow.
Also note an employee manager named Chris ** would not return an item in the valley store on Mason near Porter Ranch, where we used to live, and after returning to this store after a one year absence, I went to return the item and he would exchange it but not give me a refund. So I shop at Super King Market whenever I'm there and do not go there anymore. Every time I do go there the store is empty but have not been there in a long while. Super King took over the failing high-priced Gelson's, and does whopping business because the prices are 50 cents a pound. At this time I am going to a new store called Superior market, where tomatoes are 50 cents a pound and am buying my produce there. My bread that is organic at Ralphs, and at this time disowning your store.
Approached by Clemente, asked "where did I buy it how long ago.." I said "it's current merchandise," wants the receipt... "what store did I get it at..." he kept repeating "what store did I get it at," "why are you returning it..." "Well I'm returning it for my mother." After arguing, "well we can't give you the money back we don't know how you paid for it..." "well we are at a stalemate here..." I said "it was cash and you have a no hassle return policy." "Well we don't know that... I can give you store credit. We can put it back on your credit card" (and is trying to force me to do other shopping)... So I said "you don't do that. I've tried that. It costs you 40 cents every time so it's always cash." "Oh that's not true. We always put it back on the credit card." "In the past I have brought the receipt and the manager is so disinterested he does not even want to take it or look at it." "Well our policy is you tried it and you didn't like it." I said "ok I bought five and didn't like it."
I said "can I video tape you refusing the return..." So I left and came back and took his picture. He saw me and I went to talk to him, but he ran into the bathroom to hide. I went to the bathroom to go to the bathroom literally, and he disappeared. There was just a lady there at the desk. I have the Trader Joe's handbook and it says "no hassle return policy" and also is stated on the Trader Joe's website. He told me to take it back to another store, so I said "what you are doing is fraud because that is not the policy of the store." I said "well Ralphs has no problem with returns." "Well," he said, "we're not Ralphs." When I asked an employee who the manager of the store was he said Justin ** and he would be back at 12 noon tomorrow (Sunday). So when I looked up Justin **, he is the general manager for the Portland Oregon store according to this website:**.
At a store in the valley near Valley College, I went to return tomatoes with the receipt but not the container, so the disinterested, on the phone employee said "how do I know these are our tomatoes" and I said "this is the receipt." So I said "well I'll go get the box in the car if you really need it." So he went back to his conversation and with sour face gave me the return slip... At the Manhattan Beach store on a return, was approached by a mean faced manager wannabe who told me to go somewhere else to return my item, which was an eggplant wrap that had little eggplant in it for 4 dollars. So in front of other managers I told him I wanted a return and I wanted it NOW. I got the return.

I decided to try the Chicken Lasagna and to my surprise, there were small inedible pieces of something getting stuck to my teeth. I found small, hard, white flakes of plastic embedded throughout the meal. I had 1/6th of it, questioning why I kept encountering hard bits of food. I really thought it was parmesan before I decided to investigate.

Jim AngelusBacon Contributing Editor
Jim Angelus has 25 plus years of restaurant experience, and he brings this experience to his food truck. Bacon Bacon is a place where foodies and bacon lovers generally can find mouthwatering meals in a friendly atmosphere. Jim opened his food truck in 2010. It is now a popular bay area food truck and sandwich shop, open seven days a week for breakfast and lunch. Bacon Bacon has appeared on Food Network, CNN and Discovery Network. Most important to Jim, he has a successful business that allows him participate in the industry he is most passionate about and be home in time to put dinner on his family's table. More about Jim→

Trader Joe's is a chain grocery store that is a leader in organic and fresh food. Founded in 1958, the company's products are known for not containing any artificial preservatives and ingredients. Hence, the store is very popular with health-conscious shoppers, as well as those concerned about fair treatment of farm animals and responsibility to the environment.
Delicious flavors: Trader Joe's bacon is smoked over real woods, giving it a distinct and delicious taste.
No chemical curing agents: Nitrites, which have been known to cause cancer, are not added during the production process.
Bacon snacks: Those who dream of combining chocolate and bacon into one delicious treat will have that dream answered at Trader Joe's.
Fully cooked options: To make life more convenient for customers, Trader Joe's also sells fully cooked bacon; it just needs to be heated in the microwave.
Easy purchasing: Trader Joe's has locations throughout the United States, making it simple for most consumers to purchase bacon products from the company's stores.
Best for Bacon lovers looking for tastier (and healthier) uncured options, customers who love the flavor of applewood and foodies who want to use bacon in a recipe.
Trader Joe's Company Profile
Company Name:

Trader Joe's

Year Founded:

1967

Address:

800 S. Shamrock Ave.

City:

Monrovia

State/Province:

CA

Postal Code:

91016

Country:

United States

Website:

http://www.traderjoes.com/