Consumer Complaints and Reviews

Fruit at both of my local Frys stores, has been underripe for over a 18 months, the pears, peaches, avocados, nectarines, cantaloupe especially. All have been hard when purchased and we leave on the kitchen counter for a day or so - they rot immediately, never ripening. They are also tasteless and the sugar content isn't right. It is a marvel when we can buy strawberries, pea pods and green beans without a 'rot spot'. I purchased walnuts from the bulk dispenser area and they were rancid. Obviously slow selling, the large amounts of nuts in the dispenser turn rancid before reaching the bottom. Kroger 'less sugar' Cherry Cordial ice cream... doesn't have any cherries in it! Three tubs of this ice cream over 5 weeks have been without cherries. Four visits in a row I had to bag my own groceries. No order number on my receipt - last four on VIP customer card: **.

Recently in the new at different stores cashiers refused to wait on people wearing a shirt supporting police. Kroger refused to fire the employees. If they had refused to wait on a ** person or someone supporting ** what do you think would have happened?

For years I have shopped exclusively at Kroger on Boonsboro Road in Lynchburg VA. They had the best health food section of any store around (We do not have a Whole Foods here). They had everything that I wanted to buy 99% of the time- specific health food items and specific gluten free items especially. They started a huge renovation project in February 2016. All of a sudden the health food section was cut down to about 1/3 of the merchandise that was previously available. All through the spring and summer the renovation continued. Many, many customers were complaining about the lack of products in the health food section. I heard someone other than myself complaining almost every time I went in there.
At least four times, I spoke with a manager who asked me to be patient and assured me that the health food section would be bigger and better than ever once the renovation was complete. Well after eight months of doing without many of my favorite products, I went in the store this evening and they were celebrating the end of the renovation project and the reopening of the store. I walked back to the health food section, expecting to see it bigger and better than ever before as faithfully promised by management and it was much worse and much smaller than it had been during the renovation... That is less than 1/3 of the merchandise that regular devoted customers had been promised for eight months.
I asked a nice young store clerk about it and he admitted to me that many customers had been complaining about the lack of available merchandise in the health food department. He went to find a store manager for me to speak with. At this point I was still quite polite. After 30 minutes of waiting to talk to a store manager, I was told that all the store managers had left the building at 5 PM. So during the grand re-opening of a store at 6:30 on a Friday night, there was no one in charge. I became quite irritated that after 8 months of waiting for the store to deliver on their promise of a bigger and better health food section to no avail and after 30 minutes of waiting to speak to a manager about the problem, there was no one there I could talk to and no one knew when a manager would be back on duty.
The young cashiers and baggers in the store were very helpful but there was nothing they could do about the problem. An older cashier from the pharmacy department came over and began complaining to me about fussing at the young workers at the customer service counter. I was not fussing at them, but I was fussing about the situation and they were obviously not taking it personally. I told the lady that what she was telling me was only making matters worse, yet she continued to blame me /insult me for being upset. I told her one more time to stop talking to me because she was only making matters worse. She continued even louder and I gave her the "talk to the hand" sign and walked off while she was still complaining at me for being upset. By the time I checked out I was so upset that I could barely drive home. Has anyone else had a similar experience?

Very unhappy with the digital coupon process. I even called their CS dept. who couldn't help except to say they would report my concern. The term "can be used up to five times" is inaccurate -- to be truthful they need to say 5 times in one visit. Their saying 5x is misleading. You would think you could go back on 5 different times but not so. This misrepresentation cost me $7.00. Not happy feel like they are using false marketing especially when you consider the areas they service.

After years of being short changed, overcharged, cheated out of fuel points, consistently inconvenienced, and disappointed, I am giving up on Kroger. They can build big, fancy stores, but have no idea how to manage them and, whether intentionally or not, seem to have a never ending ability to short-change or overcharge customers at the register or gas pump. If you bring it to the attention of store customer service they prefer to engage in lengthy confused debate, even over $1.00. Writing to the corporate office is useless as they will never respond.
How do I know I can trust these reviews about Kroger?
609,317 reviews on ConsumerAffairs are verified.
We require contact information to ensure our reviewers are real.
We use intelligent software that helps us maintain the integrity of reviews.
Our moderators read all reviews to verify quality and helpfulness.
For more information about reviews on ConsumerAffairs.com please visit our FAQ.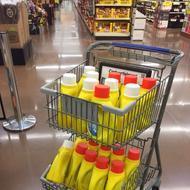 Visited the store to purchase washing powder product with coupons. The manager BOLDLY didn't read the coupon properly and refused to allow me to use the required amount of coupons. He was treating me unfairly. There were other customers with the same product and coupon and he allowed them to use the coupons. He was very disrespectful and treated me unfairly due to my race. Two other customers witnessed this behavior.

I was in the Kroger on North Fry Rd. on yesterday morning to pick up a L'Oreal skin care cream. I was in the checkout line when the cashier took my coupon and did not know why it was not working so I asked to speak to a manager to figure out what was the problem. The manager was speaking to the cashier and shaking his head and flaying his arms from across the store, so then the cashier came back and said "The manager said we can't accept the coupon." I told the cashier I wanted to speak with him and not for him to just answer from where they were standing. He finally came over to rudely say "We can't take this coupon." He said "This coupon is fraudulent." I assured him it was not fraudulent. It was from L'Oreal the company. I told him I will call them so I did.
I called the company in the store and spoke with a rep. named Joan, she wanted to know what problems they were having using the coupon and was giving suggestions on typing in the numbers. I asked him if he would speak her so she could explain this was a real coupon from L'Oreal and he refused. He said and I quote "I am not speaking with her." I then asked her to be on speaker phone and she heard how rude he was speaking to me. She then apologized for how he was acting and she said it would be noted the problems I was having in the store. I was so humiliated from him accusing me of trying to use a fraudulent coupon. Everyone was staring at me as I had to explain to him this was a legitimate coupon. I want something done about his behavior.

I need to be fair here, being Kroger does sell other great food products. However their meat is spoiled and stinky. Heritage farms and even Perdue brand chicken stinks very bad every time I used to buy it there. Their ground beef is even spotted with black coloring on the inside, and I have purchased rolls of ground beef that are rotten. I got sick of returning items and having to open the meat for the people to check themselves, and went to Safeway. No regrets. I believe Kroger has gone to hell, trying anything to make an extra buck at the expense of people's health. What a lousy company. No more Kroger for me.

I just went to the Kroger at brownsboro rd by the paddock shops and I decided I have had enough of your freezing cold temperature in that store. I left an entire cart of goods in the aisle and left because it was so cold. This has been going on for 2 years now and I have had enough. Sunday I wore a coat. But no more! I am going to find a store that does not have frost on the carts.

I know people often submit reviews only when the experience is negative. My experience today was outstanding. Myself along with about a dozen have customers, we effectively communicated with and received our items in a timely manner. The pharmacy Department obviously worked as a team very effectively. Thank you for the Superior Service!

Every time I go into this store I get attitude from EVERY employee there. Make a call to talk with customer service only to get hung up on 5 times. This store is the nastiest ** store I ever been into and the people are just trashy. I will never go to this store until they remove the trash they call employees. Need less ghetto and more human before this store will be worthy of my cash.

I purchased an outdoor glass table at the Kroger on Old Alabama and Haynes Bridge Road, Alpharetta, GA. When finally trying to put the table together I realized one of the legs will not stay on the slot, so I returned it to the Kroger by my house on Holcomb Bridge, Johns Creek, GA. Before I bring the table inside of the store I went in there asking an associate if I can return the table. She told me I can, someone just have to retrieve the receipt, so I went to my car and have someone help me bring the table in. The store manager thought that's too much work for her to do, with no explanations she told she can't help me, I need to go to the Kroger that I purchased the table to return it.
I think that so lazy of her. If, all Kroger is Kroger why do I have to go through this while your merchandise is defective? That Kroger on Holcomb Bridge is so ratchet from the store manager to some of the associates. When someone from corporate will see that, I'm sure I'm not the only customer is complaining. I spoke with someone from the home office, she told they do not have to take my return if not purchased at that location. That really sucks. Kroger need to change this stupid policy.

Mike ** at Krogers Savannah Ga was very uninterested when I called about a rude cashier. He didn't acknowledge my distaste in how poorly his employees were trained (coming from a retail manager). Rushed me off the phone without a single apology. Never will shop there again and I would suggest Food Lion or a different Krogers (next to the mall).

I've been going to Kroger's all my life. Shopping in two stores have been consistently bad for a year, and has accelerated downhill the last few months. It seems to be a store wide, systematic problem, although considering there are only two stores in the sample, it could be a local, district problem. It is definitely a management problem. And I thought about complaining about it last time, and will definitely be looking for other places to shop. The service is that poor.
When I go in a store I expect the majority of the items to be there, and the shelves fully stocked. Today, fully HALF of my good sized grocery list of common items were not on the shelf and in the bins, and whole blank spaces where good should be. This has been going on every time I go at all hours of the day and different days of the week at two different stores consistently. This is TERRIBLE management extending over multiple stores. As a consumer, I have no reason to go to stores that randomly keep things on the shelves, nailing 10% to this time 50% of my grocery list every time I go on.
Furthermore, I used to work as a supervisor of merchandisers, including stocker of grocery aisles. I've long noted that it is poorly managed at these stores, but it has deteriorated to unbearable recently. I even asked my cashier recently if I had any problems, that a lot of things weren't on the shelves - and "don't you have people that will restock the shelves during the day" - and she says, "No, we do that at night!" Well, that is the consistent problem and it isn't how you are suppose to do things. It's either a store wide problem, a manager is using people who are suppose to be stocking shelves for other things and not marking it in the books, or a supervisor problem (in two different stores). But until Kroger's corrects this and I know they have, I will be avoiding the chain as much as possible, and complaining to friends about their management problem as well. It's horrible service.

My experience with Kroger (City Market) for the most part has been ok. We have a 123 Rewards Visa that we have had for about 8 years, no problems until lately. US Bank now services the card, but say they are not responsible for the rewards sent out by Kroger for reward points issued by Kroger. They send out reward certificates every 3 months checks that can only be redeemed at a Kroger store. No problem. I shop a lot at City Market and it was very nice to get checks for groceries every three months.
In May I didn't get my certificates, I called and got three different answers from three different reps. I was told they were sent out in April and I should have gotten them by the middle of May and that two of them had been redeemed. I explained I had not gotten them and had not redeemed them. I asked if they could trace where the certificates were used and they said they could not. Called again and got a different answer, they were probably lost and I should wait until the end of May to see if they showed up. Called again the end of May and was told no way they could trace them, had no information on them but, they could not resend them but would add 9000 points to my card.
Now it is now the middle of Aug. no certificates. I called and was told I should have gotten them by now but he would check, I was then cut off, called back and was told I had quite a few certificates that would be sent to me. I voiced concern as to why they had not arrived yet and was told I they had no way of knowing when they were sent out, as they were sent out in batches, but if I don't receive them by Aug. 31 to let them know??? These are like checks that can be redeemed, they require no ID, so anyone can get them and use them. Since I use this card for almost everything I build up quite a few rewards, this is not very safe and not at all fair. Most rewards are loaded onto a card for use, not certificates mailed that anyone can use. There really should be an investigation into the way this is handled. I don't know if mine were stolen or just never sent out but, I am very irritated.

On 8/13/16 at exactly 10:45 am the Highway 64 store in Lakeland, TN., I approached the Deli counter and noticed several items on the display window for purchase and for viewing. I asked the attendant if it would be possible for me to get ONE baked or grilled chicken breast on display. The attendant told me that they will be open at 11am.
I asked if possible and not too much of a inconvenient to get me just one. He proceeded to come in front of the display window next to the product and said, "I'm busy, come back at 11." The time he took to relay his message he could have given me just one requested item. The difference of GOOD service is providing small issues that are not outside or disruption of company rules. I worked in the foodservice industry for 25 years and learned that great customer service is going the "extra step" when reason to the customer. I will continue to shop at Kroger, but will NOT purchase any deli products at this location. Sprouts Market is directly across the highway and use their deli items in the future.

I transferred six prescriptions to Fry's (Kroger in AZ) with a store flyer coupon offering '$25 back on groceries for each prescription transferred.' I received no credit in "RX Dollars" for the last two prescriptions (with no explanation provided). Worse, though, is that the $100 in RX Dollars I was awarded is not redeemable. All store personnel (cashiers, customer support, store manager) and corporate customer support (phone and email) claim they don't know why, but all seem content to just let my dollars expire. I am preparing a case for small claims court. Who needs this kind of grief when dealing with a supposedly reputable grocery chain? Be very glad if you live where a Wegmans or Publix is available. This is my first experience with Kroger and I am utterly unimpressed.

The Organic Produce is looking suspiciously like the regular produce and tasting like it too. I purchased apples that had a waxy coating and tasted like the shipping box like regular apples do. They had been tasting great and never had any kind of coating on them. Last night I started to get organic grapes until I noticed the same container bags for regular grapes. I bought some yellow and zucchini squash. I hope they are organic. I have multiple allergies, including chemical. I have purchased several packages of chicken that have been badly spoiled. They reeked when I opened them. I will not buy chicken there anymore. I purchased 2 packages of Laura's beef last night and thinking of returning them for a refund because I just don't really trust eating it now that I have had time to think about it and read so many bad reviews about Kroger.
Brand names seem to be disappearing in this Kroger, being replaced by cheaper Kroger brand which seem to contain more fillers and added artificial flavors and colors. My husband just seems to like most Brand name products better and that's what we are used to, so having to substitute another brand and settle for a different taste is something we just don't want to do. We don't have to. We would rather they go back to the way Kroger used to be when it was a pleasant shopping experience instead of a hit or miss on whether you are going to find what you want or not opposed to knowing you will like it used to be. The stopped getting most of the Gluten Free products that I liked. The Amy's Gluten Free Pepperoni pizza is wonderful, but can't get it anymore. Now all the pizzas have corn in the crust and I am allergic. Also the dinners and entrees are gone.
The bathrooms are very dirty. I have complained multiple times about them. They are still dirty. If a manager approves floor wax being put on over dirt to make the floor look shiny and clean, he has no business in the food industry, in my opinion. I have a couple of good things to say. The checkout girls were very nice. The baggers need to be taught what to put in the same bags and what not to. For instance, it was later and my little dog was with me in the car and hadn't eaten, so I purchased her a small thin plastic container of soft, meaty food to feed to her when I got into the car. I couldn't find it. I looked through all my bags twice. She had to wait until we got home. Then I found it at the bottom of a bag, stuck under a large can of pineapple, that was under several large, heavy aluminum cans and glass jars. There was so much weight in some of my bags that they ripped apart before I could get them out of the car.
The other good thing is that they have a Security Guard at night now, since a few robberies there and in town, and he was nice enough to stand at the front of the store and watch me while I went to my car and loaded my groceries. This made me feel much safer since it was so late and the parking lot was almost empty. This was about 10:45 PM. He was very nice. His name was Mr. **.
I learned that there is supposed to be a much larger store there after the addition and renovation of the adjoining stores. I really hope that management improves and the store is Kroger material once again. I loved shopping there. I have been shopping there for years and hate to leave. If everyone leaves, we lose a store that has been a big part of what makes the town. I hope the customer base improves. I only saw 3 or 4 other customers last night when I was shopping. This store needs major adjustments.

On June 12, 2016 in Longview, TX Kroger I purchased a MoneyPak reload card for $500.00. I gave the cashier five one hundred dollar bills and the MoneyPak card I got off an endcap across from the registers. She proceeded to scan the card and stated "I've never done one of these before." She then gives me the card and my receipt back. Before I left the checkout I attempted to load my prepaid Walmart card with 500.00 dollars MoneyPak reload card. It didn't work so I ask for the mgr. The first thing he said was "All sales are final." Never even ask what the problem was or anything. Even said himself that "We don't even sell these at night because they do these transactions at the customer service desk during normal business hours." How am I supposed to know the procedure for their MoneyPak cards?
I'm not they are and neither one of them knew anything as far as I'm concerned. Here it is August 1, 2016 and I've yet to receive a refund. I will not just lay back and let this Corp. rip me off for this money and they are no help to me. I went back to the store and ask for them to help figure this out and could get no help. I can't get a human on the phone for MoneyPak. If there is anyone who can direct me in the right direction I would greatly appreciate it.

Kroger store 4120 N Mt Juliet Road, Mt Juliet, TN 37122. I bought 2 Progresso salt free chicken stock on 7/30/2016 & when I opened them on 7/31 the outer seal was broken. Also the metal safety seal inside top was broken. I took them back to get them replaced. All of them on the shelves had safety seal broken. All Progresso was open! I talked to a asst manager & she didn't seem concerned. She said they are sent that way. The container says plainly not to use if seal is broken. Should they all not be taken off shelves & sent back? I got my money back & got sealed stock at Publix.

I'm not sure if Kroger picks people off the street for hire. I stopped at Kroger at the Union Lake in Commerce Michigan to grab a few items on my way home from work, grabbed what I needed and went through the Uscan. Not only was the cashier not able to keep up with her job not she had the worse and I mean worse customer service training I've ever experienced. I have 25 years experience in customer service so I feel with customer service representatives when facing tough customers. However, the cashier at Kroger was down right nasty.
I watched her accuse a customer of stealing and she called the manager. The manager went through all her bags and receipt to Make sure sure she paid for all her stuff, and discovered that everything in her bags were on her receipt. The poor lady looked humiliated because everyone was looking at her as if she were a thief. Worse part was that the cashier was still insisting that the lady is still a thief. The manager had to call another manager to help control the cashier because she wouldn't stop harassing the poor lady. I will never step foot in another Kroger again. I'll stick to shopping at Meijer.

I usually get pretty good food quality at Kroger, but when I went home to cut my meat it smelled horrifying. My children were complaining and I was very irritated.

I will describe two issues. I had a coupon for your brand of tissue. It said two or more. So I bought a multi pack that had three or four boxes in it and at the register twice I was told they had to be loose boxes. I find this a ridiculous catch and also an insult. Why would you play games and have all these different rules. Either give us a coupon for x amount off a specific number of the items or don't do it. This not user friendly and it gives your business the reputation for playing games with your coupons lures.
Secondly you have coupons for specific sub brands like Private tissue or Simple Truth to name two but there are more. Many times the store does not have that item in the sub group name. So the coupon is useless. Either have your coupon cover all the sub groups or don't distribute coupons in areas where the stores does not carry and keep stocked all of them. Finally I was so frustrated about the tissue issue that we went to Costco and bought the Kleenex brand in bulk and although it is in bulk the cost was close if not better than from your store.
So a warning. People are getting really fed up with gimmicks and more just want some good honest dealings. We will shop less and less at Fred Meyer for things we typically would buy there. Our shopping experiences in general has been good there for many years but it seems the coupon game is getting a bit too complicated and less giving savings which is important to us.

I bought fish and got home with it was rotten, return it to the store on Siebenthaler ave, Dayton, Ohio and refuse to take it back, stating the new manager said that they can accept nonperishable items. They were very rude and want to talk down to me. I will never shop that store again. If I was in Englewood or moraine, it would have not been a problem, a ** ran store, in a ** neighborhood on Siebenthaler ave. Corporate need to train their managers and customer service peoples better. That and management are very unprofessional. I bought on 7-13-2016.

Was at your store and purchased some items, went thru self check out and paid for the items. Before leaving the store looked at my receipt and was overcharged on 3 items. Went to find help and was told there was nothing that could be done. This was because their customer service department was closed. Okay, so if I shop after 10:30 at night (your extended hours) you can expect to not have any customer service during your visit. If your doors are open you should provide customer service while they are. I asked to have my whole transaction voided and all my money back. No! You have to go thru their customer service department for that. So I have to visit the store once again and wait in line for the elusive customer department. Great. Kroger you are so customer friendly (NOT).

WORST grocery store EVER!!! I just wanted to buy some produce yesterday afternoon at the Mall Blvd. Kroger, check out quickly and go home. It rang up at the wrong price in the self-checkout line. I asked the attendant nicely to check and get the correct price. He argued with me to no end. He kept saying the price is what it is without even doing a price check and that I'd have to go to customer service to get the price checked or changed. I said "What?" I left my groceries in the middle of checkout and walk back to the produce dept., verify the price with the guy working in produce, tell him I'm taking the price sign to prove to the cashier guy the correct price. In other words, I, the customer was doing the cashier's job by doing my own price check since he flat out refused to do his job.
When I returned with price label in hand the dimwit cashier still refused to correct the price and tells me I have to purchase the item (at the wrong price), then wait in the customer service line to have the manager correct the price! Un-freaking-believable!!! By this time I was extremely upset and told the guy, "No! You get the manager to come over here because I already did your freaking job of doing a price check. I'm not going to wait in another line just to get my produce at the correct price." He still argued, still wouldn't do a price check, said it was more expensive because it was organic (which was irrelevant, the produce was ringing up incorrectly at $1.99 each instead of $1.99/lb.) even though I handed him the price sign containing the bar code and the correct price.
He still refused to do his job by continuing to repeat his annoying mantra for the umpteenth time that I would have to finish checking out, then go to customer service to get the manager to do a price check and correct the price. I just wanted to buy my food and go home. By this time I was livid!!! I don't know what I said after that because I was so upset by this dimwit and this customer service nightmare. Apparently I yelled and cursed at the guy because next thing I knew the manager and her sidekick assistant/bouncer came over and was threatening to call the police on me. She didn't care WHY I was so upset, just DEMANDED that I calm down immediately like I was a school kid (I'm a middle-aged woman) or she was calling the law. That's another big customer service no-no, to tell a customer, even indirectly, that you don't care why they're upset! I felt like I was the enemy by this point.
Customers are not the enemy, morons! I told her, the manager, "I'm so upset by the cashier's horrible customer service that I really don't care anymore and go right ahead and call the police! Don't worry I don't want the produce that bad and I'm leaving and I won't be back!!" Amazing that it only took me getting so very angry enough to cause a scene to get the guy to do his job finally and call the manager over. But I see why he had no customer service skills because his manager had none either. WORST GROCERY STORE EVER!!!
By the way, when I got home I Googled and got their corporate 800 # for customer service, spoke to a nice, sane person with excellent customer service skills who actually listened to me, the paying customer, and said the guy should have, without question or argument, done a price check, corrected the price at the register while I was checking out as I had requested he do repeatedly, and according to their Scan Right policy he should have given me the item for free and an extra five dollars for my troubles because the price was wrong and was over $5. I said no he never mentioned a thing about that. His lazy ass just kept insisting he was right and I was wrong without even checking the price. MALL BLVD. KROGER IN SAVANNAH SUCKS!!!

Totally frustrated with your online comment boards and sites. I have been trying to let you know about a few great employees at your Arlington location on Lamar and Cooper store. Even though my visits have not been good lately. Finding great people being fired and the store not functioning good at all lately. Just reaching out about a few employees. One Theresa ** who is a wonderful lady and employees very hard working and kind person. Andrew not sure of last name, also Cinthia on self check. Very well deserved pat on the back! We are Thanking them for helping us in this disorganized store. Poor management or lack of the last several months. We shop this store every day and are overwhelmed with the current situation. Please give a pat on the back to very few Awesome employees! I sure hope things change soon... Please Help!!!

It has been almost a year since we got the call from Kroger "Ma'am the chicken you bought has been recalled due to salmonella". My son and his family had already eaten the tainted meat, all got sick, his was the worse, he has been diagnosed with Crohn's disease, due to the tainted meat. He has seen countless doctors, and nothing is working. There has been no follow up from Kroger. This has changed his life, he is in pain and the fatigue is terrible. I blame Kroger, and think that they should have some follow up in cases like these. Buyer beware, if they make you sick with their chicken, you're on your own.

I was craving delicious Private Selection brand sorbet from Kroger and upon my last visit in June I found that they changed the recipe. The adjustment is terrible and this new product tastes like they made it creamy with Pepto-Bismol. The previous sorbet was full of fruit and authentic flavor. So much about Kroger is a low quality. Don't make all the products fall to the same lack standards.

Well while I was couponing and had to call the manager to ask him their policy, he told me Kroger has no policy on coupons!! I replied "I have been couponing for a while and I believe you do." He said to me "we do for some people." I said "what do you mean some people?" He said "we have it towards some people but y'all can't do the coupons." Now mind you we are black people and I have done it before. The cashier was new and didn't know so at this point now I am pissed!!!
I told him now if I would have said or done anything like he had, it would be a problem. I said the police would have been called. He said "what are you talking about? You taking it the wrong way." So I put my stuff back. I will not let anyone ever disrespect me and I spend my hard-earned money there and me and my family walked out. I will never go in Krogers ever again and I will be going to my newspaper and television friends!!!
Company Name:

Kroger

Website:

https://www.kroger.com/