Consumer Reviews and Complaints

9/11/17 after getting my medicines in Kroger Pharmacy I was feeling kind of dizzy and got me some lunch at Kroger's cafeteria at 3039 Breckenridge lane 40220. And a manager approaches to me accusing me that I had not pay for my food and I hand her my receipt (which I never got back). I was very upset. In tears, couldn't not finished my lunch. I am a 77 yr old Christian lady very well known in this community. I have live across from this Kroger for 15 years and the embarrassment and tears I went thru don't have a price and all this because she had mistaken me by someone else, I am a heart and blood pressure patient, an elder that didn't deserve this. I have neighbors and friends that work for Kroger that known me for years. My family and friends are very upset about this and it has been put on social media. This has been a store where I use to feel so happy to do my groceries, pharmacy, bakery. Now I feel very frustrated.

The Kroger Store at Carrier Parkway and Jefferson Street is totally not what I expect for Kroger. In fact I do not know of a Kroger store in Grand Prairie, Texas that is the quality that are in other (wealthy) communities. The drive-up appeal is disgusting, the store looks awful from the outside, the parking lot is the worst of any grocery store I know. The front entrance (if you get that far) is nasty, crowded and completely non-functional. There is not one aisle in the entire store that is appealing or makes me want to buy anything on the shelves. I go there if I MUST get something. Other than that, either Albertsons or El Rio Grande offer more appeal and now Walmart has just opened an amazing store only 2-3 miles away on SH161 that has caused me to virtually dump Kroger. It is so much nicer and I do not have to drive 8-10 miles to Arlington Kroger.
While I have done of shopping at Kroger over the years, unless you give us a MUCH better option on the north side of Grand Prairie, it is likely that I will not spend much money with you in the future. Obviously you have not considered this a significant market for you but your competition is now providing us with a place to shop that entices shoppers to feel good about their shopping experience.

I have been purchasing Merkts Cheese Spread for years and couldn't find the particular one that I wanted at Walmart, etc. Kroger is selling it (all varieties) for $7.99 for oz., which I can purchase at Walmart for $5.49. What is up with that? Their prices on other items are significantly higher than other stores.

Kroger Charlottesville, VA - I was there today and I spent at least $135. I'm on a budget, so I bought the value toilet paper. When I get to the counter and the cashier gets to my toilet paper, she remarks to the guy bagging my groceries that this is the same toilet paper that she accidentally opened while swiping past the barcode scanner. He laughs and they get into this conversation about how the toilet paper is cheap and that how the person that was bagging would never buy that toilet paper. The cashier then starts in about how she would have never bought that toilet paper but her funds were low. Then next to her, the other cashier started in with joke about she would never have bought this toilet paper because it was cheap.
I felt as though they were making fun of me. I work hard for my money and spend a lot in this store. I felt it was unprofessional and inconsiderate of the employees to be having this conversation in front of a customer, even if this is how they feel. I think that I will not be visiting this Kroger ever again. That experience was horrible. I'm on a budget and I felt like these employees made me feel ashamed of it. Just plain unprofessional. Customer service training is important.

Stopped in for a immediate items and wanted to take advantage of the last day of $5 off 5 items. I wanted to purchase 5 items from Keebler/Nabisco. However, when I attempted to redeem 3 manufacturer's coupons I was told that the limit was 2. I worked in a supermarket years ago (when customer service was a priority)... Stores actually make money by redeeming coupons... The face value plus 8 cents. The store manager, Harold, stated that "unfortunately some customers are not honest..." When I decided against purchasing the sale items, it took the cashier (Nicole) in self check out over 10 minutes to re-ring 8 items - all while smirking and laughing to another employee. I contacted Kroger's 800 number who stated that this is "policy" and then spoke to Jessica in HQ in Ohio, who was just as clueless.
Well Kroger, here's your wake up call... There are plenty of other options out there: Publix, Sprouts, Fresh Market, and now Whole Foods... Keep treating your customers like suspects and you'll start bleeding customers like Verizon. Hope to see Kroger closing in the near future... I'll raise a glass and drink to it. I'll shop where I feel like a VALUED customer.
How do I know I can trust these reviews about Kroger?
880,156 reviews on ConsumerAffairs are verified.
We require contact information to ensure our reviewers are real.
We use intelligent software that helps us maintain the integrity of reviews.
Our moderators read all reviews to verify quality and helpfulness.
For more information about reviews on ConsumerAffairs.com please visit our FAQ.

Kudos to the managers and employees at both of the Greenwood, IN Kroger locations! At peak times (Saturdays, evenings) they are usually rather busy, but if you need something and can ask someone directly, they are usually quite eager to help. I prefer the smaller Kroger on Meridian Parke Drive, simply because it IS smaller and I know the layout of the store much better than the newer Kroger further down SR 135 (past Stones Crossing Blvd). Products can be difficult to find at the newer, bigger location, because certain products are not grouped in a typical manner. For example, at the newer, bigger store, the Natural Foods / Health foods items are scattered throughout the store, unlike in many other Kroger stores where the natural foods are grouped in one section. So, I have had to ask employees to help me locate certain items in that store that I could easily find in the other location.
Ironically, with such a big store and what would appear to be such a wide selection, I have found that certain items I was accustomed to buying at the other location were not available there. Perhaps that selling strategy is purposeful to keep shoppers visiting both locations (which I do). What I am disappointed in as a Kroger customer, is the fact that Kroger has purchased the location of the now defunct Marsh grocery store at SR 135 and Stones Crossing Blvd, and from what I have heard and read, it doesn't appear that there are any plans for development at that location. So, another big empty store sits there, and with it the potential for becoming a neighborhood eyesore.
I'd like to challenge the Kroger company to develop the old Marsh location into one of their Ruler Foods discount grocery stores. I believe that Ruler Foods (we shop at those stores when we are traveling out-of-town) is a robust competitor to Aldi stores and that they are a great value for the money. It's just sad to think that the Kroger company purchased the Marsh property merely as a preventive strategy to gain competitive advantage over other businesses in our area. Kroger could do a bit better in terms of "corporate citizenship."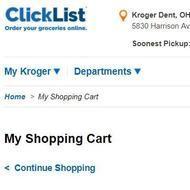 I was impressed when I started ordering in Feb 2017. This last ordering experience negated everything I have every ordered. I ordered yesterday 8/26 for an order for $232 to be reading between 5-6 PM. My husband went to pick it up. There was no record of the order. Thinking it to be a glitch, I reordered to be picked up today 8/27 between 1-2 PM and the store in (DENT, Cincinnati, Ohio) has no record of it.
I called the store twice with no way of mitigating the situation and was given customer service line whom also could not mitigate the situation. Currently I am out of 232 dollars for my groceries and have spent at least 45 minutes of my time this weekend along with trying to be a patient and understanding as possible. I will NEVER SHOP CLICKLIST AGAIN!!

I am completely dissatisfied with Middletown Ohio Kroger. I am an extreme couponer but would like to add that I follow all manufacturer and store rules, I try to be courteous and go during slow business times, and never expect a cashier to do something they should not do. With that being said tonight I was treated like I was up to no good. I spent 30 minutes in the check out lane. First they told me they were having computer problems then told me it could be my coupons. Some of my coupons were digital so they had my phone when I got my phone back they not only looked at my coupons but were in my contacts and messages. I finally decided to stop hassling with them and left my cart and all my groceries behind. When I got to my car I noticed an employee running out to write my plate number down. My family survives because I coupon to make ends meet. Shame on Kroger for treating me like a fraud.

I enjoy shopping at Kroger for several reasons. First of all, the quality of their products is always good. They are always having good sales on different products each week and when you combine that with coupons, you end up with a really good deal. Also, they offer little freebies here and there which is always fun. Overall, a good place to do your grocery shopping.

Bought pre barbecued ribs at Taylorsville Rd. store. When we followed package directions and tried to eat, ribs were dry, tough, and meatless. Called the store we normally shop at and they said any issue had to be handled by Taylorsville Rd. store. Called office # twice and no answer. After years of buying from Kroger's, wife feels it is time to shop elsewhere.

Neat, clean, courteous and with value well presented. No fighting it off the shelf or being kidnapped in store waiting to get out. There is always an in store sale just for me and others. 2nd to none...

We lived in Arizona for quite a long time and loved Fry's (Kroger) there. The produce and food were always fresh and we never had to return rotten food. We moved to Texas and were excited to see that Kroger had such a strong presence in our city. We fully expected the same standards we'd been used to as loyal Kroger customers. We've been very disappointed. The produce at Kroger in Irving, TX is awful. I often slice open onions only to find the inside rotten. Or buy a bag of apples to find that the ones in the middle have mold. Or buy a bag of spinach to find that under the top fresh layer is a layer of slime. Produce that IS okay seems to go bad in a matter of a day or two.
We've also learned to never buy Kroger's store brand of ground turkey. I've sliced open that turkey several times to be greeted by the scent of rotten meat. I can't even look at the area where there are "manager's specials" in the meat department. No store should be able to sell beef that has gone gray. It's simply not safe. I hate that we have to shop at Tom Thumb or drive 25 miles to Central Market to get the kind of produce and meat Kroger should be stocking. If other local stores can get quality produce, Kroger should be able to do the same.
More troubling is the disparity between the produce at our local Kroger and Kroger stores in more affluent areas. We live in a transitional area and still have a number of residents who have no choice but to shop at the local Kroger. Without a car, they have no choice. The Kroger 10 miles away (in North Irving) is a MUCH better store. Still not up to par when compared with Kroger in Arizona but the produce is an improvement. The Kroger in the more affluent parts of Dallas are amazing. I can't help but be concerned that Kroger simply doesn't care about the stores in the area where a number of residents are low income. We personally refuse to drive to the "better" Kroger stores. If they can't be bothered to improve the Kroger stores in the low income areas, we won't support them at all. We'd rather spend our money at Tom Thumb, Central Market and even Aldi.

If you have a choice, avoid Kroger. Luckily, I have been able to do this increasingly more. This current event is essentially a test to see how impossibly bad, and even evil, is Kroger trying to be. The upshot is I made four trips, had two lengthy phone calls, sent an email, and yet I still have not got the coupon savings of a few bucks they advertised.
I just called Kroger, on August 3, 2017, and after a long wait, someone, after being asked, identifying herself as Macayla, or however her name is spelled, came to the phone. The way she talked showed that the last thing she wanted to do was to take that phone call, so much so that I had to ask her twice if she would rather that I hang up. I gave her my name, my Kroger card number twice because she was obviously not listening, my phone number, my address. I explained to her four times, let me repeat, FOUR TIMES, what happened, she still could not understand. I suspect she was stoned or Kroger simply mans its customer service with the most stupid and insolent people just to discourage people from calling. It has to be noted the store clerks seem to snarling and disbelieving that a customer can be so pathetic as to want to use coupons. Then there was that phone call described above. Kroger is not just bad. It is pure evil.

I have been shopping Knoxville Kroger Stores for many years! It is my favorite grocery store. Recently I bought some Kraft Mac and Cheese for my grandchildren, when I got home it had already expired. Also I am tired of missing groceries when I get home! I thought I would never have to check dates of items in your store. I spend a lot of money shopping at Kroger!

I have been shopping at Kroger for about 25 years. Since they bought out Hiller's Market, Kroger became the biggest grocery store around. Their service is horrible. You really have to look for expiration dates on everything you purchase there. There are tons of items on the shelves that are expired. They hire kids who are too busy talking and not doing what they need to do at the deli. The deli meats only last maybe 3 days and they taste awful. The fruits and veggies are worse. Nothing worse than looking at the blueberries or strawberries and they are moldy. I overheard one produce kid talking to another about peppers and said all of them look like this one (I'm guessing it looked bad) and the other kid said, we have to put them out anyways. Oranges have moldy ones in the bags or they are very soft. Lettuce is black inside. I've purchased ground beef, browned it that evening to make dinner and it smelled and tasted awful.
I've even purchased a big Linden chocolate bar and when I opened it, the chocolate was white. I definitely took that back. After a while you get tired of taking back items that you've purchased. What do we have to do, take pictures and go to the health department and maybe they will do something about it? Seems like Kroger just cares about the bottom line and not customer service or the quality of produce and so many other items.

I've been going for years to the Kroger located on Carrier Pkwy and Jefferson in Grand Prairie, TX for years. A good friend is teaching how to coupon to save money for my family. Lately for the past two months the cashiers always give me a hard time about the print out coupons that supposedly are like fraud and I was able to use one only, then a different time I can use 2 then now I cannot use none because people make their own. I would I know that if I print them out from ** nothing is fraud there. It comes out with the scan and all. Well I went and was unable to use my print out coupons so the lady in front of me said, "It's okay. I have some digital ones you can have". Well the cashier said, "I'm sorry I cannot allow you since I know about it." Very disappointed.
Today I went and I used separate transaction because my sister and mother live with me. I am there provided and they each have a card including myself. They did not want to come inside the store because it was hot and mother is on dialysis and didn't feel well. I decided to do it myself. Cashier told me I could not do separate transaction and different cards because Kroger is stopping that and it's card fraud. So every time I go it's something with fraud and do not appreciate that fact in calling me a fraud. I really dislike this Kroger mainly. If I go before 3 pm all the self check-out employees and cashiers are rude and call you a fraud. Never have a problem at night time. I do appreciate a lady name Jill. Very nice and explains exactly why they cannot accept print outs and I'm okay with it because she's friendly and very kind and apologize even when it's not her fault. I believe I will switching to another Kroger where I do feel comfortable.

I called asking about 2nd grade paper. Lady told me yes they have it. I get there 5 mins later to be told they're out of it. I have been at Kroger 29 years. When customers call me for stuff I put the phone on hold go check for the product, and the price. I was not happy at all. The drive up there after work, it's hot, and I was very tired. But oh well.

Always low stock, many times to the point of empty shelves. Not enough cashiers and too many self checkout lanes. Can't keep up with the increase of customers due to the closing of another local store. Everyone in the neighborhood is complaining and beginning to drive longer distances for a better shopping experience.

Kroger 10010 Cypresswood Dr, Houston, TX - I have been a Kroger shopper for a long time and for the most part have had good experiences with the stores. The Cypresswood store near 249 is not like the others. The cashiers treat you like they want to make you pay more than the price. If you have a coupon they will do anything they can to not honor it even if everything is correct. I just hate having coupons at this locations because the management has told all employees to make people feel uncomfortable when we have any coupons. I work hard and like to save when I can and I know the coupons are a part of the grocery business but this store thinks otherwise. Needs new management.

Sending an email to Kroger CustomerService@kroger.com is like spitting in the ocean. The folks who respond must be employees of some telephone call center rather than being employees of Kroger. In the past two weeks, I have sent two emails asking questions which should have had easy answers if the person who responded was a Kroger employee. Instead I have received plain vanilla answers which relayed absolutely no information. Love their store, but hate their online customer service. Maybe I should change stores!!!

I gathered these photos today from social media and have to say that I personally have complained to store managers for several months now and have gotten no response, now it has hit social media and the Marion County health department has been notified by myself and I'm sure many others now that social media has it listed, you people are paid a very large sum of y to keep this store open in this poor neighborhood so do you think you could have enough respect to spend some f them funds to clean it up and try to respect the clean neighbors that live in this area, this is ridiculous.

I bought a $50 T-Mobile phone card at the 530 E. Stroop Rd. Kroger on 5/1/17. When I tried to activate it, I was told the pin# on the back of the card was invalid. I complained to the customer service # several times and the store where I bought it, and they were told by T-Mobile the same thing. I was told by customer service reps. that Kroger had to get the money back from T-Mobile before I could get my money back. I purchased it in good faith at Kroger, and they did not live up to a reasonable expectation that the T-Mobile phone card would work.
I had to buy another T-Mobile card from CVS, which I was able to activate. However, I still have not received my $ back from Kroger. I filed a complaint with the BBB, and Kroger gave me the runaround, saying that the customer service # takes care of those issues (eventhough I sent the complaint to the corporate office in Cincinnati). I will not shop there ever again, and I tell everyone I know about their terrible business practices.

Went to Kroger today, ground beef sign said $5.99 so I pick up a package, no prices on package, no prices on any of meat. I go to check out, tell cashier no prices on meat, she says "the law says we don't have to put prices on it anymore". The meat rings up $7.99. I buy it anyways because I'm making dinner for my grandkids. I do not shop at Kroger usually, this is why I do not. Thumbs down on Krogers.

Kroger is discontinuing the discount for Srs. as of today. Said they are lowering their prices. I must be buying the wrong things as the items I usually buy have gone up in the last 2 weeks. The apple juice I never paid more than 1.19 for without coupon is now 1.49. The crackers I buy every week went from 1.00 box to 1.49; the napkins I always buy went from 79 cents to 89 cents. Also the applesauce Kroger brand Chunky went up and is no longer considered chunky. Will not buy the p-s-s-t products, they are terrible. Two weeks I purchased bag oranges and inside the package two or three were moldy. Bananas are either green or soft. Potatoes I purchased inside had bad spots. Lettuce was not up to par either. I keep throwing things out or paying more for items I usually purchase every week.

I have shopped at Kroger located at hospital road in Douglasville Ga. for 5 years. It is located in a low-income area of town. I have had to stop buying produce there because it's always substandard or just plain rotten. Most of it has been frozen, thawed, refrozen and then re-thawed again. I had a cantaloupe which was sour when I tasted it along with bad salad greens and cherry tomatoes that tasted old and waxy. My pics are of apples. I just cut and smelled rotten not just air getting to them. I couldn't finish my recipe for chicken salad due to this mess! I had to go to Public.

I went to the local Kroger gas station to purchase a pack of cigarettes. The attendant was a young girl who was more interested in her video game than doing her job. I specifically, distinctly told her the brand name of the cigarettes I wanted to purchase. She then stupidly looks at me and says a completely different brand name. I pointed to the right ones on the shelf and she said, "We don't have any." Seriously sick and tired of impudent, immature and juvenile employees that deliberately mess with customers. It's a disgrace and no way to do business. Kroger is a disgrace to the business community and certainly do not deserve my business.

It's 6 weeks past Easter and they are trying to sell their Easter candy for just about full price. Walmart and Walgreens and CVS sell their leftover candy for 90 percent off 1 week after Easter. So I and all my church members are going to ban Kroger.

3 out of 5 times I go to Kroger there is a problem with my receipt. I have to watch every swipe of the scanner. Posted prices scan differently. The mix and match deals are a joke. All it does is confuse the customer into buying more and tripping them up to keep track of how many items they HAVE to buy to get the deal. "Oh sorry, those are not the mix and match size." or "They're not included in that group they're full price." Who buys 6 ice creams or 6 bags of chips unless you have a family of 12? I see no advantage to the customer. People are busy and distracted and don't watch closely enough while errors go unnoticed (to the favor of the store.) Just put some items on special and forget the games. I go to the Kroger in Ottawa IL, The store is dirty and old and for the past 4 years understaffed. The people who do work there are friendly and helpful. I have been shopping 38 miles away to get a better selection and price on all items.

Checking out at Kroger this morning, there were two cashiers. Both busy with customers; however, one did not have a light on. This normally means that the cashier is closing. I proceeded to row up in the line of the other cashier. One woman was ahead of me waiting. Another woman comes up with a buggy and the guy in the closed lane offers to take her next. No! If the cashier was staying open and taking another customer, he should have taken the woman ahead of me; she had been waiting much longer. I voiced my opinion out loud. The cashier-guy proceeds to say that his Manager says, "just to take any customer, it doesn't have to be the next in line." Where is customer service? Where is a HEB?

I purchased $30 worth of gasoline at a Kroger station and they put a $150 credit hold on my American Express Card. First of all, this is an outrageous amount. Secondly, it does nothing to protect them since it is a credit card and if the card was no good, stolen or maxed out they couldn't get anything anyway. They said that it would go away in a day or two. Total BS policy. They kept me on hold for 20 minutes and basically said... too bad. There is no justification for holding this amount on a credit card. Understandable if it were an ATM card or debit card but this was a credit card.
Company Name:

Kroger

Website:

https://www.kroger.com/