Consumer Complaints and Reviews

I asked the manager of the Riverdale, Bronx Key Food about an employee. I also asked his name. He got very defensive and grudgingly told me his name and that he is the owner. I bought some groceries but was not permitted to use my savings card. The cashier told me they were not doing that today... Ummm... Not a warm friendly feeling.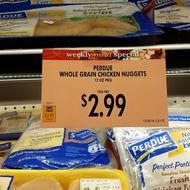 I buy 2 products. One says 2 for 5, the other 2 for 6. The register charges a higher amount and I have to meet with the manager to get refunded. Big sign out front says eggs $.99 cents. They don't have any eggs for that price and give me a raincheck. The raincheck is no good. They don't sell those eggs I am later told. Again I saw the eggs sign but no eggs are there at that price. Chicken nuggets $2.99. Register charges $3.99 and I have to meet with the manager who explains there are 2 kinds of nuggets. Only 1 kind is on sale even though they are all next to the sale sign... Sneaky bastards. So sick of having to catch them ripping me off. Every customer is getting scammed here. I am fighting back.

BRING YOUR OWN SCALE TO WEIGH ITEMS!!! I stopped by to buy some coffee beans for $7.99 a pound today and was charged for 1.41 pounds for two bags of coffee (each about or less than half full since I wanted a taste of both type of coffees). I buy coffee beans all the time and was something didn't feel right about the weight. When I got home I measured the coffee on my trusted scale and no matter which way I measured I could not get it to 1.41 pounds. I got 1.02 pounds when I weighed them. I called the manager and he said come in with receipt. I went in and the cashier pointed to some guy in a baseball cap lurking by the entrance who definitely did not have the presence of a "manager" even though he claimed to be one. We measured the coffee and it was 1.35 on another checkout scale. This is a 48 cent overcharge at $7.99 a pound based on their scale.
I told him I brought my own scale and when we proceeded to measure the first bag he said the coffee bag was not properly seated on the scale and that is why my measurements were off. This was not true because the bag is the same width of the scale. After his ludicrous objected I asked for a refund then asked for the manager by name. Told him about the issue. As I left in the background I heard the "manager" mouthing off about how I brought my scale and that "it's only a couple of cents". This was infuriating because it was not just "a couple of cents" (48 cent overcharge by their scales) and could have been $3.11 based on my scale. I walked back and told the "manager" that it wasn't just a couple of cents to me and the real manager told him to keep quiet.
My family and I have been shopping here for years until today. I am terrified about how much money we were possibly overcharged due to inconsistent scales over the years. And now I have spoken to neighbors I am not the only one who feels that they have been taken for a ride. Whole Foods was busted last year for exaggerating the weight of packaged foods. It seems they are not alone.

This afternoon I went to Key Food supermarket at 225-01 Merrick Blvd, Laurelton, New York 11413. My purchase total was $49.60. I elected to pay using my BOA debit card as I most often do. The cashier entered my purchase and asked 'credit or debit'. I told 'credit'. She asked if my card had a chip. I replied 'yes'. She instructed me to stick into the machine. I did. She told me to enter my pin number. I told her again I am using the as credit, because I am not comfortable putting my pin and I have never use my pin there before. She told me this machine at the register does not accept a debit as a credit card. Against my better judgment I entered my pin. The items were already bagged and she refused to take my credit card because the machine does not accept credit cards. The terminal ID: **, Sequence **.

We had our nieces over and planned making SMORES with them. To properly eat the SMORES we need Graham Crackers (unbroken). After making the SMORES we opened the box. Each of the three packets were smashed. There was not one which was whole. We had to sift through the pack and find the largest of the small pieces. What a disappointment!
How do I know I can trust these reviews about Key Foods?
825,614 reviews on ConsumerAffairs are verified.
We require contact information to ensure our reviewers are real.
We use intelligent software that helps us maintain the integrity of reviews.
Our moderators read all reviews to verify quality and helpfulness.
For more information about reviews on ConsumerAffairs.com please visit our FAQ.

On May 6, I visited the Key Foods in Port Chester NY. The bad experience started in the parking lot where a flock of pigeons were tearing apart another bird. Of course, the usual bottle caps and garbage added to that ambiance. Purchased dozen jumbo eggs on sale 2/$3. There was nothing that indicated two dozen needed to be purchased. Sure enough, the register rang up $1.69. Employee checked price on display, confirming that I was correct. Asked the manager for their policy on overcharges. None! Many stores give you the item free if they make the error. Not key. BTW I was literally one of maybe five customers in the store. I also called Hqts to inquire about the policy, but no one returned my call. No wonder they're at the bottom of everyone's list for grocery stores.

I seen so much complaint about Key Food & I agree with all 100%. I been working at Key Food on Halsey St for 7 months & I quit! Why because the manager's an ass & the food is always expired! I bought food from my own store (Key Food) & had to throw all my macaroni & cheese boxes away due to it was 2015. Now I wasn't that mad but when I found out the boxes of peaches I bought that was 8.99 was expired I had enough. They were outdated! Now I know why customers was pissed off. I'm a cashier & idk nothing about products or anything that don't have anything to do with me especially pricing. The managers deal with that. Over the past months I felt w/ customers buying nasty meat & I had to let them know it was bad especially if bad meat is w/ other meats.
You dk how much times someone came to my register w/ nasty meat where I touched it and smelled it. & tbh we throw it in the back but that is all & I'm starting to think they rewrap the meat smh! They bringing prices up for middle class people who barely can afford one pack of soup. Orange juices that were 8oz used to be 1.99. Now they 2.99 and it's not even a 16oz or bigger smh! It's disgusting how managers treat their customers and this why I quit. I refuse to work with them! & also the so called "cashiers" be flirting with their managers to the point I felt uncomfortable working there! It's nonsense. These cashiers are about 15-20s and they messing around with MARRIED MAN!!!

Key Food had an advertisement of $0.99 a pound on "pork shoulder" so I bought a portion of 9.26 lb, I was charged $18.43 (@1.99/lb) instead of $9.16. Also, they had an advertisement of $0.99 a pound on "smoked ham" so I bought a portion of 8.65 lb. They charged me $19.81 (@2.29/lb.) instead of $8.56. I checked the receipt on the way out then I realized that I was overcharged, so I went to management to complain. I gave the manager my receipt to confirm the mistake and I got a refund of the overcharged. This is a huge mistake on their part by not changing the prices before customers do their shopping. I think people should check their receipt to make sure they pay what they "suppose" to pay the sale price.

Key Foods in Bayside - 73rd Avenue is very deceptive with their sale prices. Most sale items do not have signs, so you have to get the circular and try to figure out what's on sale. The items that do have signs are vague. There was a sign for paper towels for $7.99 for an 8 pack. There were piles of them, very disorganized. All the 8 packs looked the same, but after I checked out I looked at my receipt and saw I was charged $19.00 for the 8 pack. The cashier said this pack was not on sale. I had to go to the manager to return them. He chuckled and said "Oh, you picked up the wrong one." Obviously he knew about the confusion. I told him he's ripping people off because most of the customers are elderly, and could easily be confused. He finally mumbled that he was going to separate them. This is very deceptive and intentional. The store is a mess.

The store hours are Mon-Sat 7 am-9 pm, Sun 7 am-8 pm. The store managers locks the door usually 10 to 15 mins. Before closing, as per schedule 3-4x a wk., and the cashiers believe that they are supposed to leave at 9pm/8 pm. From speaking to the cashiers and managers I learned that the staff may not get paid after 9 pm. Most are col. students and the managers signs the staff out on their timesheets. Sun. 10/18 I arrived @ 7:40 pm and the doors were locked, because the man at the door stated they ran out of paper for receipts. On 10/13, my daughter arrived at 8:50 and couldn't get in. This happens way too often throughout the week.

1050 Westchester Ave, Bronx, NY 10459 - Live around the corner from this Key Foods and shopping there since I been living in that area for the last 10 years. Manager knows me by seeing me shopping everyday, other day. Prices always marked wrong and this and they refuse to give you the price that the product is on sale for. He say someone must marked wrong and I thought the consumers is always right when it comes to the price that their workers put on the item. Like the other day, I just could not take it no more that's why I am complaining today.
Sunday, I went to buy some meat and the price sale price said one thing but the meat man didn't want to give it to me for the sale price, so I went and spoke to the manager and explain it to him and he walked back to the meat department. After the manager, the meat guy finish talking in Spanish right in my face, he told me the only way I could get it for the price I saw was if I buy a certain amount but that's not what the sale sticker price said. He makes up his own rules. Something need to be done about this store. Everybody that spends their money in this store deserves to a fair deal.

Many times I have found fresh blueberries spoiled with growth on them. I think their refrigerator where these items are not adequate. This is the case at Broadway and Hancock location in Brooklyn.

8725 Lefferts Blvd - Rude cashier, took forever to bag groceries even commenting on the items. Then she took her sweet time to talk to another employee, no respect for customers at all. On top of that she stole 2 cents from me which I just didn't bother with since she probably needs it anyway....

This is in reference to the Key Foods at 2711 White Plains Rd. Truly DISGUSTED by the customer service here minus one helpful gentleman. I live around the corner and come only when absolutely necessary but otherwise I take 2 buses to Stop & Shop because it makes THAT much of a difference. #1 The customer service is horrible from who they call "management." I'm used to living in Queens w/ better customer service and it seems that in the Bronx they know of no such thing.
#2 When an item was sold out the manager (very nasty) told me she couldn't give me a rain check, they only give them out Thursday. HOW DOES THIS MAKE SENSE? Who has time to continue going back to a supermarket for a product they are sold out of? Isn't that the whole purpose of a raincheck!? The following day, I went back and it was still sold out. I guess she felt some type of way and finally gave me the rain check. You would think these people were giving me a winning lotto ticket the way she wanted to deny me the rain check.
#3 You need a $5 minimum to use your debit card here. Big inconvenience and another difference from shopping at Stop & Shop. #4 These people follow you through the store as if you are going to steal something, making your shopping experience horrible. #5 Oh and apparently they don't give rainchecks out on produce either that is sold out. More rules for this place than monopoly w/ mediocre rotting meat. Horrible.

I was at the key food location at 1050 weschester ave, on Feb 10, I purchase chicken cutlets. Next day i notice chicken was pretty smelly and in bad conditions, i go back and tell the manager i would like my money back. I have my receipt and the chicken with me. First of all, he was very rude and told me he wouldn't return my money because i pay debit and I didn't have my card with me, and I told him debit is just as good as cash, money is already taken out of my card. He keep being rude, I didn't want things to escalate so I call the cops.
It took me almost 45 minute just to come home back with my chicken and no money back. Am very disappointed and frustrated am gonna file a complaint with the BBB and other companies related with food safety. As customer we reserve respect, and this so called manager needs to learn better skills with customer service., am surprise he has a job. ** the manager wouldn't wanna give me his name but in the end he said ** i guess no last name to this so called manager.

Key Foods @ 8725 Lefferts Blvd., Richmond Hill, NY on 2/2/15, I went to the deli, asked Mgr. working in dept. for Swiss cheese & turkey. Mgr. was nasty & sarcastic, showed racist behavior. He then said I could go somewhere else to shop.

On 12/10/14, I purchased a container of milk. On 12/12 as I was about to use some of the milk when I noticed that the milk was rotten. Today, 12/15, I returned to the Key Food at 116-34 Queens Blvd. - Store # 1430 with my receipt to return the milk. ** the manager refused to refund my $1.39 because the milk container was less than 1/2 full. I am a frequent shopper in this store and I am very disturbed about this incredibly poor customer service.

What is advertise as a sale, isn't being programmed at the register. So when you purchase an item, for a lower price, when you get to the reg, it's not programmed in the reg. Rip off. How many people automatically think there getting the sale, until they get home an check. Most don't even check. If you're slow, you lose. 1 up for the store. Another thing, AWARDS POINTS. They try an trick us, hoping we use the points, when we buy a little food. if say you have 300 points, that's 10%, which comes out to 10 bucks on a 100 dollar purchase. But if you purchase, say 20 bucks, that 1 dollar of savings. So what they do is, they automatically take the points when your purchase is low. This is what happened to me, at the Keyfoods at the lydig location in the Bronx. Why at this location, there are no Afro Americans working there? Not One is employed there. I will not shop there any longer. DISCRIMINATION!

10/19/14 returned crackers purchased by my husband 10/18/14. They were dated 8/19/14. Manager said he had no crackers in the store dated from 8/14 and that I took them off my shelf at home. This was totally insulting. Why would anyone that merchandise from their home and return them to store. This man is always rude to women. In fact the women who drive do not shop in this store because of his attitude. Why should one shop outside their community, because of rude store workers..

If I could somehow select a negative score, I would. This location is horrible. This store is located at 1769 2nd Ave New York, NY 10128. They treat their customers like criminals. I was coming in to this location to get a couple of cans of soup. The young man at the front door asked me to check in my backpack. I told him no, that I had very expensive items in my backpack and I did not want to check it. Then he said that he would then have to check the contents inside when I left. I feel that this is a violation of my right to privacy so I said no. I entered the store and began to look for the items I was going to purchase. After a few minutes, a man approached me very aggressively and started to argue with me in a physically confrontational manner.
I told him that to look inside my bag is a violation of my right to privacy and that I had expensive items in my bag (my laptop, iPad, and notebooks etc.) which is why I did not want to check it in. He then flashed a "badge" in my face and said "I don't give a **, I'm a private investigator." Then proceeded to kick me out of the store forcefully. When I asked him if he really was a cop, and if he was, could I see his badge number, he said "I don't have to show you **." He continued to buy physically confrontational.
I know that Key Food is a cooperative and that likely, because this store is owned by an individual (or a group of individuals) that a corporate complaint will probably not get anything done. But I am not a thief, I work in an environment where I handle thousands of dollars worth of merchandise and all I wanted was to buy some soup.
Are Door Bag Searches Legal? Yes, as long as the inspection is VOLUNTARY. No, if the bag check is involuntary or coerced. This is a rather fine legal distinction that is subject to misunderstanding and abuse. Basically, nothing in the law gives the merchant the right to detain a customer for the purpose of searching a bag unless there is a reasonable suspicion of retail theft. Since I had just entered the store and was clear about my intentions, I do not believe that there was any behavior on my part of "reasonable suspicion of retail theft."

I have a surfeit of complaints, but, I'll minimize them to a few. Firstly, it is wonted for the meats, particularly the poultry, to be outdated. Subsequent to repining about the issue, I procured an impertinent, "What you see is what you get." Secondly, the employees are NEVER affable - not even on Christmas! The majority of these supermarkets are located in areas that accommodate necessitous minorities. I opine that's why substandard treatment to such individuals continues to be perpetuated. Nevertheless, should conditions of this supermarket fail to ameliorate, I intend to take my business elsewhere.

I went to this Keyfood today Richmondhill 11418. I did not plan to stop by. I was taking my 2-year-old for a walk so my mom called telling me she wanted me to buy soda. So I ended up going. While I was in there, I saw that they had a sale on Edy's ice cream, Buy One Get One Free so I got 2. When I got to the register, I then realize I had too many bags and I also had to fetch my daughter so I asked the cashier if I can take 1 ice cream and pay half price since I can't take it. He said no, they won't allow it. I ask, "Can you please ask your store manager?" He did... The manager came out with an attitude, pointed his fingers at me. "I am only going to do this one time. A sale is a sale. We don't do this. We don't make things up," talking at the top of his voice.
All of the cashiers were looking at me like I just committed a crime. It was very uncomfortable for me. I felt sad because of the way he spoke to me. He keeps repeating himself speaking to me like I am stupid and can't speak English. The manager's name was Frank. He is a very rude man. Either you give me half price or not. I don't need Frank to speak down to me. I should have not bought the ice. I should have gone elsewhere to spend my money. There are many times I go in there to buy cereals and find many expired since 2012. I took them off the shelves and give them to the cashier.

Dean Janeway, owner of Key Food, operates a business in Queens, NY (Hillside avenue branch of Key Food) that thinks it's perfectly fine to refuse bathroom access to an 84-year-old man with health issues who needed to use their bathroom facilities. Upon confirming this information with the manager, Heather, she confirmed Key Food's policy of not allowing bathroom access to a senior citizen with health issues. I don't know about any of you reading this, but I know I won't be shopping at a business that refuses bathroom access to senior citizens, and, if you have a family member who is a senior citizen, you might want to think about Key Food's policy of not allowing senior citizens bathroom access before shopping there.

I asked the manager where the 33 0z. of Chock full o'Nuts coffee that was on sale was placed. He told me it was on aisle 3. I went to aisle 3 and the coffee is not there. I went back to him and told him, but he just shrugged his shoulders. The week before Lipton Ice Tea was on sale and guess what? There's no Lipton Ice Tea. I filed a complaint with Key Food online and never got a reply. They treat their customers like they do not need us. Well, I do not need them. The store is at 169 Atlantic Ave Brooklyn, NY.

The store is disgusting. I took my 6-year-old to the restroom, and the restrooms were ** disgusting. And 2 employees were down there smoking. The cashiers are ** rude. The Key Foods store's at 450 Forest Avenue, Staten Island, NY and can be reached at (718) 720-3208. So what are you going to do about it? My wife and I aren't shopping there any more and we're talking to the community about this. I already spoke to my attorney about this. Every time we shop there, there is always a problem, and I'm always arguing with the workers. So what's next? We are so mad right now. This happened today, Saturday, March 24. 2012. If I don't hear from you about a solution, then I'm going to take this to the Staten Island Advance with pictures from my cell about the restrooms and the workers smoking.

I got 6 items today. I got overcharged for 2. I went to ask for my money back and I was told that only certain items on that those shelves are for that price. I was overcharged by $2.88. I was told I had to see the manager. I left because I was late for picking up my child from school. This Key Foods is always overcharging me! Address is 8725 Lefferts Blvd. Richmond Hill, NY 11418.

Almost every single time I shop at Key Foods on 7th Ave in Park Slope, there is at least one item whose price on their shelf (and in their sales catalog) that does not match the price I pay at the checkout. This may be a technical problem, but I have pointed out to them several times and they do not fix the problem. So what they are doing amounts to fraud. They are not honoring their sales price which is the reason I (and I'm sure a lot of other people) am buying the product on sale in the first instance.
They never apologize and I have to wait while they go check the shelf. I often don't check my receipt until I get home and by then, I am not going to return to the store, so they get away with it. Surely, they are consistently breaking the law by allowing this to happen repeatedly.

I constantly have to get into arguments with the cashiers at this store. Half of them can't even count money or have to do it so slowly, the lines grow huge. Tonight was the last straw. This chick rang something up wrong by the SKU number, which happened to come up as tomatoes, even though it was an onion. So happens the next item were actually tomatoes. So I noticed it twice on the screen and somehow, the onion came out to $2.84. A single onion. So, I point out the mistake and she gets really nasty and shakes my tomatoes in my face and says they are right here. It literally took 4 attempts of pointing at the screen to make her see she rang the onion up as tomatoes, costing me about 2 bucks extra. The rest of the transaction she wouldn't speak and threw my receipt onto the belt when I was done. Go back to DR you little **. It was just a mistake and you turned it into what will now be a boycott on this store.

This store's prices are over the top, and the meat they put out for people to buy, especially the chicken, is disgusting. They would not take it home for their family but expect us to buy it. It's terrible! They treat their customers like they are doing them a favor. I am speaking of the Key Food on Lenox Ave and 139th Street in Harlem. We need to boycott that store and run them out!
I only shop there when I have to and then only for sales on boxed & canned items.

On August 9th 2011, at 11:32am, I went to purchase groceries and I discovered bacon (Farmland and Oscar Mayer) expired as early as July 6, 2011 on the shelves. It was brought to the cashier's attention.
On the August 17th 2011, at 12:30pm, I returned to the store to find the same bacon which was originally priced for $5.99 and $6.99, repackaged and the expiration date was concealed, on sale for $2.99.
Key Foods Company Profile
Company Name:

Key Foods

Website:

http://www.keyfood.com/