East Coast TVs
eastcoasttvs.com
East Coast TVs was founded in 2008 on the principle of providing unbeatable prices and excellent, personal customer service. Such a combination that is unfortunately, hard to come across today. Since then, we have continued to practice our philosophy every day. Our greatest feat is having served thousands of extremely pleased customers.
Consumer Reviews and Complaints

Samsung curved uhd tv 55' - I got my TV on time in perfect condition. The price is unbeatable. I am so happy that I bought this TV with this company. I definitely will use this company if I need to buy another TV.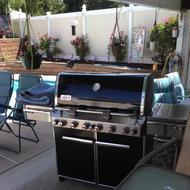 To start, the Weber E-670 is everything and more than advertised. After long and arduous research, I decided to bite the bullet and purchase it. I found East Coast Appliances to have the best price by far. I ordered the grill From Steve, the Sales Manager on Thursday 6-12-14 and it was delivered on Saturday 6-14-14. I opted for the white glove service and the 284-lb grill was hand trucked about 200 yards to my backyard, where it was uncrated and inspected.
Everything about my experience with East Coast TV was beyond my expectations. They have a customer for life, along with family, friends and anyone who will listen to a wise old sage. I will be buying my 80" TV from them in a few months. Deal with this reputable company. You will NOT be disappointed.

We had white glove service for delivery of a big Weber Summit BBQ. We had to prove it was white glove by showing the receipt. The white glove service was basically placing the BBQ where we wanted it but not actually setting it up. Plus, we had to chase them to take the carton and packing material. The cover was not included with the shipment so we called ECTV and they sent one out. There was an upcharge for insurance but all in all, we got a good deal from them and have no complaints. The BBQ, according to my husband who is the one who uses it almost daily, is excellent.

They listed a TV at rock bottom price then tried to upsell me on the -originally free- "white glove shipping." When I refused to pay for "enhanced shipping" the order remained in limbo for two weeks and then was they emailed me saying my order was canceled when the TV mysteriously went "out of stock." From the number of one star reviews, it would appear I am not the only one experiencing this scam. Save your time and money.

I ordered a projector from them back in Sept 2016. After multi emails, phone calls, and multi answers with no one calling me back or emailing me. 30 days later still getting the runaround and they asked they found a replacement but I needed to pay more! Really do what you say you will do refund or send the projector! If I would you I would think twice about ordering from them!
How do I know I can trust these reviews about East Coast TVs?
611,030 reviews on ConsumerAffairs are verified.
We require contact information to ensure our reviewers are real.
We use intelligent software that helps us maintain the integrity of reviews.
Our moderators read all reviews to verify quality and helpfulness.
For more information about reviews on ConsumerAffairs.com please visit our FAQ.

This is not a legitimate business. Ordered a projector based off the price and looked like a great deal. Here's the scam... free shipping is not free (it's negotiated after you place the order). Once they see how much they can get for insurance from FedEx they tell you it will ship in a day or two. After checking back with them a week later they said they can get it out quicker if I pay more for shipping. They were not willing to cancel the order so I was forced to put in a dispute with American Express. Reminded me of Don't Mess with the Zohan (Sony guts inside). After looking at all of the other complaints on here, it's the same story! Stick with a local retailer! What a hassle.

I recently purchased a TV online and received confirmation of my order. The next day I received a phone call from an employee named George who said he needed to confirm my order. He then told me was it OK for me to wait 3 to 4 weeks for my TV to arrive because that's how long it was going to take because it had to come from Asia unless I wanted to upgrade to the better Mexico made panel. The website list this tv as U.S. Model in stock to ship within 2 days. And model number confirms this tv is not made in Asia.
When I told George this was bait and switch and what he was telling me was lies, he tried to tell me it was not and there was two different models of this tv being sold and although advertised as U.S. it was not and had a faulty panel that would produce a lower video output than the better Mexico made and he claimed two different models of the TV was being made one earlier and one newer. He said I wanted the newer then. I told him to cancel my order I was not interested in bait and switch. He said OK and I hung up.
Within 10 minutes I received a call from East Coast TVs from the manager Tony who asked about my canceling of the order. I tell Tony George lied and I was not interested in a bait and switch and I asked to cancel. Toni tried to tell me George must have explained it wrong to me and he would make it right. He then tried to tell me there are two different models one made in Asia and one in Mexico to which I interrupted him and said that would make it two different model numbers if they were not identical in operation and parts it cannot be sold as the same tv and LG would not conduct business that way. He continued trying to upsell me telling me there was a difference and I would be dissatisfied if I didn't spend more money to get the one made in Mexico.
I told Tony if they were not going to honor the advertise price I was not interested in purchasing false upgrades that don't exist. Tony told me he would honor the advertise price and he would even send the upgraded TV with no extra cost and told me he hoped I would enjoy the TV and to have a good day. My order was canceled from their computer system and is no longer visible in my account as being completed. I sent a support ticket from their home page explaining the situation and asked the information to be reentered so shipping and such information could be tracked. This ticket was closed however I receive no follow up phone call or other correspondence and the order was not reentered.
When I tried to call him from the phone number he had originally contacted me on I recognized his voice when he answered as we previously had a fairly long conversation and was Tony was not in. A reverse search of the phone number also indicated the owner of the phone and that it is a cell phone. Untrustworthy and breaking the law under New Jersey consumer protection laws. A report will also be completed with them.

This is my dilemma the Order date: 09/05/2016. Order number: **. Items ordered: Price: Status: 1 of LG B6P Series 65" Class UHD Smart OLED TV - OLED65B6P [Choose: No thanks!] $2,399.00 Awaiting tracking number. They will not answer any e-mails or Customer Support Tickets. They called day of order, said I needed to upgrade to faster shipping at additional cost, then said it will ship at end of month maybe, also tried to get me to buy extended warranty, which I declined. They always say in support tickets to call back with no name/contact info. Do you think that a company would keep doing this if they were on the up and up. Checked BBB and they have a F grade. My fault that I did not check them out first. I also but a hold on my CC to them until it ships (that is the biggest laugh of all).

9/5/16: Ordered - said in stock, ships within 1-2 business days from New Jersey to New York. 9/10/16: Emailed customer service to ask why order hadn't shipped yet (order status = holding; awaiting tracking number). 9/12/16: Customer service replies, "Once this gets scanned into the local hub you will be receiving your tracking information". I ask how long that takes - they reply, "It usually takes 3-4 business days to get scanned into the local. You should be getting that either tomorrow or Wednesday." 9/14/16: Emailed customer service to cancel the order and issue an immediate refund if the order hasn't shipped yet.
9/15/16: Customer service replies, "Your order has shipped and it is in transit you will be receiving tracking information later today." I tell them if no tracking # by 7 PM EST, I expect a full refund immediately or I will be submitting a BBB complaint and dispute with my credit card company. Someone (David?) from the company calls me that night and promises the order was shipped, but they can't contact the hub for the tracking number until the next morning, so please wait until morning to hear from them. 9/16/16: Nothing from customer service. No emails. No calls. Submit complaint to BBB and dispute to credit card company, as promised.
9/19/16: Company calls and tells me my order shipped, but they sent it to the wrong address, and it was returned to them. They can ship it out again today and I will receive it tomorrow or the following day. I tell them I already submit a complaint to the BBB and a dispute with my credit card company. He says, "I wish you had told me sooner." I snorted and told him I emailed customer service constantly up to this point, and even spoke to someone there. He says, "Oh, OK, so I guess you want me to cancel this order then?" Yeah...

I usually give a company the benefit of the doubt, but this experience has been the worse that I have ever dealt with in my life. On August 1, 2016 I ordered the Onkyo 7.1 Channel Network Home Theater System - HT-S9700THX based on the sale price and free delivery. I was contacted and told that I needed to pay shipping of 29.95. I wasn't too concerned and was told they had 2 left in stock and it would be shipped within the next day or two. I also already had an installer all lined up for my theatre room build-out that had been scheduled for a couple weeks. So this would surely be arrived in time.
Guess what, after back and forth for the past 11 days, I finally got my tracking number and it only shipped yesterday and will not arrive until the 16th. NICE. I had to go buy a system locally today in order for my installer to complete the build out of my theatre room. They did agree to refund my shipping cost. I will check my CC the next few days and see what happens. I would think that after several bad reviews on delivery and customer service they would correct the issues. It would be better if they would just tell the facts upfront so a customer knows what to expect. The truth is always the best unless you're Hillary Clinton (Had to throw that in there). I've been in the logistics field for over 31 years and this was a terrible experience.

Ordered an Onkyo TX-NR757 receiver on 6/26/16 but have not received it yet. Checked the order status and it still say "hold/waiting for tracking number". Contacted seller twice and received the same response that they have contacted their distributor to forward me mine tracking information. Took my money for over 2 weeks and have not fulfilled my order. Very disappointed in this seller!

Received tracking number on July 5th, and Item arrived on July 8th. The prices are excellent, customer service a bit lacking and shipping is quick once shipped.
Original Review
IN STOCK - Ships in 1-2 days - WHAT A JOKE!!! So the website order status says I ordered an Onkyo Receiver TX-NR757 on June 20th 2016. It is now July 5th 2016 and I still do not have a tracking number from the company. I have emailed them once and called them on the phone 3 times, and I get the same story each time. I have been told that they would have to contact their distributor to find out and then was told that the dist. misshipped the item and it was returned, and that they would be creating a new shipping label and then they would forward a tracking number to me in a couple of days. Well the first time I got this story was on June 25 in answer to my email asking for a tracking number.
I waited till the 29th of June 11:16am and called in person. Once again I got the exact same ** & bull story and stated If I would give them 1-2 days I would have a tracking number. Once again I waited and then I called again on July 1st at 2:02pm. The same woman answered the phone and went through the same story from start to finish again. Upon my complaint of the amount of calls and time it has been she put me on hold once again to "Check My Order" status and came back and said all the same story over again except switched from distributor to saying the Audio Dept would be handling this and I would have a Tracking Number shortly. Once again I said "Thank you" and that I WOULD BE WAITING for the Tracking Number.
Today is July 5th - NO Tracking Number, no receiver, nothing but empty promises. I have talked to the C.C. company and they tell me that the seller has 15 days from date of purchase to get you the product that you bought or they are in VIOLATION of their agreement with the Credit Card Processing Company (At least this particular CC company) BOA. Extremely unhappy, dissatisfied and frustrated with the lack of service, lack of delivery and poor customer service & support.

Worst online shopping experience I've never had. Promised to ship within 1-2 days, delivery within 7-10 days. It's now Day-16. I've emailed twice and called 7 times. Keep telling me the same lies "it'll ship today or tomorrow the latest". Manager refused to process refund. Had to get dispute it with my credit card company.

TV new Sony TV is not working within a month. When I called them they said call on Monday. When I ask about the warranty information, they are asking me which language I am talking and he just hang up the line.

I ordered a 65" HDTV online (with a promotional wall mount included) on 3/16/2016, later that day I get a call for me to call them back. I returned the call the next day and spoke with a guy that says he is the manager. He tried to add extra shipping charges, insurance protection, and express shipping totaling over $450.00 to which I flatly refused and threaten to cancel. After that heated conversation I received the TV after three week, in good condition. Delivery guys brought it inside, unpacked it and plugged it in. Everything worked great without the promotional wall mount I'm still waiting on. THIS SUCKS!!!

East Coast TVs is a huge scammer if you request a refund. Purchased a receiver in which I did not like the sound. So I contacted East Coast for a refund via their website. I received a response the next day to call them. I called and spoke to David **, who 1st asked when the receiver had been delivered. I told him I was requesting a refund within the 5-business day window which is indicated on your website. He then states, "Well that's not the way it works." Said he would have to speak to his Supervisor and call me back. Never received a call, so I called him back. Stated his Supervisor was in a meeting and he would call me back. Never happened.
I called back again the next day, same situation, told he would call me back but never did. I will be calling them back again to request a refund. So for the consumers who plan on making a purchase from East Coast, expect a extended delivery time, and if you have to return an item they will not refund your money. Even though their website indicates they will provide a refund. Buyer beware. I will never make a purchase from them again and will warn all others that I know about this terrible business.

I ordered an Epson Projector ($1759.10) and called within 5 minutes to confirm they had it in stock and no was the answer. They told me that they would have to add $35.90 to the order for using a credit card. I told them that I could buy it somewhere else and didn't want to pay the extra money. They tried to switch me to another model and I said "No just cancel the order." He basically hung up on me. Immediately after that (within 20 minutes of ordering) I sent an email confirmation to cancel the order. No answer the next mid-day so I emailed again... Later the same day they emailed back and said that I would have to call to cancel. That it can't be done via email. I tried calling twice and waited 5-6 minutes and then each time call disconnected. So I again sent them an email back advising them that I have cancelled order both by voice and by email.
Soooo, today I wake up to a charge to my credit card from East Coast TVs for the unagreed upon amount of $1795.00. Very Disappointing for Sure!! These guys are very shady and seem to be very dishonest. I would never do business again with East Coast TVs and recommend that no one come close to these guys as from the looks of it many others have similar type complaints!

We ordered a Sony television and almost immediately received a phone call from Kenny who supposedly is the manager, who told us that for $400 more he would give us a TV set that costs $900 more because it has a 10-bit panel instead of an 8-bit panel or something like that. So I called Sony, they had no idea what he was talking about. Kenny told me the TV was shipped on February 8th. On February 19th I still had not received the TV and called them to cancel the order. They told me that I could not cancel the order and I had to file a dispute with my credit card company to get my money refunded. Stay away from these scammers.

Purchased a supposedly new, 1st Quality Napoleon BBQ grill on July 5. Grill that arrived was obviously a factory second, the parts were badly bent, dinged, paint was chipped, etc...after spending 2 hours using pliers to bend the parts so that the grill fit together I called East Coast and requested a replacement. The second grill took more than 3 weeks to arrive (it's now August). After assembling the base I found that the grill top casting was broken, bent out of square and the lid was chipped. I again requested a replacement. The 3rd grill took 2 months to arrive (October). This was clearly a returned grill that, it badly damaged and missing parts. I again called and requested a replacement. The 4th grill arrived & I rejected it upon receipt because the top was bent so badly it looked like the tide was coming in.
Note that I was calling East Coast no less than 3 times a week throughout this ordeal. I requested my money back twice and was told "I had to work with them." Well after the 4th grill I demanded my money back again, to my surprise they agreed. Over a week later when I had not received credit for the purchase I called & was told that because the purchase was made so long ago (more than 4 months) they needed my cc number. I finally had to challenge the purchase directly with the credit card company to receive my money back. I WOULD NEVER PURCHASE ANYTHING FROM EAST COAST TVs AGAIN FOR ANY REASON.

They say they are running a veterans day sale. They had the un65js9500 for $2595.00, everyone else has it for 3999 or there abouts. So I called and was in the process of buying it. Then the guy says "you do not want this model" and say I want the js9500 with the 10 bit panel. He can do that one for 3199.00. I said I would call back and I went to Samsung and they said all their js9500 models are 10 bit. The JS means 10-bit panels. So I called back and they went into "well these are made in china and have 8 bit panels." I got Samsung in on a online chat at the same time, they told me no authorized dealer for their products would be selling an 8 bit model. JS is 10 bit. It turns out they are not an authorized dealer and are buying junk that is not guaranteed by Samsung. This is a company you do not want to go near, they are running scams. I canceled my order before I paid big money for junk.

This company lies through their noses. First of all the ad says free delivery, but after I purchased the item they charged me $179.00 for delivery. Also, they said the TV I was purchasing was a 10 bit panel, but when I received and checked with Samsung it was actually an 8 bit panel. The only reason I didn't give them a 1 star is because they beat the competition i.e. Best Buy, Amazon by $650.00. For any functioning business to stay in business, customer service should be their main priority or else they will eventually go out of business. Having said that, buyer please beware before you buy!

Awesome service, delivery and above all price. Can't be beat. Don't settle for the big box gimmicks. Buy from the best East, West, North or South. East Coast TV'S will show you the complete picture without trying to bully you into what you don't want.

No-nonsense easy transaction that saved several hundred dollars over other options. Declined "white glove delivery" sell they asked me about and price was exactly what I thought it would be.

The "White Glove" delivery service is not quite as advertised. The delivery company will bring a large item in (in my case, a 65" plasma TV), but does not unpack, ensure it works properly or remove trash - all things I would consider true "White Glove" service. I had a similar experience with the Weber grill I ordered. Great price, but delivery service is so-so at best.

Ordered a smart TV online from East Coast TV. They delivered it so fast and at the lowest price. That was 9 months ago and no problems with TV. I have 2 friends that have since purchased here and now my son is saving up for one... Thank you.

Buy multiple products from East Coast TVs has been a smooth, pleasant experience. Easy to find products on their site and excellent prices. Very quick order confirmation and shipping and everything arrives when promised and in perfect condition. Will definitely do business with again!

Ordered a barbecue grill. Awesome experience and expedited my order.

I ordered a TV on September 18th. I was told they were back ordered, but expected in that week. I waited a week and a half to check in and was advised they were due in any day. I called again on October 8th to learn that the TVs had still not "come in" but were due the next week. The salesman then offered a "better" tv for $100 more. I asked about the availability of this tv and was assured they were in stock and would ship immediately. I agreed and watched my order status on their website. The status reported "awaiting tracking number." By Monday, October 12th, having heard nothing I called to inquire as to the status. I was told "It shipped." I requested a tracking number and was promised a callback. The next day, having not heard from them, I called again to be told that it shipped, "like I said the last time you called." I heard him mumble that I should have called a different extension and that he'd call me back with the tracking number.
I asked him to please look it up now as I had been previously promised a return call, and he hung up on me. I called again and sure enough, there was a different extension for the tracking information, so I entered that extension. After waiting 18 minutes on hold, the same individual answered with "I just talked to you. It shipped." and hung up on me again. I finally received an email from the shipping company indicating that the TV did indeed ship, today! While normally I guess most would say, "big deal, an extra week" but this TV is actually for my 95-year-old mother who just moved in with us for home hospice. That extra week just might be 10% of her remaining life. I was about to pick a tv up for her at a big box store until he assured me it would ship last week. This is about the worst customer service I've encountered in many years. Prices were great, but hardly worth the aggravation.

On Aug 27 I ordered a pair of KEF LS50 speakers from East Coast TVs for $1299, shipping included. Next day received a call from East Coast and the rep tried to add an additional $45 shipping charge to the order. When I told him no, he tried to add a smaller shipping charge then insisted I pay an extra $11 for insurance. I told him to honor his ad and he finally agreed. Never got the speakers. Finally, I called on Sept 17. Mr. **, at East Coast, claimed he had sent me an email two weeks earlier which said their distributor would no longer supply KEF speakers and offered a credit against another purchase. There was no such email re: evidence by me. My opinion is ECTV decided there was no profit in my order and chose to ignore it.

Don't be fooled by their 1-2 day shipping claim. They have very slow and poor delivery service and charged me $299.99 for "free delivery"' and $98.89 for delivery insurance. They will call and try to up-sale you on other items. Over a week and still no tracking number for my TV. I could have drove there myself and back in less than 24 hours. This is very unacceptable!
East Coast TVs Company Profile
Company Name:

East Coast TVs

Company Type:

Private

Year Founded:

2008

Address:

601 W. Linden Avenue

City:

Linden

State/Province:

NJ

Postal Code:

07036

Country:

United States

Fax:

(908) 698-0592

Website:

http://www.eastcoasttvs.com/