Ultimate Travel Network, LLC
Consumer Complaints and Reviews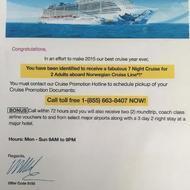 We got a 7 day Norwegian Cruise and air fare plus two night hotel stay. All we had to do was attend a 90 travel vacation presentation. We did and elected not to buy but asked for our award. They finally gave us the form and we had to contact Avolon Premiums to book the trip. They took $120.00 and told us we had to contact Fun Time Reservations and give them $50.00 to quote our dream trip.
We did all this and we got the one time only, non-refundable quote good for 24 hours only. The quote was high and made no mention of the trip we "won". It was just a quote for the cruise, air and hotel all at prices way higher than if had gone online and booked it ourselves. I could have booked the same thing for $600.00 less with better air connections. THESE PEOPLE WORK TOGETHER TO CHEAT YOU OUT OF YOU MONEY. THROW AWAY ANYTHING YOU GET FOR FREE- IT'S A SCAM. Net we lost $170.00 but it could have been thousands.

Offered free plane tickets and a $100 gas card to sit through a 90 min presentation for an exclusive concierge travel agency. Sales pitch stated decades of corporate experience, thousands of dollars in savings on plane tickets, luxury hotels, cruises packages, concert and sporting venues and more. Shop their website. Develop a personal relationship with your favorite booking agent all guaranteed to be in the USA not farmed out overseas. All for some $10,000 for a lifetime membership plus $299 in annual dues. DON'T YOU BELIEVE IT.
We agreed to try a 2 year membership for roughly $3000 and plan a family Alaskan cruise through them and see how it went and left planning to send them a check for the balance. Thank god we tried to contact their office by phone 2 days later using numbers from a business card we were given after agreeing to the purchase. Recordings indicated all the numbers we tried were disconnected. Try to find anything on the internet under whatever name they may be using. There's nearly nothing and no company website. That's why I'm taking the time to write this review. Worst part, our offer came to our house on a postcard, unsolicited, with a picture of a Southwest plane on the front. I've made several Southwest flights in the past year. I'll be contacting them next.

In early June 2008, I received an invitation to attend a 90-minute sales pitch and listen to representatives of Ultimate Travel/Travel to Go. On June 17, 2008, my wife and I met with a representative of Ultimate Travel/Travel To Go. We were promised two round trip airline ticket for anywhere in the continental US for just attending, with no sales pressure. That was not true. There was pressure, in which if you refused to buy, someone else would try to get you to buy even though you refused to and asked for your free gift of the two round trip airline tickets. We were promised free trips to entice us to take the package, but as of this date we have never received anything that we submitted as required for the free 2 weeks trip, based on vouchers. We ended up purchasing a 4 week vacation club package for $4995.00 dollars. I attempted to use the vacation club in November 2008, and wanted to go to the Mayan Palace in Playa Del Carmen, MX. Upon Travel to Go checking, they said it was unavailable.
I inquired if all the rooms were taken, and the agent stated no and we, Travel to Go are allotted one rental. I stated that is crazy. We were later contacted by Travel to Go and was told the Mayan Palace just allowed them a room for us. We were supposed to be provided free transportation to the resort, but upon arriving at the airport and meeting the resort rep, we were advised it will cost $100.00 dollars for the 35 mile trip to the resort. There is an annual fee which I never received since I bought the vacation club package, let alone any info via US Mail. I attempted to get this matter corrected but it fell on deaf ears at Ultimate Travel & Travel to Go.
I received a call from a representative at Travel to Go asking me for my credit card number. I said I have never received anything from Ultimate Travel or Travel to Go since I bought the package. I never received any mail or further info and never got any reply back from the 2 vouchers I submitted for the free 2 weeks of vacation as an incentive for buying the package. The representative stated that it is not our responsibility, and that it is the responsibility of Ultimate Travel. I have been getting a runaround for almost 2 years and realized I should have asked for help earlier, but didn't know who to turn to. These two travel companies should be stopped at misrepresenting themselves and ripping off people who are on limited income. They have a very poor quality of service.

My wife and I attended a sales pitch for Ultimate Travel and they offered many things that sounded like a great deal. We signed up and paid roughly $4000 for the membership. The next day, we went back to talk to management and demanded our money back. Thinking that this would not be a problem especially since we did not use the service. They did not want to hear about it. Long story short, they offered us a $1500 voucher for a vacation trip. We took the offer and went on a vacation for that amount.
We sent them the receipt for the vacation and also the voucher and have received absolutely nothing. I saved copies thinking that this might have happened. We have definitely been duped and received nothing. To top it off, the vacations that they offer do not include airfare which was not disclosed and also they do not explain that all it is, is a timeshare location that no one is occupying at the time. The vacations that they offer are not any cheaper than just going on your own without being a member of a club.

We received a Travel itinerary in the mail. Stating our accounting department shows tht you have been awarded 2 round tripp airline tickets to a major international airport of your choice witin the continental u.s. It goes on to say: To claim this special offer, simply call 1-800-979-3068 Monday thru Sunday 7am-9pm Flghts fill quickly. Firts to call first to fly offer numnber (7965)
We arrived at the Brrok Street Bldg 2 at 8p.m. on 7/02/08. WE purchased a travel kit for the amount of 1,695.00 a two year trial membership we gave down payment of $400.00 by check. I mailed the Activation form off. and they return my answer by saying that you need a $75.00 activation fee.
WE forgot about for awhile. So we figure we will try later to get in touch with them to claim our travel kit. No name available. So I decided to check the web-site this is when we found out that they were a scam I would like my $400.00 return to me.
We have our receits to proved that we paid $400.00. The name of the Vacation Representative Eoin mnager Vance P. They wanted monthly payments of $223.75 each month until we paid the $1,695.00 in full. WE did not know that they were scams, Until today October 5, 2009, when I want to use their travel plan.
How do I know I can trust these reviews about Ultimate Travel Network, LLC?
697,993 reviews on ConsumerAffairs are verified.
We require contact information to ensure our reviewers are real.
We use intelligent software that helps us maintain the integrity of reviews.
Our moderators read all reviews to verify quality and helpfulness.
For more information about reviews on ConsumerAffairs.com please visit our FAQ.

Ann Marie received a Happy Birthday card in the mail indicating
"Congratulations Ann marie B. To help you celebrate this special time in your life we would like to give you TWO ROUNDTRIP AIRFARES TO ANY MAJOR INTERNATIONAL AIRPORT ANYWHERE IN THE CONTIENTAL USA. To claim this special gift, simply call 1-800-979-3046. Flights fill quickly. First to Call, First to Fly. RESERVATION #7947 *Our records also indicate if you respond within 72 hours you will also receive a complimentry 7-Day Rent-A-
Car"
Since we have family in both California and Florida, we thought this would be a great way to get to see them if we listened to the presentation.
We called in June 2008 and spoke to Jimmy to get our scheduled time. We went to the place of business in Rocky Hill on June 13, 2008 and listened to a presentation along with about 10 other people, all couples. Our contract (we did purchase) has the following names and titles on it:
Vacation Representative: Fareed
Manager: Craig Shaw
Verification: Randy Siverson
Podium Speaker: Tony C
We had to complete a form indicating 3 reasons why we are vacationing the Ultimate Travel Way after we signed our contract. They were cost savings, Gold Crown locations and Customer Service we hoped we would be getting.
We paid through our credit card with Bank of America, $4,995 for VIP status aand 2 condo weeks. If we did not use the 2 weeks we had each year, we could keep them by paying an additional $395 to hold on to them until we used them. We were given our membership number, 113003 with "Travel To Go." We also received 2 certificates:
1. Wings Across Akerica Vacation Getaway. This certificate provided all the instructions to secure the 2 free airline tickets through CERTS, Inc. 424 East Central Blvd. #413 Orlando, FL 32801. Package Code: Wings 22, Serial Number: 71586
2. Drive Away (free rental car for one week). This was with VIP Travel Reservations, Inc 4606 S. Clyde Morris BLVD, Suite 1P, Port Ornage, FL 32129 Certificate number CR 27478
We mailed the form to Certs on August 18, 2008 with a Postal Money order and this was rejected due tot hte fact that we had not given them 30 days between the the dates of travel we chose. We put in 11/7 and 11/14/2008. We were told NOT to resubmit any documents to re-instate our certificate. The offer was void.
We were so upse with this that I contacted "Ultimate Travel, Inc." inRocky Hill again. The customer service person spoke with her manager after I told her we were going to use the tickets to see our daughter in California. They resent me another form to complete and said they would contact CERTS in FL.
We sent in the second form on 9/24/2008 and gave them 2 sets of dates we could travel. They were: 1/9/2009-1/13/2009 and 4/24/2009 - 4/28/2009. I called in early December to see if they could give me info and they said no. They would notify us 30 days prior to the date requested if they had secured tickets for us. We never heard from them. We hoped then we would hear about our tickets for April. I called the first week in March as we had received a letter from CERTS telling us since the airline taxes had increased, we would have to pay additional $25 each and have it to them by 2/25/2009. It was FedExed to them overnight on 2/23/2009. We called in early March and was told by the same lady I had spoken with on the previous calls that they had not logged in our information yet even though it was in their hands. They wait until the 30 days prior to the date requested to log in your information. That is why she could not tell me if we had our tickets secured yet. A letter was sent to us dated 3/9/09, postmarked 3/18/2009 with a check dated 3/16/2009 for $100.00 indicating we were out of compliance with the terms of this offer, and they were unable to process our request due to the fact that we used a money order from MoneyGram Money orders payable through Wells Fargo Bank. This was rejected as they wanted a US Postal Money form instead.
I tried to call Ultimate Travel Services and found they no longer have a phone active. When I looked them up on the internet, I saw the class action lawsuit and decided it was time to inform you of this issue.
I have tried to use the "Travel To Go" service we purchased for $4,995 but find they have reduced their hours of operation so it is impossible to contact them in the evening or on the weekends. I have had some communication with them via e-mail but that was to try and secure a location for vacation for my children. The locations are extremely limited as are the locations. You cannot see all resorts in either the directory they send to you or the online directory.

Went to a seminar on 3/26/08 and ended up purchasing this wonderful deal and should have relalized it was scam. Saw a film and listened to a speaker named Tony and talked on how wonderful his trips were. We will now know never to get draw into anything like this to good to be true. We were also given a gift to have a 3 day trip to 6 or 8 diferent places sent in the info and they kept telling us the dates were not good. We had sent them a $50.00 check and they did send us our money back. The only right thing they did.
They told us first it would be $9000.00 and we ended up spending 3995.95 for Membership fees 399.95 for Adminstration fees 199.99 for Annual dues for a total price of 4593.00. We payed a down payment of 2600.00 and also have payed additional 352.50 for a total of $2952.25 out of our pocket. At times like now we could really use this money. 3000.00 dollars is alot.

My wife and I purchased a travel club membership on January 19, 2008. As part of the incentive to join, we were given two travel vouchers, one in the amount of $1000 and the other in the amount of $500. Both were valid for 12 months from date of issue. On May 15, 2008, I cashed in the $1000 voucher which was used for plane fare with no problem. A check for the full $1000 was sent to me. Today (Oct. 8, 2008), I booked a vacation with my travel club, Travel To Go. I have attempted to contact Ultimate Travel to redeem the $500 voucher. The phone has been disconnected and I can not reach anyone. While investigating on the internet, I discovered that the State of Connecticut has a lawsuit pending against the company. Do I have any recourse?
Ultimate Travel Network, LLC Company Profile
Company Name:

Ultimate Travel Network, LLC