Consumer Complaints and Reviews

They messed up my order twice and never sent the replacement. After holding for over an hour and waiting for a supervisor they still messed up my order. I had to call again and hold on for another hour and they couldn't even find my order with the ORDER NUMBER! They finally admitted that they never sent out my correct order and then they sent me a 20 dollar refund and told me that I was "lucky" for getting 20 dollars back! LUCKY! For wasting two entire evenings on hold and never being sent my overpriced merchandise!!!!

Multiple attempts to buy UGG's online using PayPal or a Credit Card were unsuccessful. I sent an email to UGGs, but never received a response. In the end, I was able to successfully buy boots through Timberland's website without any issues.

I'm not 100% sure this is a scam but my credit card fraud protection kicked in and now I had to disable my card. I googled Ugg Black Friday Sales for this Holiday Season - 2016. Journeys (a well known shoe store) advertised 50% off thru 11/30/16. I clicked on it and it took me to 4classicboots.com. I didn't even notice at first I wasn't on Journey's, but all looked ok. When I read about the company, it stated they opened up 2uboots.com in 2010. Everything looks legit so I put in my info. Fortunately, my fraud protection declined the transaction and emailed me to make sure I'm making a payment to a vendor. This is who the payment "would have" been going to: YST OL Technology Co., Lt for $292.30. NOT the company advertised. I did research on both websites: 4classicboots.com registered only 6 days ago and 2uboots.com only 20 days ago. Doesn't match up to their business starting in 2010. BEWARE!!!

Ugg has, hands down, the WORST customer experience I have ever had in my life. They are rude, unprofessional, rigid, and incredibly unfriendly. I have called them several times for several things and every time I am left wondering if the $200+ boots are worth the trauma of calling in. This last time I said to the CS rep "I'm really getting ** frustrated" and his response to me was "ma'am, I'm going to give you one warning never to speak to an Ugg rep like that again or we will disconnect". Honestly, what?! I've worked in customer service for many years and when we have a dissatisfied customer, we aim to fix the situation, not make things worse! After I burn up my last gift card you can bet your bottom dollar I won't be coming back.

After speaking with the original UGG boot company, this link below is a scam. I never received an email, confirmation #, tracking information or anything. The only contact they give is an email address which is **. I have emailed 3 times. No replies. So my Halloween DEAL I thought I was getting is probably lost somewhere between here and China and I'll be lucky if I get 1 pair of plastic boots in the mail, instead of 2 pairs of UGGS. I've NEVER fallen for a scam. I surely thought it was real. BEWARE! Oh and the best part, they drafted my bank account with this info... HDAIITKXsafe = $158.98 and International Fee $4.77 drafted from my account. DO NOT order from ~ http://www.uggluckday.com/.
How do I know I can trust these reviews about Online UGG Stores?
634,392 reviews on ConsumerAffairs are verified.
We require contact information to ensure our reviewers are real.
We use intelligent software that helps us maintain the integrity of reviews.
Our moderators read all reviews to verify quality and helpfulness.
For more information about reviews on ConsumerAffairs.com please visit our FAQ.

Funny, I had the same horrible customer service agent as Perrin of San Diego, CA on Feb. 27, 2016, see her review. Diana the horrible customer service agent. Uggs should do something about her. The other agent I had, Gage, was quite nice. This is about a defective boot for my child. It developed 3 holes in a few months. There is something wrong with the suede on that shoe, defective material. Gage gave me instructions for returning, I followed all. Sent the boots on March 7, today is March 18. Tracking shows they arrived March 12.
Diana the horrible chat agent dissembled constantly. Oh they arrived March 14, then when I said I had tracking for March 12, oh yeah, March 12 and that whole same snotty attitude, "We can not guarantee any acceptance of an item under our warranty without looking over them in person." "Today is the 4th business day we are well within our time limits." "Your product has not been denied at this point. We are still processing it." "At this time you have not been denied." "We will complete processing your return within 1-5 business days of its delivery to the warehouse." "There is a possibility of us accepting your return and sending out your exchange :)" Horrible customer service. Defective boots. Buy other brands, don't buy Uggs.

My beautiful boots, third pair of Uggs, arrived for holiday. Boots tore in 2 wks across the leather, not the seam. The online customer service person, a Diana, was so incredibly rude with attitude. Customer service should never be that way. I worked for Nordstrom for 7 years and that is how customer service is done. Now I have to pay out of my pocket to ship them back to them after the nearly $160 I spent on them (so now we are $185) so they can decide if it is a faulty product or not. UGGS, I am sure you make enough profit to have better service. You have lost a loyal customer forever and again, forever. #ugg #uggaustralia

I have ordered winter boots UGGS on January 28, 2016 from website www.zi-fi.co.uk. Shortly after I made an order, I received an email from vipcustomerservice1988@gmail.com that they are glad I made an order and that my order number is 45. Below there was written about product I order which were boots UGG, Free Shipping BOTH Ways Derry, Total = 101.87 pounds. Below it was written my Billing address and below it, Secure Payment. There was also Detailed Invoice with attached link next to it. So I clicked on that link and it brought me back to their website where I needed to log in, in order to see my purchased history. In my purchased history was just written the same thing as in my email. Just SecurePayment (payment received) and shipping method - Flat Rate (Best way).
That is everything I know about my order. Just that my order is number 45 and nothing else. So I was waiting that maybe something will happen but nothing. Then I wrote an email to them and I asked when will come my order to Norway. One day later I received email from WALKER ** responding just 12/2. Then I responded him question if he can write me the name of the company they shipped my boots with. He responded just "ems". I googled it and it showed that ems is some norwegian post (I didn't know because I'm not from Norway I just live here few weeks).
12.2.2016 I went to the post office and I asked about package sent to my name but they couldn't find it because they needed track number of the package. I don't have any more information about my package and I could not tell them more. I left the post office and wrote email to WALKER ** what happened and if he can give me the track number of the package. He didn't respond anymore. Do you have some experience please with this website?? www.zi-fi.co.uk. If you do please write me. Thank you!

Bought a pair of slipper for a gift, they didn't fit. I sent them back for an exchange, I chose a pair that were only slightly more money. When the exchange was made at UGG I received a message from my bank about a charge that was waaay too much. I contacted UGG and was told I would have to wait for a tracking number to do anything about it. Once I received that I called again, I was told that they don't honor the sale prices from the website that is why I was charged so much (they were on sale on the website but I was charged about $50 more). That person told me she would see what she could do. No assurances. I asked if they were trained in customer service and she HUNG UP on me!!

I bought my daughter a pair of boots that were labeled women's sneakers online for her birthday and when they came they were in fact men's boots. I called and emailed UGG a few times and requested to talk to a supervisor about a refund and one was never available. The customer service dept. was very rude and made it sound like it was my fault. I will never purchase another pair of shoes from that company again.

In Nov 2015 I ordered a pair of Men's Short Classic 5800's from wildoxpromotions.com for $56 + $15 shipping for a total of $71. In early Dec I noted an unexpected charge of $83.38 to an unknown vendor LIBAI TRADE BEIJING CN. I contacted my CC company to dispute this unknown charge. Approximately 1 week later a package arrived from China, containing a pair of Women's UGGS.
I attempted to contact wildoxpromotions.com through their website to dispute charge and request a pre-paid return as incorrect product was shipped at more than advertised and agreed upon rate. Wildoxpromotions.com has failed to acknowledge my communications or complaint. I have turned it over to the Fraud Protection department of my CC provider. Wildoxpromotions.com, which has a website and a Facebook page appears to be an entity devoted to theft by deception through Internet scamming based in China. Awaiting outcome of disputed charge through CC provider at this time.

I sent for a $200 pair of boots and I never received them. It's been three weeks since my order was confirmed. My tracking information does not show any arrival scan from UPS. It was suppose to be two-day air. I waited on the phone for 3 hours one day and 30 minutes on a different day. The chat disconnected me without reason. I finally got through to them with email and received ridiculous responses like I should ask my neighbors or look in the bushes. There is no scan from UPS or updated shipping information nor delivery confirmation from either UPS or Uggs.
So, they are not in the bushes! After giving them the tracking number (which was provided but ignored in my original email) they said, "Oh, we may have to file a claim with UPS. Personally, I don't care about what you MAY have to do to get your money or inventory adjusted. I do not have what I paid for and Uggs already charged my account 3 weeks ago. I did not get the gift in time for Christmas and am out 200 dollars. I asked for 1. A replacement shipped immediately (because there is no proof the package was delivered to me or even received by UPS) OR 2. A refund for product not received. Non-compliance with these two things is unlawful and just a pain in the butt for paying customers so why not respond?

I ordered them on December 22nd. I got a confirmation email. I went to their website to see what's going on... The website is gone. The email that they sent me is gone, which I don't know how that happened because it came to me in my inbox! I cannot find any information whatsoever on the company. Nothing... and they had big, legitimate looking website. I don't know how I should proceed.


My boyfriend and I were shopping online for some Ugg boots for Christmas. I was on Ugg webpage, and found a great pair on sale. We got an order number, and anxiously awaited our package. He received an email stating that they had been shipped. Two weeks later, nothing. We tried to put the order number in to check, and it says they have no records matching that. We call customer service and wait to talk to someone for over an hour and get no one. They say you can press pound and they will have a record and call you back. The order to track them sends us to a Chinese or Japanese site, I really can't tell. So sad and unimpressed. Time to report fraud, and call the bank and pray they refund the money.

I placed an online order for a pair size 11 UGG Australia/Pendleton Butte men's boots with free 2-day shipping as a gift. The product was shown as available at the time the order was placed and I received a confirmation. Two days later, after not receiving a shipping confirmation and after waiting 30 minutes for "live chat" assistance, I was told the merchandise is indefinitely unavailable. I have purchased large-scale POS and online retail systems and know that this failure to validate inventory availability at the time of purchase is utterly inexcusable. The fact that I had to discover this myself adds to the sheer ineptitude of this operation. Top-tier pricing brings a high expectation for honesty, integrity and service and UGG failed on all counts in this experience. I am appalled.

My sister gave me this link from Facebook and the Cyber Monday day I was buy a pair of UGG boots and allegedly to buy some 100 shipping was free and total I pay 103 dollars and I ended up charging my card 107 and when entering the page from my phone and I put my information came out that he had no account. I wanted to call the bank and cancel the purchase but no longer could. They already charged my card and was told that the company is in China and I Need to wait 15 days maybe they'll deliver so I send emails and not respond. I did not send my number purchase confirmation number or tracking number So I checked account from my computer and I get only the number of order and payment confirmation number but nothing more passeth photo page will not be scammed.

I orders a pair of Uggs from redhotbootstwo.com. It says my order was approved. I have an order number and everything and still have yet to receive them. Then later that night after ordering them. I get an email saying it didn't go thru due to insufficient funds. I tried to contact them, there's no number and they won't respond to my emails.

Hi, I ordered 2 boots on Uggs online on Nov 13 and I haven't received my order yet. They are not replying any emails and took my money and not sending my order.

I attempted to buy 2 pairs of Uggs boots for my daughters for Christmas. They took my credit card info, gave me a confirmation/order number and that was it. I looked at status of order and it said "rpdeclined". I'm hoping my bank noticed it was a scam but the bank did not call me. I keep checking my bank account and there haven't been any charges made. What scares me the most is if they have my info and are waiting until a later date to use it. Now I have to cancel my card and wait a couple weeks to receive a new one. Do not order from wildoxpromotions.com.


Ordered Uggs Boots from the site servichomlee, **. On my credit card it was fushinengyiliaoqixie and charged me $124.65. They never sent me any tracking or confirmation numbers... But billed my credit card. I only got ONE order number from the TWO sites I ordered on. They are an overseas company... China & Hong Kong. I contacted UGGS HEAD OFFICE and they confirmed that they are NOT their sites... They are scam sites!!! I have been charged on the site ** $114.99 plus. This was the only site that gave me an order number **... No other contact.

I received my order today. I had no idea that it was shipped or when to expect it.
Original Review
This website takes your money and does not send a confirmation or the order itself. They will not respond to emails either.

I purchased a pair of Tall Classic Ugg boots from a the site "boots-shoponline.com" in good faith. They had no problem charging my credit card more than the advertised price as soon as they could! I never received my shipping info as promised, the boots were not completely stitched and the lining is completely different from what I've seen in department stores. I have tried for the past month to communicate with them, but they either don't respond or don't seem to understand! I am out ($100), which is hard earned money to me. I will try to dispute with my credit card company. I would have been better off paying more. If it's too good to be true, beware!

Saw an ad on Facebook. The name of the page was "Hot Sale Boots Club," with Uggs on sale for $56.00 with a regular price of $248. So I went to the site and saw some Bailey Buttons for $65 and $67 depending on the color. I placed 3 pair in my cart totaling $200. There was $14 shipping. When I tried to place the order, I got an error, then immediately got a call from the fraud department of my credit card. They denied the transaction and told me that a charge of $225.46 was attempted in China from a clothing store with the name of Lian Yin Chuan You.
After further review throughout this site, it appears that my credit card fraud detection department was AWESOME, as I did not get charged and did not get taken for a ride by a counterfeit site. They almost got me because the site looked real and authentic. Thank you Carnival MasterCard through Barclaycard (www.barclaycardus.com). They know what they are doing there. I attached a picture of the ad on Facebook.

I purchased a pair of boots with UGG using PayPal. They had offered me a 25% off coupon for my birthday and decided to splurge on myself. I ordered a pair of boots and then when they came did not care for the style. I did an exchange with two choice options of color, within the dates of the month of the coupon. They sent an email stating they were processing the exchange. Several weeks later, still waiting for an email or the shipment, I finally called them today.
Apparently they never processed the exchange, blaming it on a computer glitch, and then could not offer an explanation as to why I was never notified they weren't sending any shipment. I still have no valid reason and I am now not able to get the boot order processed through PayPal with a discount. This makes no sense and feel they just didn't want to honor their coupon. I am very upset with UGG. Thanks for making my birthday a failed happy experience with your company. Either honor your coupons or don't email them to customers.

I had a pair of authentic Uggs purchased as a gift for me. About a yr later, they ripped at the seams. I called customer service and was told to ship to Camarillo. Big mistake! They did nothing for me and said it wasn't covered under warranty. I shipped at my expense and was told I'd be reimbursed the shipping money. It's been about 3 mos. They've been toying me around since and still no shipping refund! They did not stand behind their warranty or keep their word to refund my shipping cost. Such expensive products that are absolute garbage. The customer service is the worst part of all, just terrible. Sometimes it took as long as 2 wks to hear back if I hear back at all. I will never buy an Uggs product again out of principle. They are liars and cheats, and have overpriced, crappy products!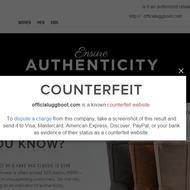 I ordered my boots on what appeared to be a legitimate site, ugg.efindshoes.com (that's what it started out as anyway). They said 15% discount for using Western Union, so I used WU. The money ($94+) was picked up immediately. Even though they said to alert them with the tracking number, etc. as soon as it was sent, & any questions please email. So I emailed info & went back on to site with my confirmation number, etc. I can log into site, I can see where my order is still "pending". I have sent 5 (so far) communications to them & received no response. I haven't seen my boots yet either.
From reading all the complaints, it looks like whether or not it's a fake website or truly UGG's, no one has had good luck. I find that very disconcerting. Also, when I went to FAQ's on first website, it showed ugg.officialboot.com as the website. Of course, you know that the pickup for the money was in China. I called WU to get my money back but because it was already picked up, they couldn't help me.
Tomorrow, I am to contact their fraudulent dept. to see what can be done. Also if you go to the REAL Ugg site, you can type in the website & it will tell if it is a known Counterfeit site. You take a screen shot of that to send to your bank, credit card, whatever. At least the gal who could use PayPal got her money back. Sigh. I hope I am wrong about this, but when I get no response & see all this other stuff, it doesn't leave much room for hope. If someone has used this site & actually received their boots, please let me know. Thank you.

Did anybody order from http//brunnermath.com/uggs?? I did place an order last Feb. 14 and when I send an email asking for the delivery date or the status of my order no answer????? Thank you!

I placed an order for a pair of boots, had shipped 2-day because I need them for a trip. Received and they didn't fit. Went to the post office and paid for a return with my own money (rather than their free label) and requested 2-day shipping back. 2 1/2 weeks later, I am out $200, have no product, haven't received any info from the company and have been on hold for 2.5 hours with an estimated wait time of 481 minutes - that's 8 hours. Bet I get disconnected before anyone answers. So I finally get someone on chat and they tell me it takes 8-10 days to process the return/exchange if I haven't heard back from them in 2 weeks to call back. WOW! That's excellent customer service. Oh, and I will be holding on the phone until someone answers.
Online Uggs Stores Company Profile
Company Name:

Online UGG Stores

Website:

http://www.ugg.com/