Wal-Mart - Customer Service
Consumer Complaints & Reviews

I purchased some food and I wanted to use my food stamp card to pay but the cashier took the cash I set down while I was typing my pin and gave me a receipt. When I told him I wanted to pay with the card he said there was nothing I could do. I went home because it was late and I had work in the morning. After work I saw I was running low on gas so I called customer service and asked if I could do anything. The man on the phone told me it shouldn't be a problem and to bring the receipt. I went to the store and there was a girl at customer service who told me she couldn't do anything. I asked a manager and she proceeded to calling me a scammer. I plan on calling corporate in tomorrow. I'm very disappointed that this turned into such a problem. I only have a little money till payday and Walmart is treating me like I'm a criminal because I didn't go to customer service right away, which I would have if they didn't tell me there was nothing I could do.

On 4-1-16 I ordered a iPad for my 7-year-old special need adopted child with Autism to open it to find it don't work. It takes 15 minutes to get online then it shuts off. After many times back and forth with Walmart they took it and said they would send it in. 2 days later it was ready. How did they have the time to send it for repair then send it back. They didn't. It was still doing the same thing. I take it back again. Same thing. They call online Walmart. I was told to go home, call online, ask for Angel. I did. She walked me through the return and ordered a replacement. It was now 5-8-16.
I get the 2nd one. It turned on, went online, after 26 minutes to a froze screen of porn material girls with their breast exposed. He seen this and said "mommy gil bad. Gil nasy pivat" meaning a bad girl being nasty. I didn't get the return label for the 1st one so I went in. It was a joke. I didn't find it funny whatsoever. Kids with Autism are smart. They just don't communicate. Well they're clingy, they head bang, and I noticed he would get on my laptop and he figured it out on his own. He loves animals. He did less head banging. I was able to get things done so I invested in another iPad. I like a laptop personally but my 12-year-old adopted son loves his HP i-pad.
It's amazing watching these special needs babies figure this stuff out and learn in the process. I have 6 biological kids all grown up. Youngest is 18 oldest 38. I wanted to quit my nursing job and retire and adopted 2 boys, 1 girl. Nick was 4 when I adopted him. His mom gave birth again. I got the boy in question Zachary at birth. He is 7 now. Then again mom gave birth to a girl. She got away with the baby girl. They found her 3 weeks later. She was under 5 pounds, her arm broke in 3 places. All breaks were within 3 different stages of healing. Named her Amyssa.
This is why I was put on this GOD GIVEN GREEN EARTH and that was to be a mom and that's what I do and I will be darned if anyone will fail a child in my presence. I love hard and all kids deserve a fair, honest, loving, trusting, healthy, learning experience not just with family, school, public, period. Special need or not we owe it to them. They will be the presence in the future of all of us older. Our world depends on them to make it right. If we don't teach them without violence, yelling, whipping, we will screw up everybody's future.
Back to the iPad. After the associates had a good time laughing at my son with Autism (I don't think they were laughing at him I hope) and dropped the iPad, she said it's ok. They're just going to claim it out but it was irritating. While I wait I was informed there was no return done on the first and I found I paid for the second one. That is theft. I thought we did an exchange. So now I have 2 iPads that don't work. Still didn't get any result other than the girl on the phone with Walmart online said I need to contact Alatac and deal with it through them. I said "No way. I bought it from Walmart." I told them they need to deal with Alatac.
I sat there 3 hours while managers and associates sat around talking gossip with customers. I had no clue till a lady said she knew how the manager felt at her job. A guy came in and said his phone shuts off randomly. She said people buy things knowing they can't afford it and use them and bring them back when they're done. I was upset. I walked out but 1st I had the associate write down exactly what online Walmart said on the phone. She did and I have that. I forgot. The day I picked up the 1st iPad that they sent out 2 days was all scuffed up and the back was scratched. I didn't care. I just wanted it to work.
I left, called one more time to ONLINE WALMART. They have the nerve to ask me why am I just calling now. Really after 8 times in the store, numerous times on the phone, I told her "are you kidding me. Who buys 2 of the same iPADs within a month." She hung up on me. I get an email from Alatac today telling me it's too late. Time ran out. I'm stuck with them. That's what they think. I would love to see Walmart's face in court in front of the District Court Judge when my son with Autism tells them Walmart his friends there were laughing at him and he shows the judge porn on his iPad.
Also when one of Walmart's employees is in court to testify what she overheard that day between their manager and customers. I cannot get a job. That's why I'm a foster mom. I'm lazy. I sit around collecting government money while my kids do what they want. Well I have news for her. 15,000 to adopt 1 child. I have never in my life collected any assistance from any agency and I'm a widow. 9 kids I supported myself. I was widowed in my 30's, went to nursing school in my 30's straight out of high school, I got my chef and hair dresser, then I went back and did my ** and became the director of **. We had 3 facilities that had mental patients. I was busy in the last few years. I have gone through pastry school, anything I can do at home so I can be involved in my babies school activities - kickboxing, sports.
They will lose. I have a news review to post about Walmart. Also in the past 6 months I've bought 2 laptops, 2 desktops, 1 Hp, iPad, 2 proscan iPads that don't work. Look for my upcoming review on 4 pairs of shorts I returned. Proof of theft I have never taken anything back. If it don't fit I save it for someone that it will fit. So look what's up in the next couple days. Walmart you are on notice 30 days from today's date. I WANT A FULL REFUND ON BOTH OF YOUR TRASH PROSCAN IPADS. The person you will face in court is my son with autism and the judge. YOU ARE THIEVES, PERIOD.

Terrible customer service. Buy a cart for the beach, and then read the reviews of it, they were very bad, so I decided to cancel the purchase at the same time. Took 14 days waiting for my money back and I had no news, so call by phone and they had no reference to my refund, taking the facts of the case and was told that they took 5 business days to return my money. I feel disappointed with customer care of this store, I will not buy anything more to Walmart online.

If you have never brought film to Stratford Walmart's' I strongly advise you keep it that way. You will age significantly as will your subjects. When you think you have waited enough time, return to hear the rolls of film haven't even been picked up yet. Patiently wait again plus a week more to hear they were picked up that day. Patiently wait again for several more weeks, drive to Walmart's again to hear film not yet returned but, "There are a lot of people waiting."

We ordered a futon mattress to be delivered to Walmart Ames store where my daughter is going to school. We ordered it one week before we were going to be there and the order stated it would be there on that day. We were unable to track the order on the website. We called the Ames store to see if it had arrived and/or to see if they could help track it. After calling three times and NEVER having anyone pick up the call after being transferred to that department we gave up with that option. After trying two more times by phone we decided our only choice was to show up at the store and see if they could help us.
We were only going to be in Ames for one day. We waited for several minutes at the store to get some help at which time the person said it had not come in and they were unable to see or track anything about our order. We asked for the manager who was eager to help but had zero solutions for us. At the end of the day we had to leave to go back to WI, leaving our daughter in a position to find a way to get a 60-pound mattress across town without a car. Based on this experience we do not plan to shop at any Walmart store and certainly not on Walmart.com again. PS we still don't know (2 days later) when the mattress will arrive.
How do I know I can trust these reviews about Walmart?
575,164 reviews on ConsumerAffairs are verified.
We require contact information to ensure our reviewers are real.
We use intelligent software that helps us maintain the integrity of reviews.
Our moderators read all reviews to verify quality and helpfulness.
For more information about reviews on ConsumerAffairs.com please visit our FAQ.

By far the worst customer service and experience of my life. My wallet was stolen on their property and I needed my driver's license to return a product. They gave me the hardest time because I didn't have it. Hello it was stolen on your property. Then after that was straightened out I spoke with another Manager who was going to have security check cameras and call me back. Never heard back and that was Saturday. She said I could file a police report but it would be useless pretty much.
Well today after still waiting for a call I called and spoke with Security myself and they said the manager I originally spoke with told them she called me. LIAR!!! I am beyond furious. And the best part is security told me yes they do have cameras in their parking lot but they only pick up big objects like the cars.This store is a complete joke. What is the point of cameras you can do nothing with. I have reached out to Corporate to complain and of course no response. Walmart is a ** joke. Their managers are horrible, the customer service is horrible, and their security is even worse. Now I have no driver's license, no money, and all of my bank cards are gone. I mean I cancelled them but it is still the point. You made no attempt at all to help when the theft happened on your property.

I have come across hard times and I went to Walmart on 6/29/2016 to purchase myself a $139 futon mattress/sofa. I took it home and around two weeks later the screws on the bottom that hold it together snapped the socket on the inside and would no longer be held together. I called the local Walmart that I purchased it from and was informed from the customer service manager that I would be able to exchange the product as long as I had the receipt and made it clear I did not have the box (yes my mistake for throwing it out). I followed up by bringing in the futon to that Walmart and was immediately declined the exchange with only a customer-service manager not even approaching me for me to explain myself and dismissed me right away. This is my bed, the place I sleep on and have no money for anything else. I had no choice but to reach out to higher powers, I called the Walmart Corporate number.
I stayed in the store and called sitting there as it looked like the "manager on duty" was constantly hovering over me or walking close by very often. I explained my situation to the Corporate representative and they apologized and said they would contact someone in the location I was at to try and solve the problem. They got in contact with the Assistant Manager and informed me that they would process the exchange. Very nice customer service over the phone but in store I was absolutely terrified of the idea of sleeping on the floor for the next coming months all because of a Walmart manager dismissing me and stating to their associates "It's policy".
I'd like to voice this concern for anybody who is more vulnerable state and is looking for cheap furniture to rest their heads. Yes Walmart may solve the problem at the end but at what cost? I could even hear in the Corporate Representative's voice the concern for my situation and the way I've been treated. The Management staff underneath the GM and the AM need to be trained to handle these situations in a way that compliments their corporate business practices and beliefs.

Camarillo Calif, pickup desk. The manager could not get the item to come up on the computer, so he called corporate to see what he should do. After 10 to 15 minutes of being on hold, I asked why he could not give me my product that he was holding in his hand and I would sign on a piece of paper that I had received it. I finally walked out of the store without my purchase. Try again tomorrow. This is why I think their system sucks. I was there, manager had my paid product in hand, but would not give me the product???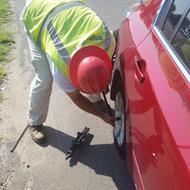 I am extremely angry, dissatisfied, and disappointed with my experience purchasing tires with your company located at 8400 Highway 64, Bartlett, TN, 38133. For starters, I presented at Wal-Mart on Saturday, July 30, 2016 to purchase tires for my 2009 Nissan Altima. Your representative located tires to fit my vehicle but informed me that 7 cars were ahead of me and that the service shop would not have time to put the tires on my vehicle; it was approximately 5 pm. I was told to come back Sunday and they would gladly assist.
I informed the representative that I would come in shortly after worship service, around 2ish. I came, as scheduled, and the representative (a different person) informed me that the service shop closes at 5 pm and the techs just wouldn't have time to complete all the vehicles and close the store on time. I was told to come back on Monday. When I arrived on Monday, around 4:45 pm -- you can probably guess what I was told; yes, that I needed to come during the work week before 3 pm for service.
I kindly informed the representative that this was my third day attempting to purchase tires from Wal-Mart. To not push the issue any further, I then informed her that I would come on Tuesday morning, but I was not pleased, as when I conduct business the expectation is to honor your word and to be held accountable for your actions. Since your reps told me to come back on Sunday and then again Monday, they should have serviced my vehicle on the scheduled day.
On Tuesday, August 2, 2016, I presented at 8:42 am (4th day) to purchase and have tires mounted and balanced for my 2009 Nissan Altima. Your technicians completed the job at around 9:17 am. By 9:30 am I was on the side of the road, almost having a terrible automobile accident, because the tire that your technician mounted on my car began to unravel from the rim. I was able to pull to the side of the road. I immediately called the Wal-Mart tire shop that completed the service. I asked to speak with the manager and informed him of the near tragic accident. I asked him to send a technician to replace my tire and assist me what this matter. He replied, "Ma'am you need to change that tire, it is nothing we can do to help. If you want to come back, we'll take a look and maybe prorate you another tire." Ridiculous, huh? Fortunately, a kind stranger stopped and changed the tire and replaced it with a spare.
Please understand that this type of customer service is not acceptable. Not only did your representatives place me and my family in danger due to their lack of thoroughness and concern for our safety; they were completely unresponsive when given the opportunity to fix the situation. You would think that after visiting a company for 4 straight days to conduct business, the associates would at least satisfactorily perform and complete the job that they were paid to do. No one would expect for their tire to unravel less that 10 minutes after getting 4 new tires placed on their vehicle. I thank God that the tire blow out wasn't fatal.
Lastly, the idea that I would want to, know how to, or be expected to change a tire is ludicrous and quite insulting. As a ** woman, I understand that our lives are not as valuable to the dominant culture and the assumption is that the struggle and the job of a tire technician should be a common duty that any ** woman could perform. Moreover, the disregard for my safety and the flagrant decision to leave me stranded on the side of the road speaks volumes as to how your representatives at Wal-Mart view your customers. It is 11:00 am and your technician has yet to contact me to see if I am ok or perhaps still stranded on the side of the road.
Please understand that I am very insulted by the level of service or lack thereof by the entire staff at the Wal-Mart on Highway 64. Where is the accountability? I am expecting a prompt response, excellent customer service, and resolution to this matter, that I, as a PAYING and LOYAL customer to Wal-Mart and Sam's, would be satisfied with. You can contact me by email.

So I go to Wal-Mart to return items that I have purchased earlier that day and as I walk in, the man at the door watching everyone enter pulled me over to the side, called his manager, and they asked what I was doing. I explained the purchased items were not working properly so I am here to return them and the man who watched me come in with the items told his manager he thinks I stole the goods, and I disagreed and showed them my receipt. The manager walks away, and about ten to fifteen minutes later the police show up because the manager said I stole the goods. They detained me for 3 hours before letting me go, and I could not return the items, and I am now banned from that store. This just shows complete stupidity and disrespect, as they had dumb grins on their faces as I walked out.

I was walking in the door to go to customer service for a money order and the guy at the door followed me to the line wanting to know what I was returning and I explained I was just getting a money order. It was rude how he acted and embarrassing to be followed like I was taking something.

Went to Walmart on Sunday in the evening time, I brought about $60 worth of merchandise with my charge card. I realized I didn't use my tax exempt ID card. So I went to customer service to repurchase my things using my tax ID card. I don't know what the lady was doing that took care of me, but she confused me totally. She took off each item individually, instead of, scanning to whole receipt and then she asked me to swipe my card when she was trying to reverse the transaction, but for some reason it give cash back which I used to purchase my items. When she told me to swipe my card, I should have never listened to her, because she did not know what she was doing which is very irritating because that same day I went back to her to tell that she charged my credit card twice.
She told me there was no MOD there to fixed the transaction. I would like to know who do I speak with to watch the camera or tape of customer service area the day of July 17, 2016 between 5-6 pm. I am very upset with Walmart and I intend on never shopping there again, because someone is stealing or Walmart is just not honest.

I placed an order and paid for rush shipping... When I attempted to track the package the website was not able to track my package. I left work early to not miss my package and even entered a chat with walmart.com to try and locate my package. The chat person (Edwin) refunded the amount I paid to have it rushed. Now the next day still no package!!! And no way to track it either... After a 20 plus min hold the agent who answered advised me that the package is lost with FedEx and has had no movement in some time (and why not tell me this when I asked the day before). So I have now spent more time and money (leaving work early twice) than the product was worth... This is so insane. Why would you waste my time and money this way.

I purchased Walmart care plan warranty for product replacement at time of purpose of cell phone at Walmart. Walmart sales clerk registered the phone on my name and correct email and home address and my phone number. The phone broke and I called to submit a claim in which a return mailing label was sent correctly to my home address on June 1, 2016 and I sent phone back per warranty that I PD. I have called Walmart care plan several different times and have been given multiple excuses and completely different reasons on how and when this claim was processed and how I receiving this replacement $ as guaranteed per Walmart care plan warranty.
I was told by plan Replacement that it $ was mailed on June 1, 2016 but after verifying they mailed it to address in Pittsburgh not my home address or where product phone registered to. Rep guaranteed I would receive in 24 hrs a electronic gift card sent to my email which I verified w/ rep at that time of July 21, 2016 @ 3:07pm. July 22, 2016, never received that email. I again called WCP @ 2:42pm. I asked rep, Kayla to verify and spell all my email, address and all my registered name, address and phone number. It was all correct. Kayla had me talk w/ supervisor Ben whom now spelled my email wrong and sent the reissued gift card to wrong email. Ben guaranteed I would receive w/ in 24 hrs another reissued electronic gift card to my email which I verified and it was correct.
Ben guaranteed by 2:58 pm on July 23, 2016 I would receive electronic gift card in form of email. Walmart care plan has deceived customers that PD for contract of replacement product warranty plan using extremely dishonest practices and excuses in order to fraud me as a PD contracted customer w/ Walmart care plan/solutions hub agreement of product replacement guarantee. I have not received any emails or gift card as promised when I paid for their Walmart care plan product replacement warranty plan.

I hate Walmart because they everything that is awful about corporate America. But that is neither here nor there, they are so on top of security that 31 percent of the people they accuse of stealing every year are falsely accused and this is just another one of those instances. Anyway, I was just shopping with my children and they accused me of stealing shaving cream, as if I would have to steal something that costs .99 and as if I would do it with my children.
They embarrassed me and brought me into their security office, all of this of course in front of my children, before admitting the employee who allegedly saw me do all this was mistaken, and never apologized for the scene it caused and making my children cry. Just a horrible store, with horrible employees and management owned by the most despicable family in America. I will never step foot in this ** trash flea market again, and will tell everyone I know not to go there and support this circus.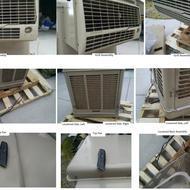 Damaged goods. Return taking too long to return my money. Order & Paid online 6-4-16 Order number: **. ESSICK AIR N28W Ducted Evaporative Cooler 2800 cfm 18 HP. Ships from Zoro. Arrives between: Thu, Jun 9 and Fri, Jun 10. "We'll send an email with tracking info when your order ships." Was damaged beyond repair on arrival. 6-23-16 called was delivered 6-22-16. Takes 10 to 14 days to process. 7-5-2016 called 0800 AM Sahara money in transition. How much longer do we have to wait after paying immediately?

Walmart.com breached its contract by failing to deliver an 88-pound package to my door, which is the front door of a second floor apartment, delivering it instead to my apartment manager's office. If a FedEx guy says its too heavy, how the heck is a 65-year old ordinary man with a back problem supposed to do it? I never authorized the delivery to my apartment manager. The FedEx delivery man refused to make the delivery because the package is too heavy. He then lied and reported that the package was left at my front door.
After 2 days on the phone with Walmart.com reps, during which they repeatedly promised they would get FedEx to deliver it to me, they did not perform. Today their representative told me that there was nothing to be done. I asked them if they would pay for me to hire two moving men to cure Walmart.com's fraudulent conduct and bad faith breach of contract. They refused. I asked if they would pay to have FedEx come back out and make the delivery. They refused. I asked to speak to a supervisor. The rep hung up on me. Walmart.com is the most dishonest, most disreputable, and flat out the most disgusting company I have ever dealt with in my entire life. I still am having a hard time believing that these guys would shake hands on a deal, take my money and then welsh on it and basically tell their customer to go screw himself.

I stopped into Wal-Mart on Jones Maltsberger in San Antonio for a few grocery items because I had a credit for something I returned. The clerk ran up my items; I gave her the gift card and told her to apply it. She said it only applied $15.00 and still had $20.00 left and the bill was $50.00. I thought that was a lot for the few items I got so on the way out I examined the receipt and saw that she had actually charged me $15.00 to upload the card; not deducted as I asked. I immediately went back to the cashier and told her. She said I would have to go to customer service.
After waiting at customer non-service, they had to re-enter every grocery item # to give me credit back on my credit card. For some reason they could not give me credit back for the $15.00 they had charged me FALSELY! Three employees and an assistant manager later. I was given cash back. I could not stand to be there another minute so I left the groceries. They wasted over an hour of my time because of incompetent employees or they just flat out try to scam people. I am just furious. None of the management people even apologized or offered me any consideration for the incredible inconvenience. I will never go back there!!! Sam Walton should be rolling in his grave!

I live in Albany NY. 2 months back I ordered an LG Smart TV on walmart.com and since it is not available in any of the stores nearby, I selected Catskill Walmart as pickup location and picked it up. After using the TV for 2 months, I see a drastic drop down of quality and hence thought of returning it in the nearby store.
Surprisingly, the Albany Walmart store customer service manager declined to take the TV and she said that she don't take it and I have to travel 1.5 hours to Catskill to return it. I had no other option but to travel all the way to Catskill to return it. According to Walmart policy, any store should accept it. This is the worst experience I had in my life when comes to shopping. #worstbehavior

I purchased a Samsung Chrome tablet and purchased a three year warranty plan. The tablet after replacing the power cord wouldn't work. I had already tried to register the plan before and it didn't take. So when making contact for them to the representative stated I should not have been sold a three year warranty and they could not honor it. I explained these warranty plans are offered before you finish the purchase and I didn't see how it can offer me something that it shouldn't.
She explained take it back and ask for a refund because they could not honor the warranty without it being in their system. They only sell one to two years with extended warranty on tablets. I had my receipt before me and could prove I had a three year plan. I spoke to store I purchased it from to be hung up on and also be placed on hold to research what I am telling them. I am waiting for someone to call me back now because they're saying they cannot offer me a warranty that doesn't exist. However, it doesn't settle the issue.

I checked out at the wal-mart garden center in Jacksonville, NC. The card that was used to pay was, "cloned" and used at several different locations. Thank God, the bank caught it and contacted me. I called Wal-Mart to let them know what was going on. I was on hold FOREVER, and the Manager acted less than interested in what I had to say. When I asked if they check id's of customers trying to use credit cards, they simply stated "not all the time". What?? Really?? Wow. Moral of the Story, Wal-Mart sucks! Not only do they underpay their staff, work them 39.5 hours and not 40, to keep from having to give them benefits, but their very existence ruins communities and drives them directly into poverty. The items they sell are made very poorly and cheap. Sad fact is, once they come in, they shut down all the other stores that you would be able to buy quality items, so you are forced to shop there. NO LONGER A WAL-MART CUSTOMER.

I ordered 2 Nextbook tablets online with insurance. Both started having problems. After being transferred several times that, I was told that there is nothing they can do about the 2 tablets. But, if I mailed them the tablets that I'll be reimburse the full amount of the purchase. Of course it has to be a box that they will mail to me so that I can send it back to them. That was 3 months ago, and I'm still waiting on those boxes. I'm very disappointed in the way this problem is being handled. If Sam Walton was still alive, there would be no problems with any of their stores.

I purchased an item from Walmart.com and I went to a local store to return the item 1 day after delivered. Item is made from Best Choice Product. Walmart said it's 3rd party products and can't be returned to a local store. I have to call the manufacture to return. Walmart post this manufacture opening hours 3am - 3pm EST for Monday-Friday and 4AM - 9AM for Saturday and Sunday. I called this manufacture 6AM, 7AM on Monday (7/18/16) and they were closed. I called this manufacture at 12 pm EST again and put me on hold for an hour. What a jerk service Walmart.com doing? I've never heard this kind of return policy from any other large retail stores.

Today my brother and I went to Wal-Mart, in Rohnert Park, Ca. Everything was going fine till we got to this cashier, a younger women, with a bad attitude. She was huffy with me when I attempted to explain that my brother was paying for two fish bowls but that they were to be packed with my purchases. Her mouth curled. I then told her I needed the bowls wrapped so they wouldn't break and she informs me, there is no material to pack fragile items. Hard to believe. So I asked her to please wrap them in the brown bags that cost .10 each, which was not a problem for me. She acted like this request of mine was way too much effort for her to do. Her attitude with me was very "Huffy."
When it came time to pay for my purchase I handed her 1 of 3 bills. She "Grabbed Them" out of my hand! I asked her a bit PO'd now why she was grabbing the money from me like that and I didn't appreciate her attitude towards me. She became hostile and informed me she was calling her manager like it was suppose to scare me. I told her "please do call the manager so I can make a complaint about your attitude." The manager arrived, I explained what happened and she sincerely apologized for the experience. As soon as the manager arrived, this sales clerk takes off of the floor and leaves the premises. The manager effectively took care of our purchases and put my fish bowls in their own bag as to not break. I appreciated this very much. Something this sales clerk seemed to have a problem with.
Truth is for whatever reason she had a problem with me from the get go. Because it started when we explained to her, my brother is paying for the fish bowls, but there to be packed with my separate items from my brothers. Now I personally don't understand what the problem was with a simple customer request. I know one thing, I did not deserve her bad attitude projected on to me. This has not been the first time I've encountered bad customer service at this store location. The store in Windsor Ca is very different, never had a problem with them.
If these cashiers don't like what they're doing then they need to find a different job. I've encountered many a time unhappy employees, that take it out on their customers. I'm not sure I'll be going back to that Wal-Mart location again. I do not desire to be treated disrespectfully. I praise the manager who rectified the situation. She was very sincere and informed me she was going to her manager to report it. My 1 star rating is for the cashier with attitude, I give the manager 5 stars, and this is rare in any establishment. When shopping, nothing is worse than a cashier or floor person who act like you're taking up their precious time. So, I will be thinking twice about going back again.

Ordered a 15' pool from Walmart to be delivered to our local store on June 6th. It never arrived. Any attempt to find out why was met with "it will be there in 24 hours." I did the online chats with customer service, emailed and called. Today is July 15 and now they say they can't find the pool. They offered a refund. They never contacted me once. I did all the work trying to find the pool. After reading other reviews I'm wondering if I will ever get my money back. This is what you get when you don't order online from Amazon.

I ordered a grill and paid extra for the 2 day ship. The day before item was to arrive I checked it. The order said "still processing" in the Wal-Mart tracking page. I chatted online with a rep that was very rude and told me my order was stuck in processing and I would need to cancel the order then reorder. I would also have to wait to have the money refunded to me as well.
I was shocked. I asked for customer service number and called and was explained to the rep what I was told. He checked my order and said it was normal for it to be in processing and even explained that they ship from different distribution centers and it was scheduled to arrive on time the next day, that there was no need to cancel my order and offered to let his manager know about the situation because she should not had told me that.
Well lo and behold the afternoon of delivery, checked the tracking and it was still in process. I chatted with an agent that said again it was stuck in processing, there were no more grills and stock and I would have to wait for my refund. Does not even make sense. I will never order from them again. Very unprofessional and to think Wal-Mart is trying to compete with Amazon. That's a joke!!

My boyfriend went to Walmart and bought me a ring. I still have yet to even see the ring because he had Walmart send it in to be sized. When he came home he gave me the box the ring came in. Due to the structure and style of the ring it was not supposed to be altered due to ruining the integrity of the ring. The sales associate did not mention this. (Had we known this, the ring would not have been sent out in the first place). We went to Walmart to pick the ring back up but they had sent it out that morning. They said it would be 4-6 weeks before they got it back and could not do a refund because we didn't have the product. (The ring never left the store and Walmart had possession of it). We asked for store credit to get a different ring and they would not. They only offered to call the warehouse to have the ring expedited back to the store.
Two days later I called the store and asked if they were able to get a hold of the warehouse to which they replied that the manager isn't there and they have no way of knowing if that promise was carried out. There was nothing done about being inconvenience and ill-informed. When the ring was bought we were not told it would take 4-6 weeks for the sizing. Nor did they check to see if the ring could even be sized. After all that they still would not help rectify the situation stating that this was a "training error". I'll never buy jewelry from Walmart again.

FRAUD DEPARTMENT NIGHTMARE: Someone across the country used my Walmart Mastercard. When I reported the charge as fraudulent the fraud department sent me a new card and reversed the charge. 4 months later I closed my account because I was tired of wasting money on poor quality items at Walmart and on the same day I closed my account. They reversed the fraudulent charge.
After 6 calls and countless representatives, they told me I didn't sign their affidavit and the case was closed without anyone sending me notice that the case was closing and now I am liable for the entire fraudulent charge. Is it a coincidence this happened the same day I closed my account? No. Is it obvious that it was a fraudulent charge, "We cannot disclose that", is it possible you didn't receive my affidavit and you should have contacted me "we cannot disclose that"... WALMART - promoting a healthier lifestyle through their heart attack and stroke inducing customer service.

I was sold a defective air mattress. I paid cash had the receipt and still they would only give me the same cheap leaky mattress back. They would not give back my cash even though I was within their 15 day return policy.

Store allows kids to joyride on handicapped carts and when I confronted manager she said store policy was to not bother them. I called corporate and store manager called me back. Very unprofessional. Also doors are locked after certain hour to discourage looters. I asked her why no security guard. She said the last one was stabbed there. This store is 24 hours open. So corporate is lousy and leaves the management and safety of the store to employees.