Consumer Complaints and Reviews

We purchased an LG refrigerator Mod# LFX25978ST/00 and Serial # 207MRUY0U566 from our local hhgregg with an extended warranty. To try to exercise a warranty repair has been a nightmare. Furthermore; to get a responsible and reliable repair company has been a true test of our patience. The 1st repair tech cracked the inner door assembly while replacing the ice maker. The 2nd tech showed with the incorrect part and now the 3rd technician did not have all the part required to complete the repair. Months later my refrigerator remains not fixed. May say; I called the repair company and described the issues, the second and 3rd tech took images of the problem and still WARRANTECH DON'T GET IT. I will never buy another appliance from hhgregg. Pathetic.

Ordered a refrigerator November 25, salesman says "We can deliver it Dec. 5". December 5th comes and there is no delivery of a refrigerator. I call customer service and I am disconnected the first time, second time they transfer me to a store and put on hold for 30 mins. However, after speaking to a manager they say they don't know what happened and will call me back. Three more days go by and hear nothing from them. I call them again and get the same response that they will contact me when they hear something about my refrigerator. This goes on for over two months of them saying they can't locate my refrigerator. I call once a week and even stop by the store I bought it from to get some details. I am told nothing about my purchase. Needless say the order has been cancelled, in addition I am very sorry I paid cash because the store can only cash out $250 from the register and have to wait for the remainder through the mail.
I'm thinking if they can't deliver their own product how can I trust them to refund over $1,500. Maybe the USPS can get that done for them. Customer service is a complete mess for this company. I was more than patient with them and was willing to keep the sale of contract, but they just left me in the dark and offered no solutions for me. I will not be using them again and actually feel bad for them. I never write online reviews but felt compelled to do so because of the complete disregard for their customers. STAY AWAY FROM HHGREGG.

We bought a couple of large appliances from hhgregg. We were going to go with Lowe's, etc., but hhgregg was closer and had the models in stock and we needed a place to put our food because our old fridge died. Part of the deal sealer was a $100 gift card to be used to buy water filters for the fridge.
Well, the story starts here. Went to redeem the gift card, found out that it had an expiration date. Told the sales manager, who was whom we bought the appliances from a year ago, and he was about as helpful and as apathetic as a rock. When I asked them to call Corp and find out what was going on, he grunted and dialed, and all the other sales staff disappeared quickly. Called Corp CS, same rude, nonhelpful we don't care attitude... NEVER NEVER NEVER again... Go with Lowe's or Home Depot. We were reticent to go to hhgregg the first time, now never again. I guess the empty parking lots and rude sales staff should have piqued our interest.

My husband and I purchased a GE washer from hhgregg with the 5 year extended warranty. Almost two years to the day after purchasing the washer, it got to the point it would spin out of control during the wash cycle(bouncing all over the place) and/or wouldn't drain all the water out of the drum...it didn't matter how few or how many clothing items were in it. I called the warranty number to have the washer repaired, granted I called on a Sunday and the day after was Martin Luther King Jr. Day. The lady I spoke with said it would be a few days before they found a technician or I heard anything. I called Wednesday and the lady said it might take a few days, but I would hear from a service center soon.
I called the following Tuesday because I hadn't heard anything back, and she said I was scheduled for Friday January 27 between 8am-5pm (even though nobody had called to notify me of an appointment. Apparently they do not realize that people work and can't just sit around waiting all day for someone to arrive during such a large time slot. I finally received a phone call yesterday (1/26/17), from the service department of the company they contacted to do the repairs, to officially notify me of the appointment scheduled between 8am-5pm for 1/27/17. I called this morning (1/27/17) to ask for a smaller time frame to expect a technician, and the lady told me that since I called and asked, they could give me a 2 hour window. She said a technician would arrive between 3pm-5pm (I would have been extremely upset had I waited ALL DAY LONG and a technician not arrived until 3pm-5pm!!).
I asked if the technician would have parts on his/her truck, and she said that they will have some but if they do not have the parts with them, they will have to be ordered... So here I am, with a family, waiting for nearly TWO WEEKS WITHOUT A WASHER... crossing my fingers and hoping that the technician has the parts with him/her and can repair my washer today, because after realizing HOW AWFUL THE TURN AROUND TIME IS WITH THIS RIDICULOUS WARRANTY I PAID FOR, if they have to order parts, there is no telling how much longer we will be without a washer. I wish everyone could see this review, because if I would have known then what I know now, I WOULD NOT have purchased anything from hhgregg, especially an extended warranty!!!

Ordered my appliances as a package deal online Black Friday. Was told they should be delivered around Dec. 6. Stayed home all day waiting no phone call. After calling several times I finally spoke to a lady (Kayla) that stated my fridge was on back order. Waited another week or 2 called again spoke to (Kayla) saying that my appliances would be delivered Dec. 20.
Due to a death in the family I sat at the funeral home with my home on silent because I was told that they would call a couple of hours before delivery. My neighbor was waiting for the call from me so she could go to my house for the delivery. No phone call again. I returned home after the funeral started calling 2 hours later I spoke to (Kayla) again stating my microwave was on back order. I ask, "Since Christmas was going to be in 5 days could we come and pick up the dishwasher, fridge and stove?" She said since I purchased as a package deal that she could not allow me to do that! I said, "Well I will cancel my order and go elsewhere!"
Went to the location in Elizabethtown, Ky. The manager sold me a fridge and a stove saying that he would order the other 2 appliances and that I could come and pick it up on 12-26. I did not receive a call so I called about one week later. Was told that it had not been ordered but they would get right on it! I received a call from a guy by the name if Indy saying my dishwasher and microwave was there with my name on it, so my son and I went to pick it up no dishwasher. I did get my microwave, was told by Indy that it must have been put out on display. I told him that I would take it because I was tired of waiting. Just happened that I walked over and looked at it. They had the bubble wrap getting ready to wrap it so that could load it in my sons truck. There was a huge dent on the bottom of the door then he walked me over to another one trying to get me to take it, the door was busted!
I said, "I want you to order me a dishwasher now." Received a call a few days ago saying it was there when I called to confirm so my son could pick it up. I was told that it was on the truck for delivery today. I sat here until about an hour ago waiting. Finally called and spoke to the manager. He said that he would have to order me another but their truck does not deliver in Leitchfield on Thursday then he said that it would be a $25. Delivery fee! I told him what I thought about their service, could not believe he would even said anything about a delivery fee! After 2 months still do not have my dishwasher!!! Would not purchase a thing from this company!!!
How do I know I can trust these reviews about hhgregg?
694,519 reviews on ConsumerAffairs are verified.
We require contact information to ensure our reviewers are real.
We use intelligent software that helps us maintain the integrity of reviews.
Our moderators read all reviews to verify quality and helpfulness.
For more information about reviews on ConsumerAffairs.com please visit our FAQ.

The staff at the store were very patient and very nice. That being said, the rest of my experience with hhgregg has been horrible. On December 1, 2016, I order 4 major kitchen appliances with a delivery date of January 6th. The fridge came and, while the delivery people didn't really unpack the inside or put on the shelves, it was generally okay. The person who was to install the microwave and dishwasher, however, was a nightmare. Despite my frequent calls to ensure that both the delivery center and the installer were aware that I had paid to have both appliances installed, he did not have installation of the microwave on his sheet. But for some reason, he brought it anyway. Rather than get clarification, he would not even unpack it from the box and said it couldn't be installed because of the cabinet molding.
After more than a week of no way to cook, a delivery person from another appliance retailer was bringing my laundry appliances and he did it for me. So after some serious aggravation, I have 3 kitchen appliance working but no range/cooktop. It's now close to 2 months since the date I ordered and paid in full, at which time I was never told it was backordered. Living in my new home for weeks with absolutely no way to prepare hot meals. Just awful.

They don't deserve a single star but I could not post unless I put something. Too good to be true. First went to BrandsMart USA. The salesperson were all over us didn't let us look and decide what we wanted. We left the store and went to HHGREGG, the experience was amazing the salesman helped us find and pick the perfect appliances for our rental unit. We purchased floor models as they were at a more reasonable price given it was for one of our rental properties. We left the store very happy with our purchase. They scheduled our delivery for Saturday 01/21/2017. We were amazed at the service we were getting. I received my confirmation phone call. Everything was going great until I get a call from the driver. He was in Homestead, Fl. Apparently, the delivery address was incorrect and would not be able to make the Saturday delivery.
Although upset I understood it was partially our fault for not confirming the address. It was rescheduled for Monday morning delivery, I took the day off of work to be at the property for the delivery. And here is where it all started; I called the delivery department and after being on hold for over 45 minutes I was told they would not deliver today that I had been rescheduled for Tuesday. I hung up and called the store to speak to my salesperson and/or Store Manager. I was then told my sales rep was off so I asked to speak with the Store Manager. That was a useless conversation. He said he would call me in 5 minutes so he could see what he could do to get me my appliances today. Never got a call until 4:20 PM from the delivery guy telling me he was on his way.
When the delivery guy gets here he only has 1 appliance, the refrigerator with 3 dents in the front doors and a huge scratch on the side. We asked for the remainder of our appliances and he said the store did not have the microwave and the stove would be deliver tomorrow. Obviously, I refused to accept the refrigerator then called the store and cancelled my entire order. I went to HHGREGG not to have headaches, aggravations, frustrations. It was all too good to be true for that type of service. I should have just shopped at BrandsMart USA which is where I am unfortunately taking my business. I will never recommend HHGREGG to anyone, they are full of false promises, their customer services is horrible, they are unreliable. Again, at the store level everything was great, we got everything we wanted except we never received what we purchased. HORRIBLE STORE. DO NOT SHOP THERE!!!

On 11/11/16 purchased kitchen appliances -Stove, Microwave, Dishwasher and Refrigerator. Accepted delivery on 12/6/16 and was told that the refrigerator would take about 6 hrs to get to preset temperatures. The next day the refrigerator was not working and I called hhgregg since I purchased a 5 yr extended warranty on the appliances. I was informed to call GE since it is within 1 yr and the manufacturer will deal with it. I called GE and it took about a week to send a tech to diagnose the problem. The technician diagnosed that 3 major components are bad. The main board, the thermostat board, and probably the fan system. I explained that this is a brand new refrigerator that never worked. I called hhgregg and after a few phone calls over a few days they agreed to exchange the refrigerator. After 1 month and many phone calls we received an automated phone call with a three hour window to exchange the refrigerator.
I bought ice and extra coolers and emptied the freezer and the part of the refrigerator that was somewhat working. The next morning while waiting for the exchange, the phone rang and it was hhgregg delivery service telling me that there is a minor problem. They cannot do the exchange because they do not have my refrigerator. At that point I called and called and everybody was going to respond, however nobody did. That night I received another automated phone call with a three hour window for the next day to do the exchange. I called to verify that the refrigerator was in and was told yes.
The next day, when the refrigerator truck arrived, I opened the door and the delivery men came in to disconnect the refrigerator and was surprised that a brand new refrigerator was not working, and I said I bought a new refrigerator and I expected a new refrigerator. Then my surprise when they showed me the 2nd "new" refrigerator that was not wrapped, not boxed, dirty, scratched and full of glue where tape had been removed. I refused delivery, since the quote "new" refrigerator looked like it was a floor model or returned from another customer but definitely not new from GE.
Now it is more than 2 mos. after my purchase and best I response is, "The manager is with a customer, the original salesperson is with a customer and they will get back to you." Still waiting and nobody gets back to you. This company sells, and then you are on your own. Worst customer service ever. Writing this review hoping that ConsumerAffairs can help me resolve this issue, and get a working refrigerator.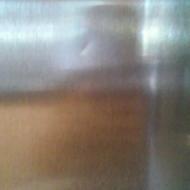 Don't buy from these people ever, when you have an issue they give you the run arounds. Went to the sale store where I bought a new fridge. It had a few scratches which the driver wrote up and they say they will give me credit. After driver left while cleaning the door I found a dent which is hard to see with the light reflecting on it. Went to the store to solve issue and they gave me the runaround. Never heard from their customer service dept. Went back 2nd day they had a sales guy and he tried to ** me again. Contacted Warehouse. They want a picture of the dent so I sent it, now waiting to see what other story they come up with. Had this fridge for 2 days only, they are trying to make it look like I had it for months. All I need is the fridge door to be replaced, that's too much trouble for them too. DON'T WASTE YOUR TIME AND MONEY WITH THIS INCONSIDERATE PEOPLE.

Bad shopping experience - After being advised there were no more TVs in stock of the one I wanted, I was offered the display unit at 20% discount which I accepted. On checkout, I noticed only 10% discount was keyed into the cash register. After some discussion and correction, the TV was shrink-wrapped and I was given a bag with a remote control and power cord. After getting home and set up the TV, I discovered I was given the wrong remote control. I phoned up the salesman and after a couple of hours was advised that I could come back to the store and pick up the correct remote.
I did not feel I should have to travel back to the store given it was their mistake. Rather, I felt it was their duty and responsibility to correct the mistake by delivering the remote to my home. I made further phone calls to the store but was unable to convince them of my reasonable rationale. I therefore decided to return the TV and have now purchased the same TV from another store that has a better appreciation of good customer service.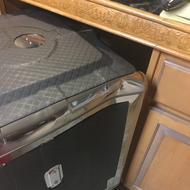 I purchased this dishwasher along with three other appliances at the HHGregg Pensacola location from salesman Kevin ** on June 2, 2016. On June 4, my brother died and in the midst of all of this I still took delivery on all four products on Monday, June 6, 2016. Unbeknownst to me, there was concealed damage on the dishwasher underneath the insulation which covers the outside of the dishwasher. However on June 22 I called Kevin and reported that the top shelf was not sliding smoothly or properly and his words to me were, "It will work its way out". That did not happen. And he did not do his job properly because Maytag has now informed me that within 30 days when you report a problem that they should send a service technician out to inspect.
Long story short there is a huge dent in the back right corner of my dishwasher which I paid almost $500 for a new item and HHGregg has given me the complete runaround all while my family was having to plan a funeral and bury my brother. Shame on them!!! I went and purchased the exact same dishwasher at Home Depot and have had exceptional service and highly recommend the Pensacola Mobile Highway store and will give them all of my future business. I am still in contact with John, the store manager at HHGregg as I still have the bill for the defective machine and I returned it to their store as instructed by my credit card company. Just a heads up take your business somewhere else as John never returns phone calls and Kevin didn't report the problem like he should've done but I'm sure he enjoyed his commission check.

So very happy to finally get to hhgregg to shop for our appliances. The experience of finally getting new and stainless steel appliances felt very rewarding for me to put in our new home. We had one small mishap while we were there buying. We got it pick all out and paid for in cash. I would have never guess in a million years that I would have the problems of getting these people to delivery my appliances on time and all at one time. We picked out the 4 piece appliance set Nov 11. Here it is January 13th and we manage to receive the refrigerator and the microwave two days ago.
This has been the biggest headache one could ever receive trying to just buy with cash and get it deliver and don't let me forget to mention one of the delivery guy stole my husband measuring tape which was very petite. I'm writing this as I sit here and wait for delivery to deliver my stove but I just made a call to find out where they were and was told someone should have called me this morning to tell me that the stove was not in the warehouse yet. Wait a minute WHAT!!! We're so thumbs down and after this anyone that ask me about hhgregg I will tell them my experience was terrible.

Bought a refrigerator January 6th 2017. I inquired if the refrigerator was available. I was told by the sales clerk yes it was and I could have it by January 10th with delivery. Got a call January 10th. Seeing the refrigerator was not in stock they could not deliver it until January 13th. Did not receive a confirmation for January 13th. Called the company just to be told the delivery had never been set up so they will set one up for January 19th so that's another day off of my job for a total of 3 days without pay but they will compensate me $100 off the refrigerator and maybe $100 gift card from the delivery company. I don't want to gift card. I want my refrigerator because this will not compensate what I am leaving from work dealing with this company but I will pay this company off and I will never ever buy anything else from them. I'm looking forward to them going out of business because we're such bad customer service that is where it's heading.

I had my CC stolen and they used it at hhgregg. When I noticed the charges I called HHGREGG to let them know I had not made the purchase and to please send it to fraud and decline the charges. The woman proceeded to tell me she could not do that because I had said I didn't make the purchases and they needed to protect the person that purchased the merchandise... are you kidding me??? I told them the billing would be diff than the shipping address and could give them my info to protect me. No they couldn't do anything and refused to stop the order. Never will I shop here. Thank God my bank knows I can't fly to the other side of the country to pick up a fraud order. HHGREGG IS THE WORST. DO NOT SHOP HERE! PS they stated they do not have a fraud dept... and they issue credit cards???

Bought a TV online on 11/28. "Free delivery" scheduled for 12/8. They allowed me to choose from available days. On 12/8, they left a voicemail: "Item hasn't arrived. Call us to reschedule." So I called the number they left. 4 times over the next week. During the day (M-F), on Saturday morning. No message system. No answer. They never again tried to call me to reschedule. Just left it for me to figure out. Then after a couple weeks I finally tried again. Scheduled another delivery date for 2 weeks later: 1/4. Guess what? On 1/4 received a call: "Item hasn't arrived. We can reschedule for another week." Seriously? One month and one week after I ordered online. No TV. But they are still selling the TV online. For $150 more than they charged me on Cyber Monday, nonetheless. The sad part is that I could have bought the same TV for about $30 more on 2 other sites on Cyber Monday. Lesson learned.
I submitted a CS survey after the rep agreed to refund my price, but did nothing to try to make the situation right, or offer me a similar TV. My survey response was so lengthy that the automated system asked me if I would like to be contacted by hhgregg. My answer was yes. Somehow I doubt they will follow through on this either. Hours of headaches and 6 weeks wasted. Still no TV. Thanks for nothing, hhgregg.

Very Dissatisfied with HHGREGG Online customer service and product. Paid for a 500 dollar tv to get home on holiday leave from the MARINE CORPS to find out I was delivered a broke tv and customer service telling me there is nothing they can do about it. Never been so upset in my life. My godfather signed for the delivery because they delivered it but they never showed it to him and he didn't think to look at it because he didn't want to mess with my stuff. They are saying since it was signed for and the warranty doesn't cover "accidental" damages there is nothing they can do and all repairs are at my expense.

In mid December of 2016 I purchased a dishwasher from the hhgregg in Fenton, MO. The manager of the store, Mitch, was my salesperson. It was scheduled to be delivered on December 21st. Their "3rd party delivery service" contacted me the evening of the 20th to confirm delivery and to advise my delivery time frame was 11:00-3:30. At 5:00 pm, he still had not shown up. I called him on the phone number he had called me in the confirm delivery. He told me he was at home eating a sandwich and would be at my house within 30-40 minutes. He showed up around 5:30. He proceeded to remove my old dishwasher and brought the new one into the house, only to realize the entire back was dented in. The delivery guy was able to install the dented dishwasher for me to use until the replacement arrived.
The delivery guy called the store I purchased from and spoke to "Mitch"...my salesman...the manager of the store. I was then told that my replacement would be delivered on the 26th. The morning of the 26th came and by 10:30 I had not heard from anyone on a delivery time frame. I once again called the store. I was then told that we were never put in the schedule. I was extremely annoyed. A new delivery date of January 5th was set. I received a call on January 4th by an extremely rude man telling me he'd be at my house between 10:30-1:30 on the 5th to replace the dishwasher. By 3:00 on the 5th, no dishwasher, no call, nothing. Another day wasted waiting for a delivery guy to not show up.
I called the store SEVERAL times and tried SEVERAL different extensions. No one ever answered. I finally got fed up and called the hhgregg corporate office. I was on hold waiting to speak to an actual person for 32 minutes. Finally a representative was on the line and I explained my situation. She told me that my ticket showed closed in her system and showed no future deliveries. She contacted my local store and, lucky me, transferred me to Mitch to speak with. I once again explained my situation and frustration. Mitch basically blew me off and told me that the replacement one that was supposed to be delivered came in damaged...then acted like he did me a favor by not delivering it to me...but failed to answer me when I asked why I was never contacted. He went on to tell me that he can deliver the replacement on January 9th.
I told him that was fine but that I could not work with a 5 hour window. I told him that since I wasted 2 full days waiting on a delivery that never happened, I expected him to call his delivery service and get me a shortened delivery window. I explained that even if he couldn't do that, if he could just promise an afternoon delivery that I could make that work. He just told me no. That wasn't an option. He refused to apologize. He never once did one thing to try to remedy the situation. He was very smug and basically made me feel like an idiot for calling to complain.
I had no choice but to now schedule delivery for January 16th. I'm not holding my breath. I will do everything in my power to let everyone I know what terrible customer service hhgregg offers. This store is a joke. My one hope is that upper management somehow sees this and does something to reprimand Mitch. I should also mention that I looked in hhgregg's website to email my complaint but they only allow you 1,000 characters. Not surprising. Just goes to show they really don't care about making their customers happy.

My father purchased a tv for a christmas present for the family. He ordered it online and was told it would not be in stock until 1-4-2016. I went there to pick it up and now they don't have the tv he bought online. They discontinued the tvs. They could have called and said that the tv was discontinued but no, they are way too freaking lazy. The people there are very rude. Not only that. After waiting 30 minutes the rude manager said I can't even pick it up. His name was the only one that could pick it up (we have the same last name address phone #). I had the order number, date he bought it, the price he paid. I will NEVER come back to a stupid hhgregg store. You guys suck.

I ordered a nice TV for my daughter on Black Friday weekend with a delivery date of Dec 3rd. That date came and went with no call about scheduling the delivery (website says they call the night before). I finally called customer service on Dec 10th since I hadn't heard anything at all from hhgregg. Waited one hour on the customer service line to speak to someone. They had no idea where my TV was, said they were out of stock and told me to call back in half a week. I called back in half a week and waited for 35 min on the phone to talk to a human. They said that the TV was out of stock and likely wouldn't arrive in time for Christmas. I cancelled the order.
Too bad they haven't refunded my money on my credit card yet (it's Jan 3rd) for a TV they never delivered. I had to file a dispute with my credit card company today to try to get my money back. What a poorly run operation. Good news: I ordered a TV from Best Buy on Dec 13th. It arrived 9 days later as promised in time for Christmas. Moral of the story is never to buy from hhgregg.

We ordered a 4 piece lg kitchen on Black Friday 2016 with a delivery scheduled for 12/15 as we are remodeling house. They sold the package we bought to someone else and then cancelled our order and never called us. We called on day of scheduled delivery and was told they had no order. Now we have been told possibly the 20th of January for two pieces remaining. Worst customer service and company etiquette we have ever seen. WE WILL NEVER USE THEM AGAIN AND WILL TELL EVERYONE WE CAN ABOUT THIS PISS POOR COMPANY. Hope they go out of business in 2017.

Ok, I didn't want to have to do this but: hhgregg and Warrantech has left me no choice. I bought a refrigerator from hhgregg in 2014 with a 5 year warranty, here's the problem: Our refrigerator went out 2 weeks before Thanksgiving. After losing all our food and many phone calls they sent a tech out 10 days later, in which he came and told us he had to order the parts. Then that evening he called and said he was a LG Tech and could not order Whirlpool parts and could not come back. 10 days later the right tech came out. He ordered the parts, and 10 days later 2 techs came to fix it. So we refilled the refrigerator with food. Christmas Eve it went out again, as we were having 16 people for dinner. I called again.
Now mind you this is many hours on the phone with hhgregg, and Warrantech talking to all kinds of representatives, never would get a supervisor on the phone, called corporate for them to say that she was not at her desk to take a call. "So in the big corporate of hhgregg main office they only have one supervisor?" I asked. So I contacted a hhgregg manager in another store that sent a Email to corporate because Warrantech said it was going to be 2 weeks before they could come. Well they came in 4 days. He came last night and the freezer is still not working and now the ice maker won't make ice. So I called again tonight and talked to the lady manager at hhgregg in Winston Salem, she said she would call me back. No call, I call back and she had already left.
So here we are almost months later with a refrigerator that we can't use. I paid 1,200.00 for this refrigerator plus a 5 year warranty for this to Happen! We can't seem to get this problem fixed. We believe after all of this hhgregg owes us a new refrigerator and 2 times for food loss. I will never buy anything from this company ever again. I think this experience with an extended warranty has been an awful experience. And the customer service has been the worst. Very disappointed and angry with this whole situation. Please share this post so people will know what to expect from hhgregg! Nothing but headaches, long phone calls, and still no working refrigerator! Please again share this so maybe someone can actually help us! Make this go viral!

When buying an appliance from HHGregg, DO NOT purchase the extended service plan. What happens when your appliance fails after the warranty period is, they refer you to a company who takes more than a week to send a guy, who takes more than two weeks to get the part, and maybe if you yell and scream, you can get him to come and install it. So far, I am still working on that last part, having gone ten days without an LG refrigerator that is just a little more than two years old. If you had just gone with the manufacturer's warranty, they would have sent the repairman in a few days.

Do not purchase from hhgregg. Delivery team destroyed my kitchen and other parts of my house. They use Spirit Delivery, they had no consideration for your home, very rude when you complain and hhgregg refuses to talk to you, refers you to delivery company. I will never purchase from them again.

Well I went to hhgregg to get my grandson a tv for Christmas. Well they had one for $99 a 32 inch. Well I already bought one for $133 at Walmart. I return that one and went to HHgregg to get the $99 one. Well they didn't have one. But they said it would be in Thursday before Christmas, if not it will be in after Christmas and when I called they said that no and it doesn't have a back order and I could get a 24 inch or a refund. I am really not a happy person.

I was scheduled for delivery of my kitchen appliances on November 19th 2016. Which included stove, dishwasher, microwave, and refrigerator. On the 19th of November only the stove, microwave, and dishwasher was delivered. I waited all day. I had to call the store and warehouse to find out just what happened to my refrigerator. I have gotten no apologies from the sales person or manager of this store in Waldorf, MD. The manager at the warehouse failed to ensure that my refrigerator made it on that Saturday. I removed all the appliances so when the new ones arrived that could just be put in place. That night we had to go and purchase a small refrigerator so that what was in coolers would not go bad.

I bought a Samsung 70" TV from the Alpharetta store in the state of Georgia back around this past Black Friday. Today is Dec. 28, 2016 and they have not delivered it to me yet. Both managers, Mitch and Shaun along with the salesperson have been playing games telling me that the TV has not come in yet. They promised that they would keep me updated every now and then, which they never did. After I called other stores in the area, I was told that this TV would not be coming in at all to any hhgregg. I asked both managers to offer me a deal on another TV. They refused. I said that I would go to their corporate office; they said they did not care. I just called the regional manager named Linda and left her a message. It has been the worst customer service ever for me and my family.

I spent over one year looking for furniture that met my needs and my taste. I made my purchase of a couch, double chair and ottoman for 1400.00 at hhgregg on their credit card. Within one month the frame broke (collapsed) and I have no children or animals that would have caused that. It was determined by them to be defective and they contacted a repair person. From August to end of October he would promise to come and it never worked out. He finally indicated I should call the store and resolve it some other way. The store agreed to an exchange however my set is discontinued. There was one set in store that fit in my house. I reluctantly agreed to exchange even though I did not like the color/style only because I was told that was my only option. THREE deliveries scheduled for the four hour window of time required. Confirmation emails and calls were received the day before only no delivery came ANY of those three times.
I took off work three times to accommodate their time frames. Each time the warehouse "did not receive the items" but would reschedule only to be told the same thing each time. Finally decided ENOUGH and asked store for refund. They gave me corporate number and could not help me since it was on the credit card. Called multiple times only to be placed on hold for over an hour each time. Sent them an email today - awaiting a reply. So I am now making monthly payments on broken furniture and can't even get the replacement furniture (I did not want) delivered. At this point I will settle for nothing less than a refund and am not interested in any discussion regarding an EXCHANGE. We have done a lot of business over the years at that store and will never return.

Went ahead and bought a fridge from these bozos and months later can't get a straight answer from either the store, or the shipper that they sent it to. The store won't refund my money because the item allegedly already left the store. The shipper - Demar, initially confirmed it was in their possession but now, weeks later, can't account for it. My guess is Demar is using it for workers' lunches. If it ever shows and I find one scratch or grimy hand print on it, it's going back.

After having awful experiences with several "furniture stores" HHGregg not only delivered as promised but when I wasn't happy with the furniture they simply said.. "Pick something else." They picked up the 1st purchase at the same time they delivered the exchange in 2 days!! We loved it!!

In the past two weeks, two employees have failed to call when they claimed they would and two have outright lied to me. I ordered a washer, dryer and chest freezer. The washer was out of stock and two separate employees said they would call to let me know when they would be in. When they failed to do so I went back into the store. They claimed the washers would be in Dec 23 and they would deliver Dec 24. Lie number one. Apparently they had no way to be sure of that. The dryer and freezer were delivered, the washer was not. I received no call or email letting me know the washer was not going to be delivered. I had to call the store to find out that the washer was still not in stock.
I spoke, allegedly, to a supervisor named Tarvelle (sp) who said delivery on the washer would be Dec. 27. I called the customer service number and they said the store would have no way of knowing when the washers would be in and could not promise delivery on that date. Lie number two. Customer service then called the store and spoke with a supervisor. When I asked if it was Tarvelle, Customer service said that was not the name of the supervisor. Lie number 3. I am expecting a callback from customer service on Monday. I am not hopeful. hhgregg has the worst customer service I have ever experienced. I will never do business with them again. I would not recommend anyone else do business with these people.
Company Name:

hhgregg

Website:

http://www.hhgregg.com/