Consumer Complaints and Reviews

Ordered a TV online Nov 25th. They took the $140 out of my wife's account Nov. 26. Got a email Nov 27 saying hhgregg is cancelling the order because they over sold the TV but they are keeping the money for 14 days. Got a alert from the bank Nov 30th saying hhgregg took another $140 out of the account. After calling and being on hold 35 minutes, all the person would say is they will hold the money 14 days and that's their policy. $280 taken out of account, no TV, cannot transfer money to another TV and just being told it's in process to get the money back but it will be 14 days for each time.

On June 1, 2016 I purchased a Whirlpool refrigerator and it was delivered on June 3, 2016. On June 5th I called to report that the light in the freezer was not working. I had to call Flamingo Service Center to place a Service call. The technician came out and could not repair it and I ask the store manager to replace my refrigerator. I was issued a new one. Fast forward to November 2016. The light is not working in the freezer and the ice maker is not working. I called Flamingo to schedule a service call on 28th of November. I was scheduled for Wednesday the 30th of November between noon and 5 o'clock.
Flamingo called and asked me what the problem I was having. Then he stated that it would be 6 day before he could come out. When I called Flamingo they said I didn't say what the problem I was having. Now I'm having to wait another six days before they can come out. HHgregg only Care about selling items and have no interest in good Service after you buy their product. Beware of the Service contract they select to Service your merchandise. It is a shame how they treat you. Atlanta, Georgia Store location in Southlake area.

On 11/27/16 I bought online a 60" Seiki TV. Went to the North Charleston SC store to pick up my TV. Service was terrible. No origination on income customers. Only one desk to service everyone. But got my box with my TV, went home, opened the box and the TV only measures 54 1/2". I call the store, was put on hold for 24 mins. Called back - was transferred to a phone that didn't pick up. Called back - no-one will answer. I want my 60" TV or I want my money back. What can I do? I've call the other online numbers for them to state "Call volume is high. Call back".

I purchase a tv curve 55' from hhgregg and once I got home to set up my tv and the screen was black!!! Took it back to the store the next day and they quickly put the blame on me and wouldn't return nor exchange the tv! I have been going through hell with both hhgregg and Samsung to fix my tv. I will never purchase anything from them again. Please save yourself the trouble.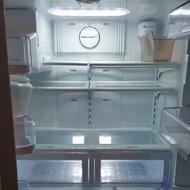 On August 22, 1016, our refrigerator was no longer cooling. We called the HHGregg customer service for the repair service visit. We had to function over 90 days without a refrigerator. We made multiple calls to the HHGregg customer service line and requested to elevate the request to a manager and they were non responsive. We even submitted the request via their online system with no response. No calls. On every call for service we had to remind them we did not have a functional refrigerator.
It took 10 visits and every major component of the appliance replaced to finally authorize a replacement refrigerator. It was authorized 3 days before thanksgiving and delivered Wednesday afternoon. Then it wouldn't fit. It is unbelievable in this day that a company like this could get away being this unresponsive to its customers with a valid service call. I am sharing my story so that other consumers will save their money and reconsider their appliance purchases with this chain.
How do I know I can trust these reviews about hhgregg?
636,825 reviews on ConsumerAffairs are verified.
We require contact information to ensure our reviewers are real.
We use intelligent software that helps us maintain the integrity of reviews.
Our moderators read all reviews to verify quality and helpfulness.
For more information about reviews on ConsumerAffairs.com please visit our FAQ.

Went to hhgregg on Black Friday to buy a washing machine because my old unit had begun to leak. I told the sales rep this was why I had come in and explained the urgency for the new machine. After careful consideration and a very patient sales rep I had narrowed it down to two units. The sales rep said the only difference was primarily the color of the units. One was black and one was white. The white unit being cheaper. If I wanted a cheaper price to go with that unit. I finally decided on the white washer, not only cheaper but matched the color of my dryer. The store was offering 15% off and 12 months interest-free. So I filled out the paperwork and he processed my application for the payment plan.
Once approved, he asked me when I wanted the new unit delivered. I told him tomorrow if possible. He said that would be a problem because they did not have any units in stock and the warehouse was also out of that particular unit. It would be 7-10 days before they could possibly get any more units in. I could not believe what I was hearing. He apologized but he understood my situation. I told him this was bad business practice. I asked that he give me the black washer that I had been considering, after all he had said these two units were pretty much the same. There was a $100 more difference. I told him they should sell it to me for the same price and eat the $100 for their mistake. He checked with the manager and came back and said he could not do that but would honor the 15% off with the black unit as was the special of the day. I told him no, that was not right.
I asked for all my paperwork back. He gave me the scrap papers we had been jotting notes down on along with their sales receipt paperwork. I asked for the credit application back and he said he could not give me that back. I told him I didn't need the credit line because I wasn't buying anything from the store. He said it was too late, a credit line was already established and could not be reversed. The paperwork needed to be turned in. He said that I had entered into a legal contract and that was a separate business deal than purchasing the washer. I told him that I only entered into the contract for financing because I thought I was purchasing a washer. I no longer needed the financing.
I asked to speak with the manager. The manager repeated the same information. He told me that the line of credit was already opened and it was up to me to do whatever I wanted with the new line of credit. I told him that the business practice of opening up a line of credit to buy a machine that you didn't have in stock was **! They were affecting my credit rating now. His response was that it would only hurt my credit rating if I closed the account. I asked him what am I going to do with an account at hhgregg when I'm not buying anything. He said he would be happy to sell me a unit. "Let's go pick out something else." I told him that after an hour of studying the machines I had already narrowed it down to these two and since one was not in stock they should give me the more expensive one (black unit) for the same price. He said he couldn't do that. I told him, but you can open a credit line for an appliance you don't have!
They finally sold me a unit that had more whistles and bells than the one I had chosen but was slightly smaller in capacity than the original one I had chosen for the same price (this one was $60 more). I was not happy but had no choice. I did not want to open another line of credit at another appliance store. The manager told me he wasn't there to argue and I told him that I was not there to get shafted, just to buy a washer! Waiting today for the delivery. Not expecting that to go well at all. We will see. My closing thoughts and lesson learned. Never fill out a line of credit unless you have the sales rep check available inventory!!!! I will never step foot in an hhgregg again and will let everyone I know they should think twice before doing business with hhgregg.

Bait and switch selling damage goods and blaming customers for the damage. Purchased a tv from hhgregg in Metairie LA. Brought it home Friday night. Took it out the box Saturday afternoon and it was damaged out the box. We called hhgregg immediately and was told not to return to my store. "It's your problem now." We called customer services, sent in pictures, and emailed corporate, spoke with a regional manager in this area. Upon the first telephone call today he stated that he received an email about a problem then he came right back and stated that he was at the store when we called to bring the tv back less than 24 hours later. Then he said he will speak to the team member who told us not to return to the store with the tv so I am confused because if you were there how DID you not know what we were told and by whom. All this to say that "We- hhgregg do not take back physically damage items tvs."
Well my question is why would you sell a damage tv? We already knew that the tv was physically damage therefore we called to seek assistance- which is normally customer service. No help, no compassion, or respect. Buyer beware. Do not buy anything from hhgregg- so hhgregg want us to keep a damage tv and pay for it. Please read and please share.

Very dissatisfied with the experience with hhgregg and their warranty department. They have only one service company in Lexington, SC that works on their appliances and they are sketchy. I have had 8 service calls on my range and no one knows what they are doing. Golden In-Home Service is a joke as is HHGregg. Please do not waste your time or money purchasing an extended warranty!

Nov 11th me and my husband went shopping for a new TV at HHGregg and find a very patient salesman as it took us 2 hours to make a decision. We ultimately went with a 55 in curved TV and a soundbar and a new living room set couch. LOL. So were super excited and were able to leave with the soundbar in hand and then pick up the rest on 11/16. They bring us a box containing the soundbar that is obviously a return because the tape has been pulled off and replaced and box is beat up. We advise them of this and they promise us they would never do that! We get home and the soundbar does not work. Imagine that!
We return the soundbar on pick-up day. We go in and get a new soundbar and a free $50 upgrade. We tell them "we're here to pick up our tv and furniture as well." They say "here's your TV but we do not have your furniture!" "We just sold our old furniture to make room so you gotta be kidding me." They apologized etc. "We will take off $100 and have it here 11/18." Okay deal! 11/18 NO FURNITURE! Same response. "We will take $200 off and free delivery on 11/20." However they can't provide an invoice with all these discounts!
I call the 1800# for complaints and they transfer me to the freaking store! What is the store gonna do? They're the one screwing it all up. So we talk to the store AGAIN but a different manager that says "yes I see you have delivery set up for 11/22." Are you kidding me?? As an HHGregg customer we will be sitting on our living room floor watching our $2,000 curve TV. We will not make this mistake again and will not be making a purchase from HHGregg ever again!

We bought a refrigerator there at Lakeland Florida for $2500 & it started giving problems right after. The service couldn't get the part for it because it was so new so we went back to the store to get a refund but they promised us a brand new replacement & $100 refund for inconvenience. When the refrigerator arrived & I went to look at it in the truck, it looked like it was used. It had scratches, some rust areas, the wheels were messed up & it wasn't wrapped like a new refrigerator was supposed to, even the driver said he couldn't believe they would sent that to a customer. So we refused the refrigerator & went back for our money.
On the day they came to pick up the old refrigerator, I told the guy in charge that my front door needed to be removed but he didn't listen & insisted to proceed therefore scratching up my door. I reported the incident, did the report as requested & sent photos but they never contacted me & it's been 7 weeks. After I got my refund I went to Home Depot, bought a refrigerator & saved about $1000. Even the same 5 yr warranty at Home Depot is about $150 cheaper. I'll never spend another $1 at hhgregg. THEY DON'T FOLLOW THROUGH!

If you are considering purchasing appliances from HH Gregg in Bradenton, FL, RUN, do not walk, to any other appliance sales location. My experience has been utterly frustrating. Sure, they will take your money, make promises they don't intend to keep and smile the entire time. When it comes time to deliver products that work, have all the parts or repair brand new items that do not work, GOOD LUCK! After weeks of calling and talking to the salesman, the appliance manager and the delivery men, I have come to the conclusion that HH Gregg is the most inept retail store I have ever encountered. PLEASE spare yourself the aggravation and shop elsewhere. At this point, I have very little hope that the HH Gregg Store in Bradenton, FL will deliver all the parts and/or repair the broken items for which I have already paid.

My husband and I ordered kitchen appliances from HHGregg and when they were delivered the refrigerator had a factory defect and could not be used. When HHGregg finally agreed to bring us another new refrigerator, which at first was not the case, it of course would be another week out. When the second one came it also had to go back due to size. So finally the third and final one was coming today. We never got a call for a time frame so when my husband called the Johnson City, TN store around 9am they advised that the time would between 12:30-3pm. The driver called my husband at 1:45 and advised he was 30min out and he asked if it was possible to deliver the refrigerator at a later time this same day. The driver told him that it's possible but he would need to call the store and the store manager would call my husband back.
No one ever called so at 3:15pm I called the store and they couldn't get ahold of the driver for 20min and when they finally did they were told, by the driver that the appliance would need to be delivered after 5pm. That was not true. The driver was simply asked if it could be delivered later than 2:15 and if not someone should have called my husband to inform of this. When the store called me back to tell me this he advised that there was nothing at all he could do since this was a 3rd party delivery but the first two times the refrigerator was delivered it was delivered by an actual HHGregg driver. BEST ADVICE... Don't have HHGregg deliver items to your home because you won't get them correctly or when you should.

We purchased a microwave/convection oven along with a 5 year extended warranty. They came out to repair it after it failed a couple of times, then it failed again. They refuse to now honor the warranty, claiming that repairs have exceeded the purchase price of the product. We've never received an accounting of the repair costs, and have been told that one is not available. This is a shady way to do business, and you can bet your life that we will never spend another penny at hhgregg!

Sold me 2 TVs. Neither was in stock but charged my account. Now I have to wait for my refund but it only took 10 seconds to charge my acct for items you did not have. Avoid this company like the plague.

I am writing to share the HORRIBLE experience my wife and I had at a HHGregg store in Raleigh North Carolina. Recently, we purchased a refrigerator to go in dream home we purchased. After receiving the payment, on a Friday, The salesperson booked a delivery and assured us that the refrigerator would be delivered on Monday. By chance my wife checked the paperwork, and discovered that the paperwork did not show a delivery on a Monday, as we were told. The actual delivery date was set for Thursday, which was six days after our purchase.
So my wife called the store on Monday, and spoke with a person named Tara in the delivery department. Tara told my wife that the salesperson tried to set up a delivery for Monday. However, he could not get it in their system for that date. So, by Taras account, the salesperson waited until we left the store, then he put the new delivery date, of Thursday into their system. The frustrating part of this issue was, we never received a call from anyone at the store.
Tara then assured us that the delivery would be the following day, Tuesday. The refrigerator was finally delivered on Tuesday. Unfortunately, once it was installed and running, we discover a terrible leak. The fridge leaked from the top portion near the icemaker. A large pool of water was on one of the trays. We had to constantly drain and clean up the water. We eventually turned off the water and contacted the store again! HHGregg offered my wife a $50 credit card, and sent two guys to our house, two days later.
When they arrived they looked at the fridge, and within a few seconds said they are delivery drivers not service technicians. They said that they thought the problem was a connection issue. They then called a person at their shipping department, and told that person about the issues we were having. The shipping department told the two men that we receive a new refrigerator on Sunday. Before they left, the two men noticed that the handles on the refrigerator were installed improperly.
On Sunday, the date we were expecting a delivery, my wife did not receive a call about a delivery, so she called the store. Once we finally got someone on the phone, the person turned out to be a manager, named Julian ** or Julian **. By Julians account, our delivery order was never typed into their system, and we would get a delivery the next day. The Manager offered a $100 credit on our bill but said we could not get a delivery notice. We did not receive a call, three hours later, and went to the store to confront the manager. Julian repeated his story. I demanded something in writing, because at this point, I could not accept his word that he had actually did his job.
After getting an updated delivery date, my wife used the $50 card to purchase a small speaker. There were four speakers displayed in the store. My wife selected one speaker, and after checking the storage area, the sales rep told my wife the speaker she wanted was out of stock. She selected another speaker and was told the same thing. She then selected a third one, and told the same store. For some reason HHGregg had three speakers displayed that were no longer in stock. However, they did have the fourth one in stock. Sadly, the Manager, Julian, told my wife that it was in stock, but had a damaged box. My wife purchased the speaker, and we left the store.
Once we were home, my wife charged the speaker for three hours, as directed. After five hours of charging, we discover that the speaker DID NOT WORK! This entire situation has been one of the worst experiences of our lives. My wife and I were set to be out of town and had to reschedule our trip twice because of the poor service and incompetence of the HHGregg staff. It is now nine days later, and we still do not have a working refrigerator, nor are we sure that the order will actually arrive on Monday, as we were told. I will forever advise everyone that I know to steer clear of this company, and will be sending this message to the Better Business Bureau, the consumer complaint and our local news station. I will send it to more locations as soon and often as I can!

Took advantage of the Labor Day Weekend sale. Timing was awesome. My dishwasher had stopped working first of August. I thought...great sale...haven't had new appliances that all matched since house was built in 1990. I'm getting all new appliances. Went to the Lafayette store. Had a great man help me with order and I was set. Told it would be a couple of weeks and that they would call when delivery would happen.
Didn't hear from them SO, I called them two weeks later and was told that my fridge and stove was in but my dishwasher and microwave was on back order. I was given the option to have these delivered now or wait. When I asked when the others would be in, they said by end of month. So I decided to wait so I would not have to disrupt two days from work. SO I waited until the end of September. I call again for the status and was then told about the distribution company for SAMSUNG that had gone bankrupt and all these products are just sitting waiting to be delivered to the distribution centers. I then said, "OK I would like to have my fridge and stove delivered and not wait on the other items."
I was told on phone that I didn't have a stove but only a fridge that was in stock. OF COURSE I was not happy. Lady said there were 67 people waiting on the same stove. SO I figured it out, because I decided to wait on ALL four appliances, they decided to give my damn stove away. Of course I was beyond furious. I went to the store at this point as I was tired of dealing with the distribution center. Manager there bent over backwards to try and find something in stock EVEN upgrades (stove and microwave) at no cost just to get something delivered. Had to rewrite the whole invoice. He even threw in FREE installation. STILL the dishwasher would be on back order. I said, "I understood".
SO I get a call, STOVE and MICROWAVE can now be delivered. I took off work, met the guy. He came in house and said, "you won't be happy about this but I can't install the stove because the shut off valve is not directly behind." You have got to be kidding me. I WAS not about to let the stove leave on the truck so I said, "leave it in my kitchen." So much for FREE installation as I had to call someone to install it. I then said to the man, "does that mean the fridge can't be installed either due to shut off location?" He said, "correct".
The Fridge was being delivered later that same day. So I called the manager of the local store and told him. I'm really confused as to WHY I was offered free installation but not given any "CHECKLIST" of prepping for delivery. Like how would anyone know the "rules" the installers have to go by. Do they assume all installations are in homes that are BRAND NEW. So a few days passed and finally we got three of the four appliances installed.
STILL waiting for dishwasher. On October 16th got a call to confirm delivery time for the next day and I said, "this is for the dishwasher correct?" Lady answered, "No, a range." OMG. I already have my range. Fast forward this past week there were THREE different times arranged for delivery. EVERY single time, something went wrong. I'm now waiting for a Delivery Manager to call me back. I seriously feel like when I call, I'm getting the run around. Like my name is known and everyone is purposely making my life hell. ALL I want is my dishwasher that is in the warehouse with my name on it delivered and installed. You have had my money since first week of September. GIVE ME MY DISHWASHER.
Don't even think about offering to give me my money back because the whole reason of getting a complete set is that all four appliances would match. Besides, if I get my money back and go elsewhere to purchase the dishwasher I likely will have to pay the difference as it won't be a GREAT sale like the one I thought I was taking advantage of from your Labor Day sale. So here is my message to all...F you decide to chance it and purchase something, MAKE SURE it is in stock, MAKE them put in writing an estimated delivery time and if you don't get by that date, JUST GET YOUR MONEY BACK AND MOVE ON! I will NEVER EVER purchase another thing from this company. If this delivery manager doesn't call me back today I will be visiting the local store tomorrow and I won't be very nice!!!

Last week I purchased a fridge and a stove from the Frederick store. The manager told me that when the driver delivers the items they will install the fridge and the stove. I had already taken the stove out so all they had to do was to connect the new stove but the driver made a big fuss and said he would not do. I had to call the office and then finally he hooked up the stove which was a very simple thing. But he would not even get the old fridge out, said they do not do that. I said "if you do not pull the old fridge how are you going to install the new one."
He said it is my job and would not do so I somehow got the fridge out with my wife's help. Then they just pushed the new fridge and plugged it and said that the water line has to be done by a plumber. The store had already charged me for the line and told me the delivery person will connect the new line. But they never did that. I called the dispatch and the lady put me on hold and never came back. Finally next day I hired a plumber to complete the job. The delivery drivers are very rude and bad. I will never buy anything from them again.

I recently purchased a microwave and refrigerator from the hhgregg location in Gurnee, Illinois. During the transaction, I also paid the additional $20 per item to have each of the old appliances removed. The salesman informed me that I would have to unplug the refrigerator and unmount the microwave prior to the technicians removing the appliances from my home. I did just that.
When the delivery drivers arrived, one of them informed me that the refrigerator water line was still connected. He told me that the water line should have been unattached and that he could not touch it for security reasons. I understood that. Once I was notified of this, I called a friend who instructed me on how to turn it off. I went down to my basement and turned a knob which took me less than 2 minutes to do. When I came back upstairs, the delivery drivers were gone. Both of my microwaves were sitting on my kitchen floor. The new microwave was sitting on the old microwave's brackets (on the floor). My front door was wide open. My old refrigerator was still pulled out in front of my back door prohibiting me from getting out. My new refrigerator was sitting in my living room.
I called hhgregg and spoke with someone in the delivery department to notify them of what happened. Maura, the representative, told me that the reason why the new microwave wasn't installed was that the old microwave was still on the wall. I explained to her that this was not true and that I removed the microwave from the mount prior to the delivery drivers arriving. Later in the conversation with Maura, she again mentioned that the "old microwave was still on the wall" as if I was lying. She notified me that the earliest someone could come out to pick up the old appliances and install the new appliances was 2 days later. After talking to and being on hold with Maura for over an hour, I called the hhgregg store again to make a complaint. The store manager, Steve, apologized for the service I received and said he will look at the issue in the morning and call me with an update.
The service that I received throughout this entire ordeal has been calamitous and unprofessional. I have purchased items from hhgregg in the past and this is not the type of service to which I have become accustomed. I am deeply disappointed in how this process has been addressed and trust that this is not the quality of service that hhgregg regularly provides to its customers.

HHGregg not only provides no customer service in person but their headquarters has no idea of what customer service is. My husband and I went to HHGregg in Melbourne Fl to consider purchasing a 65" TV. Their online information said that delivery would be free if the TV was more than $997. After discussing the tv our salesman ES immediately gave us a $39 credit for no reason that brought the purchase price $2 under the $997 with free delivery price.
We did purchase the TV however when we went home it would not fit on our mantle. So we went back and again purchased a different Sony TV at a good price. However, we could not get an updated invoice from ES. We were told that they could not print an updated invoice?? What? For a $1200 purchase they could not print a new invoice in the store. However we were told that the installers would bring the updated invoice when they installed the TV.
My husband was concerned that we were not given an updated invoice for 3 reasons: 1. We looked at 2 different tvs and wanted to be sure the correct tv was delivered to our home. 2. Without an invoice we had no proof that we even purchased a tv. 3. We needed to have our old plasma tv removed. ES guaranteed us that he has never lied to a customer and that he would personally ensure that the installers deliver and install the correct tv; they would also deliver the updated invoice for the tv and they would remove the old tv (that we paid for). On the installation day the installers did bring the correct tv however they neither had the corrected invoice nor did they remove the old tv. They said that they never remove a tv. Hmm, I asked them if they saw ES that morning. They said that he was on vacation - so he lied on 2 out of 3 customer promises.
The saga continues. I returned to HHGregg to get the invoice which the manager gave me. I did not properly check that the store basic information was on the invoice. There was no store name, address, email or phone number listed so how could I register this purchase with Sony? I called back and was told by a stand in manager that HHGregg has a policy of not producing a change invoice with letterhead on it. No letterhead on an invoice??? Just to be sure that I was not crazy; I checked online for how to create a store invoice and 10 sites clearly stated that a professional company invoice must have the store name, address, email and phone number. This same person told me that if I wanted an invoice with the correct letterhead that I would need to call their headquarters to provide it that they cannot provide it.
Yikes, I'm not finished yet. I did call their headquarters in Indianapolis and wait!! They gave me a hard time also. They finally provided an updated invoice but when I looked at it it was for the wrong tv. I complained and requested a correct invoice at which time I was told by a customer service supervisor that she put herself out by copying and pasting the company logo on the invoice she provided. I forced her to produce a new invoice. It was again wrong, sloppy; information ran in a constant stream but not properly produced. Plus it had the old HHGregg logo; at least it did list the Sony tv. The customer service supervisor fought me the whole way and said was all she could do for me? Yikes. I will never deal with HHGregg ever again. I strongly suggest that you do not either.

We purchased a laptop in May 29, 2016. Battery overheats right away. WINDOWS 10 now needs the recovery DISC for repair. DISC was not provided with the product at the store: 6250 COMMERCIAL PALMS DRIVE, TAMPA, FL 33647. 813-402-3211. SALESPERSON: **, CASHIER **. Awaiting response from the PSP, but with the mandatory commitment to pay for service if it's the users fault. How about providing the ENTIRE??? PACKAGE, including the boot DISC?
I can't believe HHGREGG gets away with this. I've never seen this many complaints about a place in a google search for reviews (623 to date!). Where is 8 ON YOUR SIDE for these jokers?! Why are they not held accountable for this sheer lack of disregard for "their" products and customers? Never again. EVER. I am telling everyone I know to stay far away from HHGREGG. I just want a boot DISC and a replacement battery so I can move on with my life and fix this machine. Do the right thing, HHGREGG.

On October 10, 2016 we bought a Samsung Gas Stove from hhgregg. The stove was supposed to be delivered on October 17 and they changed the delivery date to October 15. They delivered the stove and installed it, but the burners were missing from the stove. There wasn't a cord attached to the stove so that the electrical functions would work and most of all, they left the gas on in my kitchen. Thank God I went back in my kitchen or my house would've been up in flames. When I called hhgregg, they gave me the runaround about not being able to find the burner or the plug. I got so mad, till I went back to the store and told them to come get this stove out of my house. The only thing they offered me was to take the burners off of another stove that was on display and to order me a plug. Then it dawned on me that what they left in my home was a floor model stove, that wouldn't cook a thing!
The next day they called trying to make amends for their ** customer service. And I still had to insisted on them coming to get their stove from my home. When they came to pick the stove up, they still tried to leave a replacement stove at my house, but I don't want anything else to do with hhgregg. Therefore, I told them to keep their replacement stove. And to remove the other one from my house. So to the public, stay clear of hhgregg. Shop for your appliances elsewhere where they are more reliable.

I bought a Toshiba smart tv from hhgregg on 12/26/2014 and purchased the 2 year PSP warranty. Over 2 months ago, I called to get it serviced. It took them another 3 weeks to make it to my home to service the tv and then, they could not fix it and had to take it back to their shop. After a week, I called the subcontractor and they said they were waiting on hhgregg to decide if they were going to pay to fix the tv or replace it. It took hhgregg over 2 weeks to decide to replace the tv. However, it has been over 3 weeks and hhgregg has not finished the claim for me to get my new tv. I called hhgregg last week and the customer service women could not understand why I was upset about not having a tv for over 3 weeks because "I HAVE MULTIPLE TVS IN MY HOUSE".
I called today and customer service said they have just received the claim and I should hear from them by Monday at the latest (which is week 5 since they took the tv). I asked if there was a policy in place for how long it takes them to make a decision, get it sent to corporate to have the claim approved, and then finally comes to customer service to get the new tv. Her answer "No and we do not have anything to do with the other departments." I also spent over 45 mins on hold before speaking to a customer service representative. I will never purchased from hhgregg again, will tell others not to, and it is easy to see why they have closed so many stores.

I purchased a Samsung washer on 9/18/2016 and delivery was set for the following Monday between 8:30 am and 11:30 am. NO CALL & NO DELIVERY! I started calling various numbers for customer service and apparently had a bad day, because no one could seem to find out why I didn't have my washing machine. Multiple times during the afternoon while on hold waiting for customer service, I accidentally got disconnected 5 times (strange that it disconnected me at 1 hour and 12 minutes all 5 times). Finally I was able to get through to the store and was told they would call me right back (6:12 pm) and finally got a call back at 9:43 pm from the salesman who gave me a BS story about how the driver hadn't picked up my washer to go to the distribution center.
Then I finally got through to someone in distribution who informed me that the store is responsible for getting the machine to them. The following day the salesman called me and told me it couldn't be delivered until the following week and I canceled the sale. It's now 10/12/2016 and I just spent the morning playing telephone tag again and was promised the refund would be issued by Corporate yet today. We'll see since I was promised a prompt refund when I canceled and still had to sit on hold multiple times to find out why it hadn't been sent. (Again a bunch of BS excuses as to why the store hadn't issued the credit like they should have.)

Hhgregg has been the worst experience I have ever has in my 50 years as a consumer. They do NOT support the products they sell. We purchased a Samsung stove from them in August of 2105. The stove immediately began making a noise that sounded like it was going to explode. Every time I contacted Andy or Paul at hhgregg in North Fayette PA they told me I was exaggerating and that they could not really help me. Eventually, after we recorded the stove and took it to their store, Samsung agreed to replace the stove. Of course, in true hhgregg and Samsung fashion the replacement stove stopped working after one month. Samsung refused to come repair the stove. The extended warranty company has since come to the house to repair the stove 3 times. They claim that Samsung will not send them the correct part.
Needless to say that 14 months after purchasing a warrantied, new Samsung oven from hhgregg, I am left with a product that I am still paying for that does not work and has never worked. hhgregg says they do not have to stand behind the products they sell their customers. They have told me multiple times that since they don't make the products they don't have to stand behind them. They said they only sell the products. It is not their responsibility to make sure the products actually work. Any help would be appreciated.

Purchased a gas dryer that was a discontinued floor model on September 27, 2016 at Manassas, VA store. Unit was delivered the following Monday. Installer came with delivery and advised unit was defective and did not work at all and that it had obviously been installed at a previous residence due to the gas putty on the unit. Installer refused to take unit back even after store manager advised that he was supposed to take it back.
I went to the store and demanded a refund. Store manager advised we could not get a refund till the unit was picked up from our house. Did not even offer to try and get us another unit. Just put his hands up and said he would give the refund when the unit was returned to store. 2 days later, we still have not had anyone pick up the defective unit or make any attempt to contact us. This is the worst customer service I have ever seen. I will never attempt to make another purchase at hhgregg. Called store today and still got nowhere.

Purchased GE dishwasher from hhgregg and I purchased their extended warranty for 5 years. After number of repairs that resulted with still defective machine, they finally said "We fulfilled our obligation and we no longer are responsible for repairs or replacement." Warranty did not expired yet. The GE appliance department was purchased by Chinese company and they send people who have no clue what to do. DONALD TRUMP is right, we are screwed. Never buy any appliance from hhgregg and do not buy their warranty.

My experience with lousy grabbed hhgregg - buy a washer and dryer, day today 09/05/16 and 09/30/16 not yet received. I communicated with the store and just say the order has not arrived. That lack of respect to the customer and on the other hand I had already sent my first payment. If a manager is reading this to answer me if possible. Thank you.

We ordered a refrigerator Friday night because online hhgregg was the store that showed the quickest delivery for Monday. We called Monday to get delivery window time and find out that our refrigerator that we ordered is on back order. They were not able to give us date of when it could actually be delivered. They offered that we could choose a different model but it would have to be the same price - however, the one that we had chosen was the one that we wanted and one of the few that would actually work in our kitchen. Very frustrating customer service. We would have shopped around at other stores over the weekend had we not thought we would be getting this one today. And good thing we called this morning to inquire about delivery because who knows when they actually would have communicated with us that this item was back ordered. We had them cancel our order and will choose a different store to buy from.

We purchased a Samsung washer and dryer 8/1/2016. I was to leave the country on 8/10, so just did a load before leaving. The washer did not perform as expected. Never thought any more about it till I returned 3 1/2 weeks later, only to find it still didn't perform right. I contacted HHGREGG. They said they would notify a service guy and call me back. A week went by no call, I went to store. They said, "It doesn't work like that, here's the number you call and arrange a call out." More days pass by and the service guy arrives, oh dear!! He's obviously not in a good mood today. Asked me what the problem was. He basically blamed me with the among of washing. Then blamed the machine and said it's normal for it to bang about, vibrate, and make those noises. Then he blamed the floor. Then he blamed the pedestals. I said, "That's weird. I only had them fitted yesterday. I've been washing for 40 years, I'm an expert now."
Then he asked what garments was I putting heavy light. Then he blamed the soap, he tried to tell me too much soap made the machine squeak, bang, and clothes come out still wet after spinning. Then he does a test run and guess what - the circuit board needs replacing... oh so it's not my fault then? I'm not happy, called HHGREGG out of 30 days so I'm not entitled to a swap, called customer service, don't care, no swap. Called Samsung, very nice but it's my fault for being away too long. They said they call me back with a 2nd service call out, but guess what, didn't bother to call me back. Told me I could swap it out if it was faulty (it is faulty) still after repair. At the end of the day they have my money now, so who cares... hhgregg sold me a faulty washer...

I have had nothing but issues with my extended warranty. Called for a repair on my Samsung Refrigerator. They made an appointment for that Saturday. I called to confirm and the repair company Comp-teks tells us that they don't work on Saturdays. They then tells us that they will order the part and then call us. No call was received so we called in 5 days to find out and they said that they had an appointment set for that same day but we didn't answer the phone... WHAT??? WE gave them our cellphones because people have to work and can't be home all day. Then they schedule for the following day between 2-7 pm. They called at 12 noon and because we didn't answer the house phone again they cancelled.
We called hhgregg. The call got disconnected and when I called back Shoney (alleged name of the associate) accused me of hanging up on the associate and fought with me that I had indeed hung up... Again WHAT??? Why would I hang up when I want my issue resolved? She then tells me that they are not authorized to make another call to the vendor that I had to call and "figure it out with them". I called the vendor and they gave me a million and one stories and at the end it ended up being my fault because I should answer the primary phone on the account because that is the only number they would call, not cellphones... So if you want to go through aggravation of following up and never getting your issue resolved then buy from hhgregg. I highly recommend not to buy any products from this store. Not even Comcast is this bad.
Company Name:

hhgregg

Website:

http://www.hhgregg.com/