New corner on the longevity market
Older consumers are buying less, but not for reasons you expect

A ConsumersAffairs study1 involving more than 1,300 people shows that most adults over the age of 55 are not planning new purchases for 2019. This can be partially attributed to buyers in this age bracket feeling largely pessimistic about the future of the U.S. economy, but age prejudice in advertising and media may also share the blame.
A key demographic for the economy
Americans who are 50+ account for $7.6 trillion in direct spending and related economic activity.
About 7 out of 10 older consumers aren't optimistic about the future of the U.S. economy.
75% of older consumers are not planning any major purchases this year.
17% of older consumers aren't planning a major purchase because they don't think they need or want anything.
ConsumerAffairs' data suggests that older adults who consider themselves optimistic about the future of the U.S. economy are most likely to plan for a major purchase, but most don't have that optimism. A plurality — 41 percent — are pessimistic about the future of the economy, 34 percent reported feeling optimistic about the future of the economy, 20 percent expressed ambivalence (neither optimistic nor pessimistic) and about 5 percent are unsure.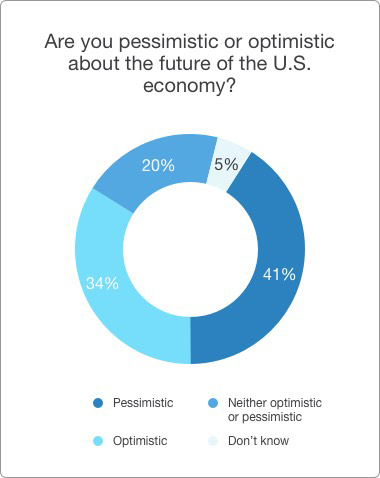 The majority of older consumers — 58 percent — aren't planning to make any major purchases this year. Most respondents said this was because of budgeting or debt obligations, but 17 percent of older consumers said they simply don't want or need anything.
This response could show industry failures to market toward a growing senior population, despite the significant purchasing power of this segment.
Paul Irving, chairman of the Milken Institute Center for the Future of Aging and scholar in residence at the University of Southern California Davis School of Gerontology, said that depictions of older consumers are too often stereotypical or reductive.
"With occasional exceptions, advertising, marketing and media have reinforced narratives with narrow portrayals of cluelessness and crankiness — the shuffling grandparent, the gruff neighbor — superficial typecasts that have become ingrained in our collective psyche," according to Irving.2 "Older people face diminished expectations because they are seen as one-dimensional, and that one dimension is 'old.'"
Older consumers have enormous purchasing power in the U.S. market
Americans who are older than 50 account for $7.6 trillion in direct spending and related economic activity, which is higher than the gross domestic product of every nation except the U.S. and China, according to Irving.3
If you're building your business, focusing on the complexities and aspirations of the largest market has obvious benefits. Irving believes there are plenty of opportunities for companies to start designing and manufacturing for an aging population.
As the U.S. longevity market increases, it also becomes diverse. The general focus of a 90-year-old adult may be on medical and assistance products, whereas a recently retired consumer is more likely to shop for a car or plan a vacation. Similarly, people between 65 and 69 are twice as likely to have internet access and almost four times as likely to own smartphones than adults who are 80 and older, according to Pew Research Center.4
Some industry experts are predicting more segmentation of age categories in the near future.
"This is important because, although every individual and family has unique spending opportunities and patterns, it is much better to look at the patterns of more similar age bands," said Barry Kozak, an attorney in Chicago who specializes in retirement and end-of-life planning.
Nobody puts baby boomers in a corner
There are different ways of classifying older Americans, but U.S. Department of Labor's Bureau of Labor Statistics currently categorizes Americans over the age of 55 in three groups: 55–64, 64–74 and over 75. As more people opt for aging-in-home lifestyles, Kozak believes that future studies will further separate the over-75 category into two categories: 75–84 and over 85.
"Things are changing," Irving said. "There is a growing thirst on the part of enlightened executives and savvy investors who are beginning to see the potential all around them. Companies without strategies to integrate shifting demographics into their product, service and workforce planning will miss out, and in the process, fail to serve their investors and other stakeholders as their competitors move ahead."
ConsumerAffairs predicts the longevity market will see more products and services that allow older consumers to age in place and retain their freedom, like medical alert devices, portable oxygen concentrators, walk-in bathtubs and other medical products and convenient-living items.
---
1 ConsumerAffairs surveyed 1,308 adults by email between March 8, 2019, and March 12, 2019.
2 Paul Irving, "Silver to Gold: The business of aging," Milken Institute, 2018.
3 Oxford Economics, "The Longevity Economy: How People Over 50 Are Driving Economic and Social Value in the U.S.," AARP, September 2016.
4 Monica Anderson, "Tech Adoption Climbs Among Older Adults," Pew Research Center, May 17, 2017.
Did you find this article helpful?
|
You're signed up
We'll start sending you the news you need delivered straight to you. We value your privacy. Unsubscribe easily.