---
October 2, 2003

Professional bicycle floor pumps distributed by Park Tool USA are being recalled. The pump can become over-pressurized with air, forcing the handle to quickly and unexpectedly rise upward, possibly injuring the user.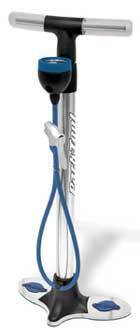 Park Tool USA has received reports of three injuries. They include a chipped tooth, a small laceration on the chin and bruises.
The pump is chrome and "Park Tool USA" is written in white letters on the side. Only units manufactured prior to August 2002 with a black indicator on the pressure gauge are included in the recall. Pumps with blue indicators on the pressure gauge that are manufactured after August 2002 are not included.
Specialty bicycle retailers sold the bicycle pump from March 2003 through August 2003 for about $80.
Contact Park Tool to receive a replacement pump and instructions on how to switch the parts from the old pump to the new pump. Call Park Tool at (888) 568-4959 between 7 a.m. and 5:30 p.m. CT Tuesday through Friday or visit the Web site at www.parktool.com.
The recall is being conducted in cooperation with the U.S. Consumer Product Safety Commission (CPSC).