---
September 21, 2005
Pacific Market International, LLC is recalling about 45,000 Stanley thermos bottles. The handle on the thermos bottles can break, causing the vacuum seal to fail and release organic, non-toxic charcoal powder insulation into the air.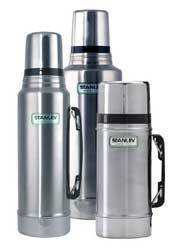 The powder can cause consumers to suffer short-term vision problems and temporary breathing problems when they inhale the powder.
PMI has received 654 reports of handles breaking and charcoal powder insulation releasing into the air. The firm has received 23 reports of consumers who had difficulty breathing or seeing, and in some cases, began vomiting and coughing.
More than 60 of the incidents occurred in trucks or cars creating the potential for impaired vision. There have been 446 reports of property damage.
The recall involves the brushed stainless steel and the green 1-liter and 2-quart bottles, and the 24-oz. wide mouth food jar. The recalled thermos bottles have only two spot welds per handle bracket and contain any of the following date code numbers: C 02, D 02, or A 03.
The date code is located on the bottom of the bottles just above the S and Y on the word STANLEY.
The thermos bottles were sold at Wal-Mart, Kmart, Target and other discount department stores nationwide from October 2002 through February 2003 for about $25.
Consumers should immediately stop using the product and contact PMI for a free replacement thermos bottle. PMI will provide all shipping charges for returned bottles.
Consumer Contact: Contact PMI at (800) 919-6330 anytime, or visit the firms Web site at www.Stanley-pmi.com.
The recall is being conducted in cooperation with the U.S. Consumer Product Safety Commission (CPSC).