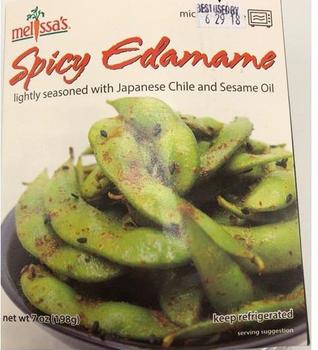 World Variety Produce of Los Angeles, Calif., is recalling Melissa's Spicy Edamame containing oyster extract, an allergen not declared on the label.
No illnesses have been reported to date.
The following product, sold by retailers in Arizona, California, Georgia, Indiana, Louisiana, New Mexico, Nevada, Ohio, Pennsylvania and Texas, is being recalled:
Melissa's Spicy Edamame
Brand

Melissa's

Spicy

Edamame

Packaging

7oz

Cardboard

Sleeve

UPC Code

0-45255

-14637-0

BEST

USED

BY Date
(located on

front panel)

5/29/18

through

07/02/18
What to do
Customers who purchased the recalled product should discard it.
Consumers with questions may contact the company at (800) 588-0151, Monday – Friday, 6:00 AM – 6:00 PM (PST).