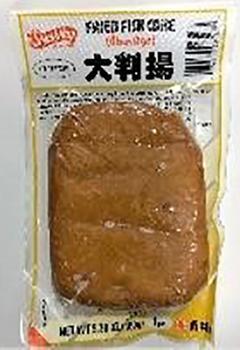 Wismettac Asian Foods of Santa Fe Springs, Calif., is recalling eight types of Shirakiku brand imported fish cakes.
The products may contain milk, egg and crustacean shellfish, allergens not declared on the label.
No illnesses have been reported to date.
The following products, distributed to retail stores in Alaska, Alabama, Arkansas, Arizona, California, Colorado, Connecticut, Washington DC, Florida, Georgia, Hawaii, Illinois, Indiana, Kansas, Kentucky, Louisiana, Massachusetts, Maryland, Michigan, Minnesota, Missouri, Mississippi, North Carolina, Nebraska, New Jersey, Nevada, New York, Ohio, Oklahoma, Oregon, Pennsylvania, Rhode Island, South Carolina, Tennessee, Texas, Utah, Virginia and Washington, are being recalled:
Item
Number

Item Description

Size

UPC Code

#92524

FISH CAKE IWASHI TEN SK F
20/ 150G
074410925246

#92525

FISH CAKE BOUTEN SK F
20/ 150G
074410925253

#92526

FISH CAKE MINCH BALL SK F
20/ 150G
074410925260

#92527

FISH CAKE OHBAN AGE SK F
20/ 150G
074410925277

#92555

FISH CAKE GOBO MAKI SK F

20/ 150G
074410925550

#92556

FISH CAKE IKA MAKI SK F

20/ 150G
074410925567

#92557

FISH CAKE AGE BALL SK F

20/ 150G
074410925574

#92559

FISH CAKE SATSUMA AGE SK F
20/ 150G
074410925598
What to do
Consumers with questions may contact the company at recall@wismettacusa.com.