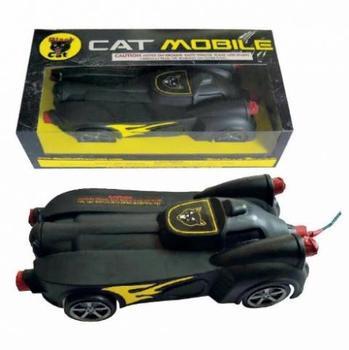 Winco Fireworks International, of Grandview, Mo., is recalling 21,000 "Cat Mobile" fireworks.
When ignited, the device can burst and spread sparks and pyrotechnic materials upward and outward instead of on the ground as intended, posing explosion, burn and projectile hazards to bystanders.
No incidents or injuries are reported.
This recall involves the Black Cat branded "Cat Mobile" fireworks with model number BC396.
This device is shaped like a black mobile vehicle with red headlights and whistles when lit and shoots sparks while moving on the ground.
The Black Cat logo is printed on the outside of the product packaging in the left top corner. "Cat" is printed in white lettering and "Mobile" is printed in yellow lettering on the products packaging.
The fireworks, manufactured in China, were sold at Pyro City, Fireworks Supermarket and other Black Cat Fireworks outlets nationwide from April 2019, through June 2019, for about $7.
What to do
Consumers should immediately return the recalled Cat Mobile fireworks to the retailer where purchased for a refund or exchange.
Consumers may contact Winco Fireworks collect at (816) 697-2217 from 8 a.m. to 5 p.m. (CT) Monday through Friday or online at blackcatfireworks.com and click on "Community" then "Product Recall" for more information.