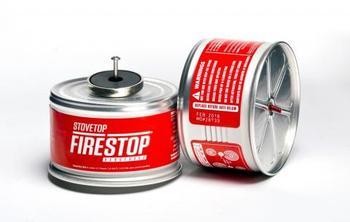 WilliamsRDM of Ft. Worth, Texas, is recalling about 9,300 pairs of WilliamsRDM StoveTop FireStop Rangehood and Microhood Automatic Cooktop Fire Suppressors.
The StoveTop FireStop (STFS) Rangehood and Microhood Automatic Cooktop Fire Suppressors can fail to activate the sealed openings that allow the suppressant powder to feed out of the canister and suppress the fire.
The firm is aware of two fire suppressors that failed to operate during a product demonstration. No injuries have been reported.
This recall involves StoveTop FireStop Rangehood (STFS Rangehood) and Microhood (STFS Microhood) Automatic Cooktop Fire Suppressors manufactured from November 7 – 13, 2016.
The flame activated, dry chemical powder fire suppression devices mount over residential cooktop stoves in a vent hood or underneath a microwave.
The STFS Rangehood fire supressors are silver-colored metal with a red label that states "StoveTop FireStop Rangehood" and a date code of 4516 is stamped into the top of the can under the magnet assembly.
The STFS Microhood fire supressors have a white plastic housing that the canisters fit into. The date code of DEC 2022 is stamped into the ramp located on the underside of the product.
The devices were sold as pairs.
The fire supressors, manufactured in the U.S., were sold at HD Supply, Interline, Louisville Fire and Safety and Central Wholesalers nationwide and online at HomeDepot.com in November 2016, for about $56, for STFS Rangehood, and $80 for STFS Microhood.
What to do
Consumers should immediately stop using the recalled fire supressors and contact WilliamsRDM to receive free replacements.
Consumers may contact WilliamsRDM StoveTop FireStop toll-free at (888) 616-7976 from 8 a.m. to 5 p.m. (CT) Monday through Friday, by email at stfs@stovetopfirestop.com , or online at www.stovetopfirestop.com and click on "Recall 2018" at the bottom of the page for more information.