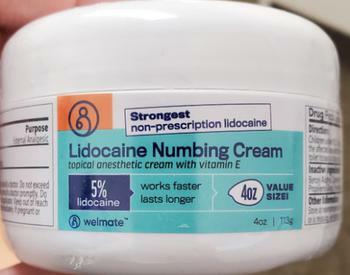 Wellspring, of Monsey, N.Y., is recalling about 15,000 containers of Welmate Lidocaine Numbing Cream.
The packaging of the product, which contains lidocaine, is not child-resistant as required by law, posing a risk of poisoning to young children if they put it on their skin or ingest it.
No incidents or injuries have been reported.
This recall involves Welmate Lidocaine Numbing Cream in a 113-g (4-oz.) white jar with a blue, orange and green label and a white cap.
"Welmate," "5% Lidocaine," the Welmate logo and UPC code 373581105045 or 373581000012 are printed on the label. A list of the lot numbers and corresponding expiration dates included in the recall may be found here.
The numbing cream, manufactured in India, was sold online at Amazon.com, Ebay.com, Walmart.com and wellspringmeds.com from August 2020, through March 2021, for about $20.
What to do
Consumers should immediately stop using the recalled cream, store it in a safe location out of reach of children and contact Wellspring for instructions on how to dispose of the product to receive a full refund.
The firm is directly notifying all known consumers who purchased the recalled product on eBay, Walmart and wellspringmeds.com. Amazon is directly notifying all customers who purchased the recalled product on Amazon.com.
Consumers may contact Wellspring toll-free at (866) 933-6337 from 10 a.m. to 6 p.m. (ET) Monday through Friday, by email at recall@wellspringmeds.com, or online at www.wellspringmeds.com and click on "Recall - Important Safety Information" at the bottom of the page for more information.