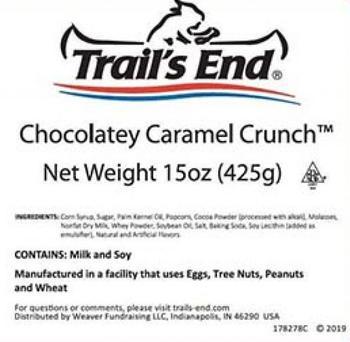 Weaver Weaver Fundraising of Indianapolis, Ind., is recalling Trail's End Chocolatey Caramel Crunch.
The product may contain almonds, cashews and pecans, allergens not declared on the label.
No illnesses have been reported to the company to date.
The recalled product is contained in an individual 15-oz. metallized bag within a tin bearing a Trail's End Chocolatey Caramel Crunch label. The inner bag is stamped with the words "ACP CARAMEL".
It was sold to consumers through Boy Scout councils in Houston, Texas, and Corpus Christi, Texas, beginning August 9, 2019.
None of the product was sold in retail stores.
What to do
Customers who purchased the recalled products and have an allergy or severe sensitivity to the nuts should not consume them, but return them to the place of purchase.
Consumers with questions may contact Weaver Fundraising at by enail at support@trails-end.com.