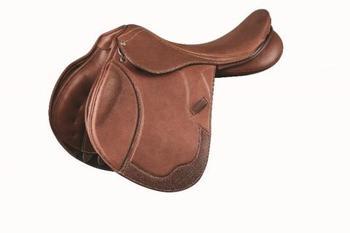 Weatherbeeta USA of Edison, N.J., is recalling about 1,700 Collegiate riding saddles sold in the U.S. and Canada.
The saddles were manufactured with screws that are too short, causing the girth of the saddle to detach from the tree of the saddle, posing a fall hazard to the rider.
No incidents or injuries are reported.
This recall includes 16 models of Collegiate riding saddles. All of the saddles are branded Collegiate and have a Collegiate nail head in the head of the saddle and Collegiate brand printed on the stirrup keeper. The saddles measure between 15 and 18 inches and were sold in black or brown leather or synthetic depending on the model.
The following models are being recalled: 
Model
1. Bicton all Purpose saddle
2. Burghley Dressage saddle
3. Chatsworth All Purpose saddle
4. Chatsworth Dressage saddle
5. Degree Mono Event saddle
6. Esteem Dressage saddle
7. Graduate Close contact saddle
8. Hartpury Dressage saddle
9. Honour Close contact saddle
10. Houghton All Purpose saddle
11. Integrity Mono Dressage saddle
12. Intellect Dressage saddle
13. Lectern Dressage saddle                
14. Scholar All Purpose saddle with round cantle
15. Triumph Jump saddle
16. Warwick close contact saddle
The saddles, manufactured in India, were sold at Carousel Tack Shoppe, Rocking B Saddle Shop, Strafford Saddlery and other saddlery stores nationwide and online at www.StateLineTack.com from August 2016, through October 2018, for between about $400 and $1,350.
What to do
Consumers should immediately stop using the recalled Collegiate saddles and contact the firm for a free repair.
Consumers may contact Weatherbeeta USA toll-free at (877) 927-4337 from 8:30 a.m. to 5:30 p.m. (ET) Monday through Friday, by email at info@collegiatesaddlery.com or online at www.Collegiatesaddlery.com and click on "Contact Us" at the bottom of the page for more information.