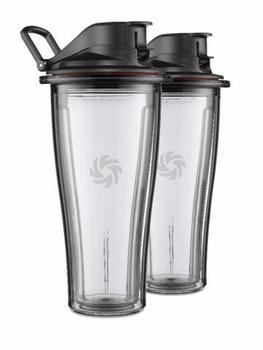 Vita-Mix Corporation of Cleveland, Ohio, is recalling about 110,000 Ascent and Venturist series 8-oz., and 20-oz., blending containers sold in the U.S. and Canada.
The containers can separate from the blade's base exposing the blades, posing a laceration hazard to consumers.
The company has received 11 reports of lacerations when consumers' hands came in contact with exposed blades.
This recall involves Ascent and Venturist series 8-ounce and 20-ounce blending containers with blade date codes March 2018 ("03-18") or earlier. Date codes are in the format MM-YY; for example, March 2018 is "03-18."
If the blade base is marked on the bottom with a green or orange dot, the container has already been repaired.
The Vitamix logo is printed on the blending container. The blade date code is laser-etched onto the top of the blade in the blade base.
The products have a clear container and a black blade base and were sold separately and with Vitamix Venturist Model 1200 blenders.
The blenders, manufactured in the U.S., were sold at Costco, Williams-Sonoma nationwide and online at www.vitamix.com from April 2017, through July 2018, for between $24 and $500 for the blender and blending container.
What to do
Consumers should immediately stop using the recalled blending containers and contact Vitamix for a free repair kit. Vitamix is sending repair kits to consumers it can identify.
Consumers may contact Vitamix toll-free at (888) 847-8842 from 7 a.m. to 6 p.m. (CT) Monday through Friday or online at http://www.vitamix.com and click on Customer Service and Voluntary Recalls or www.recallrtr.com/blender for more information.