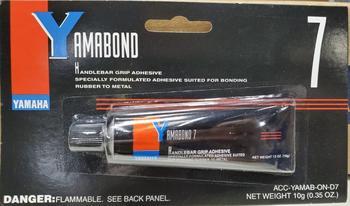 Yamaha Motor Canada Ltd. is recalling various Yamabond chemical products.
The products do not meet the labeling requirements for consumer chemical products required by the Consumer Chemicals and Containers Regulations.
The company has received no reports of incidents or injuries in Canada.
The following chemical products, sold throughout Canada, are being recalled:
| Product Name and Description | Part Number |
| --- | --- |
| Yamabond 5 Adhesive- 71g (2.5oz) | ACC-YAMAB-ON-D5 |
| Yamabond 4 Motorsport Adhesive- 125g (2.9oz) | ACC-BOND4-MC-00 |
| Yamabond 7 Adhesive- 10g (0.35oz) | ACC-YAMAB-ON-D7 |
| Yamabond 4 Marine Adhesive- 102g (3oz) | ACC-BOND4-MA-00 |
| Yamabond 1386 Adhesive- 10mL | ACC-YAMBD-13-86 |
| Yamabond 6B Adhesive- 100g (3.5oz) | ACC-YAMAB-ND-6B |
Yamabond 5 and Yamabond 7 products pose a risk of flammability and Yamabond 6B product is combustible.
The chemical products, manufactured in the U.S., were sold from July 2010
What to do
Customers who purchased the recalled products should immediately stop using them and safely dispose of them or return them to Yamaha Motor Canada authorized dealers.
Consumers with may contact Yamaha Motor Canada customer service at (416) 498-1911 from 8:30 a.m. to 5:00 p.m. (EST), or by email at yamahacustomerrelations@yamaha-motor.ca.