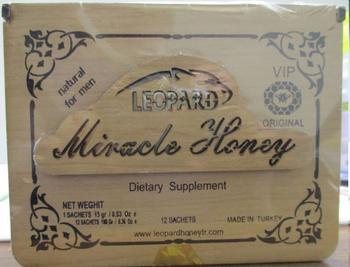 USA LESS is recalling all lots of LEOPARD Miracle Honey, which is marketed as a dietary supplement for men for sexual enhancement.
Analysis has found the product to be tainted with sildenafil making it an unapproved drug for which safety and efficacy have not been established.
The company has not received any reports of adverse events related to this recall.
The recalled product is packaged in a wooden box labeled as LEOPARD Miracle Honey, UPC CODE 8 699415 910534 containing 12 sachets, total 180 Gr/6.36 oz.
Each sachet is 15 gr/0.53 Oz, labeled LEOPARD Miracle of Honey, UPC CODE 8 699415 912859.
It was sold in the Northeast to stores and consumers.
What to do
USA LESS is notifying consumers thru e-mail and arranging for returns of recalled products. Customers who purchased the recalled product should stop using and return it to:
USA LESS
PO Box 250-138
Brooklyn, NY 11225.
Consumers with questions regarding may contact USA LESS at (800) 872-5377 Monday through Friday, from 9AM – 5PM (EST) or by e-mail at USALESS@OPTONLINE.NET.