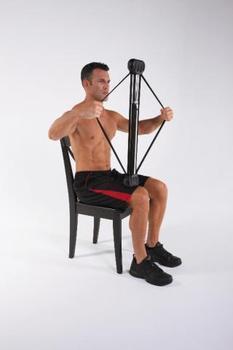 United National Closeout Stores (UNCS) of Fort Lauderdale, Fla., is recalling about 1,500 ISO7X isometric exercise devices.
The handle grips on each end can break during use and cause parts to be ejected forcefully from the shaft, posing a risk of injury from impact to the user or bystander.
The firm has received 10 reports of the handles breaking and the ejection of the internal spring coil and rod, including five reports of impact injuries that resulted in punctures and lacerations.
This recall involves Ontel ISO7X isometric exercise devices.
The device is about three feet long with hard plastic black handle grips on each end and two black nylon straps that extend down opposite sides of the center metal shaft.
Only isometric exercise devices with black handle grips are involved.
The exercise devices, manufactured in China, were sold at Burlington Stores nationwide from January 2019, through March 2019, for about $7.
What to do
Consumers should immediately stop using the recalled device and contact UNCS to receive instructions on how to obtain a full refund.
Consumers may contact UNCS collect at (954) 524-3325 from 8 a.m. to 5 p.m. (ET) Monday through Friday or by email at email help@uncs.com.