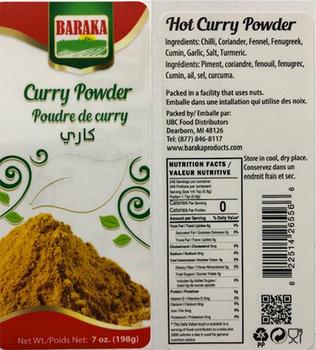 UBC Food Distributors is recalling Baraka brand hot curry powder and curry powder.
The products contain a high level of lead.
Lead poisoning in children can cause: learning disabilities, developmental delays, and lower IQ scores.
Fewer than 20 cases of products with UPC CODES 822514265566 & 822514265535 were shipped between June 15 and July 31, 2018, to Michigan, Minnesota, Illinois, Indiana, Ohio, Missouri and Colorado.
What to do
Customers who purchased the recalled products should discontinue using them and return any unused portions to the place of purchase.
Consumers with questions may contact UBC customer care toll free at (877) 846-8117, Monday – Friday from 9am – 6pm (EST), or by email at customerservice@wellmadefood.com