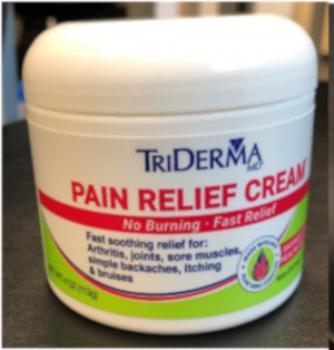 TriDerma of Corona, Calif., is recalling about 410 containers of pain relief cream with lidocaine.
The packaging is not child resistant as required by the Poison Prevention Packaging Act. The pain relieving cream contains lidocaine, posing a risk of poisoning to young children if they put it on their skin or ingest it.
No incidents or injuries are reported.
This recall involves TriDerma Pain Relief Cream with 4% Lidocaine in a jar and tube.
The 4-oz., jar is white with a lime green and pink printed label and has a white dome cap. The 2.2-oz., tube is white with a lime green and pink printed label.
The lot numbers and expiration dates of the affected products can be found on the bottom of the jar and on the front of the crimped end of the tube. "TriDerma Pain Relief Cream" is printed on the jar and tube.
| | |
| --- | --- |
| Lot Number | Expiration Date |
| 21088 | 04/2021 |
| 20189 | 04/2021 |
| 0738F02A | 06/2021 |
| 0738F04A | 06/2021 |
| 0738F04B | 06/2021 |
| 0738F04C | 06/2021 |
| 0739A22A | 01/2022 |
| 0739A22B | 01/2022 |
| 0739A23A | 01/2022 |
The pain relief cream, manufactured in the U.S., was sold at www.triderma.com from January 2018, through April 2019, for about $22 for the jar and about $15 for the tube.
What to do
Consumers should immediately store the topical anesthetic in a safe location, out of reach of children and contact TriDerma for a free replacement child-resistant cap. TriDerma is contacting all known purchasers directly.
Consumers may contact TriDerma at (800) 279-7282 from 7 a.m. to 4:30 p.m. (PT) Monday to Friday, by email at marilyn@triderma.com or online at www.triderma.com and click on "Customer Service" at the bottom of the page for more information.