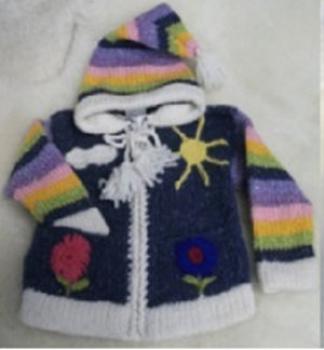 Trésart Caché is recalling children's upper outerwear with a drawstring in the hood and neck area.
Drawstrings on children's upper outerwear can become caught on playground equipment, fences, or other objects and result in strangulation or, in the case of a vehicle, the child being dragged.
The company has received no reports of incidents or injuries in Canada to date.
This recall involves children's outerwear with drawstring in the hood and neck area.
These outdoor garments, made of 100 percent wool or a 50 percent wool/50 percent cotton blend, were available in children's sizes 0 to 10 and were available in a range of colours and designs.
The recalled products, manufactured in Ecuador, were sold in Canada from September 2008 to April 2018.
What to do
Consumers should immediately remove the drawstring from the garment to eliminate the hazard.
Consumers may email Trésart Caché at info@tresartcache.com for more information.