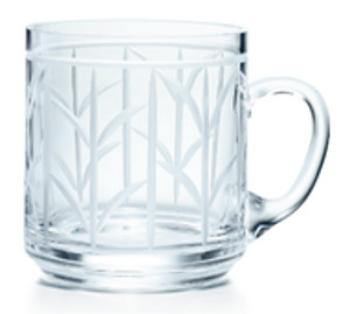 Tiffany and Company of New York, N.Y., is recalling about 3,300 Wheat Leaf crystal mugs.
The mugs can crack or break when used with or exposed to hot liquids, posing burn and laceration hazards.
The firm has received six reports of the mug breaking when hot liquid was poured into it. No injuries have been reported.
The recall involves 11-oz. Wheat Leaf crystal glass mugs that measure about 3.5 inches tall and 3 inches in diameter, with a handle. They are clear with a wheat leaf pattern etched into the glass.
The mugs have a blue sticker stating "TIFFANY & CO. Made in Slovenia. CRYSTAL GLASS." "TIFFANY & CO. 13559" appears on the bottom of the mugs.
The mugs, manufactured in Slovenia, were sold at Tiffany & Co. stores, online at www.tiffany.com, in the Tiffany & Co. 2017 Home and Accessories catalog and through the "Tiffany For Business" sales channel in the U.S. from October 2017, through December 2017, for about $60.
What to do
Consumers should immediately stop using the recalled mugs and contact Tiffany & Co. for a full refund plus a $100 gift card. Consumers can return the mug for a refund and gift card through one of three options:
return the product to a local Tiffany & Co. store

return the mug using a pre-paid return shipping label provided by the firm or

contact Tiffany & Co. to dispatch a shipping carrier to the consumer's location to pick up the mug. 
If the mug is broken, do not attempt to return it. Carefully dispose of the glass and contact Tiffany for the refund and gift card. The company is directly contacting consumers who purchased the recalled mugs.
Consumers may contact Tiffany at 800-843-3269 from 8 a.m. until midnight (ET) Monday through Friday, and 8 a.m. until 8 p.m. (ET) on weekends, or online at www.tiffany.com and click on Frequently Asked Questions for more information.