---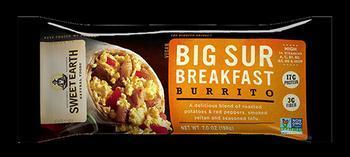 Sweet Earth Natural Foods is recalling Big Sur Burritos.
A quantity of Santa Cruz Burritos were packaged into Big Sur Burrito pouches. The Santa Cruz Burrito contains milk in the form of cheese, an allergen not listed on the Big Sur Burrito pouch.
There have been no confirmed reports of adverse reactions due to consumption of this product.
The following product, distributed nationwide between March 30, 2016, and May 6, 2016, is being recalled:
Recalled Products
Big Sur Burrito
7 oz Burrito
UPC, 7 oz Unit #016741111127
UPC, 12-pack Case #016741111134
Lot 6090
Best By 3/30/2017
What to do
Customers who purchased the recalled product should discard it and contact Sweet Earth for a full refund.
Consumers with questions may contact the company at 1-831-741-4569, 1-310-613-4751, or 1-831-375-8673, Monday through Friday, 8:00 AM to 5:00 PM (PST).
---