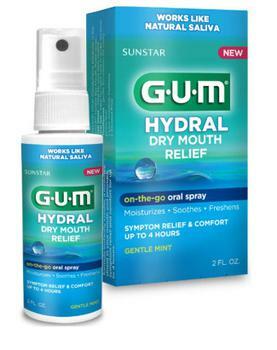 Sunstar Americas is recalling GUM Hydral Dry Mouth Relief Oral Spray with an expiration date from 2021‐11 through 2022‐05.
The product may be contaminated with the bacteria Burkholderia
cepacia, which may result in life‐threatening infections, such as pneumonia and bacteremia.
No adverse reactions have been reported to date.
The following lots of the recalled product, packaged in 2.0- fluid oz. Polyethylene Terephthalate (PET) bottles with white polypropylene caps and a separate spray nozzle, are being recalled:
 SKU#  Lot       Expiration
1800R 493538 2021/11
1800R 493539 2021/11
1800R 493540 2021/11
1800R 493541 2021/12
1800R 498339 2021/12
1800R 498340 2021/12
1800R 498341 2021/12
1800R 498342 2021/12
1800R 511571 2022/01
1800R 516383 2022/02
1800R 516384 2022/02
1800RA C140DD 2022‐05
It was sold through grocery and drug chains, web distribution and sales, and direct sales to consumers nationwide.
What to do
Customers who purchased the recalled product should stop using it immediately.
Consumers with questions may contact Sunstar at (800) 528‐8537 Monday ‐- Friday from 8am -‐5pm (CST) or by email at us.pcr@us.sunstar.com.