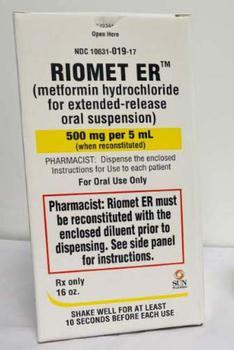 Sun Pharmaceutical Industries is voluntarily recalling one lot of RIOMET ER (metformin hydrochloride for extended-release oral suspension).
The medication contains a level of N-Nitrosodimethylamine (NDMA) above the allowable Acceptable Daily Intake (ADI) limit established by the Food and Drug Administration.
NDMA is classified as a probable human carcinogen (a substance that could cause cancer).
The firm has not received any reports of adverse events to date.
Specifics of the recalled lot of the prescription oral medication, used as an adjunct to diet and exercise to improve glycemic control in adults and pediatric patients 10 years of age and older with type 2 diabetes mellitus, may be found here.
The recalled product was distributed nationwide to wholesale customers.
What to do
Patients taking RIOMET ER should continue taking their medication and contact their pharmacist, physician, or medical provider for advice regarding an alternative treatment.
Consumers with questions may contact SUN PHARMA at (800) 818-4555 Monday through Friday from 8:00 am to 5:00 pm (EST) or by email at drug.safetyUSA@sunpharma.com.