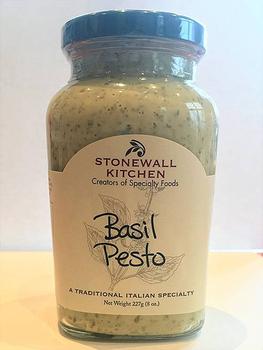 Stonewall Kitchen is voluntarily recalling a limited amount of Basil Pesto Aioli.
The product may contain egg, an allergen not declared on the label.
No illnesses have been reported to date.
The following product, shipped to 38 different wholesale retailers, is being recalled:
Case Markings
Stonewall Kitchen Basil Pesto Aioli, 10.25 oz., 12 pack, Enjoy By Date: 28SEP2019 UPC: 7 11381 31752 5
Unit Markings
Label: Stonewall Kitchen Basil Pesto, 8 oz., Enjoy By Date: 28SEP2019, UPC: 7 11381 03060 8. Packaged in a 10.25oz. glass jar
What to do
Customers who purchased the recalled product should discontinue using it and discard it.
Consumers may contact Stonewall Kitchen at 800-826-1735 or by email at guestservices@stonewallkitchen.com for refund instructions and any further information.