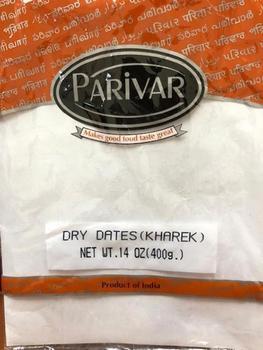 Shivam Distributors of Longwood, Fla., is recalling dry dates.
The product contains high sulfite content which could cause adverse health consequences with symptoms such as itchiness, upset stomach, headache, stiffness, diarrhea, cough, nausea and weakness.
No illnesses have been reported to date.
The recalled product comes packed in a 14-oz., printed plastic bag packing marked Parivar brand with batch # 127/BHBI and UPC # 879111001226 on the back of the bag.
It was sold at retail stores in Florida (Tampa, Orlando, Jacksonville, Panama City, Tallahassee, Pembroke Pines, Lake Mary, and Deland) and in Savannah, Ga., Charleston, S.C., and Winston-Salem N.C., from June 2018, to May 2019.
What to do
Customers who purchased the recalled product may return it to the place of purchase for a full refund.
Consumers with questions may contact the company at (407) 331-9439 Monday – Friday, 9AM – 5PM (EST).