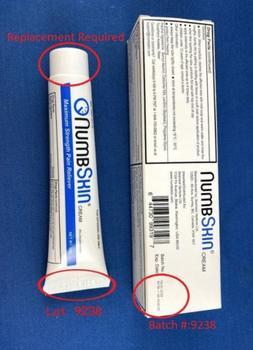 SeeNext Venture of Blaine, Wash., is recalling about 8,000 packages of NumbSkin pain relief cream with lidocaine.
The packaging is not child resistant as required by the Poison Prevention Packaging Act.
The pain relieving cream contains lidocaine, posing a risk of poisoning to young children if they put it on their skin or ingest it.
No incidents or injuries are reported.
This recall involves NumbSkin pain relief cream with 5% lidocaine, a topical anesthetic cream sold in 30 grams in a white with blue tube.
NumbSkin is printed on the tube. Lot 9238 and a date code of 10/2019 through 09/2020 in a MM/YYYY format is embossed on the tub's thin end. Batch number 9238 is printed on the product packaging.
The pain relief cream, manufactured in Canada, was sold online at Amazon.com from October 2019 through February 2020 for about $25.
What to do
Consumers should immediately store the pain relief cream in a safe location out of reach of children and contact SeeNext Venture for instructions on how to dispose or return it and to receive a free replacement similar product with a child-resistant cap. Amazon is contacting all known purchasers directly.
Consumers may contact SeeNext Venture toll-free at (844) 700-6862 from 9 a.m. to 6 p.m. (PT) Monday through Saturday, by email at distributions@numbskin.com or online at www.numbskin.com and click on "Recall" at the top of the page for more information.