---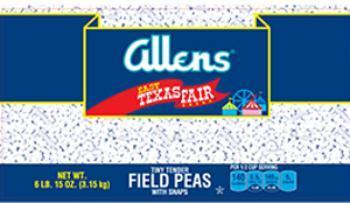 Sager Creek Foods, a subsidiary of Del Monte Foods, is recalling approximately 15,000 shipped cases of field peas with snaps and green bean products -- primarily non-retail.
The products may be contaminated with shellfish.
No illnesses have been reported in connection with this issue to date. There is no risk for people who do not have a shellfish allergy.
Of the 15,000 cases being recalled, 98.5% were distributed to foodservice customers.
The following products, sold in 106-oz. metal cans with Best By Dates of JUN 01 19 printed on the top and the following UPC codes and product names, are being recalled:
0 34700 01224 7 Allens Cut Green Beans
0 34700 01224 7 Allens Cracker Barrel Label
0 74865 12172 9 Reliance BL Cut Green Beans
7 58108 01041 3 Monarch SWD Cut Green Beans
7 58108 01048 2 Monarch Mixed Cut Green Beans
8 06795 02895 9 Silver Source SH/C Green Beans
0 74865 12175 0 Reliance MX/SH Cut Green Beans
0 34700 63213 1 Allens Tiny Field Peas with Snaps (net weight is 111-oz.)
The products were shipped to Alabama, Arizona, Colorado, Illinois, Maryland, Missouri, Mississippi, Florida, Georgia, Kansas, Kentucky, Louisiana, Oklahoma, Pennsylvania, North Carolina, South Carolina, Tennessee, Texas, Utah, Virginia, Wisconsin and West Virginia.
What to do
Customers who purchased the recalled products should return them to the place of purchase for a full refund.
Consumers with questions may contact the company at 1-800-543-3090, Monday-Friday, 9:00 am – 5:00 pm (ET) or online at www.delmontefoods.com.
---