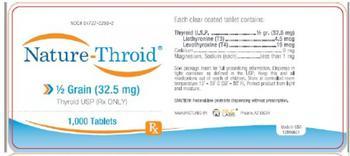 RLC Labs is recalling a total of 483 lots of Nature-Throid and WP Thyroid in all strengths.
Testing by the Food and Drug Administration found samples of the medication to be sub potent.
Patients being treated for underactive thyroid, who receive sub potent Nature-Throid or WP Thyroid may experience signs and symptoms of underactive thyroid which may include, fatigue, increased sensitivity to cold, constipation, dry skin, puffy face, hair loss, slow heart rate, depression, swelling of the thyroid gland and/or unexplained weight gain or difficulty losing weight. 
There have been no reports of adverse events related to this recall.
The recalled products are composed of liothyronine and levothyroxine, packaged in 30, 60, 90, 100 and 1,000 count bottles, and distributed nationwide.
What to do
Patients currently taking Nature-Throid and WP Thyroid should not discontinue use without contacting their healthcare provider for further guidance and/or replacement prescription.
Consumers with questions may contact RLC Labs customer service at (877) 797-7997, Monday through Thursday from 7:00 am to 4:00 pm (MST), and Friday from 7:00 am to 3:00 pm (MST), or by email at recall@rlclabs.com.