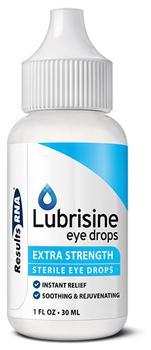 Results RNA is recalling Lubrisine Eye Drops.
A recent FDA inspection found the product was manufactured using practices that do not support its sterility, and that it contains colloidal silver, which is not declared on the label.
Use of a non-sterile eye drop could result in a potentially sight threatening eye infection. Exposure to colloidal silver over an extended period of time could result in permanent discoloration of the conjunctiva.
There are no reports of adverse events or illnesses related to this recall to date.
The products can be identified by the following label and the lot number located on the bottom of the bottle.
The recalled product, used to support lubrication of dry eyes, is packaged in a single 1-oz. dropper bottle with the UPC code 9238230723. All lots manufactured starting May 12, 2012, are included. The date of manufacture is located on the bottom of the bottle.
The eye drops were distributed to wholesale and retail customers worldwide through healthcare practitioners, internet distributors, and the company's website.
What to do
The company has notified its customers by email with specific directions for returning the recalled product, advising them to stop using the product immediately.
Consumers with questions regarding this recall may contact Results RNA at (203) 290-2992, by email at customercare@lubrisine.com or online at www.lubrisine.com.