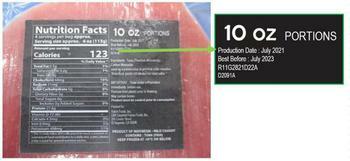 Relish Food of El Segundo, Calif., is recalling frozen Pacific Fusion Brand Tuna Steaks.
The product may have elevated levels of histamine, which can produce an allergic reaction called scombroid fish poisoning.
Symptoms, which include a tingling or burning sensation in the mouth, facial swelling, rash, hives and itchy skin, nausea, vomiting, or diarrhea, can appear within minutes to several hours.
The frozen 10-oz tuna steaks, with a Best Before date of July 2023, were sold at Save Mart Supermarkets and Lucky Stores in Northern California.
What to do
Consumers with questions may contact the company at (888) 301-0881, Monday through Friday, 8 A.M. to 5 P.M. (PDT).