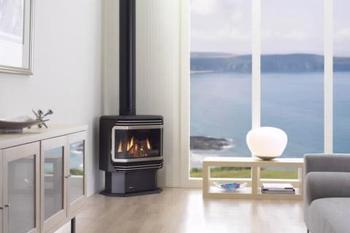 Regency Fireplace Products U.S. of Blaine, Wash., is recalling about 25,000 Regency Ultimate direct vent gas stove fireplaces (models U37 and U39) sold in the U.S., Canada and Mexico.
The pressure release system can fail and cause the gas stove to explode, posing explosion and injury hazards.
The firm has received three reports of the pressure system failing, and one report of the door hinge breaking, including one incident that resulted in minor cuts to the consumer's legs.
This recall involves Regency Ultimate U37 and U39 direct vent gas stove fireplaces sold in black and have gold or silver trim around the glass doors. "Regency" is printed on the front, bottom left corner of the pedestals of the stoves.
The following model and serial numbers are included in the recall and are printed on a label located on the inside of the front panel door:
Model Number

Serial Number Range

U39

 

41001 - 42602

223000001 - 223008520

315000001 - 315012548

U37

 

 

13735 - 13763

31001 - 31795

221000025 - 221002269

221031585 - 221031745

313000001 - 313000457
The stoves, manufactured in Canada, were sold at fireplace distributors and stores nationwide from January 2001, through January 2018, for about $2,800.
What to do
Consumers should immediately stop using the recalled gas stoves, turn off the gas supply to the unit, and contact Regency to schedule a free repair.
Consumers may contact Regency toll-free at 866-867-4328 from 8 a.m. to 7 p.m. (ET) Monday through Friday, email at u39@regency-fire.com or online at www.regency-fire.com and click on "U39 notice" at the bottom of the page for more information.