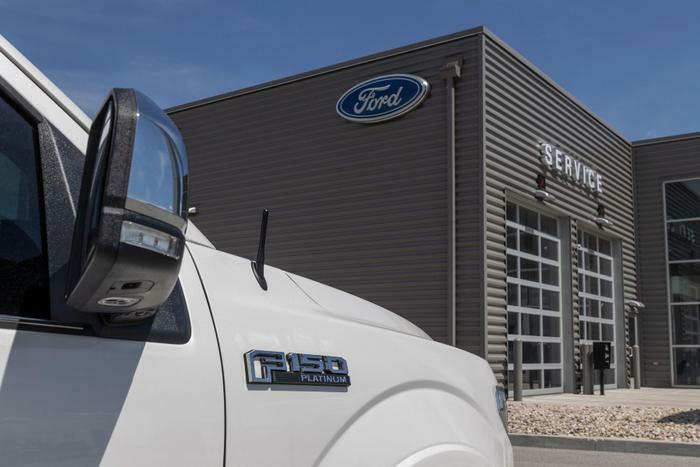 Ford announced that it is recalling 16,430 of its Ford F-150 vehicles manufactured with the Super Cab body style because of a seat belt problem. 
The National Highway Traffic Safety Administration (NHTSA) reports that the front seat belt webbing in affected vehicles may be incorrectly routed. This could cause drivers and passengers to not be adequately restrained in the event of a crash, increasing the risk of injury or death. The vehicles that are subject to the recall were produced between January 2, 2021, and May 27, 2021. 
Consumers can call Ford's toll-free number at 866-436-7332 or contact a Ford or Lincoln dealer for more information. The automaker will be sending mailed instructions to vehicle owners so that they can perform a preliminary self-assessment to check for an issue with the seat belts in their vehicle. If a problem exists, Ford says owners should not drive their F-150 until a repair is performed.
GM recalls every Chevy Bolt ever made due to battery fires
The recall woes of the Chevy Bolt have been well-documented. After issuing several smaller recalls in recent months, GM has announced that it is recalling every Chevy Bolt ever sold because of additional reports of battery fires. 
"With this expansion, all Chevrolet Bolt electric vehicles are now recalled due to the risk of the high-voltage battery pack catching fire," the NHTSA said in a statement. "The recall applies to all Bolt vehicles, including those that may have received an earlier recall repair for the fire risk issue."
The decision to recall another 73,000 vehicles came after a second "rare manufacturing defect" was discovered by GM engineers that increases the chances of a Bolt catching on fire. In its notice, GM said owners should continue to park their vehicles outside and away from structures until they can be repaired.
Chicken salad and dips recalled over plastic contamination
Willow Tree Poultry Farm of Attleboro, Mass., has recalled over 52,000 pounds of its chicken salad and dip products because they may have been contaminated with pieces of hard white plastic. 
The recalled products were made between August 10, 2021, and August 13, 2021, and bear the establishment number "EST. P-8827" inside the USDA mark of inspection. They were shipped to several states in the U.S., including Connecticut, Massachusetts, Maine, New Hampshire, New Jersey, New York, Pennsylvania, Rhode Island, and Vermont. 
Consumers can visit the U.S. Department of Agriculture's page here to see a full list of the recalled products.
Dog food recalled due to listeria and salmonella concerns
Top Quality Dog Food -- a company based in Hyattsville, Md. -- has recalled a batch of its "Beef HVM" one-pound packages because they may have been contaminated with both listeria and salmonella. 
The company says animals that consume the products and humans who prepare them are at risk of infection. Consumers who have pets that have consumed the products are advised to contact their veterinarian and to monitor themselves for any potential symptoms, which range from fever, headache, and diarrhea to more serious conditions like shock. In some cases, an infection can even lead to death.
Consumers who bought the affected products can return them to the place of purchase to receive a full refund.