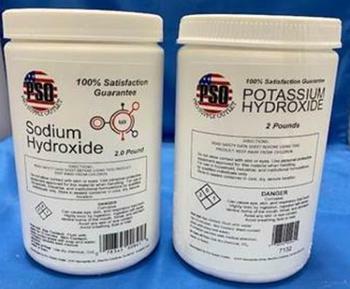 Pro Supply Outlet of Rancho Cordova, Calif., is recalling 2,600 containers of Pro Supply Outlet (PSO) sodium and potassium hydroxide.
The packaging of the products, which contain sodium and potassium hydroxide, is not child-resistant as required by the Poison Prevention Packaging Act and poses a risk of chemical burns and irritation to the skin and eyes.
No incidents or injuries have been reported.
This recall involves Pro Supply Outlet sodium and potassium hydroxide products sold in two-pound rigid white plastic jars with continuous thread caps.
The front of the label bears the PSO logo, the product name, SKU 7023 and UPC 7834500453 for the sodium hydroxide and SKU 7132 and UPC 7834500462 for the potassium hydroxide.
The recalled products, manufactured in the U.S., were sold online at Amazon.com, eBay.com, Etsy.com and prosupplyoutlet.com from January 2018, through March 2021, for about $15.
What to do
Consumers should immediately store the recalled products in a safe location out of reach of children and contact Pro Supply Outlet for a free replacement child-resistant cap and label to put on the product. Pro Supply Outlet is contacting all purchasers directly.
Consumers may contact Pro Supply Outlet toll-free at (855) 248-9059 from 9 a.m. to 4 p.m. (PT) Monday through Friday, by email at PSO5000@ctiinc.biz, or online at www.prosupplyrecall.com for more information.